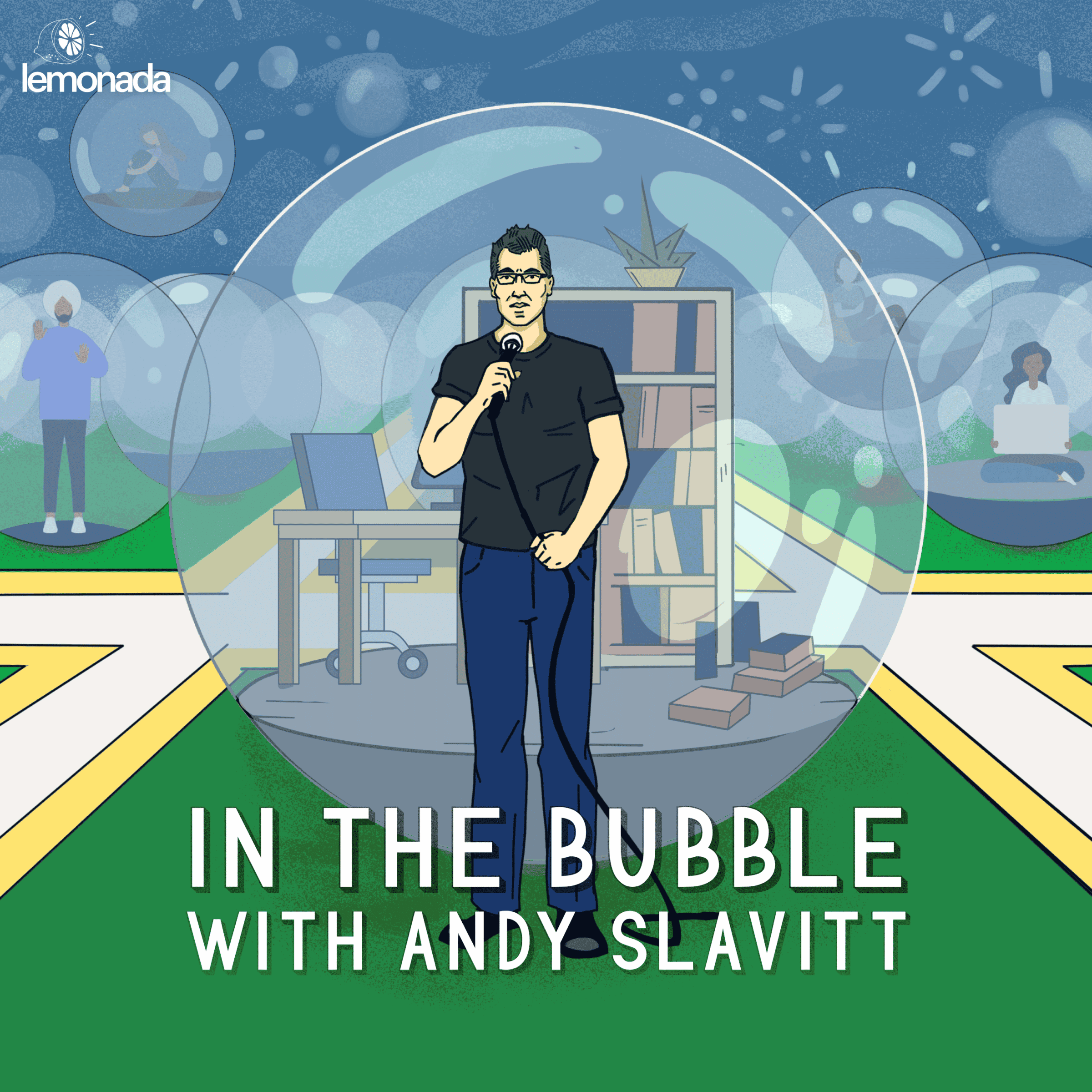 Why Democracy Depends on Putin's Defeat (with Ambassador Marie Yovanovitch)
Subscribe to Lemonada Premium for Bonus Content
Description
Andy speaks with former U.S. Ambassador to Ukraine Marie Yovanovitch about how she anticipates the Russian invasion of Ukraine playing out and why the fight for democracy can take decades. She explains how her parents' experience fleeing totalitarian regimes in the Soviet Union and Nazi Germany led her to join the U.S. Foreign Service, and relives her painful role as a key witness in the 2020 impeachment inquiry against Donald Trump in which she testified that the President pressured the State Department to remove her based on what she called unfounded and false claims.
Keep up with Andy on Twitter @ASlavitt and Instagram @andyslavitt.
Joining Lemonada Premium is a great way to support our show and get bonus content. Subscribe today at bit.ly/lemonadapremium.
Support the show by checking out our sponsors!
Click this link for a list of current sponsors and discount codes for this show and all Lemonada shows: http://lemonadamedia.com/sponsors/
Throughout the pandemic, CVS Health has been there, bringing quality, affordable health care closer to home—so it's never out of reach for anyone. Because at CVS Health, healthier happens together. Learn more at cvshealth.com.
Check out these resources from today's episode: 
Stay up to date with us on Twitter, Facebook, and Instagram at @LemonadaMedia.
For additional resources, information, and a transcript of the episode, visit lemonadamedia.com/show/inthebubble.
Transcript
SPEAKERS
Andy Slavitt, Marie Yovanovitch
Andy Slavitt  00:18
Welcome to IN THE BUBBLE. This is your host, Andy Slavitt. It is Wednesday, April 6, I am newly boosted, how about you. We have a really amazing show today, I couldn't be more excited Ambassador Marie Yovanovitch is on the show, who served as ambassador to Ukraine from 2016 to 2019. She's incredible. I really wanted to understand how to go deep into really getting a better understanding of what's going on in Ukraine. Back to her in a second, you may have noticed that the show has undergone some changes recently. You're hearing a few different types of topics this year from us, from me. And I wanted to hear like and I want to explain a little bit about what we're doing. We've done 27 shows already in 2022. Crazy, unbelievable. Unbelievable to me, hopefully you've listened to a lot or most, hopefully you've enjoyed them. But what's different is of those 27 shows about 20 of them have been about the pandemic, seven of them have been about other topics that I thought we could cover in a smart way that you would be interested in. So we are still covering anything you need to know around the pandemic, including the show on Monday around whether or not you should get a fourth booster. And we've talked directly to the person that the FDA made the decision around boosters. We also did the same around whether or not Congress is gonna fund vaccines this year, we were on top of it, ahead of the curve on Omicron. So you can expect that to continue. We've also done seven shows on other things. One of them, the January 6th hearing, one of them on the threat to democracy, and then a number in the Ukraine, one on the refugee crisis, one from a reporter on the ground inside Ukraine. Another topic that I've felt like, could be covered much better than it is, by the way, are guns. And you know, I'm not going to do much here, although we have had some great guests talking about gun violence on the show in the past. But today's the day, when my favorite podcast, last day is out, episodes this year, are about gun violence and how we live in this country with the number of guns we have. And it goes really deep into some communities. I've gotten a chance to hear some of the previews of what it means. And it's about two communities one that had a lot of suicides by guns and another just had a lot of homicides by guns. And it's really interesting. Anyway, I digress a little bit, but check that out. If you haven't, it's done by Stephanie Wittles Wachs, who is just amazing, I think you'll enjoy it. I'm excited for that. But in any case, the formula that tried to use here if there is one, and how to pick a show in the show topic is it's got to be obviously very topical to you and something you want to listen to, needs to be a great guest, someone who can help us see around corners and provide information to us in a calm, fact based fashion that leads to better understanding and I think, you know, better understanding helps us all be a little bit more calm, even images, nothing if not that, and the show should be hopefully an ideal version of this. She is out with a new book called Lessons From The Edge, which I read over the last week or two very, very insightful book, you may remember she was called to testify at the impeachment trials of Donald Trump, because Donald Trump essentially tried to undermine her while she was in country and what an experience that must have been. We talked about that a little bit, as well. So anyway, we're gonna keep shows going. As they say, on the pandemic, we're gonna add shows that are of interest and importance that we think I could do a decent job or better of finding great guests and informing you. If you need to do if you'd like those shows, just keep listening and tell your friends. give me feedback, you know, on Twitter or anywhere else. I'm sure I can learn from your feedback. And if you don't, and you don't like them, I'll know that too. And we'll listen and we'll adjust accordingly but so far, so good. And I hope you're really enjoying this and regardless of whether you're enjoying the show, I think you're really gonna enjoy this episode because it was phenomenal to get the ambassador on the show. I think you'll really like her. Let's bring her on. Let's bring her on IN THE BUBBLE.
Andy Slavitt  05:04
You actually have more than a professional interest and experience in this part of the world, you have a personal and family history in this part of the world, like what would you tell us to help ground us in an understanding of Ukraine, and Russia and the and that part of the world?
Marie Yovanovitch 
Well, you touched on the personal so I guess I'll start there. Both of my parents fled totalitarian regimes, my father was able to leave the Soviet Union when he was just three years old, in kind of a lucky way. He ended up in Yugoslavia was taken prisoner of war by the Nazis, managed to survive that escape and survive that experience. My mom was a stateless person who grew up in Nazi Germany, that was, you know, a very precarious position to be in. And she and my father ended up in the new world, as so many people of that era after World War Two did, because both Canada and the United States opened up their arms to refugees, my parents settled in, you know, this bucolic beautiful town of Kent, Connecticut, that was just so far away from, you know, the mayhem that they had grown up in. And they were grateful every single day for the fact that they were living in a country that provided them with security, with the ability to raise their children and make a living, and the ability to be free to say what they wanted, to do what they wanted to worship as they wanted. And that was something very precious to them. And they, they never took it for granted. And they raised my brother and I up to not only be thankful that we were Americans, but that we needed to give back. And so, you know, when I grew up, and was casting round about what to do, you know, there were many detours as they often are. But I decided to join the Foreign Service to join the State Department, that would be my way of giving back to the American people. And it would perhaps, marry up my interest in foreign policy in history. And my interest in world affairs, including in Eastern Europe, the Soviet Union.
Andy Slavitt  07:18
I can only imagine how moving and what it must have meant for them, you talk about your dad is someone who's a bit silent, but you could always tell how he felt for your parents and your mother, who I know lived a long time, but unfortunately lost her recently. And I'm sorry to hear that. But what it meant to them to see you take on that really symbolic and meaningful role for the US.
Marie Yovanovitch 
Well, they were proud of me. And I was proud of them. And I still am proud of them, you know, to come to a new country, in your middle age and start with very little as, as so many immigrants to the United States do. And through sheer hard work and belief and hope. They really persevered and thrived here. And with this book, I wanted to honor them. And I hope I've succeeded in that. And I think, you know, none of us could have believed that an immigrant to the United States could not only represent the United States abroad, but you actually become an ambassador as well. And that was something that again, I think all of us were very grateful for.
Andy Slavitt  08:24
Yeah, no, it's, I can tell you, even from my service in the government, showing up every day with an American flag in your office, you really know why you're there. You and I are of an age, when a couple of things were true. One is either our parents or grandparents or for other people. Maybe it was even a little bit before that, but not too far, came from countries that repressed them. And the reason they came here was because they lived in a part of the world weather and both of our cases it was Eastern Europe or in other people's cases that was Asia or other parts of the world where they sought a better life here. What did it mean, to see democracies begin to emerge in that part of the world, fledgling democracies, but democracies in the west where people could begin to enjoy the hope of the kinds of things that your family in mind had to escape from?
Marie Yovanovitch
Yeah, well, I think it was hugely important because many of these countries remembered what it was like not to be under dictatorships, not to be under the sway of the Soviet Union, and wanted to be free. But you know, how do you do that? And of course, some Hungary, Czechoslovakia did try and that was brutally put down not only by the Soviets, but by their fellow countries from the Warsaw Pact. So, you know, for me, and for my parents, it was really kind of a miracle. When the Soviet Union fell apart and all of these new countries emerged and, you know, the ability to, for people to set their own course is of course, hugely meaningful, and I think very important. And I think that's why what is happening now with Russia's brutal attack on Ukraine has not only engender this valiant and courageous resistance within Ukraine, but certainly in many countries of the world, and especially those neighbors closest to Ukraine, and now Russia, because those countries know what it's like to live under the boots. And they don't want to go back.
Andy Slavitt  10:29
Yeah, I mean, I have to remind myself that there are people that I've only known Germany to be a unified, peaceful, democratic place. Where we grew up, there was East Germany, and there was West Germany. So this dream, it is it is possible to achieve, you can be a country that has lived under totalitarian rule for a long time. And it can change for people, we've seen it happen. And it appeared to be happening very much in Ukraine, tell us a little bit about how Ukraine is, as emerged and what that has been like, both as it relates to the strategic interests of the US, as well as how President Putin has always viewed it.
Marie Yovanovitch
Yeah, yeah. So, you know, I think what we as Americans sometimes are uncomfortable with is that transformational change takes time, it takes generations, it doesn't happen, you know, just because we have provided generous assistance to a country, it doesn't happen, you know, within an election cycle in the United States, it takes time, it takes decades, it takes generations. And we have to give it that time, the Ukrainian people have multiple times decided that they want freedom, you know, I think most people, whether they live in the United States, or in Ukraine, or someplace else, they don't think about things like, you know, I want democracy I want to live in a capitalist country. You know, they think about things like, you know, I want to be able to vote the bums out, or I want to vote, you know, this person in, I want to choose my government, I want them to be responsive to me, I want to live in a country where my hard work is rewarded, and I get to keep my profits. You know, though, I want to live in a place where my kids will have a good future.
Andy Slavitt  12:28
Where if I speak against the government, I won't get in prison.
Marie Yovanovitch
Exactly, exactly. So the Ukrainian people with without, you know, that kind of poly style framework, they decided many times that they want to look to the west for their future. You know, back in 1991, they voted overwhelmingly over 90% that they wanted to leave the Soviet Union. In 2004, they supported the Orange Revolution, so called, which was, you know, a pro-Russian candidate was filling the vote to become president. And the people protested, and they were able to get another set of elections. And the pro-Western candidate, Yushchenko won. And this, by the way, was after Yushchenko had been poisoned, in a terrible, terrible incident, most likely by the Russians. So you know, and then in 2014, the Ukrainian people said the same thing. They threw Yushchenko, the pro-Russian president out of the country, because they wanted to live by the rule of law, they called it the Revolution of Dignity, which was, I want you to treat me with dignity, I don't want you to shake me down at a traffic stop, so that I can keep on going around me on my daily business, I want you to treat me the same way you would treat the president, there should be one law for everybody. And, and frankly, I think that they again, voted for, you know, kind of the Western way of life in 2019, the presidential elections when they voted for Zelenskyy, the protest candidate, because I think people felt that the previous administration was not moving reforms forward fast enough. So Ukraine was making progress over the last 30 years. But you know, as with, you know, every country, it fits and starts, you know, you get a good spell, and you're making lots of progress, and then you stop. And that was true in Ukraine as well. And Zelenskyy, obviously inherited lots of challenges, and was, you know, trying to move forward on things with mixed results. And then, of course, Putin's war of choice started. And right now, Ukraine is united as never before. And so why does that matter to us? You know, what are our interests in this part of the world? I mean, first of all, I think that other democracies, which is what Ukraine is, with, for all its flaws, Ukraine is a democracy, other democracies make for our best partners. Those are the places where, you know, we can rely on the other countries, the other government to actually do what it's going to say it's going to do to work with us on security and political issues around the world.
Marie Yovanovitch  15:08
And also where, because democracies usually go hand in hand with rule of law, that also means that our companies doing business in that country have much better opportunities, because it's unlikely that there will be an arbitrary court ruling, it's unlikely that the company will be taken away from their rightful owners, things like that. So that is very important to us rule of law, just as a principle. But it's also important to us for commercial economic reasons. So the first thing is, you know, other democracies, it's better for us if there are more democracies in the world. But secondly, when we look at what Vladimir Putin has said, and when we looked at what he's done, he's made very clear that while he is obsessed with Ukraine, and obsessed with the idea of legacy, and so forth, that's not his end game. I mean, he has made it clear that the other former republics of the Soviet Union should also kind of rejoin the mother fold. Three of those countries happen to be NATO allies. But there are also other countries that are in that mix. And Putin is a man who will not stop until he is stopped. And if we end up in a world where might makes right and he's just grabbing hunks of Georgia, as he did in 2008, Ukraine as he did in 2008, and is trying to do in 2022. Maybe Alaska, because Alaska used to be Russian, right? And there are certainly some on the far right and Russia that have their eye on Alaska. This is not a world that makes the US the American people safer, or more prosperous, or more free. It is a much more dangerous […] world, we have no interest in, you know, standing by while Vladimir Putin not only attacks Ukraine, but likely would go on if he is not stopped.
Andy Slavitt  17:34
What you're seeing from a president Zelenskyy now you You've met him, you spent time in the country you spent time with, with the Ukrainian people. How surprised were you by the incredibly buoyant response from the people, the resistance, and Zelenskyy's leadership?
Marie Yovanovitch
I have been very impressed by Zelenskyy. His leadership, I think he is the man for the moment. He has met this moment, and he's continuing to meet it. Just the sheer raw courage, but also his ability to communicate and to inspire is really important, I think, for any leader, but especially a wartime leader, where you are asking people not just to do hard things, but to give up their lives and their son's life, their father's life, their daughter's life. You know, people have to believe, and they do. And I think that is really impressive. I knew the Ukrainian people would resist. I knew that because I've lived a total of six years there, three years in the early 2000s. And then three years more recently, and I knew they would resist they are you know; you don't tell the Ukrainian people what to do. They're kind of like Americans in that respect, a little unruly, a little, you know, they don't want Americans to tell them what to do. But they certainly do not want the Russians to tell them what to do. So I knew they would resist. But I have been, again, really impressed and inspired by how resilient they are, how tough they are, you know, when I talk to my Ukrainian friends, they are encouraging me. You know, I ask them how they're doing. They're like, we're fine. You know, we've got this, we are winning, and we are gonna win and you just send us, you know, it doesn't matter who it is. You just send us more bullets more, you know, more missiles more, more so that we can defeat the Russians. It's impressive.
Andy Slavitt  19:31
So is there a historical analogy or something that gives you confidence in the ability of the Ukrainian people in the army, with the support of the world that they're getting to be able to withstand this and to push Russia back and to end this in something which allows Ukraine to keep its independence?
Marie Yovanovitch
Yeah, I mean, I think that the Ukrainian army and the territorial defense forces are pushing Russia back. I'm skeptical that, that this is a Russian retreat forever. I think what they're doing is regrouping rearming figuring out, you know what else they can do. But you know, since they've dug in their tanks and artillery around Kiev and other cities, that doesn't sound to me like a retreat. So I think the Russians are going to come back. And let's see what that looks like. And of course, there is constant fighting. And even worse, the coward's way out of constant bombardment on civilians, innocent civilians, whether it's, you know, six months year old's, or 60-year-old, who many of them in their homes, or who are just trying to flee. So that has continued as well. So I don't think Russia is giving up but the Ukrainians aren't either. And even if at some point, the Russian army prevails militarily, it's not going to be the kind of peace that I think Putin was imagining, I think there will be a guerrilla war. And I think there will be, you know, lots of civil disobedience, where I would not want to be the Russian occupier, I would not want to be a soldier walking down the street where a sniper could get me, I would not want to go into a cafe, I'd be wondering, you know, what I would be served.
Andy Slavitt 
Really a good, encouraging perspective. And I can't help but think of just the imagery of what it's like to live in a city under siege, under bombardment, having supplies cut off with all of the refugees gone, but so many people remaining. I'm also wondering how you might reflect on what a Russian success in Ukraine does to reshape the world, and how it pushes us back? If that's the right way to look at it, towards something like the situation that we've lived in with the Soviet for so long. And I guess my question is, if Putin finds that he can be successful, and he's got China as an ally, does he become a greater threat to the world? And are we then facing very different than prospects for global security?
Marie Yovanovitch  22:12
Absolutely. I mean, it becomes a more dangerous […] world, where autocrats everywhere decide they don't need to live by the rules based international order that was established after World War Two, when the leaders of the time said, you know, never again, such distraction, so much death, we cannot permit this. And we need to set up certain principles and certain institutions to help us live by those principles. If Russia were to prevail, not only would Russia be emboldened, although I think Russia won't be a partner to China, China will be the far senior partner in that relationship. So it may not all be Russia's way. But I think that autocrats all over the world will be emboldened that they can, you know, if they've had some disagreement with a neighboring country, they can, you know, just decide it once and for all through force, and it creates a far less stable world for all of us.
Andy Slavitt
Is there anything ambassador that you think that the West can be doing that we're not doing to help Ukraine right now that you think we should be doing?
Marie Yovanovitch 
I think we should be a doubling down on our support. I mean, what we found is that, you know, we always said before, that the Ukrainian military couldn't absorb more security assistance, that they wouldn't know how to use some of the equipment we sent them, so we didn't send them the equipment that, you know, they weren't performing fast enough. And I was certainly one of those in the latter camp. But what we're seeing with their performance right now, is that they are using everything we're giving them to really good effect. They are pushing the Russians back. The Russians aren't just regrouping, they're regrouping because they have to because of Ukrainian force. And, you know, the equipment that we've given them that we thought was, you know, perhaps too sophisticated. Nothing of the sort the Ukrainians are not only using it, they're innovating with the use of some of that equipment. And that is, you know, I think a lesson for us and our military. And so I think we need to provide them with everything they can use to prevail in this fight, because I think it is about Ukraine, but it is also about the international order. And we have a stake in making sure the international order that democracies prevail,
Andy Slavitt  24:38
will very well said I want to go to some back-to-back in time a little bit into your to your book a little bit which is you know; it is a page turner. I will tell you pick it up. You will learn about yesterday; you'll learn about today and you'll learn about our future in very interesting ways. And maybe you can start by helping me understand what it means to be a career diplomat. I think in particular, you know, your allegiance, relative to the country versus political parties, how you serve throughout various political administrations kind of what that means. And I really, a part of that as a setup to talk about the ordeal you faced under the last administration job, but just so people have the context for what does it really feel like, when you know, that is your profession?
Marie Yovanovitch
Yeah. So, you know, again, we live in a democracy, and the American people elect the president, and that President has certain policies. And you know, when I, when we all come to the, into service, we understand that doesn't mean that you can't have your own personal opinion. And it doesn't mean that as policy is being debated, that you can't, you know, argue for a particular point of view or a particular set of steps that need to be taken. But once a policy is set, you know, you really need to implement it. I mean, that is our job. And if you can't implement it, you need to resign. I mean, there are steps in between, like, you know, sending in a dissent channel cable in the case of the State Department, or doing other things. But if something is so troublesome to you that you can't implement the policy, then it's, you know, incumbent upon a Foreign Service Officer or civil servant, to leave the government.
Andy Slavitt  26:39
Yes. So you I think you're used to this notion that your country has your back. When you're serving abroad, you're representing your interest. And as you said, that, really the flag comes first. And if you happen to be a Democrat or Republican, most people don't know. It's quite irrelevant. Your personal political persuasion if your career civil servant, because you really are looking out for the interests of the country, and in Ukraine, you spent some of your time there, tackling systematic corruption that was going on. Can you talk about how that ultimately led you to being a target for Trump's personal attorney? America's former Mayor, Rudy Giuliani?
Marie Yovanovitch
Yeah. So with the Revolution of Dignity, that occurred in 2014, that was all about the rule of law, the current Ukrainian citizens were tired of the corruption that they saw in Ukraine, where the president, excuse me, and those around him were stealing, not just millions, but billions of dollars. And we're getting away with it, they were tired of that. They were tired that there was no accountability. And they wanted one rule for the President and one rule and the same rule for themselves. And so in 2014, when Yanukovych fled the country, and a new administration came in, it was the policy of that new administration, because they knew where the Ukrainian people were to fight corruption, and to put institutions in place and so forth. And the international community, the US the international financial institutions, like the IMF, the World Bank. And, of course, the European countries, EU, Canada, we were all in there helping as well. And so it was an all-hands-on deck to try to, you know, change laws to try to change institutions, to start, you know, kind of an educational process. Because if this is the system you've known, you need to be educated and understand a different kind of a culture in order for the anti-corruption efforts to actually take root. And some of that also included prosecution attempts. So there was a new system set up for high level corruption, that would include an FBI like structure to investigate a prosecution function and then ultimately, a court that would hold accountable high-level officials for high level corruption cases. So there was a prosecutor general who's sort of like our attorney general, a guy named by the name of loot Sanko, who came in promising all sorts of reforms, that he would throw out the bad prosecutors that he would reform the Prosecutor General's office, and that he would prosecute Yanukovych and his minions who took it's estimated about $40 billion out of Ukraine. It's a lot of money for a country. I mean, it's a lot of money, but it's a lot of money, like for a country like Ukraine. And so, you know, we would talk to him a lot about, you know, what kind of progress he was making and so forth. And he just wasn't, he was all talk, he was no walk. And he just wasn't interested in moving forward. He was interested in coming to the United States and having pictures taken with the head of the FBI, and the Attorney General and things like that. And so I was like, you know, you need to make some progress, you have to have something to show. And you have to have something to talk about with our high-level officials, because what are you going to talk about? So he felt I was I think, insufficiently supportive. And, you know, obviously really had it out for me, because when Rudy Giuliani came around through intermediaries, looking for dirt on Joe Biden, who he thought the President, our President thought would be the most likely opponent in the presidential elections. He got hooked up with, with this guy, Lutsenko, and Lutsenko, I think probably made it a condition that he wanted me out, in exchange for which he would provide a pack of lies about me. But also, more importantly, about Joe Biden and his son, Hunter, and turn the narrative of was it Russian interference in our 2016 presidential elections on its head, and helping them create a narrative that it was actually Ukrainian interference in presidential, our presidential elections, remarkable when you consider that this was the top law enforcement individual in Ukraine, that he would accuse his own country if something had not done.
Andy Slavitt  32:02
So you were doing the hard work of democracy, the hard work, meaning building justice, of capabilities, rooting out corruption, really pressing the country in ways that as you say, were consistent with state of US policy, including under President Trump. And then you get you find that you're running into some corollary goals of a president that is confident and that says what happens in 2020, you appeared in front of Congress, I want to play a clip of questioning from one of the council's, was questioning you named Daniel Goldman, who was asking you about a call that Trump and Zelenskyy had, they would reveal by a whistleblower. Let's listen to this.
Andy Slavitt 
So having read the book, I'm going to offer this explanation to please just tell me if you agree or disagree with it. I think you were shocked even not so much by the personal impact on you, which must have been quite significant. But this, this notion of you and your fellow brother and sister, foreign service ambassadors, and what the rules of the road the country had been in serving the country, and to hear, of course, a president can always recall an ambassador, but to hear President putting one of his own people when his own team in harm's way. It feels like those rules of the road which had existed for so long in building alliances, and a vision for a State Department which had served US so well. Will be thrown out the window and you were exhibit A.
Marie Yovanovitch  34:49
Well, you're absolutely right. This whole unfortunate episode was much bigger than just about me. I think that call transcript showed to you know, every dictator out there, every bad actor both in the United States and abroad, that they could make deals with this government that President Trump was ready to trade on his office for a favor though, as he said, a personal favor a political favor, he was willing to hold up javelins, which, you know, now every American has heard of, because we are sending them in bulk to Ukraine. He was willing to hold those up until President Zelenskyy did what he wanted; he was caught. And so he was forced to release them, and send that shipment on to the Ukrainians. But, you know, just because a robber is caught and returns the jewels, doesn't mean they're not still a robber. And so I think there were, this incident has, as I said, was much bigger than just about me, because it also really weakened the United States. And our ability to conduct foreign policy, it raise questions among my colleagues have was the same thing that happened to them, if they tangle with somebody in the government, their host government, even if they're fulfilling our US government policy, is the same thing gonna happen. It may autocrats think, well, we don't need to pay attention to that Ambassador, because they're not really a Trump person, and even made some democracies wonder, you know, what was going on in the US and what was going on with us representation in their country, it is very, very damaging, and continues to be, although I think the Biden administration, as you noted, I think, at the outset, has made a renewed effort, right, from the very beginning to focus on allies and building up alliances, and building at the State Department.
Andy Slavitt  36:54
You know, you write in your book about disclosing anything that you haven't written about, about going to therapy for the stress and the anxiety over this whole experience that I feel like I need to go to therapy, just thinking about what this happened, this happening to you. But I think about the impact that this could have on every ambassador around the globe, who is diligently pursuing what they believe to be the work of the US government, the stated policy of the US government, and then going well, wait a minute, if this falls into conflict with something that the President decides, is against his own interest, am I in trouble? There's, there's one more clip I want to listen to. I want to play. This is Adam Schiff, who's questioning you, now he's a congressman from California. Okay, are you tired of hearing that clip?
Marie Yovanovitch  38:40
Yeah. It's still painful to tell you the truth.
Andy Slavitt  38:44
Your mother made a comment to you. You mentioned your mother grew up stateless in Germany during the Nazi era, and I hope I'm not misquoting her. But I think she told you, I have seen this before. And you right, that she was referring to her experience surviving World War Two in Germany? How do you reflect on that connection?
Marie Yovanovitch 
Yeah. I think that, you know, when we came back to the United States, under those really terrible circumstances, and really saw what was happening here, you know, in terms of the scapegoating of minority groups, the calling out of journalists. You know, my experience all of that together, as well as many other things. And of course, ultimately, my mother, thankfully didn't live to see the January 6 insurrection and the, you know, the campaign not to accept the election results. But all of that together, I think indicates that we have real challenges in our democracy here, and that every single one of us needs to think about how we can tend and defend our democracy in order to protect it, and so that it will endure. You know, my parents, I started this conversation with you, Andy, talking about how my parents brought me up to be thankful for our democracy. But I think over the years, I have become complacent. And I just thought it would always be there for us. And I think what we've seen over the last several years, although it was probably a longer process, is that we were taking it for granted. And we can't do that, we need to teach civics in our classrooms. And then you know, right up the line, you know, we need to encourage people to participate in their local communities, sometimes in local politics, sometimes just at the PTA, or, you know, in the garden club to keep that city beautiful. We need to build bridges. And we need to give, you know, go back to first principles and the things that our founding fathers believe were most important.
Andy Slavitt  41:03
To me, you're a symbol of the sentiment. And your story is a symbol of the sentiment that everything good is worth fighting for. It doesn't come easily, you know, you've given your career to the hard work of making sure that these gains are sustained, that helping other people around the world realize these gains, to the recognition that you said that sometimes it does feel like it's two steps backwards. And one step forward, in even in the midst of what has been a very trying period, if you could view them as two steps backward, but we have to take steps forward, to regain their ground. That feels like the meaning of so much of what you experience.
Marie Yovanovitch
Well, you know, it's like the Man in the Arena, you need to get in there, and you need to contest what you believe in. And you need to fight not in a physical sense, but you need to fight what you believe in. I think right now, there's so many people that are turned off by the divisions, the divisions in our society, by you know, the attacks in Washington back and forth, the decibel level of our public discourse that they want to, you know, turn it off and turn inwards. But that can't be everybody's response. Because if it is, we're not going to be able to fix it. And if you don't like something you need to fix it, can't just complain about it.
Andy Slavitt  42:34
Well, and if indeed, you know, the lessons from your book, which are about the lessons from the edge, if we are on an edge, if we are on the edge of the democracy heading here at home heading in the wrong direction, because we become complacent, or the edge of this became a new period where we have fought for and revitalized our country, our democracy, the things we believe in, we're powerless without the will of the people. And when the people are silent, that's when bad things happen, or when we get complacent, or when we get pessimistic about at all. So maybe a good way to finish because she said You are an optimist, and I am too, is how an ordinary person who's not an ambassador, or someone who doesn't consider them to be individually a decision maker. What role we can all play?
Marie Yovanovitch 
I think, like you said, I think we can all play a role. And we all do play a role. I mean, I think of my parents who were teachers, and raised generations of students who, you know, are still in touch with my brother and myself, telling us what a difference they need, not just what they taught, but the example they set and how they said it. So it can be as simple as leading, you know, kind of a good life. I know that sounds like a 1950s kind of a caricature or something. But my parents taught, you know, not only in the classroom, but by example. And I think getting involved. I mean, what do you love to do? Do you love coaching, coaching kids get involved in that and again, raise kids up, not only to, you know, teach them how to throw a ball, but how to do that in a way that encourages good citizenship. You know, beautifying a city is so important in so many ways. And maybe you can build bridges with somebody who thinks radically differently than you do. And maybe that can create a future where the two of you can come together on other issues as well. I think there are so many different ways to get involved. And the key is to get involved in things you're interested in.
Andy Slavitt  44:53
Well, Marie, Ambassador Marie Yovanovitch, thank you for coming IN THE BUBBLE. It was such a great pleasure.
Marie Yovanovitch 
Thank you. Thank you
Andy Slavitt
Okay, let me tell you about our shows next week. We have former US Assistant Secretary of Homeland Security. Juliette Kayyem on the show on Monday. On Wednesday, we are going deep into the topic of long COVID. I think at this point, I'm assuming we all know people or have people in our families who are experiencing longer term symptoms from lung COVID. What do we know? What is the research telling us the two great clinicians on to talk about that. And then following week we have Albert Borla, the CEO of Pfizer who hopefully will have more new data to share with us about the new vaccines and various specific vaccines. Listen, I hope you have a great rest of the week. Enjoy.
Andy Slavitt  46:00
Thanks for listening to IN THE BUBBLE. Hope you rate us highly. We're a production of Lemonada Media. Kryssy Pease and Alex McOwen produced the show. Our mix is by Ivan Kuraev and Veronica Rodriguez. Jessica Cordova Kramer and Stephanie Wittels Wachs are the executive producers of the show, we love them dearly. Our theme was composed by Dan Molad and Oliver Hill, and additional music by Ivan Kuraev. You can find out more about our show on social media at @LemonadaMedia. And you can find me at @ASlavitt on Twitter or at @AndySlavitt on Instagram. If you like what you heard today, please tell your friends and please stay safe, share some joy and we will definitely get through this together.