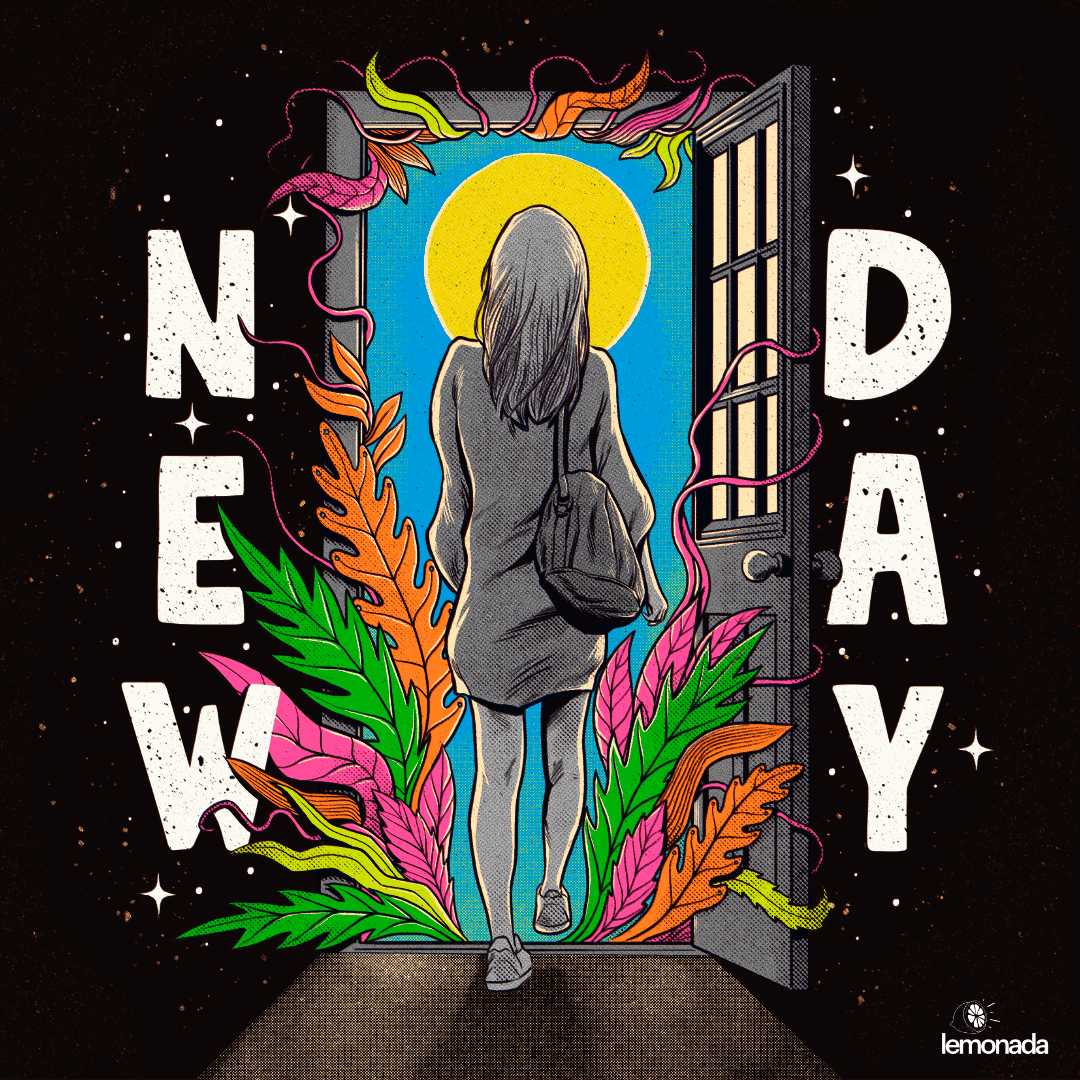 What If Mother's Day Is Painful for Me? With Stephanie Wittels Wachs and Maureen Wittels
Subscribe to Lemonada Premium for Bonus Content
Description
Mother's Day has great intentions behind it: taking a day out of the year to celebrate our moms and all the things they do for us. But for many people, for many reasons, that can be a painful proposition. Mother's Day became extremely difficult for Stephanie Wittels Wachs and Maureen Wittels when Harris Wittels, Maureen's son and Stephanie's brother, died of a heroin overdose in 2015. In the years since, Stephanie and Maureen have learned to redefine this holiday so they can simultaneously honor Harris's life and celebrate their family as it exists today. They tell Claire the various ways they've gotten through Mother's Day over the years and share advice for those in similar situations.
Resources from the show
Do you have a question about grief or other ways you can take care of your mental health? Send Claire a question to be featured on an upcoming episode www.bit.ly/newdayask
Want to connect? Join the New Day Facebook Group!  https://www.facebook.com/groups/newdaypod
Click this link for a list of current sponsors and discount codes for this show and all Lemonada shows go to lemonadamedia.com/sponsors.
Did you try one of these weekly practices? We want to hear about it! Call 833-4-LEMONADA (833-453-6662) or email us newday@lemonadamedia.com.
To follow along with a transcript and/or take notes for friends and family, go to lemonadamedia.com/show/newday/ shortly after the air date.
Follow Claire on IG and FB @clairebidwellsmith or Twitter @clairebidwell and visit her website: www.clairebidwellsmith.com.
Stay up to date with us on Twitter, Facebook, and Instagram at @LemonadaMedia.
Joining Lemonada Premium is a great way to support our show and get bonus content. Subscribe today at bit.ly/lemonadapremium.
Transcript
SPEAKERS
Maureen Wittels, Claire, Stephanie Wittels Wachs
Claire  01:02
Hi, I'm Claire Bidwell Smith. Welcome to NEW DAY. So Mother's Day is coming up. And if that slipped your mind, don't worry, you still have some time to pick up a card and some flowers. It's a lovely idea, Mother's Day, taking a day out of the year to celebrate mom and all the things she does. I frankly think we moms deserve more than one day. But I digress. Like many lovely ideas, though. Mother's Day in practice can be really difficult for a lot of people. My mom died when I was 18. And for years, Mother's Day just really sucked. There's no other way to describe it than that. The unavoidable ads and social media posts and store decorations. It just sucked. And then I became a mom myself, which made things really complicated. I really wanted to celebrate that but I was also grieving that I didn't get to share that celebration with my mom. Mother's Day is a very hard day for Maureen Wittels. And Stephanie Wittels Wachs, Stephanie you may know is one of the founders of Lemonada and she hosts the amazing podcast last day. Marina Stephanie's mom. Maureen is also Harris' mom. Harris waddles was an incredible comedian, writer, producer and actor. His cameos on Parks and Rec as an animal control employee named Harris are absolutely hilarious. Harris passed away in February of 2015, from a heroin overdose. So yeah, Mother's Day is hard for them to this will be their eighth Mother's Day without Harris. So if Mother's Day or really any holidays hard for you, I hope you'll get some ideas for getting through the day from staff and Maureen. That might mean spending the day in bed as Maureen did that first Mother's Day After Harris died. And that's a perfectly acceptable way to get through a tough day. But it's up to you. Take a listen today and see what resonates.
Claire  02:56
Hi, Stephanie. Hi, Maureen. Welcome to New Day, guys.
Stephanie Wittels Wachs 
We did it. We did it. We found a time, we're here.
Claire 
On that note, I start all my episodes by asking my guests. How are you guys doing? But how are you really doing?
Maureen Wittels
I'm good today.
Claire 
Okay, good stuff.
Stephanie Wittels Wachs 
My mom is nodding. I'm good today. I'm good today. I am stressed today because I have to fly later today. And they just lifted the mask mandate and I'm like in my catastrophizing brain, my very best friend. Just like the one person who has COVID on the plane will sit right next to me. So anyway, I've got like my three M's and I'm trying to control my controllables.
Claire 
That sounds fun. Welcome to the show. Yeah, I wanted to have you guys on because Mother's Day is coming up. And you know, I never thought much about Mother's Day until my mom died. And then Mother's Day really sucked. And it was a really different day for me and, and then I became a mom. And so suddenly I was mourning my own mother and kind of grieving not getting to celebrate Mother's Day with her, but also wanting to celebrate it and my kids wanting to celebrate me and it was just complicated. And so every Mother's Day and Father's Day and these kind of prescribed holidays. I think a lot about the people out there who do have complicated relationships or grief and loss or whatever they're going through that makes the day not the cheery Hallmark holiday it's supposed to be and so I thought you guys would be some interesting moms to talk to about this. And I was wondering if you could maybe tell our listeners a little bit about your own journeys of motherhood and family and why Mother's Day might be complicated for you guys.
Stephanie Wittels Wachs  05:03
Where are we gonna dive in mama, what you want? You know what I've never asked you actually, like, I was asking you the other day about Gani, my grandmother, my mother's mother and all the women have always been so close in our family. And I was asking you the other day at Iris' softball game, if you still mourn her, my brother's birthday was April 20. And we were both kind of like, my mom and I were both talking about how we, like got through the day, okay. And it's been like, seven, eight years since my brother died. And then I was asking her, do you still feel that with your mother who died? You know? And did you say what did you say? How does it feel for you like with your own mom not being here.
Maureen Wittels 
I always mourn my mom, because she was an angel on Earth, Stephanie can attest to. But on Mother's Day, my heart is split in many different places. I'm mourning the loss of Harris. I'm missing my mom. I need to celebrate the day for my grandchildren and my daughter. They deserve that. So I'm all over the map on Mother's Day.
Claire  06:28
Thank you for that answer. I do want to note really quickly, I am hearing a little echo from Maureen.
Stephanie Wittels Wachs 
Oh, listen, hold on. Honey. Wrong ear. Oh, hold on. Okay, baby, you got to change. These are the wrong years.  Is that better? Say like, your alphabets?
Claire 
Yeah. I don't hear the echo anymore.
Stephanie Wittels Wachs 
We fixed it.
Claire
Okay. I can't imagine if my mom were still around what our relationship would be like it's always interesting to see my friends with their moms and just kind of see what that relationship evolves into. I really, like struggled to imagine it. I was only 18 When my mom died. And, you know, we were still in that really awful, angsty period where I was sometimes great, often awful. And she was just trying to ride the waves of it. And we never got to that kind of repair that stuff. And then also just kind of get to know each other as adults. And I just really wonder what that would be like, it's fun to see you guys talk to each other.
Stephanie Wittels Wachs 
We've been through lots of phases, lots of phases of our relationship.
Claire 
I believe you. You know, I've strangely enough, Or not so strange. I have been through lots of phases with my dad, mom and our relationship. You know, she's been gone for 25 years and we've had a lot of phases in those 25 years. Those relationships don't really end even though they don't always turn out the way you think they will. to backtrack a little, Maureen you lost your son, Stephanie, your brother Harris, eight years ago? Is that what you said? Can you tell listeners a little bit about that in case they're not familiar with the story?
Stephanie Wittels Wachs  08:27
I don't know how they wouldn't be familiar because my goodness, we have told it and told it. Okay, here's the short version. My brother was the funniest person that ever lived. He was a very successful comedian, TV writer, producer, actor. He invented the word humblebrag. He was an absolute delight, and a mad li wildly frustrating person who was like, constantly working and thinking and creating and just like magnificent, magnificent human being. And we had two kids in our family, me and Harris. I was first he was second. We were very, very, very close. And in 2015, he died of a heroin overdose. And we had been on that addiction roller coaster for like, two years. Right mom about two years. And it was horrible. It was a horrible time. The absolute worst time. I get like, I can feel my chest like tighten when I even say that. It was awful. There was a baby that was born in the midst, which was mine. She has disability. So we were dealing with that, lots of medical stuff. Lots of roller coasters at the same time. Yeah. So you know, you asked about like motherhood. It's like been really complicated from the start. And amazing, but so
Claire  10:13
like, when Mother's Day rolled around that first year after Harrison died, what was that like for you guys? That's one of those, like sneak attacks in grief, right where you're like, already dealing with so much. And then something like Mother's day rolls around in the midst of that kind of loss. And it's just like, what?
Stephanie Wittels Wachs 
My brother died the day before my birthday, which was in February. So holidays overall have been like, a true bummer. For the last eight years. I don't even remember; I think I remember sitting on the edge of the bed. I think this is that Mother's Day with Mike my husband. And he was I remember like laying my head on his shoulder and just like weeping. I mean, it's like, it's amazing how that's like, right there accessible when you think back about it. And just, you know, I just didn't want to celebrate anything ever again. How did you feel, mom?
Maureen Wittels 
More than likely? I didn't get out of bed that day. Because I remained in bed for a long time.
Claire 
Yeah. Yeah. So and then how has Mother's Day changed and evolved over these last eight years?
Maureen Wittels 
It's gotten better. The holidays are very hard for us. They're mixed blessings. Have these wonderful grandchildren that I celebrate every day? I try to put on a happy face. For Stephanie. All of that, every single holiday. And he is always missed.
Claire  12:13
How has your relationship between the two of you changed with Harris's death?
Maureen Wittels 
I think we've probably grown closer. Hope it's hard because she's the only one now. And a lot of stress of that is probably on her shoulders.
Stephanie Wittels Wachs 
Well, sure, but I mean, let's be honest, if Harris was still here, would he be making the arrangements for assisted living? I don't think so. Like he might be, you know, just sending a check, right and start, you know, typing a snarky comment. But I mean, you know, every sibling dynamic has, like, the one who is, is kind of dealing with the parents and the one who is not. And I think I have always played that role anyway. But I don't know. I think it's been like, it's like really hard to see your mom in pain. It's really hard to see your mom in a place of despair. And, you know, I'm so connected to my mom that I know, when she's putting on a happy face when it's not authentic. And it's typically not, I mean, like, they're, like she said, there's so many shades of nuance and complicated messiness. And, you know, I think we all agree that we have the best kids, obviously, they win the contest. Sorry, Claire. And they are like absolute, you know, delight in human form, and have saved us so much over the last, you know, many years. And I think for a long time, it was hard for my mom and I, because I don't know, because we were just both so grief stricken. And I think, you know, when you're so intertwined with somebody, you know, some parent child relationships are very separate. Ours have never been separate. Were very and meshed together, probably, like, maybe some codependency, who knows? But like, we have the kind of relationship where, you know, on a Saturday morning, like the door will swing open and it'll be my mom and she'll come unannounced. And that's, you know, the kind of life that we live and when you're so close to somebody and you're grieving differently. It's just hard. It's just, it's just really, you know, and they have expectations of you, and you have expectations of them. And you would be inhuman if you weren't putting your shit on each other various points throughout the process. And, you know, I think a lot of that messiness has gotten cleaned up over time, because grief just gets easier over time. Yeah.
Maureen Wittels 
And I guess I feel the same as Stephanie. Because one thing as a parent, you see your child and pain, and you cannot fix it. That sucks.
Claire 
And you had already gone through that, to some extent with Harris before he died, I imagine, you know, and so. Then it continued with Stephanie in a different way. Yeah, that's gotta be really hard.
Maureen Wittels
It's hard. It's still hard. I can read her as well. I can read her with hello.
Stephanie Wittels Wachs  16:04
Well, I mean, I'm pretty blunt. My mom is very funny. She's like, holding it together right now. And like, sort of like breathing deeply. And I feel like she's, I feel like, wait, I pressed a button, you would just start crying. I feel like you're having Are you having a moment? Yeah,
Maureen Wittels 
This is always difficult. Yeah, you know, you try to push it, push it back. But this is hard. You know, I don't talk about it anymore. I really don't I don't talk about it with Stephanie. Or my husband, because he won't, he won't have any of it. And this is hard. This is bringing it up.
Claire 
Let's talk to the people out there who are facing complicated matters days, you know, like, what advice do you have for them? Or what thoughts can you give them of? Maybe someone's about to go into their first Mother's Day Without a child or without their mother or without a family member. What advice do you have? Even if it's stay in bed all day?
Maureen Wittels 
That is my advice. If that's what you want to do. Do it.
Stephanie Wittels Wachs
I mean, it's a corporate holiday, let's be honest, well, why are we needing to celebrate this day, it's I have a problem with these days. I'm just gonna put it out there. I have a problem with Mother's Day. And Father's Day and Valentine's Day, we have enough pressure in our lives. And then we have to celebrate, buy a card, like on top of everything.
Claire  18:11
I agree, but I also feel like they're like so unavoidable, you know, you can't go to the damn grocery store without being bombarded with the stuff. So how do you take care of yourself when you're grieving? Or when you're having this kind of complicated day. And how do you like, get away from that stuff? Or how do you comfort yourself when you run into it?
Maureen Wittels 
I just think you have to go through it. I mean, as the years go by, it will get softer, I promise. But you're gonna have to do it. However you want to do it. Mother's Day is fine. It is what it is. We will try to celebrate.
Claire 
A few years ago, I started buying cards from my mom I was in the car I was in the I like accidentally found myself in the card aisle around Mother's Day. And I was like feeling angry that I didn't get to get a card from my mom. And then I was like, why don't I get to get a card from my mom. And so I was like, I'm gonna buy a damn card from my mom. And I did I picked out like the card I would have bought her if she were alive. And I bought it and I wrote her a note in it. And I put it on the counter with all the other cards. And that felt really good. You know?
Stephanie Wittels Wachs 
That's sweet Claire. That's so like, easy and simple and powerful. That's great.
Claire 
Yeah, I was surprised that I hadn't done it before. You know, it just really hit me that day. I was like, wait, I get to buy a card. Why can't I buy a card from my mom? I'm gonna do it. And I did it, you know? And it was nice.
Stephanie Wittels Wachs 
I love that. I mean, yeah, I don't think you can avoid. It's like the bear hunt book that my son loves to read and we're going on a bear hunt. We're gonna catch a big one. And then they run into all these obstacles and the whole thing is like you can't go around it, you can't go over it, you have to go through it. And I'm every time I read the book, I'm like, is this not a metaphor, of our entire fucking lives? It's like, I mean, it's so that's like defines everything and whatever going through it means. And I think also, I think even before Harris died, every family has a different, like lease on holidays, you know, my family that I've created with my husband and our kids, even before Harris died, it was like, can we just like, not go crazy with these things? Can we just like, can we just agree that we're not going to do big anniversary gifts? And we're not going to do massive holiday like we can we just got put that pressure on ourselves. Yeah. Yeah. And that works for us. You know, and I think I think it's kind of helped to alleviate a lot of what we're talking about here, a lot of the angst around like, this isn't happening, how it's supposed to happen. We've kind of always approached it from a sort of laissez faire perspective.
Claire 
And I think that's important. I think it's really good to come up with that kind of family culture, what is our family culture? And especially after you've gone through loss, you know, what does our family culture look like? Now? What do we want to do for holidays and anniversaries, and how do we want to, you know, either ignore this stuff, or show up for each other or celebrate it? And it's kind of good to get on the same page and talk about it, you know?
Stephanie Wittels Wachs 
Yeah. And I think that's exactly right. And I think otherwise, one of you is going to be disappointed, you know, right. So it's like, it's sort of like staves that off. And then I think the other thing is that we just on Mother's Day, you know, the kids make me cards, and my daughter likes to do the breakfast in bed. And that's so sweet. And we just get to hang out for the day. And it's just a day that we're intentionally connecting. So it's like, for me, when I'm in my normal life, and like working and busy and doing a million things, and I feel like these moments are just moments to kind of ground yourself and be like, Okay, today, we're gonna celebrate the fact that we are a family, that you are my children, that I am your mother, that you are my mother, that we're all still here that we all still like to eat food. You know, and that's kind of what it boils down to. And I think that over the years, like my mom said, it gets easier and easier like that first year. I mean, yeah, you're just in bed. Or if you're not in bed, you're out of bed, but you're in bed internally, and like crying all the time. And it's only come it's only gone up from there, I'd say.
Maureen Wittels  22:43
It's a low bar.
Claire 
low bar. Let's talk about motherhood in general. How's that going for you guys?
Stephanie Wittels Wachs 
I love every minute of it.
Claire 
I believe you.
Stephanie Wittels Wachs 
Okay, so my daughter said to me last week, we were talking about this too, right at the softball game. She said my mom and I; my daughter is very into Softball now. So we spend a lot of time at the softball field. This is a thing that we do now. This is a big cultural thing around here, softball. But anyway, I have to go to town this week, I get to see you, Claire, it's going to be a highlight of my week. And my daughter said to me, I know it's not your fault. But when you go away for work, when I have an event at school, like my open house, it makes me feel really sad. And it really hurts my feelings. And I was like, I hear that and I will now buy us $1,200 Olivia Rodrigo tickets. Um, and I'm very excited about that. It's gonna be sort of near your neck of the woods, Claire, you want to come with us?
Claire  24:05
1I do want to come? Yeah, can I bring all of my ungrateful children.
Stephanie Wittels Wachs 
Yeah, bring all of your ungrateful children. So I was like, there were so many moments in that interaction where I had a million things I had. Holy shit. I'm the worst. Oh my gosh, I'm killing her. Oh my gosh, she expresses herself so well. What you're able to say that to me and conflict resolution terms as an eight-year-old. Oh my gosh, I must have done something. Right. Like I had all these, you know, and then I was telling my mom about it and saying, you know, my mom, and I want her to talk about this but was the best mom she was so available. Like when I think about my childhood. I'm like, endlessly available PTO president on every field trip? fully stocked fridge fully stocked snack room  or pantry. My kid calls it a snack room. Like always, at the school, always organizing things I remember there was always meetings happening in the house like school board meetings and Teacher Appreciation things and she was just so on it and like she was a stay-at-home mom and just like kick ass at it fully and I am the exact opposite. So my model for like a good mom was a mom who is totally present, always available, has their shit together. Oh my god, the house is always clean, immaculate, I would pour a glass of water I would turn around it would be gone in in the dishwasher like she is so on top of it. And, you know, so I'm doing it really differently. And I think that I mean, for those who don't know, like I run a company called Lemonada, this podcast is on it. We have like 60 employees, we have 25 shows, I host a show. Like there's, I am busy. I am traveling every two to three weeks like it is a very different life that I am living as a mom and my husband does primary caretaking and primary caregiving and my dad I don't think ever changed a diaper or like ever made a piece of toast and was never home and so looks completely different than my family of origin.
Claire  26:27
I want to hear from Maureen about if Steph's description of your experience of like being a mom, her mom is accurate. And also like what you think of how Steph's doing things.
Maureen Wittels 
It's so accurate. And I had the same kind of mom. Yeah, so she's very different from what I know. But I'm really okay with that. I was Mother of the year, and my son is dead.
Stephanie Wittels Wachs 
Oh, Mom, that's a horrible sentence to say.
Maureen Wittels 
All I'm saying is whatever you do as a mother. Whatever time you can spend it with quality time. It's fine. The world's changed. You have to you have to work. It's hard to live. And I tell Stephanie all the time, she is the best mother. I hear her interact with her children. She couldn't be any better as a mom. And her husband is Ace father taking care of those kids. Yeah, it works. It works in their family. And I'm good with that. And I'm always on call. And that's good.
Claire  28:20
But like kind of going back to that statement, you know, being MOTHER OF THE YEAR and your son is dead? Like, what does that mean exactly? Can you impact that? Like, does that mean? Like, it doesn't really matter what we do? Or we can't ever prevent? We can only I don't know, what does that mean?
Maureen Wittels 
That is exactly what I mean. You can be a great stay at home mom, you can be a working mom. Just it's fine. It's okay. Just make sure your children are loved. And they know it. You know, the thing I regret most is probably not telling Harris every single day when he was growing up that I loved him. And that's which all you have to do.
Claire 
But it sounds like you did do that through action. You know, like, my husband is not a words guy. He's an action guy. So I have to sometimes remind myself like he does love me because he filled my gas tank in the car.
Stephanie Wittels Wachs 
Same girl, same. But you know,
Claire 
So it sounds like you did tell Harris every day just by showing up by being the, you know, Mother of the year in the school president and all those things. Those are, you know, those are forms of love.
Maureen Wittels 
I was lucky. I felt privileged to be able to do that.
Claire 
Yeah. So what are you guys going to do this Mother's Day now that we've really gotten into it. Let's come up with your plan for Mother's Day. Let's come up with all of our plans. What are we going to do? What am I going to do?
Stephanie Wittels Wachs 
So, you know what? My son was born Mother's Day weekend, the second kid so Mother's Day is now really always combined with his birthday party, so we have lots of out-of-town family coming in this year. Friends, you know, dear friends from childhood, new friends, we're going to, we have a nicely newly landscaped backyard, we're gonna have a big backyard party on Saturday for him and, and then we'll still have everyone in town for Sunday. And I'm actually really looking forward to it. It's nice to be able to gather after a couple years of not being able to do that. Yeah. So I don't know, what's our plan, Mom, what are we gonna do?
Maureen Wittels  30:37
I like your plan. I think it's gonna be great. I'm looking forward to it.
Stephanie Wittels Wachs 
Yeah, I think we'll just chill. I think we'll have like a chill. You know, there will be food. There's this whole raid happening here. I live in the we live in a small town that is truly like The Truman Show. I feel like they're gonna kick me out. They're gonna find out at some point that I'm like a heathen, and they're gonna make me go, but they have this Good Old Days Parade. It's literally called The Good Old Days Parade. And I think that's happening on Mother's Day. So maybe we'll track down to the main street and watch some wholesome barbershop quartets or something, I don't know. But we'll be together. Yeah, there'll be that. And I feel really grateful that my mom is here. And, you know, she didn't totally want to move with us. But I think she's happy now. She's like, three minutes away. And you know, we'd like to be together.
Claire 
I'm gonna get a card from my mom this year again. And I think we'll probably do some kind of brunch situation, because nobody ever cooks for me. And so I just drag them out to eat so that somebody else can attend to me, someone to attend to me at some point. Yeah, here. Is
Stephanie Wittels Wachs
One day a year. Could somebody please serve me a meal. One meal.
Claire  32:05
Yeah, I think that'll be our plan. Any last advice or words for anyone going through the loss of a family member or losing a sibling, a child, not necessarily with Mother's Day specifically, but just kind of like, you know, going through that big grief going through that family change. Any parting wisdom or words that could be helpful to someone?
Maureen Wittels 
Look, it's not going to be the perfect situation. No holiday is. But you look at the joy, I find joys are magnified now. Probably not before he died. Now they are. Every moment is just joyful. So hang in there. If you've lost someone, it's going to get better. And just live that day. My son used to say, stop future tripping, and I'll try to live by that. And I will tell you something else. I always had these sayings. Morgan Freeman said one time, you can get busy living or you can get busy dying. And I've chose to live.
Stephanie Wittels Wachs 
Wow, mom.
Claire 
I love that. That was from What's that movie? That's from Shawshank. And I love it. I think it's true. I think it's I think we spend a lot of time when we're grieving, thinking about the future and like tripping out on it, and like, what things are gonna look like and really just kind of bringing your attention and your focus back to right now. And just being here, you know, I think that's, that's good advice from Harris. Yeah. Thank you.
Stephanie Wittels Wachs 
I agree. That was great. Mom, those Thank you. I think that's absolutely right. And also just, I don't know, therapy, therapy, therapy, please go to therapy and writing, I found writing to be a true lifeline for me in the aftermath of grief. I was so destroyed. So that was really helpful to have a place to put all of that because words didn't really serve me and communication didn't really serve me. I didn't want to talk to anybody. I was like mad all the time. And every conversation would be triggering and no one could get it right. And so it's like, well, if I just type things, you know, I don't know it was it was healing. Yeah. And then I agree. I think that it every day it does. It does get easier and it never goes away. But it does diminish.
Claire  34:48
Yeah. You said earlier Stephanie, that you feel joy in your life now and then you have little moments of guilt. And I think we have to remember this idea that like two things can be true at once we can feel joy and still be grieving, we can feel joy and always be missing that person or always be like angry and upset that they're not here and still feel joy and have meaningful moments in our life. We don't have to pick one. We don't have to be miserable forever and in grief and agony, or only be happy and like, I'm fine. Now, it doesn't have to be, you know, one or the other. We can have multitudes of feelings and experiences and yeah, have it all at the same time. Embracing all the messiness of it.
Stephanie Wittels Wachs 
We contain multitudes, ladies.
Claire 
We do, happy Mother's Day.
Stephanie Wittels Wachs 
Happy Mother's Day.
Claire
Happy Day. Today.
Stephanie Wittels Wachs 
Yeah, yeah. That's right. Yeah. Thank you for having us on Claire. It was so nice.
Claire 
Yeah, thank you so much for being here.
Maureen Wittels 
Nice seeing you.
Claire 
I'm so thankful to Stephanie and Maureen for this conversation. I could hear how hard it was at the beginning for both of them to talk about this, That pain just comes right back. But hearing what they have to say is so valuable. So I hope if you're dreading Mother's Day for any reason that this conversation will help you find ways to get through it. And speaking of getting through things, the goal of this show is to help make your life a little better one episode at a time. But we thought that one episode a week just wasn't cutting it. So starting next week, you'll get three episodes of new day in your feed every week. Every Monday and Wednesday, I'll share a practice that I hope will be helpful in your life. And I'll answer questions from you. And then we'll cap your week off on Fridays with this kind of a show a longer interview with a fantastic guest or two like today. So what questions do you have for me? I'd love to help you out. Just shoot me an email at newday@lemonadamedia.com and listen for the answer right here in your feed. Okay, I gotta go get my mom on Mother's Day card. See you Monday.
CREDITS
NEW DAY is a Lemonada Media Original. The show is produced by Kryssy Pease and Erianna Jiles. Kat Yore is our engineer. Music is by Hannis Brown. Our VP of weekly content is Steve Nelson. And our executive producers are Stephanie Wittels Wachs, Jessica Cordova Kramer, and me, Claire Bidwell Smith. NEW DAY is produced in partnership with the Well Being Trust, The Jed Foundation and Education Development Center. Help others find our show by leaving us a rating and writing a review. Follow us at @LemonadaMedia across all social platforms, or find me at clairebidwellsmith.com. Join our Facebook group to connect with me and fellow NEW DAY listeners at facebook.com/groups/newdaypod. You can also get bonus content and behind the scenes material by subscribing to Lemonada Premium on Apple podcasts.  Thanks for listening. See you next week.