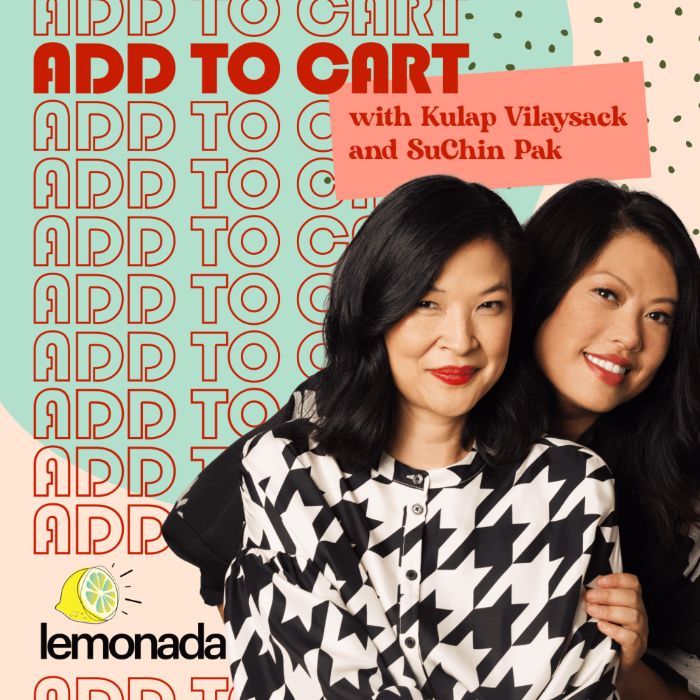 Add to Cart: Family. Remove from Cart: FAMILY (with Susan Yara)
Subscribe to Lemonada Premium for Bonus Content
Description
This week SuChin and Kulap talk family. Kulap adds many things to cart after her family visited LA for the first time since the "before times." It's possible she's into sports cards now but has confirmed she still can't eat weed edibles. Meanwhile, SuChin's parents are less sure about their move to Santa Barbara. The two also talk about turning the page –– both in books and in life. Plus, Naturium's Susan Yara joins SuChin for the debut of a new segment, Sidebar with SuChin.
Please note, Add To Cart contains mature themes and may not be appropriate for all listeners.
For a list and links to all products mentioned in this episode, head to @addtocartpod on Instagram.
For a list and links to all products mentioned in this episode, head to @addtocartpod on Instagram.
Stay up to date with us on Twitter, Facebook, and Instagram at @LemonadaMedia.
Joining Lemonada Premium is a great way to support our show and get bonus content. Subscribe today at bit.ly/lemonadapremium.
Click this link for a list of current sponsors and discount codes for this show and all Lemonada shows: lemonadamedia.com/sponsors
Transcript
SPEAKERS
Kai, Kulap Vilaysack, SuChin Pak, Susan Yara
SuChin Pak  00:01
Hello everyone. Welcome to another episode of ADD TO CART. A show about the things we buy. And all the things we buy into and what they say about who we are as people, as humans. I'm SuChin Pak.
Kulap Vilaysack 
And I'm Kulap Vilaysack. And this week we're giving you a classic Add To Cart. Remove from cart maybe. Well, I know for sure a very special game changer.
SuChin Pak 
Oh, I'm excited. And we have a new segment that we're launching today. It's called Sidebar with SuChin, TBD title.
Kulap Vilaysack 
I like that title.
SuChin Pak 
Sidebar with SuChin is an idea that we came up with where I get to interview some of the people behind you know, my favorite companies, brands, products, because you know, I'm nosy.
Kulap Vilaysack
You're nosy. Also an award-winning journalist, a veteran news person. I love Sidebar with SuChin. And we've got a literation I'm going to start working on the theme music.
SuChin Pak 
So Kulap, I have to get into it. I've been trying not to text and call as much as I normally do because your family is in town. And I know I mean, everyone's in town. And this is first post COVID visit from that side of the family.
Kulap Vilaysack
That's right. I haven't seen them since 2019 end of the year. And so this was an amazing reunion. It's been so fun. And that's all I'm going to talk about. It's just family this week. So let's get into some add to carts. Okay, so I am going to pepper the things we've done. It has been so so fun. So fun. I'm gonna be so so sad when they have to go. Today is my nephew's birthday. […] went crazy and got a very elaborate, very elaborate balloon arch from The Ballusionist. SuChin, the name of the business is The Ballusionist.
SuChin Pak  02:22
I mean add to cart. Okay, wait, I love that you got an elaborate balloon art sculpture for seven people or however many people are coming.
Kulap Vilaysack 
That's right. There are no children here except for my nephew. Now SuChin you've been to my backyard. It is an organic balloon arch that is suspended over the hot tub. And purples, he requested purple. Monochromatic shades of purple with white and silver accents. And on the top of the arch. At the top of the arch. His name Kai and his age 11.
SuChin Pak 
Oh my Lord. That is not what I thought. I'm thinking if I gave my son like carte blanche, what do you want to balloon sculpture to be would not be that classy. I don't know what it would be.
Kulap Vilaysack 
I didn't I asked him for color but everything else was for me. And even though I told you it was an elaborate, you are going to be shocked.
SuChin Pak 
Listen, I know I will be shocked even though I know. I've seen your Christmas house. I've seen your Christmas decorations I've seen you have large, large oversized ornaments that are askew on the floor at the base of your staircase. I've seen that with my nice and so I will still be shocked I think.
Kulap Vilaysack
SuChin, it is so crazy that you bring that up because my favorite Christmas brand Balsam Hill sent me this flyer that says Christmas in July save up to 50% and trust I will be getting into this. Yesterday we went to delicious K-barbecue, Ahgassi Gopchang in K-Town.
SuChin Pak  04:24
Tell them how you discovered this K-town barbecue spot.
Kulap Vilaysack
My sister Alyssa is a huge BTS fan.
SuChin Pak 
I mean to know BTS is to love BTS. You know?
Kulap Vilaysack
Last night we were talking and I was joking about it with her and then she looked at our Apple watch and she's like, oh, BTS just tweeted. She also went to a bakery. Because my sister has a pop up in Minnesota. That is Mochi Donuts.
SuChin Pak 
Wait, it's her own pop up?
Kulap Vilaysack 
Yeah.
SuChin Pak
She makes mochi donuts?
Kulap Vilaysack 
So it's Dilo Donuts. @dilo.dnts on Instagram. And she handcrafts mochi dodos they sell out within minutes. So we've been doing research and development SuChin which means we've been eating a lot of donuts. So while she was getting some mochi donuts they're also at the same shop where these macaroons those French […]. And at this particular place they have macaroons with the BTS characters. So each BTS member is there seven, I do know that. I believe they're seven. They have cartoon characters. And so she got..
SuChin Pak
You know what I'm thinking? Not that your sister is crazy. Koreans? You know why? Ah, it's too much. That's what I think. I think Ajumma's come on. I've seen this all by the way. Licensing fees, ha!
Kulap Vilaysack  06:09
Those the McDonald's meal.
SuChin Pak 
Oh, BTS definitely charged them a licensing fee. They're not charging Ajumma's who's stamping BTS cartoons on macaroons. I go into this K-Town like to get my face masks or whatever. And there's like BTS hand lotion, BTS soap. I'm like…
Kulap Vilaysack 
That's all piracy.
SuChin Pak 
You know, try to have some respect, try to have some modicum of respect. But anyway,
Kulap Vilaysack
I mean, we've had so much fun when we went to a Dodgers game. And so my in laws and my sister-in-law joined us because my father was a huge Dodger fan. So it was nice to have, you know, full blended family action as well.
SuChin Pak 
It's good. It's good to blend the families when there's something else distracting them. That's like ideal, blended family time. So that was great.
Kulap Vilaysack 
It's great. And that the end of the game, kids could run the bases. So Kai got to run and he's a real sporty guy. He plays baseball. He plays football. He plays basketball. He as I've mentioned, collects, buys, sells and trades, sports cards.
SuChin Pak 
Oh, my goodness.
Kulap Vilaysack 
It's been an epic trip. And it's funny because while Kai is interested in sports cards, my two sisters and my brother-in-law are very much interested in our various dispensary's.
SuChin Pak 
I see. highbrow lowbrow
Kulap Vilaysack
Well, high. That's right is the underlining. I never partake. And for good reason, because I took a chewy, it was almost like a starburst. That was like 10 grams. It was like a blueberry flavor was delicious. Right before we went to Din Tai Fung. While we're at the Americana and we're walking around it hit me. And all throughout dinner and on the way home. I was like, quiet. If you guys can imagine me quiet.
SuChin Pak  08:21
In my thoughts, mouth small eyes wide.
Kulap Vilaysack 
That's right.
SuChin Pak 
Taking it all in.
Kulap Vilaysack
So that's been my trip. Oh, well, my trip. My family's trip here.
SuChin Pak 
Man. That's an incredible, energized and fun field trip. And they're still here for a few more days.
Kulap Vilaysack 
They're still here. Mom's in the other room. She's having a spa day. I use the app Glam Squad. She had a haircut at 10:30, right now she's getting her a mani pedi just in the other room. Mom is getting pampered as she deserves. Me and my sister dyed her hair earlier will really Alyssa dyed her hair and then I helped her with her.
SuChin Pak
For our non-Asian listeners. This is not a typical Asian get together. Just in case you are wondering. Because they may be like wait a minute. We've heard different things on this podcast. All those other things are also true. Because yeah, this is a Kulap special.
Kulap Vilaysack
This is a Kulap special of my mom. I love her so much. That she came. Her roots were many shades of different color from the bottom of her hair. And so I was like, hey, we gotta dye your hair, dye her hair. And I was like, you know what? Let's trim a little. Why don't we trim. I go, mom, when's the last time you cut your hair. She said four years. I said let's just treat ourselves.
SuChin Pak 
Did she know about your waxing and vaccing?
Kulap Vilaysack
Do you think I should have had a wax or come from my mum?
SuChin Pak
No.
Kulap Vilaysack 
That's the final friends here. Come into my house and waxes me.
SuChin Pak  10:02
Oh, I'm sure there's an app for that.
Kulap Vilaysack 
Show it to me.
SuChin Pak 
Oh, that algorithm isn't in my phone, but I will. I will send out a bulletin.
Kulap Vilaysack 
Oh my gosh, I think I would have reached Nirvana when some lady shows up and I can get, you know, my hoo-ha waxed and then she's like, alright, do that yoga pose happy baby so she can get my crack like that would […]
SuChin Pak 
You didn't need to go there. We were almost out of it. I know, I brought it up. We are almost out. We're in Spotlight, we're in an Apple. This is a big corporation, okay? They reach many, many countries. Very, very big company. I hear So we gotta, we got to pull back on the bunk.
Kulap Vilaysack 
All right, let's take a quick break. And we will get to your add to cart, SuChin.
SuChin Pak
So we are back. This is ADD TO CART. You know, it's interesting, because we've done this a lot where, you know, when we do this podcast, we don't share our carts. We share them live as we're recording. So it's interesting, because a lot of times we will have the exact same theme in our carts. The thing I want to talk about is actually a remove from cart. Oh, okay. As you know, and as some of you may know, my parents are moving. They're selling my childhood home and they're moving to Santa Barbara. And it's a big team effort to do this, right? You know, my parents don't speak English. They've been living in that house since I don't know, 1980? So they finally get here. And the plan is until they find a new house here, they're going to be in a short-term rental, which I found and vetted with them.
SuChin Pak  12:13
So they arrive. And it's phase one of the move because once they sell the house, and they'll go back, and we'll bring, you know, either get rid of all their big stuff, or wherever at. So I've already shared that when my parents moved here, they moved here with a car full of dirt and plants. Okay, so let's just level set. When other people move, you know, it's like there's movers involved. There's boxes, there's actual things you need to live. My parents move, they're bringing dirt and plants in garbage bags. So that's where we're beginning. So I take my mother to go get the keys to the short-term rental. And she takes a look at the place. And she says, No, I'm not moving here.
SuChin Pak 
And I said, Okay, you know, this is only short term. I know, it's pretty small. But how else are you going to, you know, look at houses. And so maybe there's another place like maybe we can look farther away and you can get a you know, a bigger apartment for you so you're more comfortable? She says, No, no, I'm not moving here. She decided that she's not selling her house and moving after we went through the trouble of getting her started to move here. I know my mother better than any other human on the planet. And I sat there with her for a while in the car, trying to understand
Kulap Vilaysack
She's basically going no period.
SuChin Pak 
Yeah, no period. I don't need to I don't want to talk about it. It's just not happening. And I realized that it didn't hit her that she was selling her home. It didn't hit her when, when she got a real estate agent. It didn't hit her when they started staging the house to sell. It didn't hit her when she was loading the car with plants. It hit her when she saw this apartment, that she was moving into another phase of her life. And that other phase of her life could mean downsizing. It could mean leaving the only home really that she's ever been comfortable in and all her friends and her life.
Kulap Vilaysack  14:22
The neighborhood that she'd been she knows where everything is.
SuChin Pak
She knows where everything is. And that's really important for my mom, because she's the one that interfaces with the outside world, not my dad. And like I said they don't speak English. So she has her three spots. You know, it took her a lifetime to find those three spots. And I just was like, oh my goodness, I have not. I didn't this thought never crossed my mind. You know, we're in our sandwich years, right? We're sandwiched between taking care of ourselves and our own families and then also our parents. Yeah. And we're in that phase where the you know; our parents are going to need more and more from us. And you think it's just as easy as like uprooting a plant and then just planting it in a different garden.
SuChin Pak 
Putting it in a trash bag, and putting it in the back of a car driving it from San Francisco to Santa Barbara.
SuChin Pak
Paradise, by the way. And she just flipped out.
Kulap Vilaysack 
Oh, man, I feel so bad.
SuChin Pak 
I know. It took me a while to feel bad. At first, I was really angry.
Kulap Vilaysack 
Oh, I get that. I get that feeling and why you felt that way. Yeah, absolutely.
SuChin Pak
Oh, yeah, my brother had to cancel his flight from New York, I had to storage spaces.
Kulap Vilaysack 
Sorry, so this is holding? We are now holding?
SuChin Pak 
It's holding. And it was really interesting. Because during this time, here's my next add to cart. I happened to be reading, Crying in H Mart. And it's a book by Michelle Zauner, it came out either earlier this year or late last year. It's really new. And I was doing this gold house event interviewing her. And it's a story of Michelle and her complicated relationship with her Korean mother, who dies, sort of unexpectedly of cancer really kind of out of the blue. And it's the story of grief and love and all the complicated things that we have with our parents. And it really opened my compassion, because I have to tell you, I was not a gracious daughter. You know, I was like trying to berate her into you can't do it, you know, it's too late. It's too late.
SuChin Pak  16:45
And she would not budge, let me tell you. And the book gave me real insight into you know, when you hear about other like when I hear about your trip with your family, I'm so inspired by that, like, it never would cross my mind that I would get a massage and do something like that for my mom here, like and make it fun and make it something you know what I mean, luxurious.
Kulap Vilaysack
Me and my mom have, as illustrated by the documentary Origin Story. It's been a long, long process. It's been while all of my life really up until a few years ago, and so much of it for me, it was just a shift in how I saw things, you know? And so it's really nice how it is now. I know I say that a lot. But like, it's just very free. We're very free right now. And it's a beautiful thing.
SuChin Pak 
Oh, I crave that. Yeah, I would like to get to a point where I have more grace and ease and fun with my mom, let me just put that out. 2021 it's still July. It's just I don't want to regret this time. And I don't know if my parents are gonna move. So much of my relationship with my mother. Like, there's not a lot of emotion in there. There's not a lot of like, getting to know each other. There's not a lot of sharing of our lives in there. And the older I get, I thought I would have more of that with her. But the harder the shell is like I can't..
Kulap Vilaysack  18:19
Well, I just also want to just share and I don't know if I have before like I would say like my relationship with my mom. Like it's really pleasant now because it is so surface. I'm just being just so honest with you, SuChin.
SuChin Pak 
But you know, there is something to that. Let's enjoy our time here. And that's, I think why you're able to have fun.
Kulap Vilaysack
Yeah, my mom and I did a deep dive because of the documentary. So it to me there isn't really, I don't have anything, I need to work out with her anymore. You know, like that's really like I say service because we were drowning, we were a many leagues underneath the sea without any scuba gear. We've come from a very, very dark place. And it took for me to kind of put myself back together and to kind of have compassion for my parents to be in a place where we can just be really chill now. That had to happen. I am saying that not to say that's what you should do. But just to kind of give context of why I'm a little Cavalier now I understand because we went through the fire and now there's nothing more. You know, and I've been so focused on trying to well, I would say it's the same, it was concurrent paths of like, just trying to find peace with the relationship with my parents, especially my mom and then my own path to motherhood.
Kulap Vilaysack
And, you know, I've shared on the podcast I'm certainly sharing more with you SuChin is that six miscarriages? My first miscarriage was I think I turned 34. So I'm 41. Now, so this has been a long path of trying to get pregnant. Of course, the first few years, we kind of were like, let's try it on our own. And then when that didn't happen, we started working with a fertility doctor. We did three IUI's, which is essentially, you know, basically turkey baser. But obviously not this doctor did it. And there wasn't a turkey base there. But you guys know what that is. And then we moved to trying to do IVF. And that's been a number of years and the ups and downs of harvesting my eggs and being on hormones and the various medications that one needs to take. And then doing embryo transfers, all to no avail for some solid time.
Kulap Vilaysack  21:04
It's certainly been within the last year where we, where we decided to look into surrogacy. And so that's the path that we're on right now, which is finding a surrogate We have one embryo tested. And that's our one shot. And so we're trying to find that person. And already on that path. We found a surrogate, we met her and her husband, she passed her physical tests with my doctor. We were right about to get into sort of the legal stuff. And she changed her mind about getting the vaccine. She had agreed to it agreed to it, and then decided that she didn't want to do it, which was frustrating.
SuChin Pak 
And that's a requirement. That's a requirement for the transfer.
Kulap Vilaysack
My doctor, Dr. Kelly Beck, whom if you guys saw Bling Empire is the doctor for Christine, the voice of reason. She's got some power pearls on. That's my fertility clinic. Dr. Kelly Beck will not do a transfer to surrogate who's not been vaccinated. So that's a full stop. And so I was frustrated by that. But it's, you know, it's her choice. I've had to go through so much, you know, wrapping my mind, around this idea of surrogacy to..
SuChin Pak  22:34
Letting go of it with this person to now Yeah, back on to wrapping your mind around.
Kulap Vilaysack
Well, the idea of it any way, having a say or entering into some sort of legal agreement for slight jurisdiction on another woman's body, that is like, not my thing, if I could say, it's not like my jam. So already, I'm just like, oh, like, it has been a process. It's just been such a process. And I'm somebody who, you know, SuChin and I were talking in person when we were taking videos for the apple spotlight in a park, how we met halfway. And we were talking about decision making, and I am somebody who is very much ruled by pleasure. And so I say that pleasure, it will and you guys are like, yeah, obviously, we were this podcast and we know that. But I use that feeling of joy and pleasure to know that I'm on the right path. Right? So I love to work. And so that's pleasurable.
Kulap Vilaysack
So I'm not even talking about outcome. I'm talking about the journey, too. This path to parenthood has been basically without pleasure. It has been so trying, so challenging to me the amount of surrendering I've had to do in these years clearly is a lesson that I continually need to learn, I have not mastered it yet. It's been so so difficult and hard for me to not be able to will, manifest, push, force to happen and guys this I'm just sharing with you guys I am just so you know. I don't need any tips. Like I'm just sharing this to share know that I've gotten my yoni steam know that I've gone the diet's one time I shared because we did like GOOD KIDS, that podcast. Yeah. And one of my fans was just like, hey, here's the problem. You're too fat. I was like, all right, bro. Like, you know, I have been to every specialist. I'm not looking for help. I am happy with my doctor.
SuChin Pak  24:57
This is not what this is. Don't leave a voicemail. Claire said.
Kulap Vilaysack 
I don't need any comments. I don't need any of that. I got it. I've come so far to realize that we're going to do the surrogacy. We're going to try it. And we're going to go for it. And regardless of the outcome, I'm hoping for one specific outcome all with all of my heart and soul. But I am done at the end of this, I know that I'm done. It's just time and I've gotten talked about peace and clarity, knowing that it's a lot better. Yeah, it's a lot better. For me, I feel so much better. I know you really want to help. But also just know that my uterus is damaged from procedure, where we found out that I had a heart shaped uterus, which sounds so adorable, but in the uterus, not so much heart shaped box, like the Nirvana song.
Kulap Vilaysack
So there was a septum and they shaped it back once. And then we were checking out, see how healed they thought, let's shape it some more. And my current doctor feels that they took too much, and you need that uterine lining, that's really important. But my doctor advised me that there'll be a greater chance for pregnancy for a tested uterus, a successful uterus. And right now we have a new surrogate, and she's three of her own kids. She said she's been a surrogate twice.
Kulap Vilaysack  26:23
So that's a proven uterus. And okay. I also know people go, what about adoption? Have I thought about it? Of course I have. Of course I have. And if I wasn't 41, and not done this for seven years. If I would have started that process two years ago, yeah, I would have been something different. But this is the path that we've chosen. And I literally cannot keep doing this. I hope  Is that clear? I've cried so much. And it's so been so painful for me.
SuChin Pak 
I you know, when I hear the story and hear your story, it's, you know, the thing that, for me, also, I think about is just the parenting journey, the maternal journey, the whatever the journey of this thing that we are often want to do or programmed to do, having children, whether you have them or not, the journey is fraught, it's filled with releasing all of that. And it is really hard for people like us who have been so much in control, or traumatized by not having control. Since we started this podcast, I think there's been a really big change in the way that you have let so much of this go. And there's a lightness to it that wasn't there before.
Kulap Vilaysack
Yeah, it's true. And again, I'm 41, age has a huge part of that.
SuChin Pak 
Seven years. You've been on this journey. Seven years.
Kulap Vilaysack
I think when you turn 37 that's a geriatric womb.
SuChin Pak
Yes. I had two geriatric pregnancy. That's a fun word.
Kulap Vilaysack  28:05
Yeah. And so months make a difference. Yeah, in terms of egg retrieval, and quality of eggs and all of that. So, I just don't have it into me SuChin I can't do it again. Yeah, I just know, I can't do it again.
SuChin Pak 
You know what, last time I talked to you about this, in a random park halfway between you and me. You said, "I need to get on with my life."
Kulap Vilaysack 
Whatever that is.
SuChin Pak 
Whatever that is, just not in this place anymore. Everything you could have done; you need to have said you all have that you did that. These aren't rash decisions. These are decisions you've come to. No one. And you too. You know it, you know it now. Like you really, I see that. You know, I can see that. So, listen, I think to me, that was done period. Yeah, I was like, absolutely. You need to get on with your life.
Kulap Vilaysack
Knowing that I will be happy either way. I'm either gonna be you know, a dope mom. Or continue to be the dopest aunt. Big auntie there ever was.
SuChin Pak
Yeah, you know, King Kai. He's at peace with it. I get her all to myself. And then also, if not, then I can share it with, you know, a new baby. But yeah, I think you're right. I think you're right. And listen, having kids to, you know, should that happen? That's another phase of your life that you have to continue to let go. So this journey, it's time to move on. Either way. We got to go into the next part. The next chapter.
Kulap Vilaysack 
Yeah. I like that. I like that a lot. Speaking of letting go, let's take a quick break. And we'll be back.
SuChin Pak  30:06
Alright, we're back with Add To Cart.
Kulap Vilaysack
We're gonna talk about my game changer because today is Kai's birthday. How old are you?
Kai 
11.
SuChin Pak
Today, 11 today ooh, what's the plan? Give me all the details.
Kai 
We're gonna watch movie in the pool.
SuChin Pak 
Oh, wait in the pool?
Kai
That's what Scott's trying to get us to do.
Kulap Vilaysack
We're setting up a projector and a screen. And when from watching it from the lawn to now we're all going to be in the pool. I hope it's something like Jaws.
Kulap Vilaysack 
What do you want to watch?
Kai 
Good Burger.
Kulap Vilaysack 
A little different.
SuChin Pak
I never heard of Good Burger.
Kulap Vilaysack
It's a classic Kenan and Kel film. What's the line?
Kai 
Welcome to Good Burger, home of the good burger? Can I take your order?
Kulap Vilaysack 
That's right.
SuChin Pak 
That's awesome.
Kulap Vilaysack
I want to talk about a game changer. And to me, I feel like you're a man. A young man. You love trading, buying selling sports cards. The day you arrived. We went straight to a shop on Melrose, which you liked. What was the shop called?
Kai
Melrose Sports Card.
SuChin Pak
Oh, yeah, I've been there.
Kulap Vilaysack
What? You've been there?
SuChin Pak 
Not for me. But for my Kai.
Kulap Vilaysack 
Your Kai also like sports cards?
SuChin Pak
For one hot minute.
SuChin Pak 
My Kai likes anything anybody else likes for one minute. And then as soon as that person leaves his life then he doesn't ever remember loving it.
Kulap Vilaysack 
Wow, this Kai has a full business, a full business. He sells on Instagram Live. He has the financial backing of his grandmother, deep pockets. I've witnessed it.
SuChin Pak 
Okay, so she helps you with your business. She's an investor. And then you go on Instagram Live and what do you do? You just you're like, oh, here's Derek Jeter. The only baseball player I know.
Kulap Vilaysack  32:12
And then what happens after that?
Kulap Vilaysack
Then they send Venmo or PayPal straight to grandma's account.
SuChin Pak
Oh, okay. Okay. Oh, okay. She takes her cut.
Kulap Vilaysack
She takes her cut. But she reinvests and then you package it and you ship it out. Does grandma drop it off with you?
Kai
No, me and my dad.
Kulap Vilaysack
It's a family business. So the game changer is yesterday we went to the Burbank, what's it called? The Burbank?
Kai 
Burbank sportscards.
Kulap Vilaysack 
Burbank sports cards. Now this is a really big shop in Burbank. And you Kai said that it was like better than any shop in Minnesota.
Kai 
Yeah, all the card shops in Minnesota are very overpriced. Like the tops chrome pack I bought. Those are like 30 and I bought two of them for 30 at the Burbank.
Kulap Vilaysack  33:11
Game changer.
SuChin Pak
Listen, Kai. I hope that were you with grandma, or was grandma near?
Kai 
She was home.
Kulap Vilaysack
She was home but those prices but grandma, trust that I saw Kai with a wad of cash. Before we left for the card shop.
SuChin Pak
Do you need money? He did not say no.
Kulap Vilaysack
Tell Auntie SuChin how much grandma gave you yesterday? Just yesterday?
Kai 
A hundred.
SuChin Pak 
She gave you $100 to buy cards? But it's an investment. Because on that $100 you could potentially make how much are we talking?
Kai 
Like? $200? I've already made half of it.
Kulap Vilaysack  34:02
Oh, yeah, he had to go live last night from my house.
SuChin Pak 
Wait, we need to get up on this.
Kulap Vilaysack 
Okay, so Burbank Sports Cards, the owner was there. He let us know that he's like next week moving 100 feet away. And they're opening a bigger place with a showroom. That's four times as big. And there'll be trade nights and kids nights. And it sounded really cool. So, Kai, do you think you'll come back just to go there?
Kai  34:32
No.
SuChin Pak 
Oh, really?
Kai 
That didn't sound fun. It does my parents probably don't want to. They probably do but they can't. Because of work.
Kulap Vilaysack 
But like later you could come you know, back. Maybe come back for Christmas or something.
SuChin Pak 
When you find something that is fun, and you're making money on grandma's investment. Honey, that's a formula for winning.
Kulap Vilaysack  35:05
Well, Kai, thank you so much for sharing your game changer, which became my game changer because you were so happy. You were so so happy when we're in the shop, I took lots of photos, I'll make sure to post that for our listeners. But Happy birthday. And now I release you to go to Universal Citywalk with your parents and Uncle Scott.
SuChin Pak
Have fun. Happy birthday.
Kai 
Thank you. Bye.
SuChin Pak
So this is the new segment we've been talking about. It's called Sidebar with SuChin. You know, I wanted to have a space on the show where if there was a brand or product that I really loved, I could do a deep dive with a founder or an expert really getting into the weeds. And I think it's just my nature that if I really find something that is useful and effective, one, I want to know everything about it. And two, I want everyone to know about it as well. I think it's classic Asian on T style. And yes, on this segment, it will almost always be something that we've already talked about on this show. So for the launch of the series today, I went to the first person on my list. She's been reporting as a beauty editor for decades. She's got a fantastic YouTube channel called MIX MAKEUP. I've been following that for years. And then last June, she launched my favorite go to skincare line. I've been talking about it since episode one, Naturium. So here she is the founder, Susan Yara.
SuChin Pak  36:40
It's such a pleasure to be sitting with you, Korean sister, entrepreneur, badass, I have been seeing the praises of you and this skincare line just so everyone knows, I have nothing to do with the skincare line, I went straight to the website, put down my credit card. It's just a genuine love for this skincare line. So welcome. Hi!
Susan Yara
Hi, I think people don't can't even begin to understand what that means to me. First off everyone, I was also surprised to know how much thank you, I love the products. And to me this is just it's like a dream come true. It's like my life coming like full circle. I don't know if people realize that you're like the big sis of all of us Korean women who want to like, but as far as like representation in the media and feeling like we can pursue our dreams and stuff. You know, you are the person that really set that stage for us.
SuChin Pak
Oh, my goodness. I mean, I'm just glad that whatever I did in some small way led you to launch this skincare line. Because, listen, the skincare market is very crowded. We all know this, and I'm sure it's not easy to stand out and try to create something different and effective and affordable. What did you see out there? You were like, you know, what is really missing? What was that hole that you were trying to fill?
Susan Yara  38:06
So you know, I think a lot of the time when people are trying when they're entrepreneurs, they're trying to come up with like the next big thing like what is something that's innovative and interesting, and just going to be so different than no one's seen before. I started to realize, you know, there are all these brands that are very on the low end of the price points, right, like the but they were also lower quality. Right? They didn't necessarily feel good. Maybe they're for like people getting started in skincare. And I think that there's a definite need for that. But then on the flip side, everything's really expensive, right? Yeah, if you want to get into, you know, innovation and really cool products and really interesting ingredients, and, you know, whatever it is that you're looking for. Products that feel really nice and feel special, you have to spend so much more money. And I saw what was missing was something right in the middle.
SuChin Pak
This is the kind of stuff that I love talking about is that you can get something really great and everyone or nearly everyone can afford it. It's something like you just like sticking it to the man.
Susan Yara 
There's always a part of me, right? Like being a woman, like being Korean being Mexican, like those little things like that, you know, that was all part of who I am part of who I am. So everyone knows the price point doesn't go above $25 at least not right now. And I don't have plans for it to go past $25 but everything's under $25 super high quality, well rounded formulations. And when I say well rounded, I mean like you're not just buying an ingredient, you're buying an actual proper formulation that's going to feel nice for your skin.
SuChin Pak
I want to talk about me, no just kidding, but no for real. So just my skin is really dry and there's like a dullness to it. You know what I mean? And I just think that over time and age and you know, it's just as natural thing, and I tried the BHA liquid, that was my first product. And then I've always wanted to try Retinol but like, if you even type in Retinol, your computer will start to smoke like there's so much out there. And it gets so complicated so I tried the Retinol Complex Cream. And first result that exploded. I was like, oh, this is interesting. My skin is a different texture immediately. And then when I put on the retinol complex cream on top of it, it was like another level.
Susan Yara  40:28
I always tell people that that is my one and done mom product. Like if I am tired at night I will wash my face and put my Retinol Complex Cream on and I'm done. That's it. Yeah, like if I just want it to be simple. That is all you need. Retinol is by far one of the best ingredients you can add into your skincare routine. For you, dry skin though I would also say add in another richer moisturizer. And like oh, good. good. good. Yeah.
SuChin Pak 
I just got your, the watered, the gel moisturizer. And then I put on like, even at night just like a nice balancing oil or something like that, just depending on how my skin feels. But again, I've tried so many gel moisturizers.
Susan Yara
They're not for you. They're not for you.
SuChin Pak
I know. But this one really gives me, gives me that that first layer of where I feel like everything feels just do we end Kulap says that mochi bounce. You know what I mean? Just like you want that, that texture on your skin. And I don't know I you know, because I'm not a scientist. I just know what feels good. And so for me that really works.
Susan Yara
I'm glad to hear that well. So water creams are really, really nice. They're great for cooling your skin. If you have oily skin, they're especially great for you. You said something to me via email about peeling. So what ends up happening with pilling sometimes is that a lot of the products like water, like gel creams like that. And then like sunscreens, there are different types of products that have ingredients in them that are meant to absorb oil, right? So if you are a person with dry skin, and you're applying all these, like hydrating products to your skin, moisturizing products, and then you go and put one of these other products, that's meant for somebody with more oily skin, what's going to happen is it's going to peel because it has these powdery type of ingredients in them. So it's not interacting well with the really super moisturizing hydrating ingredients in your other products. So that's what's happening.
SuChin Pak  42:22
That's really interesting. Okay, final question. Is skincare such a personal thing? When somebody asks me like, what do you think I should use for x? I'm like, well, what's your skin type? So number one, how do you assess that and number two, as I was thinking about how to help people build their own routines. You guys been launched. I haven't even actually gone to it. I just saw it on a post. I was like, it's almost like you're reading my mind. Do you have a skincare builder or some sort of?
Susan Yara 
Yep, we just launched it.
SuChin Pak
Is it new?
Susan Yara 
Yeah.
SuChin Pak 
Okay, I have never seen it before. And so I actually sent it to Claire, our producer who had asked this question and I was scrolling through Instagram, I was like, here's your answer, put it in here. So talk to me a little bit about finding out whatever it is about your skin, you know, type, and then how you build a routine around it.
Susan Yara 
For people that want more information, they can definitely go to naturium.com and go to our routine builder. If you need more personalized information, then you can go to the Naturium Skin it's @naturiumskin Instagram account, and DM us, and we have some skincare specialists actually that will customize your routine, answer any of your questions, all of that so there's that but I think everybody needs a good cleanser, a sunscreen and probably you know like a retinoid or something in their skincare routine like those are really the things that you need sunscreen in the morning, retinoid at night, right? Like the Retinol complex cream, everybody can use that we also have the serum but the cream is great because it's a one and done type of product because it acts as your moisturizer as well.
Susan Yara  44:00
So the difference then comes into the textures right? So I talked about how the gel creams aren't really made for your skin type, right? So you know if you have oily skin, be on the lookout more for these types of products that feel a little bit lighter as far as your moisturizer goes. You don't need a moisturizer necessarily if your sunscreen or your retinol also moisturize your skin right? You really need that sunscreen, that protection like when people tell me that they deal with all these like skin issues like redness, they deal with hyperpigmentation, anything like that. I'm like you have to wear your sunscreen, you feel like your skin's looking dull. You feel like you're getting more wrinkles. This is primarily caused by the sun. People think it's genetics that plays a small part. The sun plays a much larger part in this. Luckily, our agents, our moms are always like, oh, like, like don't like let's block everything right away. So that's like the basic you need to cleanse your skin you need to moisturize slash protect it and then at night you need to add in an ingredient like Retinol into your skincare routine so those are like the basics.
SuChin Pak 
I debated whether to have you on for my very first Sidebar because I thought well will she come back; you have to come back.
Susan Yara 
Seriously, you are Korean big sister I will do anything I'm supposed to like it is it's like my moral duty.
SuChin Pak 
I'm gonna pull the […] card real hard because I so so value you know your opinion and you're just really honest with it. And I just I so appreciate it. Thank you so much for being my first Sidebar. I couldn't imagine it really truly with anybody else.
Susan Yara 
Thank you so much. Dream come true. I love that I'm spending this time with you right now.
Kulap Vilaysack
That's it for this week's episode, everyone thank you so much for joining us every week.
SuChin Pak 
And you can find everything we talked about on our Instagram page @AddToCartPod all the links to buy all the stuff in our show notes are there.
Kulap Vilaysack
Also give us a call 833-453-662. we still want to know what are your necessary add to carts for summer 2021.
SuChin Pak 
Oh yeah, that's what we're gonna talk about soon. I have so many summer add to carts I can't wait to share all right. And we feature our favorite podcast reviews each week on our Instagram tell us what you think of the show. I mean, we've gotten so many more reviews. Since this bright Spotlight Apple has has given us and Kulap news to me news to old lady here I had no idea those reviews made a difference and they make all the difference.
Kulap Vilaysack  46:36
They really do. They help you know we are ruled by King Kai, king algorithm, emperor algorithm, seriously so when you guys rate and review really helps the show immensely so we appreciate it.
SuChin Pak 
When you told me that I was like I got to go rate and review all the podcasts I listened to all the little guys and the big guys because I had no idea that that made a difference. So thank you for doing that.
Kulap Vilaysack
We have such a fun show planned for next week. So make sure you stick around. Alright bye everyone.
CREDITS
ADD TO CART is a production of Lemonada Media. Our producer is Claire Jones and our editor is Ivan Kuraev. The music is by Wasahhbii and produced by La Made It and Oh So Familiar with additional music by APM music. Executive producers are Kulap Vilaysack, SuChin Pak, Jessica Cordova Kramer and Stephanie Wittels Wachs. Be sure to check out all the items we mentioned today on our Instagram at @AddToCartPod. Also, please take a moment to rate, review, and subscribe to the show wherever you get your podcast.