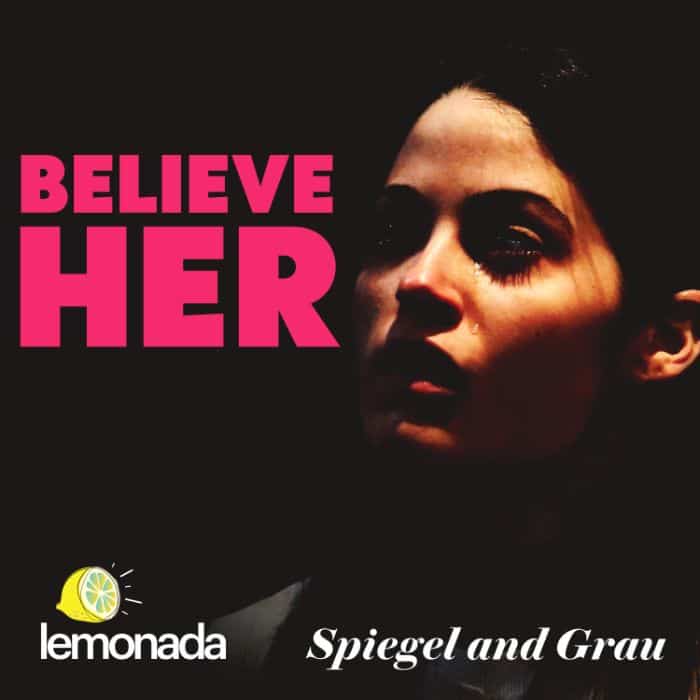 Chapter 2: Deep Dark Secrets
Subscribe to Lemonada Premium for Bonus Content
Description
Let's go back to when Nikki and Chris first met at Mr. Todd's Gymnastics Studio. Justine takes us to Poughkeepsie, New York to talk to the people who were closest to both Nikki and Chris to try to find out how their seemingly loving relationship spiraled into years of abuse and, ultimately, Chris' death.
Resources:
Justine van der Leun is the host, lead reporter, and producer. The supervising producer is Kristen Lepore, associate producer is Giulia Hjort, and production assistant is Rory James Leech. Additional reporting by Kristen Lepore and Giulia Hjort. Mixing and sound design by Kegan Zema. Music by RRA aka Sara Abdelaal. Fact checking by Justin Kloczko. Additional audio engineering from Ivan Kuraev. Story editing from Jackie Danziger. Our executive producers are Stephanie Wittels Wachs and Jessica Cordova Kramer.
Believe Her is created in partnership with Spiegel & Grau. Follow them on Twitter and Instagram at @spiegelandgrau.
Follow Justine on Twitter at @justinevdl and on Instagram at @jvanderleun.
Stay up to date with us on Twitter, Facebook and Instagram at @LemonadaMedia.
If you want to continue the conversation with other listeners, please join our Believe Her podcast community on Bookclubz at www.bit.ly/believeherbookclubz and our Facebook group at www.facebook.com/groups/believeher/.
Interested in bonus content and behind the scenes material? Subscribe to Lemonada Premium right now in the Apple Podcasts app by clicking on our podcast logo and the "subscribe" button.
Stay up-to-date on everything in the Lemonada world by becoming a superfan at https://joinsubtext.com/lemonadasuperfan.
Click this link for a list of current sponsors and discount codes for this and all other Lemonada series: lemonadamedia.com/sponsors.
To follow along with a transcript, go to www.lemonadamedia.com/show/believeher shortly after the air date.
Transcript
SPEAKERS
Laurie Horning, Justine van der Leun, Nicole Hepler, Michelle Horton, Lizabeth, Julia York, Nikki Addimando, Elizabeth Clifton, Susan Ranadstad, Tracy, Gail Grover, Sarah Caprioli
Justine van der Leun  01:26
Before we get started, a content warning. This episode contains accounts of domestic and sexual violence.
Susan Ranadstad 
I don't know the story of what happened that night. But I do know what happened that day because it involved me. But no one wanted to know about that.
Justine van der Leun
The morning before Nikki killed Chris, two social workers from Child Protective Services. The child welfare agency arrived at their door.
Susan Ranadstad 
And as soon as CPS left Nikki and Chris called me and said we think it was you who reported us, did you report us? And I said no, and I said Nikki, you know I can't report you because it's not about you. Women can't get reported. It's about children.
Justine van der Leun  02:19
The social workers decided that the children, Ben and Faye, weren't in any immediate danger. But they told Nikki and Chris that the agency would continue its investigation. The next step they explained would be to contact friends and family. This was just protocol. Nikki and Chris were desperate to know who reported them. Together. They called Nicki's midwife, Susan Ranadstad.
Susan Ranadstad 
And Chris was there on the phone. And I said, how are you Nikki? And she said, I'm good. Chris is here. And I said, Chris, how are you? And he said, I'm good, Susan. We're going to be okay. It's all going to be okay tonight. And the last thing he said again was, everything's gonna be fine. I've got this all taken care of. And then the next day I heard she shot him that night.
Justine van der Leun 
This is BELIEVE HER. I'm Justin van der Leun. Chapter,two, deep secrets. A long time ago, many years before the CPS visit. Chris was just a kid himself. He grew up on a farm in Red Hook, New York. It's about 25 miles north of Poughkeepsie. Today, on that four-acre farm, there are, roosters, pigs, a white pony named cupcake and a goat named Becky. There's also a peddling of ducks. Fun fact. That's the term for a big group of ducks. They once belonged to Chris.
Gail Grover  04:20
When we moved up here, Christopher had always begged for a baby duck.
Justine van der Leun
That's Gail Grover Chris's mom.
Gail Grover  04:28
So on his father's way home from work one night he saw baby ducks for sale stopped and bought one. And then it turned into I think we had over 100 and some ducks here at one time. All different colors and breeds and he raised them and he showed them at the fair and stuff. He loved those ducks so much every single one of them had a name and I'll never forget this is how fit he was. A fox came down off the hill and grabbed one of his ducks to have lunch. Christopher leaped the fence, chased the fox up that hill and came back down the hill with his duck still alive.
Julia York 
So he had like this protective nature about him, from a young age.
Justine van der Leun 
That was our producer Julia. She went to visit Gail and Chris's aunt Tracy on their farm. They told her that Chris found gymnastics when he was pretty young. By the time he was 16. He was working for his cousin's gymnastic studio. Nikki was a coach, too. She worked part time at another studio. It was called Mr. Todd's. And it's where she trained as a kid. She would see Chris at meets. They became friends. And then the friendship slowly turned into a relationship.
Gail Grover 
And then he just transferred to Mr. Todd's and a lot of the kids went with him.
Justine van der Leun  06:01
Chris was 21 and Nikki was only 19. To Nikki, he seemed like such a nice regular guy. He was into making amateur movies with his brother. He was a black belt in Taekwondo. He liked video games, he liked goofing around. The Christian met was the same Chris that you just heard his mom Gail talking about that little duck loving boy. He was a hard worker. He lived a healthy lifestyle, no drinking, no drugs. He was into sports. And he was into Nikki. His mom Gail and Aunt Tracy were thrilled.
Gail Grover 
She was straight on Great. Nikki was the first real true love.
Justine van der Leun 
Everything looked normal, even wholesome. Nikki and Chris were living separately with their parents. He was coaching. She was studying to be a preschool teacher and she was focused on her future.
Michelle Horton
She wanted to have her career. She wanted to have babies. That's all she ever wanted for her entire life was to have babies.
Justine van der Leun 
That's Michelle Nikki's big sister, you met her on the last episode. Michelle mostly saw Chris at family get togethers. She never had a sense of who he was.
Michelle Horton 
He was very quiet. He was there for holidays. He was there and was very like, hey, what's up? That's my impression of Chris. What's up?
Justine van der Leun 
Michelle says that in the beginning, Chris ticked a lot of boxes for Nikki.
Michelle Horton 
He was close with his family that was important to her. He was good with kids. It's all she wanted. She thought he was safe. I mean, that's like the word she used.
Justine van der Leun 
After about two years of dating, Nikki found out she was pregnant. She told Chris and he was over the moon. They decided to move in together. And then Ben was born. Ben changed everything. Nikki was madly in love with him. Nikki wanted to celebrate her life with Ben. And like any self-respecting millennial Mom. She used Instagram to do it. Her IG was epic. I've looked through it a lot. It's heavy on the live, laugh, love, vibe. Nikki mommed hard. She'd sew a detailed Halloween costume by hand. Nicky would bake a cake from scratch and frost it like a pro. Like if Ben asked, Mommy, what is the life cycle of the butterfly? She'd be like, okay, so let's start with krans, its eggs, caterpillar chrysalis. Let's go to the butterfly exhibit. Let's get a butterfly book. That kind of mom. And I respect it because I've got two little kids. And I make box cakes. And I order a tutu online like a day ahead of time and I'm like, okay, you're a ballerina now yay, that's your costume. And in terms of a butterfly lifecycle, and basically just like, Mommy doesn't know, mommy's reading. That was not Nikki. One thing that sticks out to me. From the time he was born, Ben and Nikki had a deep connection. Nikki recognized she had a great musical talent on her hands, and she did everything she could to nurture that part of him. Some people assumed that becoming a mom changed Nikki, moms am I right? Uptight, control freaks, so precious about our children. Nevermind that we're holding up society with our unpaid labor.
Gail Grover
A whole different side of Nikki came out after Ben was born. A possessive side like this is my child and nobody's gonna.
Justine van der Leun  10:03
that's Chris's mom, Gail again. And his aunt, Tracy.
Gail Grover 
They're fed vegetarian. They weren't allowed anything. I couldn't even get my grandson his first lollipop. He was not allowed sugar. And Chris just went with the flow because he didn't like confrontation did not like it. No way. No How.
Tracy 
And if you wanted to, if you were down in Poughkeepsie or something and wanting to stop there to see the kids or go down, you'd have to call Nikki first.
Gail Grover 
Oh, you were not allowed to just stop in.
Justine van der Leun
So Nikki wanted her in laws to call before they popped by. I mean, personally, that sounds not unreasonable. But it's true. Nikki kept her kids really, really close.
Gail Grover 
And Ben was a mama's boy.
Tracy 
Ben wasn't allowed to with anybody. Unless Chris and Nikki were there.
Gail Grover 
The first day I ever drove my grandkids in the car, literally put them in a car seat and left in my car was like a weekend or two after everything happened. And we brought them up here for a little while.
Tracy 
She wouldn't allow her own mother to drive those kids in the car.
Michelle Horton 
And Chris's family really like uses things like that to say she was controlling, without acknowledging that those moments where she's grasping for control, or because she's so out of control in other areas of her life. It's not recognized as a trauma response. It's recognized as a personality trait.
Justine van der Leun 
That's Michelle, Nikki's older sister.
Michelle Horton
And we see these things, we make assumptions, and we call them personality defects. Without really looking at the underlying reason why? Why was she so protective of those kids? Why did she need to have them with her at all times?
Justine van der Leun  12:01
We make assumptions. She can't chill. She can't relax. This idea of Nikki as a killjoy. It goes all the way back to her childhood. Her own family bought into this idea, Nikki, the gymnast always watching what she ate. Always so anxious, a little perfectionist, so annoying. But was Nikki the one with the hang ups, or was everyone else in denial. And this brings us back to Mr. Todd's gymnastic studio, where Nikki and Chris worked. It's a big warehouse between a Burger King and an auto body shop. Eventually, Nikki stopped coaching but she still came by the studio. And Chris, he was promoted to head coach. People liked him. He got along really well with kids. A lot of people said he was kind of a big kid himself.
Nicole Hepler 
Chris was like a bubbly, kind of like, you know, very hands on, very funny, always made the kids feel really really comfortable. Energetic, you know, joked around a lot. Never wanted to see them upset.
Justine van der Leun 
That's Nicole Hepler a Mr. Todd's gymnastics mom. Both Nikki and Chris coach Nicole's daughter Abby.
Nicole Hepler 
If Abby was having a bad day, I would, you know, I'd be had a lot of anxiety. So I would say like Abby's freaking out today, she doesn't want to back tumble and he's like, I'll handle it. I'll talk to her. And it was a simple email, whatever. And then I would get to the gym to drop Abby off. And I would say you, talk to her and he's like, I got it. You can go home.
Justine van der Leun
Nicole was also friendly with Nikki. And she noticed that over time, Nikki sort of receded from the Mr. Todd's community. And people talked.
Nicole Hepler 
Nikki was Nikki, you know, always had kind of an element going on. There was always a little something wrong. You know, we would ask, you know, where's Nikki? Oh, she's not feeling good. She's staying home. She's doing this, you know, and, and that was that. I feel like Nikki, she had a whole group of people that she showed abuse to or signs of abuse, you know, but yet we never knew it or saw it. I never really saw him mad. You know? I Chris was always Chris was Chris. I mean. Abby was with Chris every day, and I am a pretty good judge of character. If I thought something was going on, I myself would have wanted the owner and being like, what is going on? You need to fix that.
Justine van der Leun  14:46
So Nicole Hepler. She's operating under this logic that her experience with a person is the only experience with that person. For Nicole, it seems that she couldn't wrap her mind around the possibility that Nikki was being hurt. And she certainly could not imagine that Chris would hurt somebody. Other people in the gymnastic studio and in Nikki's life, they saw things differently, literally saw things differently. We'll hear from some of those people after the break.
Laurie Horning  18:14
I had a condo that I was had recently put up for rent it was a one bed room condo, Nikki and Chris were interested in renting it.
Justine van der Leun 
Laurie horning is a social worker she owned a rental condo and she was looking for a new tenant, Ben was nearly a year old and the family needed more space, they went to see Lori's apartment.
Laurie Horning 
Ben was you know, kind of toddling around as you know, little ones do. I actually remember him he threw up on my couch. And Nikki was so apologetic and I was like, it's totally fine.
Justine van der Leun 
Nikki and Chris decided to rent the condo. And that's how Nikki and Laurie met. They got along, they kept in touch. They had some mutual friends. Laurie was pretty used to people talking to her about personal matters. People with quite intimate questions tend to make a beeline for the social worker at the barbecue or the cocktail party or the playground. And as their relationship developed, Nikki began to ask Laurie intimate questions of her own.
Laurie Horning 
The first time she really kind of talked to me about Chris is she was almost like asking me about what did consent look like? She doesn't have to consent to sex just because somebody is her partner like you can, you can say no, you're not obligated.
Justine van der Leun 
That's what you're explaining to her.
Laurie Horning 
Yeah, we kind of like open the door. I can't remember the exact question that she asked me but it definitely had to do with her not wanting to have sex with Chris.
Justine van der Leun 
Nikki and Chris decided to renew their lease for another year. So one winter day, Laurie stopped by to collect the new agreement. At the time, Nikki was pregnant with her second child Faye.
Laurie Horning 
So I you know, park my car, walk down to the building, go upstairs and knock on the door and Nikki answers the door. When she answered the door, I was really taken aback by her appearance because it looked like she had been strangled with some sort of like a rope or a wire. And her one eye had blood spatters in it. And her lip, she had a fat lip. And she was, you know, she's petite. And she was pretty pregnant at the time. So she was showing, and I just remember thinking, like, oh, my God, here's this girl, that's, you know, I don't know, she was at least six months pregnant at the time, you know, with these horrible injuries on her. And so she opened the door and let me in. And so I came in and sat down and like Ben came over. And at first she was being really shy. And I remember thinking, like, I don't really know what to do right now. And then, somebody knocked on the door. And she scoops Ben up so fast and was like, who is that? And I'm like, thinking, I'm like, why are you asking me, I don't live here.
Justine van der Leun  21:03
Nikki had all these marks all over her. And she was flipping out. And Laurie's thinking, What have I walked into?
Laurie Horning
And they knocked again, and she's like, who is that? And was really in this complete state of panic. Like, I remember just this like, wave of anxiety coming over me. And then I was like, Nikki, who is that? Like, in my head I'm like, holy shit, like, is this Chris? Like, did he maybe now he knows I'm here. And I'm seeing her with these marks all over her. And I remember thinking in my head, like, okay, we could go and lock the bedroom door and like, I could help her and then climb out the window. Like I just was like, automatically thinking of like this escape plan. And then like, you heard somebody pull away and she went and looked at the curtains and it was the mailman. I was like, terrified, and I was terrified for her. And I was like, thought to myself, like, this guy, you know, could hurt us all. We made this plan. Around that time, that like if Nikki ever texted me the words go that I should call 911.
Justine van der Leun  22:10
Laurie knew that Nikki needed help, a support system, and she thought a therapist would be a good first step. Through her job, Laurie knew Sarah Caprioli, a trauma therapist who treated victims of violence. She introduced Nikki to Sarah.
Sarah Caprioli 
At the beginning of their relationship. Um, Nicole actually described him as being very patient and would kind of stop if she asked him to stop. And then as time went on, he became less and less patient. And if she said no, he would force her or he would coerce her into doing it by reminding her that this was her role.
Justine van der Leun 
Sarah and Nikki worked together for about two years. Throughout that time, Sarah says, she began to unravel how Chris had evolved from a kid who loved his ducks into a seriously abusive partner. Sara says that Nikki told her that Chris had been patient in the beginning that he held out on having sex because she wanted to, but then he started to abuse her. Little by little. He stopped when she was pregnant with Ben. And then, shortly after Ben's birth, he started to get very violent. In her first assessment of Nikki, Sarah noted that Nicki presented with symptoms of post-traumatic stress disorder. Part of Sarah's treatment plan included educating Nikki on how abuse can play out within the context of a relationship.
Sarah Caprioli 
One of the things that that we did in our work together was education about what domestic violence is, and she began to start to identify it for herself and understand a little bit more about course of control and intimidation.
Justine van der Leun 
As their work together continued, it became clear to Sarah that Chris was raping Nikki, and that it was happening more and more.
Sarah Caprioli  24:09
Sometimes he would hold her down. And sometimes he would do it by intimidating her.
Justine van der Leun 
And Sarah came to understand that Chris had begun to hit Nikki when she refused sex. At first, Nikki rationalized his behavior. Remember, she was young, she was only 19 When they first started dating, Nikki thought.
Sarah Caprioli 
If I just learn to like it, if I just do what he says, then it will be okay. And he's going to stop and then we could be a normal family. What she wanted more than anything, was to be a family. She didn't want to break up her family. She just wanted the violence to stop.
Justine van der Leun 
The violence didn't stop. It rarely does. Things were just getting worse. Sarah urged Nikki to go to authorities, but Nikki didn't want to.
Sarah Caprioli 
It's not unusual at all that a victim of sexual violence would not want to report. It is an incredibly shameful traumatic thing to have happen. And victims are fearful that if they report then something might get worse for them.
Justine van der Leun 
So Nikki wasn't ready to report. But Sara did convince her to start documenting. Sara knew the system she had worked with cops and lawyers. She knew that if a woman wanted a restraining order or had to go through a custody battle, it was crucial to have evidence, a victims word is not enough. A court won't believe her on the strength of her testimony alone, but hard documentation, who can argue with that. One of the people that Sarah believed could provide Nikki with that kind of documentation was Nikki's midwife. Susan Ranadstad. You heard from her at the beginning of this episode.
Susan Ranadstad  26:01
I've been working with pregnant families for 38 years, and catching babies about 31.
Justine van der Leun 
Susan is a licensed midwife in New York State and she has a pretty specific client base.
Susan Ranadstad 
You know, we call them the granola moms, they're all into a more natural parenting, they want to make their own baby food. You know, they want to have a beautiful life and they want their child to like learn from their toys. Those moms are tight.
Justine van der Leun 
Nikki had found the OB GYN experience with her son Ben to be especially invasive. So when she got pregnant with Faye, she decided she wanted to have a home birth. And Susan noticed right away that something was off with Nikki.
Susan Ranadstad 
She was like delicate and wounded. From the get go.
Justine van der Leun 
Immediately, Susan knew there was more to the story.
Susan Ranadstad 
She's a beautiful young woman. Her makeup was pancaked on and she wore makeup on other parts of her body. One day I actually went and got a washcloth and held her arm and washed it off to see the bruising. She wouldn't tell me outright what happened. She would answer questions though. And I could ask specific questions. But if I said it was Chris, she would nod.
Justine van der Leun 
Nikki was in pain constantly. And she was worried about her health. The evidence of what was happening to her was on her body.
Susan Ranadstad 
She started coming to me then when she was hurt. And she'd want to be examined. But she was terrified to be examined. You know if I was looking at a bruise on her collarbone, she would turn away you know she wanted me to see it. She didn't want me to see it was very hard for her to admit that it was happening.
Justine van der Leun  28:13
Susan would ask and Nikki would deflect but there's only so much you can brush off.
Susan Ranadstad 
Like when I'm looking at her bottom that's torn. I'm like what did this and she would cover her face. And then I would guess, was it wooden, was it plastic, was it a sex toy?
Justine van der Leun 
To be clear, it wasn't just that Nikki was bruised that she had strangulation marks on her neck, black eyes, fat lips. Nikki had injuries to her pelvis, as well as internal injuries and serious bruising and swelling. Touch was so excruciating that Susan could not properly perform a vaginal exam.
Susan Ranadstad 
She had disclosed that he had used the gun on her sexually. So I knew about a year and a half before he died that he had a gun. I knew it was locked up. I knew she couldn't get her hands on it. Because I said to her is it in the house because I'll come and take it out and take it to the cops, tell them I found it.
Justine van der Leun 
But Susan never did go to the cops. Plus, Chris had a permit for the gun. Susan says that throughout her time seeing Nikki, she witnessed some strange things. Sometimes Nikki skipped her prenatal appointments. But other times when she did show up, Nikki would text Chris to bring cash for payment.
Susan Ranadstad 
When it came to pay me he dropped her at her visit. And then when we were done she called him back. Everyone gives me a check or credit card gets points who gives you $5,000 without getting points? And I just want to say what is Mr. Jim teacher doing with wads of cash and a gun?
Justine van der Leun  30:02
Everyone has a theory about what was happening. According to Nikki, Chris coached some kids privately and in her recollection clients did pay him with cash. But even so, I have questions. How much access did Nikki have to the family money? Several people I've talked to for this story mentioned that Chris completely controlled the finances. Nikki didn't have a job or an income, but she sewed baby booties by hand and sold them for about $30 a pair. Chris allowed her to keep that money. He called it her play money. It was $1,000 in a good year, she told me, and she mostly used it to buy her kids Christmas presents. That kind of financial control is paralyzing. But paired with the other types of control. It's all consuming. The other stuff Susan, the midwife is describing the severe sexual violence. That sort of thing is usually rooted in dark sexual fantasies. It's worth noting that Chris left a digital trail that suggests an obsession with sadistic pornography.
Justine van der Leun 
According to his search records, one of his favorite genres of porn was forced sex. While this level of abuse might sound far-fetched, it's not. I've communicated with so many survivors. I've had people tell me the most perverse details. One woman said her extremely abusive boyfriend was also obsessed with her period blood. He demanded control over her menstrual blood. How do you tell that to a cop? A big problem here, beyond everything I've just told you. Is that the weirder it sounds, the harder and more humiliating it is to explain. When it comes to sexual violence, you can't expose your abuser without totally exposing yourself. More of this story after the break.
Justine van der Leun  35:04
Nikki was dealing with brutality behind closed doors. And like so many people living through trauma, she was just trying to make it through the day. Here she is talking to me at Bedford Hills prison.
Nikki Addimando 
I don't know how I did it, it just was a giant blur, it was just day after day after day of getting up. Trying to hide whatever was on my body at that point. And be as present as I could for my kids. Which was hard and painful, physically, and just kind of waiting for to stop. Like I just kept thinking like, eventually this will stop. I mean, you can't do this forever.
Justine van der Leun 
Nikki wanted the abuse to stop, but it wasn't happening. Still, her kids were everything to her. And so she showed up for them every single day. When Faye was born, she infused Nikki's life with a new joy. And as Faye grew older, she went from a funny baby to a cheerful sassy toddler with a head of bouncy dark curls.
Justine van der Leun  36:28
A week before Faye's second birthday, the family moved into unit 7K at the Duchess apartments, the scene of the shooting. Nikki decorated the whole place by hand on a shoestring budget, she designed an elaborate play center with a kitty kitchen retro dolls and a stage. Here they are singing the ABCs on that stage, Ben plays the ukulele, Faye is on the mic, the kids have their own little band.
Nikki Addimando 
I tried to look for moments to hold on to with the kids and also felt really guilty that there weren't more of them. There's an element of like denial in there too. I would just, I wouldn't go there. I just would not let my mind go there I would just be so involved in the kids and trying to be so present in that moment for them. And I will try to find like any little like positive thing, any glimmer of something good to like, hold on to and share and focus on. That's kind of the only way to survive was to focus on the little moments that were good.
Justine van der Leun  38:33
So Nikki's days with Ben and Faye. They were magical. But her nights. They were unspeakable. Chris's family does not believe that he abused Nikki.
Gail Grover 
I'd give anything from my two boys to have a father like he was in a heartbeat. And that woman Elizabeth Clifton, she's a nightmare. She'll bang your door down and just come tell you whatever you want to hear, what she wants you to hear.
Justine van der Leun 
For people on Chris's side, like his mom, Gail and aunt Tracy, Elizabeth Clifton has been a nightmare. Elizabeth, the kids music teacher who you met in the last episode, that woman in her cardigans and wrap dresses. She never stopped insisting she knew what she knew. Elizabeth, for her part. She felt like she lived a nightmare. Because Elizabeth was in contact with Nikki almost every day. They sent 1000s of Facebook messages. They talked about their kids. They talked about vegetable soup, and they talked about horrific abuse.
Elizabeth Clifton 
So this is most of the binders. I have three all the rest are at the office. And I took like I went through and took notes on what I was reading.
Justine van der Leun  40:04
Elizabeth printed out all of these messages, they're kept in thick binders.
Elizabeth Clifton 
This is from January 2016. I said for the first time I was worried about her, you know, like, this is the day I confronted her, you know, like this all these things. It's like the slow unfolding of me coming to understand like what was going on with her.
Justine van der Leun 
Elizabeth says there was a pattern to the abuse. It usually happened at night when Chris got home after a late shift when the kids were asleep.
Elizabeth Clifton 
So the first time that we were in the middle of messaging, and she just flat out like, disappeared, like, you know, one minute we're talking the next minute she's gone and not responding. Was absolutely terrifying for me, because I had no idea what happened, where she would, where she had gone like what he was doing to her. Often, she'd sort of like return again, in the I don't know, like 10 to 11 o'clock hour. I'm, like, return when I say return, like be able to message again. But like her messages then would be always very brief. Like one word.
Justine van der Leun 
Like, what would the one word be?
Elizabeth Clifton 
Like, I would ask her. What happened? And she would just be like, hurt or bad. Or you know, like, bathroom floor like a lot of times she'd be on the floor of her bathroom. Like after whatever had happened have happened. And she'd be like messaging me from the bathroom until he lives like coming to knock on the door to get her again.
Justine van der Leun 
Nikki says she barely slept those days. She'd message Elizabeth, she check on the kids. She's so baby slippers. Waiting for morning to come. Did you ever doubt her?
Elizabeth Clifton  42:08
No, I mean, I was the one who saw it. I mean, who saw her being hurt, I mean, a literal visual indications of someone who's being injured.
Justine van der Leun 
It wasn't just the messages. Elizabeth had seen Nikki curled up in pain. She'd seen her bruised all over bruises in a rainbow of colors. She'd seen fresh blood.
Elizabeth Clifton 
I was afraid of her dying like, this is what I was afraid of on a daily basis.
Justine van der Leun 
And Elizabeth was not alone. Here's Laurie, the landlord.
Laurie Horning 
110% I thought that if I was ever get that phone call it was going to be for somebody told me that she was dead. Like without a doubt.
Justine van der Leun 
And they didn't know what to do.
Laurie Horning 
I know people that, you know did not testify in the trial that went to the police on their own to say like, I have a friend that's being hurt, and I'm worried didn't give the names and the police were like, well, she doesn't come forward. Like there's nothing we can do. You know, like, people tried.
Justine van der Leun
But for every person who tried to help, there were plenty who didn't see a need. Like Nicole, the gymnastics mom.
Nicole Hepler  
There's no flipping way. There's just no way because if you knew him as a person, you would say there's no way I will say that. Maybe they had a sex life that didn't want anybody know about, I mean, that kind of crossed my mind. Like, okay, then. you don't know. You know what I'm saying?
Justine van der Leun 
Nicole says Chris didn't have a mean bone in his body. He wouldn't hurt anyone.
Nicole Hepler 
Here's the thing. No one ever saw him Chris, laying a hand on her. No one ever saw that. And I mean, honestly, the thought did cross my mind. Is she self-inflicting herself?
Elizabeth Clifton  44:19
I mean, that's fucking insane. I don't say that word lightly. Like that's insane. I don't know. I don't know what. I've never heard of anybody hurting themselves in these ways.
Justine van der Leun 
That's Elizabeth. Now Nicole again.
Nicole Hepler 
She left that house often, to go get coffee, to go visit her friends to do whatever it is she wanted to do. And Chris never stopped her. Chris left that house every single day. She could have packed her shit going over to the town of Poughkeepsie police and said I need help; they're going to turn her away. Just some things just don't sit well and don't add up.
Justine van der Leun 
Nikki did try to leave on her own. I talked to three friends who had firsthand accounts of these attempts, she would drive around for hours, but she always went back to Chris. Nikki lived her life in fear, she was terrified of Chris of losing her kids of making the wrong choice. And there are no obvious good choices when you're in an abusive relationship. Because the statistics show it can be deadly to stay, and it can be deadly to leave. We know from the research that a woman is at a heightened risk of dying when she leaves. Nearly 80% of domestic violence related homicides occur upon separation. We also know half of all female murder victims in the US are killed by a partner. And there are other factors at play. Let's say you're in a relationship with an abuser who has access to a gun, like Chris did, then your chance of dying at his hand increases by at least five-fold. Or let's say he abuses you when you're pregnant. Which Nikki said Chris did. We know that most homicides of pregnant women are committed by their partners, a person is intricately attuned to what their abuser is capable of. It's how you survive. Nikki knew what was at stake. According to Susan, the midwife, this is what Chris told Nikki.
Susan Ranadstad  46:44
if you leave me, I'll kill you. I'll kill the children first. I'll kill you. Then I'll kill myself. I'll kill you. And I'll get the kids. I'll make it look like an accident. I can't even count how many times the threats I heard the threats. And he always told her. You'll never get these kids. I'll get these kids. You have no support. Your mother doesn't believe you. He told her all the time. Her mother doesn't believe her. And no one will believe them. And I'm the good person and I work, and I work at Mr. Todd's and everybody loves me. All the moms told me well, isn't it funny that a mom there reported him.
Justine van der Leun 
There was one mom at Mr. Todd's who decided to intervene. Her name is Lizabeth. She's a school social worker.
Lizabeth 
I loved Chris, was wonderful.
Justine van der Leun 
To offset the costs of her daughter's gymnastics training. Lizabeth decided to coach a few classes at Mr. Todd's. Chris was her mentor. He taught her everything she knew.
Lizabeth 
You know, I didn't know a fraction of what Chris knows about coaching. But he was so willing and so wonderful about teaching me.
Justine van der Leun  48:02
Lizabeth always liked Chris. But one day in September 2017, she ran into a friend at a pumpkin patch, and her view of him changed.
Lizabeth 
We were talking and just hanging out. And she said to me, what gym do your kids go to? And I said, they go to Mr. Todd's across the river, and she said, oh, is there a coach named Chris there? And she started going on, and she said, well, we're all worried about Nikki. And then I was like, oh, you're talking about Chris. Chris, the head coach Chris. And I was like, you know, very much in disbelief. And I can remember her saying that people were afraid that it was getting worse, that there were bruises that often were seen on her on a regular basis. And she said, you know, I told my friends I was going to ask you because you're a social worker, what to do. And I said, well, why is no one called CPS like why? There's kids in the home? Why is no one you know, called Child Protective Services? And she said, I think you know, they're scared to, they don't know if they should.
Justine van der Leun 
After hearing this, after weighing her options, Lizabeth felt obligated to contact CPS.
Lizabeth 
Had I gotten this information from my friend and done nothing. And then something happened catastrophically to Nikki or the children, obviously, I would have never forgiven myself. So I would rather live with the discomfort that this choice brought on. As opposed to you know if something had happened to Nikki or one of the kids.
Justine van der Leun 
Lizabeth called anonymously. She made the call that nobody else wanted to make, and everything that had been simmering, burst into flames. Six days after Lizabeth made that anonymous report, two CPS workers in action Start with the government plates arrived at apartment 7K. They call ahead so Nikki and Chris were expecting them. The workers kept a detailed log. The home was spotless. Ben and Faye were in good health. Nikki had a visible bruise on her cheek, when a social worker asked her about it. Nikki said it was old. When the worker asked Ben if his parents fought, he told her that they yelled and that his dad grabbed his mom by the arms. Normal fights, Chris said. All parents argue, Nikki said. And then Nikki lied. The worker asked if there were weapons in the house. Nikki said no. The worker scribbled on the edge of a sheet of paper. Are you safe right now? Nikki nodded. Yes. And the social workers left. Afterward, Nikki and Chris contacted people they knew the agency would be calling as witnesses. Nikki messaged them. I'm a good fucking Mom. He's a good dad. She was so worried CPS would take the kids. She wanted to know who sent them. That's why they called Susan the midwife. Remember?
Susan Ranadstad 
And as soon as CPS left, Nikki and Chris called me.
Justine van der Leun 
Nikki trusted Susan more than she trusted any doctor. So even after Faye was born, Nikki sometimes went to Susan for care. They stayed in touch.
Susan Ranadstad 
And she said Chris says everything's gonna change now. Of course, he's there with her. Chris says that he wants to get help. I said to him, you know, Chris, this, you have a family to take care of, whatever shape your family takes, is different. But, you know, this is a time to make some changes and he says everything's gonna be great. I've got it taken care of. It's all going to be better.
Justine van der Leun  52:13
Susan had a lot of information about her interactions with Chris and what went down after that CPS visit. But those stories never made it to Nikki's trial.
Susan Ranadstad 
I think her whole life was self-defense. I think she acted in self-defense. That young man at young man was hurting her. I think he was going to kill her that night.
Justine van der Leun 
Like Susan, many people think Chris had one supremely violent final plan. Nikki testified Chris said he was going to kill her and himself. But that's not what happened. Nikki live and for that she would be severely punished. Right now, you might be thinking it's obvious that Chris was abusing Nikki and she acted in self-defense. Next week on BELIEVE HER, we'll talk about the bad facts in Nikki's case, the inconvenient inconsistent facts that a lawyer has to explain to a jury. There were other men involved with Nikki, and she could never seem to find the right words to explain what was happening to her.
CREDITS
BELIEVE HER is a co-production of Lemonada and Spiegel and Grau. I'm your host Justine van der Leun. The production team includes me and our supervising producer Kristin Laporte, our Associate Producer Julia York, and our production assistant Rory James Leech. Mixing and sound design by Kegan Zema music by Sara Abdullah. Factchecking by Justin Classico. Story editing from Jackie Danziger. Additional audio engineering by Ivan Kuraev. Our executive producers are Stephanie Wittels Wachs, Jessica Cordova Kramer and Spiegel and Grau. Thanks to Ariana Giles for editorial feedback. Special thanks to Michelle Horton and Elizabeth Clifton for archival tape. If you or someone you know is experiencing domestic abuse, use a safe computer and contact the National Domestic Violence Hotline at the hotline.org or call 1-800-799-7233 help others find our show by leaving us a rating and writing a review. Follow us at @LemonadaMedia across all social platforms or find me at @JustineVDL. You can also get bonus content and behind the scenes material by subscribing to Lemonada Premium. You can subscribe right now in the Apple podcasts app by clicking on our podcast logo and then the subscribe button. If you want to continue the conversation with other listeners please join our Believe Her podcast community on book clubs. Join for free at bit.ly/believeherbookclubz. Thank you so much for listening.