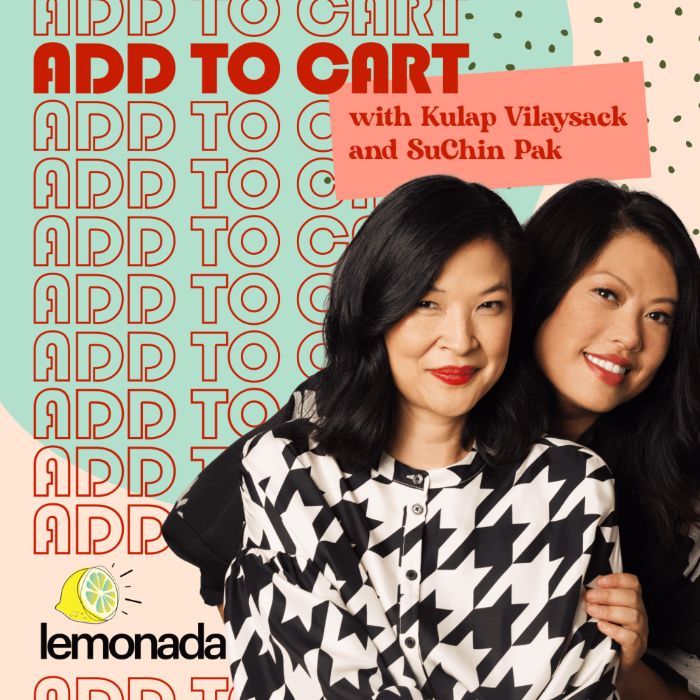 Wagyu and Other Sexy Valentines Day Suggestions
Subscribe to Lemonada Premium for Bonus Content
Description
This week SuChin and Kulap are coming with Valentine's Day suggestions early, so everyone can mentally, physically, and emotionally prepare for another COVID holiday. Speaking of, they share their post-vaccine fantasies and the game changers to help them get there.
Please note, Add To Cart contains mature themes and may not be appropriate for all listeners.
For a list and links to all products mentioned in this episode, head to @addtocartpod on Instagram.
Stay up to date with us on Twitter, Facebook, and Instagram at @LemonadaMedia.
Click this link for a list of current sponsors and discount codes for this show and all Lemonada shows: Sponsor Links
Transcript
SPEAKERS
Kulap Vilaysack, SuChin Pak
Kulap Vilaysack  00:10
Hey everyone, welcome to ADD TO CART.
SuChin Pak 
Now we have officially made it to February just congratulations. I feel like it's an achievement.
Kulap Vilaysack 
Ah, 100%. We wanted to get a head start on Valentine's Day because it's coming up and you know, like everything in this year, these years, it's going to be different. I'm so curious, SuChin Pak. What does a Valentine's Day look for you normally, pre-pandemic?
SuChin Pak 
First of all, I feel like you could probably guess the answer to that question and you're asking it with..
Kulap Vilaysack 
But I don't want to assume, because you know that saying when you assume you make an ask, out of you, or I.
SuChin Pak 
I honestly cannot tell you if I've ever celebrated Valentine's Day. I'm trying to think I mean other than you know in school when you're you know watching all the cheerleaders get candy grams and silently sobbing, silently sobbing.
Kulap Vilaysack 
Oh, I was just taken for a ride and dropped into my high school.
SuChin Pak 
Worst memory ever. I mean, I feel like you and I can start a campaign. Can we make this a personal ATC first campaign to stop candy grams in schools when they're back in session? Can you think of a worse, do they still do that?
Kulap Vilaysack 
Yeah, well, okay. I guess I don't know.
SuChin Pak 
Well, first we should find out if they're still doing it before we rally the troops into a protest.
Kulap Vilaysack
Our producer Claire saying and she Claire, how old are you? We should know how old you are.
SuChin Pak 
She's chewing something.
Kulap Vilaysack
Okay, Claire's 28. She said she doesn't know what it is.
SuChin Pak 
She doesn't know what a candy gram is?
Kulap Vilaysack  02:01
She spelled Gram like graham cracker. I don't know how to react right now which is fine. It's fine.
SuChin Pak
I am both horrified but also joyful that candy grams obviously don't exist. And for your knowledge, Claire. It's candy gram G, R, A, M. it's a play on telegram. I don't know if you also know what that is.
Kulap Vilaysack 
Don't go there so SuChin, don't worry about that. Let's move forward.
SuChin Pak 
I feel so old, candy gram, but you know what? We look good. And that's all that matters. Okay, so candy gram. Kulap and I were churning our own butter and making electricity. They had this thing where on Valentine's Day you could buy a candy gram that would then be delivered to the person in your classroom and the candy gram would be like, what would it be like a little piece of candy or like sometimes when you're they did single roses or whatever.
Kulap Vilaysack
Yes, yes. A card..
SuChin Pak
And so you would sit there, you would sit there and your history class or whatever and the candy grams are going out, you know they're going out you feel it, right? The tingling starts you're like the candy grams are going out. So the people that are delivering the candy grams would knock on your history class and be like, "we have a candy gram for Susie Smith."
Kulap Vilaysack 
Samantha got a lot so did Brittany.
SuChin Pak 
And how many did Kulap get?
Kulap Vilaysack
Zero and I can't trust saying even one because that would probably be the world of fantasy that I had.
SuChin Pak 
Kulap and SuChin's we're getting no candy grams. Never, never, never, never, and the history of candy grams has a SuChin Pak or a Kulap Vilaysack ever gotten.
Kulap Vilaysack 
Vilay not sack. And was this to raise money first?
SuChin Pak  04:00
Yeah, it was like raise money for prom which also again, SuChin and Kulap are not going to. Yeah, I mean, so you sit in these classrooms as these candy grams are and all you know everyone's squealing and everyone's you know laughing and you know the girls are like feigning embarrassment as they're being you know, candy grammed to death while we little rice nuggets in the back.
Kulap Vilaysack
Yeah, we're not getting picked once again. No
SuChin Pak 
No. Okay, so moving on Valentine's Day.
Kulap Vilaysack 
Yes.
SuChin Pak 
So we're doing it now for a very particular reason. Because we wanted to tell you all about something both Kulap and I are pretty excited about. And we wanted to make sure everybody had enough time.
Kulap Vilaysack 
That's right, we both got an amazing and gorgeous produce in meat box delivered to us from Girl and Dug farm in collaboration with Pursuit farms, I have never ooh'd an ahh at produce, as if it was a box of Godiva chocolates.
SuChin Pak 
You have never seen children more excited about eating vegetables that I have never heard of. I have never received a farm box where I would say the vast majority of what's in it is something I've never, ever heard of.
Kulap Vilaysack 
And that's part of their mission, right? Is to, you know, a lot of our produce, is the word homogenized? Is that the right word? I don't know.
SuChin Pak 
I don't know, I'm no farmer.
Kulap Vilaysack 
I believe there's a Korean couple behind it. Right?
SuChin Pak
Yes, yeah. They started this thing off with something called the ssamthing-else box. And that's such a cute plan words, and Ssam is a big Korean vegetable, you know, it's a psalm is like perilla leaves, if you've ever gone to a Korean barbecue, and they bring out that whole basket of all the different lettuces that you wrap your meat in. One of those things is a Ssam leaf. And it's a very particular Korean taste. So they started with this. And I think people just loved it. There was something just so beautiful about it. And so special and interesting. And may I say, as a Korean person, validating.
Kulap Vilaysack  06:21
Oh, hey.
SuChin Pak 
You know? Like, I didn't think about it. But when I open up this box, just seeing something that for us is like on the table, you know, in a home cooked Korean meal, elevated to something just so beautiful and celebrated.
Kulap Vilaysack 
Yeah. And so the Girl & Dug produce, they're in collaboration with the Pursuit farms beef that is included, you can also get this box with or without meat. But if you are a carnivore, I highly recommend getting the Wagyu that was included, was just mind blowing. And you were telling me about the guy behind him. Like he hunts for his food.
SuChin Pak 
He literally for years, like this is the guy who's like free diving with like a spear in the ocean. Like catching his fish. You know, like, that's the extreme, but I think he built this business around really having a thoughtful conversation, in really understanding where your food comes from. And I've never had Wagyu beef. I know of it of course.
Kulap Vilaysack 
Ah, this was your first time?
SuChin Pak 
This was my first time.
Kulap Vilaysack 
Wow.
SuChin Pak 
And let me tell you, I handled that beef with purl knit gloves, you know? I looked up exactly how, you know, long to cook it on Pursuit Farms, like all the recommendations, I sit outside on my barbecue with like a timer. And I brought it in and I presented it to the family. This kind of experience I think is so perfect for our version of what a Valentine's Day could look like during this time, that we're all in our homes.
Kulap Vilaysack  08:02
Yeah, cuz normally for me, Valentine's Day is something, it's an opportunity for Scott and I to go make reservations at a really fancy restaurant that has some sort of set menu. That's usually what we tend to do until give me a little gift and I'll give him nothing. And it's just a lovely tradition. A lovely time to get dressed up.
Kulap Vilaysack
We were talking about the Ssamthing-else box and now they have the Valentine box. It's available for pre-order until February 9 at 11:59pm. And boxes will arrive in time for Valentine's Day. And the first 70 boxes will include complimentary white strawberries, which guys, wow.
SuChin Pak 
They're incredible. And I want to say you and I were joking like this would feed a family of, I don't even know, six to eight?
Kulap Vilaysack 
Yeah, each box consists of the veggies, you would need to create six suggested courses and cocktails for two.
SuChin Pak 
We wanted to highly recommend this.
Kulap Vilaysack 
The links will be on @AddToCartPod, use code: KULAPV10 or search SuChinPak10, and it'll give you 10% off.
SuChin Pak 
Yeah.
Kulap Vilaysack
Now, SuChin, I'm looking at our run of show and I'm seeing questions for couples journal. And I want to know what is this?
SuChin Pak
Oh, Kulap. What? So okay, this could be for Valentine's Day. I think that there is something about being in our homes at this time and we talked about it during the holidays as well. Where any moment that we can celebrate and make special, I'm all for. Like I don't know If St. Patrick's Day is going to be problematic, I don't know the history of I've never celebrated it. But let me tell you, I'm going to make green gluten free cupcakes. I mean, let's just go all out any reason to celebrate. And so I thought, you know what?
SuChin Pak  10:15
Well, Mike is a type of guy is, you know, like, he doesn't want stuff. So I ordered this book called: Questions for Couples Journal. I started to go through and pick some of the questions that I was going to try to work with, like, what is different about your relationship with your partner than other relationships you've had in the past? Or what is one of your favorite ways to show physical affection to your partner? But he would love that. Describe your dream house? Is it big or small? In a city somewhere rural? So these are just like random questions. That's something that he would actually kind of like, like he wants to have conversations with me, you know..
Kulap Vilaysack 
The way you're saying it is so great.
SuChin Pak
You know, that's not what I want to do with my time. You know, I just want to like, get in bed, I want to read, I want to watch some Netflix. I want to go to bed. He wants to converse. It's baffling.
Kulap Vilaysack 
You are Scott, in this scenario, continue.
SuChin Pak 
Scott's my spirit animal. So I don't feel like we can sit across each other and stare at each other in our eyes and speak. You know what I mean, these answers. So I feel like it's going to be some form of like, I'm going to leave like maybe a little note or something and he can write it whenever he wants, and then we'll exchange it.
Kulap Vilaysack 
Okay, okay. And so if you guys get like a composition book that you guys could share. A journal that you could pass back and forth.
SuChin Pak 
Oh, yeah, that's a great idea. So I'll write my answers and then he can write it. I don't know where this is gonna lead. Whoa
Kulap Vilaysack  12:03
Well, I think it's gonna lead into my Add To Cart.
SuChin Pak 
Oh, god. What?
Kulap Vilaysack
Why SuChin Pak. This is a product you've heard of before. It's the KegelBell: The Vagina Gym.
SuChin Pak 
Oh my god.
Kulap Vilaysack 
And our friend and fellow podcaster. Jackie Johnson of NATCH BEAUT swears by it.
SuChin Pak 
Did she send it to you?
Kulap Vilaysack 
I bought it. I bought it. And also know that I used her discount code and you guys can to NATCH. Originally, the price is 129.95, NATCH Got me? 25.99 off. Shipping was free. So that's a total of 103.96. All right, let's get
SuChin Pak 
We're giving out other people's coupon codes. I don't know if that's how coupon codes work. But I feel like why not? Okay,
Kulap Vilaysack 
let me let me walk you through it. Let me walk you through it. And I got the quickstart guide to help me out and explaining it, you got two bulb sizes. Let's start with these two rubber bulbs. smaller, larger.
SuChin Pak 
Wait, hold on, I'm being triggered. I'm being triggered because is this.. Little, it's not the gooseneck
Kulap Vilaysack
but it is, it's what the gooseneck wants to do. It's the same goal.
SuChin Pak 
Yeah. Okay. So you've got two silicone balls.
Kulap Vilaysack 
Yeah. And so you're like, hey, first see if you can hold it while standing, right? You insert it.
SuChin Pak 
Which one the bigger one or the smaller?
Kulap Vilaysack 
Well, you start smaller and if it goes *beep*
SuChin Pak 
By the way, guys, that's a ball falling out of someone, out of a pretend vagina and let's pretend it's probably mine. Go ahead.
Kulap Vilaysack 
Yeah. Okay. And so you, you hold it while you're standing. And that's how you start. And if you can't hold either bobble standing, okay, go ahead and lay down for a modification. Okay, so basically, that's like the first step right? And then you start to add weights. This is the first small weight. It's like a, it's a Kegel.. It's Bell.
SuChin Pak  14:13
You guys, she has added a weight to the end of the string that's attached to a silicone ball that's going to go in your thigh, go on.
Kulap Vilaysack
Yes, and you work five minutes at a time you're working with this right? And then you build up, you build up. Maybe you go to the second weight.
SuChin Pak 
Oh my god, she's adding more weights
Kulap Vilaysack 
And then this is highest level.
SuChin Pak 
Stop, now she's adding a weight that looks basically like a real bell. Like a real metal bell.
Kulap Vilaysack 
It's steel, it feels like. And SuChin I'm holding this from the top. It's heavy.
SuChin Pak 
I see the weight that it's pulling on the string.
Kulap Vilaysack 
It's really heavy. Now, SuChin. This helps with what we we're talking about last week the dribs and drabs. I haven't had children. I haven't had two beautiful children come out me. And yet, when I sneeze, or cough or laugh hard, I pay a little. I'm gonna try this. And I haven't done it yet, because I didn't want to use it and then be demoing it.
SuChin Pak 
Thank you. Thank you. All right, on that note, we're gonna take a quick break.
Kulap Vilaysack 
Well, don't forget, It's Valentine's Day. So this, it's not just about the dribs and drabs. it's about clutching that pain inside you. All right, go ahead.
SuChin Pak 
That's where we break. We'll be back.
Kulap Vilaysack
All right. We're back. And we are talking about game changers again.
SuChin Pak
Last week, was the toilet brush.
Kulap Vilaysack 
The Lumi.
SuChin Pak
The Lumi, yes. So I wanted to give a quick update when we were trying to contact the Lumi, you know, to try to get you guys some codes and try to figure out who these people were. And we have no idea we're hitting dead ends all the way around, and we have people working on this. I tried to find them to even tag them. They're not on social and the Instagram on their website leads you to a jewelry site. Well, someone on our staff said, is it a coincidence that it's Lumi, luminati. So this week, my game changers a little bit different. It is a book, a new book that just came out called: "Untigiring: Peaceful Parenting for the Deconstructing Tiger Parent" by Iris Chen. Okay. A Tiger mom came from years ago, there was a book called: "The Battle Hymn of the Tiger Mother."
SuChin Pak  16:58
And in there was sort of like strict quote unquote, Chinese but really Asian parenting styles. And I really love parenting books like this. But there was something I have never read a parenting book where the centering of the story was through the Asian experience. And so a lot of these tips are tips that I think peaceful parenting that you can find anywhere. There's nothing too revolutionary in here. What is revolutionary is when she puts it in the context of us being from Asian immigrant families, and what our parents and generationally what that means.
SuChin Pak
And so this term untiring was, it was just so radical to me, because I had never even thought to question how much of my parenting is even based in the Asian culture of Tiger parenting. It's parenting that's based in utilitarian and authoritarian measures, psychological behavioral and physical control are exerted over the child. Extremely high expectations for a child's behavior and performance are the norm, particularly in the area of academics, emotional warmth, and empathy are lacking, but punishment, shame or withdrawal of affection already tools.
Kulap Vilaysack  18:18
Yes, I'm familiar. That all feels like a warm sweater.
SuChin Pak
That's like comfy sweater. It's got little holes in the elbow, because it's been worn so much. I think I want to say though, in reading that, I think we have to be careful. What this isn't about is that the West, quote unquote, is doing something better than the east. You know what I mean? Like, this isn't about, I think a lot of this stuff comes from real cultural, right history and experiences. So I want to say that that's fine. The thing about it is and what she's so beautifully does in this book, is really get to the bottom of what it means when you parent a child in this way, and what it does to the child and what it does to your relationship. And I want to bring up an example. It was just the other day, and I was like Zooming outside.
SuChin Pak 
And you know, we're hardwired and so the kids were playing around, and they pulled the internet plug out of the wall, I'm sure by accident, and I was so flustered and I was in the middle of like, you know, kind of a business meeting and I ran in and I screamed, "What happened? What are you guys doing?" And I screamed this and they all kind of froze, and I was like, "I'm on a call." So I plugged it back in and I went back to the call. And when I got off the call, and partly because I'm reading this now, I have I had never and I'm sort of tearing up saying this like, I don't think I was ever aware of the tone of voice I use with my children. Over the stupidest shit, they pulled out an internet plug.
SuChin Pak  20:01
And I went in there level nine, screaming. And I didn't, I wasn't even mad at them. I was just more even flustered. But they don't understand that. And what is their experience in that moment? And what is their experience of me in that moment, and who all of that was like in that weird little tiny example. And I do this all the time, like, "You spilled your water again, oh, my god, you're always spilling your water," you know, that kind of reaction to the smallest things.
SuChin Pak 
And this book really got me thinking about, there were only two emotions in my house when it came to my parents, you know, there was love, sure. But most of the time, it was guilt. And I was in trouble. That was it. And so really unpacking this in the context of coming from an Asian family and an Asian culture that were Tiger parenting is just parenting, you know in Asia.
Kulap Vilaysack 
A method passed on from generations.
SuChin Pak 
Perfected and passed down.
Kulap Vilaysack 
That's right. Yeah. Well-aged.
SuChin Pak
Yeah. And it was just, I just wanted to share that with you because it has profoundly shifted the way that I interact with my children, even to the granular level of the volume that I am speaking to my children, because when you speak that way to a young child, they go immediately into fight or flight, their adrenaline is pumping, they're not thinking logically. And you have an adult like me, where a drop of a pin and I'm jumping, sweating, vomiting, screaming, everything is triggering for me, every confrontation, we joke about it, like a punctuation mark is confrontational to me.
SuChin Pak 
Because my fight or flight I think, has just been so well, you know, triggered over the years of being part of my family, by the way, also loving, you know, like my parents, and I have a great relationship, but there is this part. And I have to understand, like, how do I do better? Not perfect. But just like, how do I do better?
Kulap Vilaysack  22:18
Yeah, my mom mainly screamed, that was her main form of communication, like just screaming, my dad was quieter. But when he would yell, I truly shut the fuck up because it was very scary for him to get to that point. And yeah, like that, and really understand that withholding of love that you spoke of. But how it has affected me as an adult is, I'm better with confrontation now, it's taken a lot of therapy and failure to get to the place where I stopped thinking that if you argue that means you don't love one another, because what I witnessed was not love.
Kulap Vilaysack
When my parents would argue when my mom would go into a blind rage, that wasn't love, that was the opposite. So I would run the other way. I would just be making a mirror to my mom, and just do the opposite. And so I think a lot of problems I had with Scott early on is because I didn't want to argue and I didn't want to raise my voice. But then things would build up, build up, build up. And then I would sound just like my mom. And then now we have to deal with how I over reacted to something that because I let things build, build, build, build, build, and I couldn't. I just, it's been such a struggle to learn how to use my words.
SuChin Pak 
So hard.
Kulap Vilaysack 
So hard, so hard.
SuChin Pak 
And I think that, that is the general experience of most Asian kids and Asian women, I think that were in the vast, vast majority, you know?
Kulap Vilaysack  24:00
Yeah, I do.
SuChin Pak 
So that was my game changer.
Kulap Vilaysack 
Thank you for sharing.
Kulap Vilaysack 
Well, now I want to talk about my game changer, which is so shallow in comparison.
SuChin Pak  24:18
Usually, that's usually by the way it's the opposite way where you talk about something moving and I'm like, "Can I talk about toothbrushes?"
Kulap Vilaysack 
Okay, enter Kulap. I want to talk about Glossy Sky Wash, which is a sheer matte lid tint.
SuChin Pak 
Wait, wait, hold on a second. What is this?
Kulap Vilaysack 
This is, it's eyeshadow. It's basically eyeshadow. And it's in a color. It's matte and it's a color Tara and I'm gonna put it on for you so you can kind of see it's interesting because you have this applicator. And I'm always pulling it from the wrong side because I'm not used to yet. But you kind of just like, I'm gonna move this little bit, you just like you're using it apply.
SuChin Pak 
Oh, and then you blend it in with your finger.
Kulap Vilaysack 
Exactly. But I think you've hit the nail on the head last week where you just like, I want to feel different sometimes.
SuChin Pak
How do you discover new makeup stuff? Like do you hear it through your friends? Or do you just kind of "Oh, that's interesting to me read about it somewhere" and just take a chance?
Kulap Vilaysack 
I tend to take a chance but you mean like having you in my life has really inspired me to do that. I mean, I'm like, totally revamping all my skincare like, right before we started, I was like, Oh, this nature has arrived. I'm like, great, I'll use that after. So, but here's the thing. It's improved my skin. So but yeah, look it that's it.
SuChin Pak
Yeah. That looks so easy. So easy. It took her about 15 seconds to get this look. I love it.
Kulap Vilaysack 
Just blend in and we got a little pop of color. And that's fun.
SuChin Pak  26:03
We are going to take a break. We'll be back with some, some talking about some fantasies. So the yes, titillating fantasy.
Kulap Vilaysack 
Oh yeah, what do you think of Valentine's Day, fantasy suite.
Kulap Vilaysack 
We are back on Add To Cart. So now as the vaccine is rolling out, we thought it would be fun to just kind of dabble to talk about some of our post vaccine fantasies.
SuChin Pak 
I feel like, was this your category that you came up with?
Kulap Vilaysack 
Yes.
SuChin Pak 
You should go first. Because I had trouble.
Kulap Vilaysack 
Oh, cuz I'm just like, thinking I'm, you know, by myself, Scott's trying to, you know, avoid me and being molested by me. And he's, you know, retreated to his office.
SuChin Pak 
You're on the third weight of the KegelBells.
Kulap Vilaysack 
And I'm just looking out into the abyss and I'm thinking, you know, oh, I want to do that. Oh, wait, I can't. And so I thought hey, why don't I just talk about it? There was trips that were planned for my 40th birthday that I didn't get to talk about.
SuChin Pak
We talked about this, right before we went on lockdown, Kulap. You and I had dinner. And you had to cancel your beautiful trip to Italy?
Kulap Vilaysack 
Yes.
SuChin Pak 
Remember?
Kulap Vilaysack 
That's right, Italy. And man, it was gonna be this epic trip that Scott and I planned and we put together like, banked like credit card points, and Marriott Bonvoy points to get like all these like hotels and like his points with my points. And we have just this epic trip planned. And of course, like if you guys recall, even though it's a shithole here now a hell of COVID, Italy was one of the first really hard-hit places. So that got canceled. So I'm dreaming of Italy. I'm also dreaming about going To the Lodge at Blue Sky in Utah. It's this ranch, and by ranch luxury. Like experience hotel.
SuChin Pak  28:31
Nobody. Nobody thought it was any other type of ranch. Okay, Kulap. So now this is to celebrate your 40, this is a big deal.
Kulap Vilaysack 
This is my friend John [UNCLEAR] and I were going to do a duo birthday blowout, invite friends. And you know, ring in our 40th and 50th respectively.
SuChin Pak 
Wait, there's a helicopter on the homepage of The Lodge at Blue Sky.
Kulap Vilaysack 
Yeah. Yeah, that's right.
SuChin Pak 
Why is there a helicopter?
Kulap Vilaysack 
Well, if you own a helicopter, you gotta park it somewhere. I mean, I don't, but I assume that's the situation.
SuChin Pak 
I see a ranch, a real ranch, a real working ranch.
Kulap Vilaysack 
Right, right. I'm not ranching, I'm enjoying the fruits of other people's labor. Of course, there's an amazing spa. I'm always thinking about spas.
SuChin Pak 
Yeah, that's the number one thing you think about before you book a trip like this.
Kulap Vilaysack 
I was so obsessed when I was like looking for places. I'm like, do you have archery? For some reason was like I want to learn how to you know be Katniss Everdeen. Have I ever picked up a bow and arrow? No. During lockdown, I considered setting something up in my backyard and thought I'm gonna probably kill my dogs. So I haven't done that yet. But I'm also thinking about places I've never been to like I've never been to [UNCLEAR]. Have you been in the [UNCLEAR]
SuChin Pak 
I have been to [UNCLEAR]. I mean, long time ago,
Kulap Vilaysack  30:00
I want to go there, I want to go to return to places like Laos, and like Paris and Hawaii. And I really, really, really miss my family and my sisters and my, my mom and my nephew, especially my in laws. So I've been thinking about traveling. And then that leads me into you know what? We talked about spas. I miss. I miss having those hands on my bods. Those unsexual hands upon my back massages, I miss massages, long massages with hot stones. I want that. And then, the last thing I've really been fantasizing about, in I understand that all these fantasies are very pedestrian. I want a haircut so bad. I want to haircut my ends. Like I just I want a sexy lab.
SuChin Pak 
Ooh, you're gonna do it? You're gonna do it, you're gonna chop that off?
Kulap Vilaysack 
Yeah, you know, with myself. I'm allowing my Silver's to come through and I think I'm gonna keep that for a beat. But I want to Sheikh lob.
SuChin Pak 
I mean, you're gonna need something when you get off that helicopter on top of this mountain, to make sure that they know. You know what I mean?
SuChin Pak 
When you had said, okay, let's talk about post vaccine fantasies. I texted Claire, our producer and I was like, I don't have any fantasies, because in a lot of ways, I am living my fantasy like there is nothing.
Kulap Vilaysack 
Ooh..
SuChin Pak 
You know, I mean, I love being burrowed in a house having no pressure to social obligations. And doing this podcast is really kind of all I need in terms of human interaction. And I am well aware that I'm speaking into a mic looking at a computer screen. That is all I need. So I was thinking about it and yes, I do miss traveling. But I was like, but what do I really miss and the thing I came up for me was my girlfriends, and you know, we're talking about that tight knit.
SuChin Pak  32:13
We're talking about those girlfriends who are truly they know every deep, dark, secret, where all the words are, you know, they know everything. And I was thinking about how in my I never had girlfriends until I hit my 40s. In my 20s I was all about work and trying to have a career and making money and figuring that out. In my 30s I was obsessed, as I'm sure other women can relate to, of finding a boyfriend, juicy piece of pursuit farms.
Kulap Vilaysack
Meat, wagyu?
SuChin Pak 
A juicy piece of wagyu and I in my 30s I was just one of those girls that was like always in a relationship in a pursuit of a relationship with nothing else on the radar. And, you know, I got married, I had kids blah, blah, blah. And suddenly these women that have always been in my life, but I kind of never went out of my way. Like I was never gonna be the girl that was like invited to a wedding that was even remotely out of town that was gonna show up. You know what I mean? Is that a nice gift? And just like, come on. You don't want me there. Yeah, I'm terrible at a wedding it weddings are my, it's where everything comes to a head for me. But anyway, so..
Kulap Vilaysack 
I'm great at weddings.
SuChin Pak 
Of course you are. That is not I am not surprised one bit. You're like, fully in the dress attire in the dance routines. You are full on. But anyway, so I was just thinking about that how much that has changed and how, for me the most important relationship, I would say the most but how important my female relationships are in my 40s, I just I cannot stress enough. I've never had girlfriends like I've never had the need. I've never understood it. I always prided myself and being like those girly girls. You know, when I would watch Sex in the City. I was like, that's just not me. You're like, yeah, it's like a badge of honor. Like I want to hang with the guys. I'd like to be by myself.
Kulap Vilaysack  34:30
I really, I wasn't until I was 30 that I looked around and was like, oh, wow, like, yeah, I have these great guy friends. But I was not feeling complete like, and there was a direct line of my fear and mistrust of my mother. That led to me not being intimate with other women and it was an undertaking to shift because I really craved female friendships. You know, and it took to you know, I got our guests Casey Rose Wilson is a big part of my growth and like, you know, and June Diane Raphael who are both Scorpios.
Kulap Vilaysack 
And when I want to just let things go, they're like, no. And I was like, really? We got to talk about it. We got to? Oh, all right. I mean, they've been real teachers and that like, "No, we can disagree, we can argue, but it doesn't mean we don't love each other."
SuChin Pak 
I, you know, as you're saying that, because I was wondering, I was like, well, what is it about my 40s that suddenly I have this craving and this like, real, just a need for my girlfriends? And when you said that, I thought, oh, vulnerability. Like, for me, I have never been at a place in my life where vulnerability was something that I even considered, that I even valued, that I cared about, you know, 20s and 30s. Fuck that. So really, in my 40s, as, especially after having kids and kind of having these huge epiphanies about where the missing pieces were in my life, I think that's why the craving for female friends to foster that sense, the strength and vulnerability that I find so difficult to find on my own.
Kulap Vilaysack  36:25
And also like, I'm very, you know, again, I've been with Scott for 21 years, 20 years is a half of my life, just about, and I get a lot from him, but he can't be everything. And I don't want him to be everything.
SuChin Pak 
And he doesn't want to be everything.
Kulap Vilaysack 
Certainly does not. He certainly does not and what my girlfriends can give me in a relationship like that's its own category. And yeah, they help. I feel whole.
SuChin Pak 
Yeah, it's all of it. alright, so that's it for our show. Oh,
Kulap Vilaysack 
Oh, yeah. Hey, look at us.
SuChin Pak 
We did it. Thank you all as always, for listening for just like the love and the support. I mean, we're just having such a good time. Laughing over all the DMs in the comments.
Kulap Vilaysack 
We love all of the DMs. We love you all.
Kulap Vilaysack
Follow us on Instagram at Add To Cart pod to see all of our products and items from today and let us know if there's something you want us to talk about.
SuChin Pak
And we will catch you all next week. Thanks guys. Bye bye.
CREDITS
ADD TO CART is a production of Lemonada Media. Our producer is Claire Jones and our editor is Ivan Kuraev. The music is by Wasahhbii and produced by La Made It and Oh So Familiar with additional music by APM music. Executive producers are Kulap Vilaysack, SuChin Pak, Jessica Cordova Kramer and Stephanie Wittels Wachs. Be sure to check out all the items we mentioned today on our Instagram at @AddToCartPod. Also, please take a moment to rate review and subscribe to the show wherever you get your podcast.