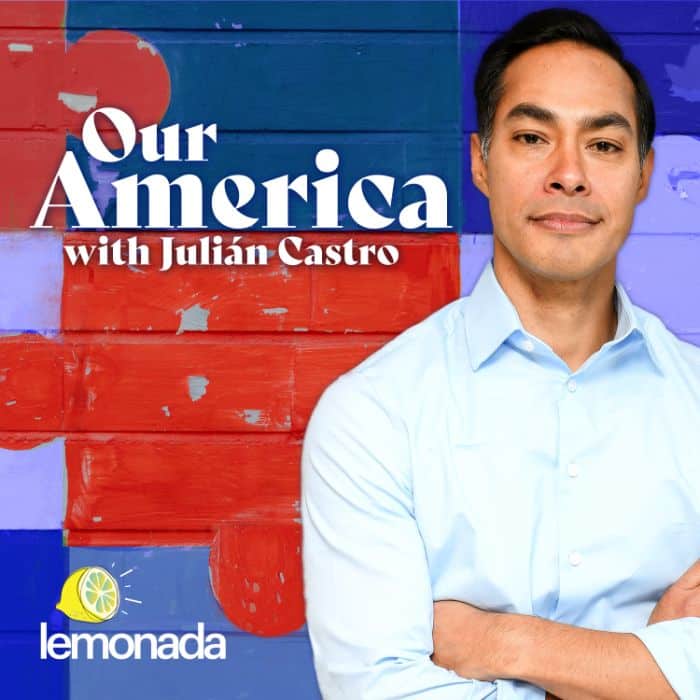 Why I'm F*cking Mad (with Jonathan Van Ness)
Subscribe to Lemonada Premium for Bonus Content
Description
With the launch of the hit Netflix show, "Queer Eye," Jonathan Van Ness became a personal grooming guru for unkempt Americans across the country. But JVN has engaged audiences in so much more than better hygiene practices – a year after the show launched, JVN wrote a memoir that helped to demystify living with HIV and what "undetectable equals untransmittable" (or U=U) actually means.
JVN joins us this week to talk about living with HIV, overcoming addiction, and the steps that he hopes the Biden/Harris administration will take to overcome the stigma that he and so many other folks, particularly LGBTQ-identifying, face after coming out as HIV-positive. Tune in, henny.
Keep up with Julián on twitter @JulianCastro and Instagram @JulianCastroTX. 
Resources from the episode:
Click this link for a list of current sponsors and discount codes for this show and all Lemonada shows.
To follow along with a transcript and/or take notes for friends and family, go to http://lemonadamedia.com/show/our-america shortly after the air date.
Stay up to date with us on Twitter, Facebook, and Instagram at @LemonadaMedia
Transcript
SPEAKERS
Jonathan Van Ness, Julian Castro, Woman on TV, Speaker 3
Julian Castro  00:00
Hey y'all, just in case you're planning on listening to this episode with your kid, we should mention that our guest today uses some pretty colorful language.
Julian Castro
After nearly a year of living with the Coronavirus, it continues to dominate the national conversation.
Reporter on TV
The CDC says more than 10 million Americans have been vaccinated.
Reporter on TV 
This newly open center in Brooklyn will run 24 hours a day, seven days a week, one of five in New York City.
Reporter on TV 
To get as many people vaccinated as possible. Officials in Ohio..
Julian Castro
On the one hand, the speed at which we've been able to develop a vaccine has been nothing short of miraculous. But on the other, it hasn't come soon enough for hundreds of 1000s of Americans who have ultimately fallen victim to the virus. Despite the heroic efforts of our nation's medical workers. The mystery and devastation of the virus has caused some to draw connections to the AIDS crisis of the 1980s.
Reporter on TV 
It's mysterious, it's deadly, and it's baffling medical science Acquired Immune Deficiency Syndrome. And every day three more cases are identified and yet still, surprisingly few people are familiar with the Acquired Immune Deficiency Syndrome or the acronym by which it's frequently identified. AIDS.
Julian Castro
About 700,000 Americans, including many who identified as LGBTQ+ lost their lives to the HIV epidemic. At the beginning of the epidemic, HIV was dismissed as a gay man's disease, in the Reagan administration shamefully slow walk the federal response to find a cure. But over the years, medical advances have been made to combat the virus. Now, many folks who live with HIV lead happy and healthy lives, including my guest this week, Jonathan Van Ness.
Jonathan Van Ness 
We're gonna have a quick little heel walking. When you're walking in the hill, it's all about competence. If I go like, see how she's just like..
Julian Castro 
On the hit Netflix show, Queer Eye. Jonathan uses his vivacious personality and experiences as a hairstylist to help people improve their appearance.
Jonathan Van Ness  02:02
Oh my god, she was just like heels.
Julian Castro 
But he's also a strong advocate for health care reform, HIV testing, and LGBTQ rights. This week, I talked with Jonathan about his journey through testing positive for HIV, overcoming addiction, and fighting for policies that can help tackle stigma against HIV status. At a time when good news can be hard to come by. A huge congratulations is in order to Jonathan, who just recently got married.
Julian Castro 
This is OUR AMERICA. I'm your host, Julian Castro.
Jonathan Van Ness 
I just need to keep reminding myself that I'm not hosting this time.
Julian Castro 
Maybe will be like a double host or something like that, you know?
Jonathan Van Ness 
Out of that zone.
Julian Castro 
The last time that you and I talked, we spoke before the election. How are you feeling these days?
Jonathan Van Ness
I mean, I am feeling concerned actually, and feeling a lot of concern. And I've really been thinking a lot about this idea of like the democrats need to do a better job of working across the aisle within our own party. Like what we really need to do is learn how to work between centrists and progressives, because at the end of the day, I do feel that we all want the same thing. But I do think that they're coming from a rural Midwestern town of you know, Quincy, Illinois. Where I come from the votes, you know, for Trump to whine, I think he won even by a higher standard in 2020 that he did in 2016 in my hometown, because I just couldn't agree more with the quarry bushes in the AOCs and the squad's of the world. That's where my heart is. I'm like, we don't need to make other people comfortable.
Jonathan Van Ness  04:00
However, in rural America, I think that the points we need to not compromise on our points, but is there a way we can communicate and get everyone on the same page with love and respect? And I don't know how we're going to do it. So yeah, anxious, worried, a little relieved. I mean, we did just have like 106 what like republican congress people like, and we also have like Tommy Tuberville and fucking Mo Brooks, excuse my french, but fuck so even though we did when it's like we still have 160 elected officials, you know, that are representing the 75 million people that are trying to overturn elections. I just feel stressed Secretary Castro.
Julian Castro
I wanted to take a step back. You mentioned growing up in Quincy, Illinois. Very different from the life you live now in New York. But you grew up as an LGBTQ youth in a small town in a very different time, even though you know in the scope of things. It's not like we're talking 50 years ago or, you know, even 30 years ago. Talk to me about growing up in that small town what that was like, and reflecting back on it, what you learned from that experience that you carry with you now?
Jonathan Van Ness
Well, one thing I would say is that I often find myself cautioning folks against when I hear it and like, obsessed with you, by the way, but when we think about like, oh it's a different time, if you're in like, New York, maybe Miami, like Minneapolis, I don't like bigger cities, you know? Yes. Maybe it's a different time. Yes. I'm sure there has been progress. But when you're talking about Quincy, when you're talking about rural America, no, I don't think that there has been a lot of progress made. Actually, we haven't made that we need to make a lot more progress. But to speak to the era in which I came up in it was the age of DOMA, it was the age of, you know, the Defense of Marriage Act that was very aggressively pushed by the Clinton ministration in the 90s.
Jonathan Van Ness 
And I am of the era where it was very much like, you know, I don't think you should be killed for being gay, but you certainly shouldn't be married. That is a you know, that is a sanctity between a man and a woman. So that was like something that we heard a lot. And it's very just like, with a smile on your face, like, No, you actually don't have the right to the same life and liberty and pursuit of happiness that we do. Because Jesus said so. Which is so ironic, and a country that was like, founded on the separation of church and state. It gets me all the time. Growing up in my school, it was like, to this day as an adult, if I hear someone say faggot, I'm very quick to turn my head and put my arms up or be like, have this clench, I still walk to my car with like, keys facing out.
Jonathan Van Ness  06:46
I'm ready to defend myself at all times. I was pushed down stairs, like large flights of stairs, I was, like, shoved into walls. I had faggot spray painted on my car, like several times, my house vandalized several times. Yeah, I mean, it's PTSD. I mean, I know what it's like to walk into a room at any given time and not know if my physical safety was going to be guaranteed. And when I look at my 20s, and I look at like the high-risk situations that I was so willing to put myself into, I mean, extremely dangerous situations. It didn't seem that out of the ordinary for me, given what I had already been up against, like my sense of self, and my sense of my right to protection, my right to freedom, safety, all of that it had been so compromised from growing up in that environment.
Jonathan Van Ness
Which is a lot bigger than society. But you know, what happens in society trickles its way into homes, and it trickles its way into, you know, individuals. And so, yes, we have marriage equality, but for the individuals, like actually, you know, living their lives in rural America, and largely in lots of different parts, even if you're not in rural America, we have so much work to do.
Julian Castro 
When you were 25 years old, you were diagnosed with HIV? Could you talk to me about the moment that you found out that you had HIV? And what happened in your life after that?
Jonathan Van Ness  08:12
Yeah, it was terrible. It was just as shitty as you would imagine getting diagnosed with HIV would be in St. Louis, Missouri, at 25 years old, at, you know, a planned parenthood that I'm very grateful for. It's very clean, and very nice and people were very sweet. But yeah, I hadn't felt good, I had been engaging in a lot of self-destructive behaviors, which wasn't exactly new. So I had scares before I had times where I was like, oh, like, is this gonna be the time and it had not yet caught up to me. But this time like I was feverish, and I was really fatigued and like not feeling normal for like a week, based off of some of the relapses. And some of the things that have been happening is like, I need to get tested. And so I went to get tested. And I did a rapid test.
Jonathan Van Ness
And they were like, we'll be back in 10 minutes. And the 10 minutes turned to 20. And the 20 turned to 30. And then I saw like feet walking outside the door, and there was one pair of feet, and then two pairs of feet. And then I was like, This is that part in Sex in the City where like, they go to tell Samantha but I know they're not going to tell me to like stop being a slut because I didn't even tell her that I was being such a slut. So I'm not about to get lectured about safety. Did you see that episode of Sex in the City? Where, like Samantha gets tested for HIV in like the late 90s.
Julian Castro 
No, I didn't catch that one.
Jonathan Van Ness 
There's an episode of Sex In City where Samantha goes to get an HIV test. And she tells the doctor that, you know, when they're doing their prescreening questionnaire, and like Samantha answers yes to every single question that the doctor asks. It made her scared that she was going to have it and she collapses on the way to the room. And then when they come out of this scene, they say her test was negative, but the doctor just wanted to lecture her on safer sex practices.
Jonathan Van Ness
I mean, I thought about when I was maybe like 12 or 13 and was like, like so, but that wasn't I mean, the origins of my [UNCLEAR] of HIV stigma that was like, I mean, way before that. There was a training lady who was like getting trained at the Planned Parenthood. And so when the lady who had taken my test came in, she was like, "Hey, would you mind Robin's new here and would you mind if Robin just, you know, came in to see" and I was like, "No, I don't want fucking Robin sitting here to learn that I've got HIV, get out!" And something like, "Oh, Jesus."
Julian Castro  10:26
You are not in the mood.
Jonathan Van Ness  10:27
Not in the mood. I'm not gonna be your guinea pig right now. And she sat me down, and she said, you know, your preliminary test results are positive. And I just put my head in my hands and an awful sob. And you know, you have like, I had just lost my stepdad three months prior to that after like a three year like horrific battle with like bladder and brain cancer, where I saw this, you know, person that had taught me so much and who I loved so much, just be stripped of every ounce of their dignity, on the way out the door, and to see my mom go through that.
Jonathan Van Ness
And I was just so traumatized at that point. And so I think that, that was really it wasn't like after that I never had an issue again. I think I really struggled with my diagnosis for the first year, I was still struggling with self-destructive behaviors after that. But I learned very quickly that the HIV social safety net in Missouri was not one that was going to be good for me. And once I had my first meeting with you know, my real doctor, I mean, she straight up said to me, she was like, "If you can get to California, I would go there." Because it the, you know.
Julian Castro 
So, she was indicting the healthcare system there in Missouri?
Jonathan Van Ness 
Yes. And she said at the level, she because I, you know, I think I'd made, I think I mean, $9,000 total, like, that's what my taxes were in that year. And she was like the level of income that you have, and what we have here, versus what you would get in California. If you can figure it out, I would go. And so I was like, I'm out.
Julian Castro  12:08
Before the break, we heard Jonathan describe how his doctor encouraged him to seek better HIV treatment outside of Missouri, which was exactly the sort of practical advice Jonathan needed to navigate his diagnosis and society stigma.
Jonathan Van Ness 
I mean, the judgment and the stigma of STI testing in Missouri at the time, because I had been to a doctor several times before that it you know, and walk ins and stuff and felt very unwelcome and very judged. Like, it's like, there's pictures of fucking like, Jesus on the walls everywhere. And they're like, you use protection, right? And you're like, "uhhh.."
Julian Castro 
You felt pressure not to tell them the truth, not to be honest?
Jonathan Van Ness 
Absolutely. And if you did start to answer, honestly, the judgment was, I mean, literally things like, maybe next time, you cannot do that. saying that to a sexually compulsive person is not a great idea. If I could just not do that next time. Do you think I'd fucking be here in the first place? Now. So. Yeah, so that day was awful. And then, and then I did. And at that point, I knew that my health and my life was on the line. And I started researching about ART and antiretroviral therapies and learning about what undetectable meant and learning about what viral loads meant and I knew at that point, I was like, I need to get to medication. I need to get to a doctor; I need to get on medication. Because I knew that that was before people were saying undetectable equals untransmutable.
Jonathan Van Ness 
But there was still a school of thought at the time that you want to get on meds because you want to get that viral load down and you want to get into being undetectable because it's easier on your organs. And it like lessens your complications in future. So at that point, I was like, "Mom, I'm selling everything I have to be able to like get out of this apartment and move back to California." And obviously I can't I don't have the money for like a rental truck or anything like that. So I'm just going to pack up my IKEA this couch I couldn't sell this other thing I couldn't sell no one wanted it. And you actually cosigned this lease for me. I feel like you might want to go clear it out because I'm out.
Jonathan Van Ness  14:07
And so she was like, "son of a bitch." Got signed up with AHF and which the AIDS Healthcare Foundation got signed up with Ryan White funding. I got signed up with AID app, which is AIDS Drugs Assistance Program. I had to go to like, you know, four different buildings like all these different packets to you know, confirm, you know, my income before I could get access to my doctor there but it happened within like 10 days and I was on my medication within a week after moving to LA and had my follow up appointment. Two weeks after that. And within three weeks of moving to LA I was undetectable. Had my doctor, you know, had my three-month checkups.
Julian Castro 
Your HIV diagnosis and the treatment that you've gone through has given you a front row seat to the highs and the lows of our health care. system. What do you want for policymakers out there to understand about our health care system? And what do you hope is done with health care? Over the next few years?
Jonathan Van Ness
I think that the Affordable Care Act was a really good start. I will say that as someone who was struggling to get sober, newly HIV positive and 25, I probably could have learned Mandarin almost as easily as I could have signed up for the Affordable Care Act. The sites were incredibly user unfriendly. It was incredibly bureaucratic. It was incredibly frustrating. It was a nightmare. It took me months, I had to go to multiple places.
Julian Castro 
Just trying to understand what all of it meant?
Jonathan Van Ness 
Oh, yeah, like, what is this plan mean. What does that plan mean? How do I input my forms to prove my income so that I don't lose my AIDS Drugs Assistance Program, and I don't lose my AHF and I don't lose my Ryan White funding, because I need those subsidies from the Affordable Care Act so that I can get my meds. Because otherwise, if I didn't have those subsidies, it was going to be like three and $400 a month with the Affordable Care Act if I didn't qualify for those subsidies, because HIV medication is so expensive, if you don't qualify for those subsidies, it just shouldn't be that hard. It should not be that hard. And it shouldn't be that hard for a few reasons, two comes up right away. But first of all, what we know about HIV is that when you achieve and maintain that undetectable viral load through your ARTs, your antiretroviral therapies, which is like after you already are positive.
Jonathan Van Ness  16:37
You don't transmit the virus, and you have a life expectancy of like 50 to 75 years after diagnosis, which is insane. It's amazing compared to where we were in the 80s. We can stop this virus if every time someone gets HIV, ARTs, end of story, that's why we should be having antiretroviral it's really why we should have Medicare for all but as far as HIV AIDS is concerned, because of the public health threat nature of it, it should, it should just be covered. federally across the board. If you find out you have it, you're on meds, you have a doctor every three months, period. But see when I talk to people like that, or when I say that to some folks, sometimes what people say to me and DMs and things and in real life, and as well, I didn't go out and get HIV, I don't want to pay for them. But it's the thing with this essay is that like, this is like when you try to like, I don't want to get a cab on the way home from the bar.
Jonathan Van Ness 
0Like even though I'm drunk, so I'm just going to drive, you got a fucking DUI, that's $10,000. Now you should have just gotten the cab, and that it's similar with HIV AIDS, the cost that we incur from people not getting medication and the virus continuing to spread. It's making all of our health care more expensive. It's making everything worse. And in fact, the HIV social safety net has been slashed and burned. Even in California since I left California, what was so good about California, it's actually been made less expensive and harder for folks to maintain their coverage. And it's like, at what cost? are we saving this money?
Jonathan Van Ness  18:08
It doesn't make any sense. So what I want to see is less bureaucracy, simplification of processes for people living with HIV, I want to see bigger budgets for HIV social safety net. And I also want to see the federal government come in here because we know that there is so much racism and transphobia and homophobia baked into the HIV social safety net. And for states that can't even keep voting places open for states that have been so willfully racist, like for the duration of the Union, we shouldn't be leaving it up to those state legislators to make policy for the most marginalized people in our country. Because they cannot be trusted, frankly. So that's what I think.
Julian Castro
So talk to me about QUEER EYE. Talk to me about the show and all the success and everything that has come with it.
Jonathan Van Ness 
Well, I mean, the experience of doing QUEER EYE is such an amazing experience because we get to meet so many amazing people and it's just so much connection and getting to work through things then. I think people would really be surprised because we shoot like 60 hours of footage that gets edited into like a 45-minute show. So there's so many aspects..
Julian Castro 
Wow! 60 hours that gets cut down to 45 minutes.
Jonathan Van Ness
Easily, because I mean, we shoot like Monday through Friday, and it's like 8-10 hour a day. And so, you know, all five of us are working with our heroes on so many different things that never see the light of day and that edit and so we're connecting so much with our heroes and learning so much about their stories and even also, when I was on tour and getting into standup comedy, one of the sets that I like to do the best I've written a lot of material and I've done a lot of comedy in these last few years but one of my favorites has to do is talking about how I am in a constant state of shock. I was not famous and not a celebrity and in like a, you know, Bachelor apartment or a one-bedroom apartment overdrawn made checking account 17 times a week.
Jonathan Van Ness  20:09
Like saving up so I could go buy a pair of heels from Payless. That was my 20s. So walking around like being a homeowner, like I feel like that episode of Sex in the City again, which I'm sure you didn't see this one as well. But Charlotte York when she gets engaged to Trey MacDougal and she's always wanted to be engaged and she can't stop, like running her finger with her engagement ring across like all of the surfaces in her apartment. I feel like that. I never like I used to think in my 20s, I was like, maybe I can be a homeowner. By the time I'm like 50, maybe 50, I'll be like, I would have had it together by then. And so I feel so grateful and blessed. And then really, I think the part of it that is the hardest for me to deal with is like, just wanting everyone else. I want everyone else to have it too.
Jonathan Van Ness
Like, I want everyone else to be able to get their healing, like I got my healing, I want everyone else to get their healing and not that it's perfect. And not that don't struggle with things still. But I want that for everyone else so bad. And I think that I kind of feel like I have this just low level of guilt. Like, I hate that there is so people suffering. And I just want to help people not suffer as much. So sometimes I wish like, you know, thinking that like I fucked up someone's highlights was like the worst problem that I had, or like, how I was even gonna get like, my medication was my biggest problem. Like, I feel like I've learned so much more about the world. That's a party thing I didn't expect it like the pressure. And just like I know a lot more now. And I know a lot more people's suffering and what they're up against, which sometimes makes what I was up against, like, feel like Paris Fashion Week, even in Quincy.
Julian Castro 
Despite all of the significant progress that we've made, whether it's the first LGBTQ cabinet member that the Joe Biden has announced, or of course, marriage equality or other opportunities, and the changing of attitudes that has happened among a lot of Americans. For a lot of young people growing up out there, they still are subject to the same bullying, to the same sense of shame, the same harsh family environment. What would your advice be to someone who's 13 years old right now and is struggling with the same environment and challenges that you did?
Jonathan Van Ness
That's a great question. One of the things that I've learned from my therapist is this idea of you visualize a safe space. And for me, my safe space was, I would, I was like, on a turquoise beach, and my stepdad who'd passed away would often be there, because he would be like, in my vision, like the person who I could talk to, and who could, you know, help me counsel through things. He'd been sober for 27 years, and like, he was just such a huge part of my life. So he was, when I was creating my safe space, which is the exercise that my therapist calls it, I would usually kind of vision him being there. And it's interesting, because as a child growing up in Quincy, I was actually doing that, not knowing that I was creating a safe space. I had my head in books all the time, a lot of Harry Potter, a lot of Bridget Jones, a lot of Calvin and Hobbes.
Jonathan Van Ness
I was glued to any figure skating and gymnastics competition on TV so that for hours, I would like choreograph carpet figure skating routines. For hours, I would play Olympics by myself on like a neighbor's trampoline that I could like bind to go pretend that I was going to be the next Shannon Miller or Dominique Dawes, if I could stick this front flip. So it wasn't that I was visualizing safe spaces, I was actually creating little pockets of safe spaces where I could be, I could do things that no one else would see. But I felt you know, free and engaged and really like being led by my joy and by what made me feel good in a world where I didn't really have that a lot for young LGBTQ people that are growing up in an environment or a home or a society that does not accept them.
Jonathan Van Ness  24:14
Finding your own pockets and your own passions, whether it's reading or something that you can learn about to get to bridge that gap until you can be in a place of self-sufficiency and independence, where you can watch your figure skating in your family room or watch your Queer as Folk in the family room and not have to like turn it off or you know, run away or whatever. So can you find a literal little corner somewhere to enliven yourself and chase your passion, and then it will get better.
Jonathan Van Ness 
And I would also say like, I wish I wouldn't have quit Spanish class and violin lessons. So if you play an instrument or if you're like in a foreign language class in school, like don't quit stick with that shit because I bet you I would have probably like [UNCLEAR] drugs. Maybe I would have. Who knows? But don't quit your musical instrument, or your foreign language classes, young LGBTQ people, because it just gives you more opportunities.
Julian Castro
I wish I'd had that advice for me back then. I sucked at mariachi band. It was both in Spanish and I was supposed to play this instrument called the Vihuela. Which is like, like a small guitar or something. I was terrible. No musical talent whatsoever.
Jonathan Van Ness 
Maybe that's something you could chase in like your bring your childlike joy back out by going by maybe you try again. Maybe your fingers have found more nimbleness.
Julian Castro 
Perhaps. So, Joe Biden is going to have this opportunity now starting in late January, to hopefully right the wrongs of the Trump era, and then take us forward. And you mentioned LGBTQ youth. I think there's a lot of hope for change when it comes to true equality in our country. What do you hope to see?
Jonathan Van Ness  26:03
What I hope to see is the Equality Act, repassed, in this Congress, and hopefully given a vote on the Senate floor, I hope to see the Violence Against Women's Act reinstated, I hope to see the bipartisan gun control legislation that was passed in 2018 actually receivable on the senate and be passed. I want to see police reform, I want to see qualified immunity gone at the federal level, and the state levels. I feel like you it's like Ashley Marie Preston says, "You can't heal what you don't reveal." And so a lot got revealed in 2020. And in a lot of ways, I think that that's actually really good feedback and really good information for us. So yeah, there are tragic aspects of it. But actually, it was a lot of really important feedback for us if we can listen to it, even though it was really painful and uncomfortable, but sometimes I think about like, Can we shift like what our perspective is on defining something?
Jonathan Van Ness 
Because I don't think it has to be tragic, and it is tragic and somber. There is loss of life in COVID and economic destruction and, you know, continued racial injustice, but a lot of people have their eyes open to really necessary things. Moving in what I hope 2021 can be bear with me here, okay. Well, I hope 2021 can be can be an Olympic year, please gonna be an Olympic year like I already lost one Olympic year in 2020. And I don't see some gymnastics and some diving and some international competition in 2021.
Julian Castro 
We can summon up some Chariots of Fire theme music here.
Jonathan Van Ness 
I need 2021 to be the year of sports, please add more equality and healing and stuff. But like, if I miss another world figure skating championship like I don't know if I can keep this up. Oh my god, I can rip this top off thinking about it so that we can all just like stay home wear masks, get that good fucking vaccine, so that we can go to Tokyo. And win our third women's gymnastics gold medal in a row, that's what I need. That's what I'm talking about.
Julian Castro  28:08
The Affordable Care Act was a good start. But Jonathan's right. We need to do more to ensure that our most vulnerable populations, including our nation's LGBTQ youth, have access to the physical and mental health services they deserve. Next week, we speak with a news anchor who uses meditation and mindfulness to cope with what has already started off as a turbulent 2021.
Speaker 3
My lungs seized up, my heart started racing, my palms were sweating, my mouth dried up. I was having trouble breathing which is a prerequisite for talking which is a prerequisite for anchoring the news. So it was all pretty inconvenient. And as my body was freaking out, my mind started to freak out and that became a vicious cycle of the more my mind freaked out the more my body freak out, the more my body freak out, the more my mind freaked out.
CREDITS
OUR AMERICA is a Lemonada Original. This episode was produced by Matthew Simonson. Jackie Danziger is our supervising producer. Our associate producer is Giulia  Hjort. Kegan Zema is our technical director. Music is by Hannis Brown. Executive producers are Stephanie Wittels Wachs, Jessica Cordova Kramer and Julian Castro. Help others find our show by leaving us a rating and writing a review. Follow us at @LemonadaMedia across all social platforms, or find me on Twitter at @JulianCastro or in Instagram at @JulianCastroTX