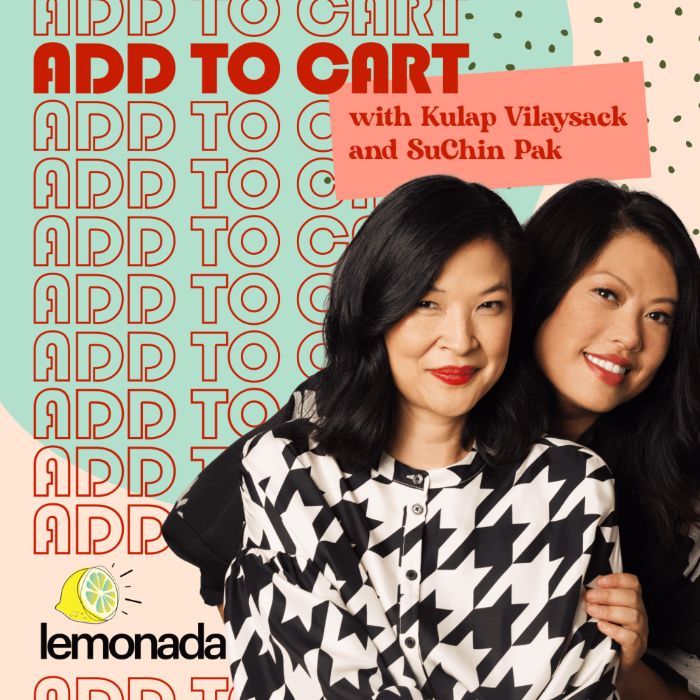 12. The Teenage Girl Inside of Us
Subscribe to Lemonada Premium for Bonus Content
Description
This week, SuChin and Kulap reminisce about their teens. From the trailer of their favorite YA movie, to a bop (a very good song) about getting your driver's license, the two swim in the deep emotions of teen angst. They even have a resident young person come on to explain to them how a new app works! They also share the small items that bring them the most joy.
Please note, Add To Cart contains mature themes and may not be appropriate for all listeners.
For a list and links to all products mentioned in this episode, head to @addtocartpod on Instagram.
Stay up to date with us on Twitter, Facebook, and Instagram at @LemonadaMedia.
Click this link for a list of current sponsors and discount codes for this show and all Lemonada shows: Sponsor Links
Transcription
SPEAKERS
Madonna Refugia, Kulap Vilaysack, SuChin Pak
SuChin Pak  00:09
Hey, everyone. Welcome to ADD TO CART a show about the things we buy and buy into and what it says about who we are.
Kulap Vilaysack
That's right this week I want to start off with some very, very exciting news which is To All The Boys Have Ever Loved has its third movie To All the Boys: Always and Forever coming out February 12.
SuChin Pak 
Yay.
Kulap Vilaysack 
Okay, I'm so excited. The trailer is it's just everything you want, right? We got a trip to Korea.
SuChin Pak 
Check.
Kulap Vilaysack 
We got Stanford.
SuChin Pak
Check.
Kulap Vilaysack 
We got New York.
SuChin Pak 
Check.
Kulap Vilaysack
We got prom.
SuChin Pak 
Check, check, check. And we are over 40 Check, check, check, check.
Kulap Vilaysack
That's right. So, if you, this is what's happening in the third of the trilogy. It's our trilogy who cares about the other types of movies. As […] prepares for the end of high school and the start of adulthood. A pair of life changing trips leader to reimagine what life with our family friends and Peter will look like after graduation. You know, so relatable to me and SuChin.
SuChin Pak
Let's just put the plot aside.
Kulap Vilaysack 
What do you mean?
SuChin Pak 
Because we can still talk about all the feelings about this trilogy, about this movie, about Jenny Han about Lana Condor without even talking about any of the plots because I mean, it's just lights up everything that we love about the series now.
Kulap Vilaysack 
Yes. And though I mean, I was lit up when you brought back the nightmare of high school via Cannagrams last week, if you know we are over the hill as everyone says, but we can touch into those moments. We can touch back.
SuChin Pak  02:11
Yeah, because this is truly fantasy for our generation. And for Asian women like us, you know? Like, when this first came out, let's put this into context. First of all, I was looking into this because I remember when this movie came out, and I watched the whole thing, I don't know if I like took a breath. I just held my breath through this whole thing. I didn't know what to expect. And then I immediately called a good friend of mine, Carol, who's Korean, and then had the most insane conversation about how is it that we have waited so long to live out our teenage fantasies like, and then we were thinking about it, like we both have daughters, and they get to live in this world. Where to all the boys is a possibility.
SuChin Pak
Where a main character in a rom com. A why a one of the most successful original productions that Netflix has ever done. Like, just changed the game in so many ways, is led by an Asian female. And August 7 of 2018 was huge. We had Crazy Rich Asians on August 7, yep. And then August 17th, 10 days later, was to all the boys, the first one.
Kulap Vilaysack 
And also that month I believe searching starring John Cho.
SuChin Pak 
Yes, it was searching. It was..
Kulap Vilaysack 
A golden open.
SuChin Pak 
Yes, exactly. I mean, it was truly a golden open in so many ways. I think as Asian Americans and consumers of media, producers of media, have covered media, all of that to just sit there and watch an entire generation of things that we wanted to see just vomited in our laps. And us, you know squealing around the room because it was an incredible, you know, moment. And now here we are a few years later. And so this movie is yes. It's fun. It's delicious. I can't wait to go to Korea with this movie. But all that aside, it just is that that teenage girl inside of us that never got the candy grams. And seeing that and seeing her and she's just..
Kulap Vilaysack  04:32
She's perfection.
SuChin Pak 
She's lovely. She is lovely.
Kulap Vilaysack 
Yes, and it just goes to show you that representation, at any age it truly it is just as fresh. It feels just as potent, there is no expiration date even for those who will expire quicker than others.
SuChin Pak
So poetically put.
Kulap Vilaysack 
Thank you.
SuChin Pak 
My thirst is quenched. You know what I mean? My thirst is quenched. I just love it. I love that Jenny Han, the writer of the series she's so fantastic she's also such a powerhouse Asian-American voice and she fought to make sure that the screen version was not going to be anything other than an Asian-American you know female actress. So I'm so excited as soon as the movie is out I will be there watching.
Kulap Vilaysack 
Trust that we will definitely be talking about it next episode.
SuChin Pak 
All right, so let's get to our other add to carts this week. And we have two different Add To Cart categories this week. The first one is, you know a small add to cart that has brought us immense joy you know, nothing big just a little thing that just pop pop pop champagne bubbles, you know for us. So, Kulap, you start.
Kulap Vilaysack
So my first one is very much inspired by To All The Boys I've ever Loved. And it's a song and it's driver's license by Olivia Rodrigo
SuChin Pak  06:07
95 million. Am I reading that correctly? Oh my goodness. This is a big song. Oh my goodness old auntie here getting.
SuChin Pak 
it is a song about a girl who's just gotten her driver's license filled with angst and longing and broken hearts.
SuChin Pak 
And so this is a big song.
Kulap Vilaysack 
Huge song. So, Olivia Rodrigo is an actress and singer. And she's known for her roles as Paige Olvera on the Disney Channel series Bizaardvark. She also plays Nina Salazar Roberts on High School Musical the series and so she just came up with the song last month, SuChin. And it's been number one on Billboard's Hot 100 and Global 200 for three consecutive weeks.
SuChin Pak 
It's huge.
Kulap Vilaysack 
And so Jen, she's Filipino-American. And she will be 18 on February 20th.
SuChin Pak 
And this is a song about her getting her driver's license.
Kulap Vilaysack 
Well, it's her driving by her ex's house.
SuChin Pak 
Right, right.
Kulap Vilaysack 
This was gonna be a fun thing. We were so excited. And we're gonna drive around together but then now you're with this other blonde girl that I've always been insecure about. So now I just like go through the suburbs and pass by your street and how can you be okay with me not in your life. Teen eggs, yummy teen eggs that longing, when everything is just so everything means so much. And then my other small Add To Cart that's brought me immense joy is me following an Instagram account. It's Kim Won Jin, who is a high-flying Taekwondo practitioner. And on Instagram, he is at @_wjk3794_.
SuChin Pak  08:07
Obviously wasn't looking to become a huge Instagram star when he started the account.
Kulap Vilaysack 
No, no, but check it like hit those links of this and this, please.
SuChin Pak 
Oh, oh, this is like cheer. Right? This is like, whoa.
Kulap Vilaysack
So this type of Taekwondo is like these are high flying kicks. It's like Kim breaking boards at 20 feet and multiple boards on the way to those 20 feet. It's like gymnastics. He's just this amazing athlete. I think maybe he's 20-21 and I learned about this account for my friend, actress, Artemis Pebdani, and it's just so satisfying to see him do these physical feats. It's tremendous. He's a highly recommend. Just it's literally him busting boards at crazy heights.
SuChin Pak 
And crazy speeds doing seven rotations while being flung in the air by his other teammates. I just want to say he's Korean.
Kulap Vilaysack
Yeah, he is.
SuChin Pak
And, you know, this is what we do. This is what we do. Listen, dadada. Okay. She's got a hit record. You okay, you got to hit movie. This is what we do. We high fly. Acrobatic. Taekwondo.
Kulap Vilaysack
Yes. No, SuChin, of course, you don't own any workout gear, or tennis shoes, but this is what we do.
SuChin Pak 
Absolutely. This is what I do with, you know, my emotions and my wit.
Kulap Vilaysack 
Well, yes, I cosign on that.
SuChin Pak
So we've got a hit number one song. We've got Taekwondo wonder kid. And my little […] I love the vastness of this show. if you click on it, there.. You tell people what it is.
Kulap Vilaysack  10:13
Oh, okay, sure. I'll use my words. The original neck hammock love portable cervical traction device for neck pain relief and relaxation. It's from the neck hammock store.
SuChin Pak 
That's right. So neck hammock $49.99. I know you're saying could be a little bit pricey. And I considered, this has been in my cart for many years. Okay. And let me tell you a little bit about it. Yes, because you're about to hit Add To Cart. So, if you suffer from tension headaches, if you have any sort of back, achy crickey, especially from sitting so much, if you are interested in having some sort of a meditation practice, you'll see where I'm going with this. So this is not for I'm not a doctor, please, if you have arthritis or an injury, don't, don't do this. Don't do this on our recommendation. We're just Asian aunties. So you hang this on your doorknob, and it literally is a neck hammock. Shush now, and you lay in it in that thing, and it comes around your neck.
SuChin Pak 
All right. So you're hanging right, and you scooch down. And so the traction of the hammock pulls your skull back, while you're sort of scooching down with your feet. So you've got this length going. All day long. we compress, compress, compress. We sit, stand, we sit, sit, sit. And so I'm always trying to find ways to add more, let's say space in between all the different vertebrae. And so for me, I get really bad migraines that start off often as tension headaches and attention headache for me starts right at the base of my neck.
SuChin Pak  12:14
And so I lay in this, it's you shouldn't do it for more than 15 minutes. In fact, you should probably work your way up. And then it comes inside, there's like a gel pad. So it covers your ears. So there's almost no sound. And they even have an iMask. And so it feels like you're sort of hanging like there's no pressure on your neck whatsoever. For the five minutes, the 10 minutes, whatever.
Kulap Vilaysack 
All right, that sounds great.
SuChin Pak 
Comes with eye cover. And it also comes with a nifty little sign that you hang on the door that says, "hey, I'm hammocking now, don't touch the door. Thanks."
Kulap Vilaysack 
So let's take a quick break. And we'll get to our next Add To Cart.
SuChin Pak 
All right, so we are back to Add To Cart, and listen. It's February it is the designated Black History Month. I mean, we have an Asian American History Month, I think it's in May.
Kulap Vilaysack 
It's Black History Month, 12 months of the year.
SuChin Pak 
Kulap Vilaysack 
Yeah, yes.
SuChin Pak 
I look at it more like, all day long. We are inundated with products from companies, from billionaires from you know, huge, massive, you know, multi-national companies with tons of money. And we're bombarded with these advertisements, and we're not bombarded with advertisements from all these other great companies from whether they're female owned or black owned, or, you know..
Kulap Vilaysack 
Queer owned.
SuChin Pak 
Yeah, queer owned. And so I say let's talk about it. I say let's keep the highlighting going to me that I feel like it's a really nice way to celebrate and to make sure people are aware, you know.
Kulap Vilaysack  14:07
Yeah, because advertising costs money. And right now. Small businesses are struggling. So let's support some black owned businesses.
SuChin Pak 
Yeah. So, okay, I'll start and mine is like, I like a lot of people. Maybe. Maybe that's a generalization. I am obsessed with sunscreen. Are you obsessed with sunscreen?
Kulap Vilaysack 
I mean, I wear it every day. And I have to take 5000 IUI's of vitamin D. So I guess I am.
SuChin Pak 
Yes. So I wear it every day. I don't know sunscreen is one of those things that's like not there's nothing like sexy about it. You know what I mean? Like, you know the other serums it's like, Oh, what's this? This Hyaluronic acid? Oh, what's this this AHABHA sunscreen is like wet sunscreen. You squirt it on your face and you know it's very functional. So I think I probably switch up my sunscreen every month, just because I don't know, I do, I like to try all different kinds of, and I like to try all different applications of sunscreens, sticks, gels, I have a roll on, works terribly.
SuChin Pak 
You know, like a wipe, like a brush that has the powder. So this is black girl sunscreen. The first product, I want to highlight that for people with, especially with oily skin. This is such a cool sunscreen product. It's called Make It Matte. It's $21.99. You can get it on the website, or it's sold out by the way, but you can get this line at Target. So if I think it's available at Target, because I went and I found this and I wanted to try it, I had read some reviews about it on the strategist as I always do. And then they were sold out. And so I did a search and I was like, Oh, look at this good they're at target. So it's called Make It Matte, it's $21.99. And it's basically a gel, have you ever used a sunscreen gel?
Kulap Vilaysack  16:04
Not once.
SuChin Pak
It's such a cool feeling because you put it on and it's matte, there's no grease to it at all. So it's just kind of a different feeling and how I like to use it as if you're going to use makeup or anything like that. Sometimes sunscreen can be really tacky or oily or greasy. This is a completely different field. It's just like a, it just it's a matte, almost gel, the consistency it comes out like a gel, and I sort of layer on both, you know, I'll do the traditional sunscreen and then I'll put this matte on top. Because sometimes I just don't want to have like the greasiness.
SuChin Pak 
The great thing about this company is that there's no white cast. You know, this is a company that initially was founded on you know, let's create sunscreens that are really effective using, you know, natural vegan reef safe cruelty free ingredients that don't create white casts for people with darker skin. And I think different types of sunscreens. I like to switch it up depending on what I think I'm doing that day. And so this was, for me a really great find and I love it.
Kulap Vilaysack 
It's I don't think we mentioned that it's SPF45. Broad-spectrum. This is so great, and I'm glad to know that they sell at a target I'm definitely gonna add this to cart.
SuChin Pak 
What about you, Kulap?.
Kulap Vilaysack 
I have two they come from the same site though. I have a throw blanket. It's called the Deco Throw. And it's from Johanna Howard Home. It is this gorgeous sort of art deco with like bold lines and curves. It's soft, it's a thick cotton chenille. It's reversible with a mirror image and most importantly it's machine washable.
SuChin Pak  18:05
And by the way cotton chenille is not easy to find. Like I really like I don't think it is like I think oh I think most chenille  I mean I could be wrong I feel like are synthetic. So I'm interested in this because I only, the only reason I think this is because you know Zoey as you know has eczema and so I try not to you know we can't she can't really have synthetic fabrics so I think I looked for cotton chenille  but this could be a great Add To Cart for her go on
Kulap Vilaysack 
This blanket was featured in Oprah's O-list and I heard about Johanna Howard Home from my friend Busy Philipps Instagram. So I got this in June, I love it.
SuChin Pak 
Is it super soft?
Kulap Vilaysack 
It's so soft and also look it's gorgeous.
SuChin Pak 
Well it's in your signature color.
Kulap Vilaysack 
Well you know, you know, black and white. I love the drama. And then my other item is from her daughter, their candles and it's the company that her daughter has is  Rose and Co. Candlemakers and her daughter started this when she was eight years old. She's now 13 and it has created a line of high-quality soy coconut candles with wicks and firelight free fragrances so this could be good for […] too. They're the perfect thing to burn while you snuggle under one of their throws. And the one I got was shady, the fragrances vanilla macadamia and coffee. And the description is when you just want to hang with your friends sip coffee and spill tea.
SuChin Pak 
I mean, there's a photo of her making these candles on the website. She's got bright pink hair, add to cart. You know what I mean? Like all of it Add To Cart.
Kulap Vilaysack
It's just a really great smelling candle made me happy. It's $24 and I'm all about young women and women entrepreneurs, who isn't? But hey, support, support support.
SuChin Pak  20:08
All right, I think we're gonna take a quick break, and then we'll be back with more Add To Cart.
Kulap Vilaysack
All right, we're back. Okay, so we have a brand new segment for you. Right now it's called Explain To Aunties, where in younger folk explain hot new trends or items to SuChin and I, and at the end, we say, if we'll add to cart or remove from cart, and this week, we're going to consider the new social app Clubhouse.
SuChin Pak 
I'm already laughing. I don't know why. Okay, so according to Oprah Magazine with the Clubhouse app, this is what they're saying the app does. Users can enter into different rooms to listen or participate in a conversation. They're able to see who else is there and can also see their profiles. The person who made the room is the one who bestows speaking privileges to participants. I don't even under I don't understand any of that. But basically, you need an invite to actually get into any of these conversations on the app. And without an invite. You can't really do anything with the app, right?
Kulap Vilaysack 
Yeah, I'm actually reading that people who are selling their invites now. So we have a friend and young person. This is […]. Yes. I'm sorry.
SuChin Pak 
Ridiculous.
Kulap Vilaysack 
It's necessary.
SuChin Pak 
It's so necessary. […], thank you so much for even putting up with our giggling are old people giggling because I think you know, we all need a young person in our lives do explain half the shit that I stumbled into. I'm the person who's like, people will put BRB and then I'm like going to Google and I'll BRB what mean? Okay, be right back and then I go back and I say okay, you know, someone the last one I did was SMH I was like, don't say SMH Okay, shaking my head. I don't know these things.
Kulap Vilaysack  22:19
Who has to do that? And then also, I learned that and then when someone else doesn't know him like, it's that dummy, when like it like he's like the guy looked it up.
Kulap Vilaysack 
Our young person today is Madonna Refugia, here to explain to us what all of this actually means, how it works and what the hype is about. Madonna is a comedian who got her start writing jokes for drag queens in Philly, and now lives in LA, where she writes about mental illness, addiction and being queer and the Filipino-American community. Madonna, welcome to the show.
SuChin Pak 
[…]
SuChin Pak 
Welcome. Welcome. Welcome.
Madonna Refugia 
Thank you. Oh, my gosh, it's such an honor to be here to educate
Kulap Vilaysack 
We were meeting yesterday, SuChin. And Madonna is about to embark and making a documentary about her grandfather, who was a director in the Philippines. And so she was asking me about documentary filmmaking based on my experience and origin story. And she started by talking about Clubhouse and I was like, Oh, yeah, timeout. What? Please tell Auntie what it is.
Kulap Vilaysack 
Was this the first time you had heard about it, or you had heard little bits and pieces or this is like cold call and never heard of Clubhouse until
Kulap Vilaysack 
I had heard about it in fact, I am on it. I just, I was invited. I'm on it. I looked at it. I was like, Oh, I don't know. What is this? Why is this? Okay, so Madonna tell us briefly what is the app? And then like, what is the appeal of the app? Because once you explain what the app is, I'm still like, huh?
Madonna Refugia 
Okay. So it's exactly what that description that Oprah Magazine said, but it's a little more fun. Okay, so it makes me think of the old school party lines you would call into, in the middle of this pandemic were me an extrovert who like loves to meet new people. And like needs to find new connection like this was the answer to that. This was the answer to my all my loneliness, and my need to talk to people about random shit. And like, I love it. Because you can find your tribe, you can truly find your people like, I was just in a room yesterday with my friend who's a witch. She runs a room that's all about like, the new moon versus the full moon.
Madonna Refugia  24:42
Or you could find a room that's all about like, that's hosted by a shaman who is hosting the transformations over Clubhouse and you're listening to this shaman, like walking these people through these transformation. Elon Musk Oh, come on. Or Paris Hilton. And they'll just talk about, you know, random, random things. And then it's a great platform for people who might have a dream who might have like an inkling of a project they want to work on and want to collaborate with other people they get on the app. They just go in a room and they ask, is there anyone here that wants to do this with me? And it's, it's a great tool. I love it.
SuChin Pak 
All right. So let's back up for a second. Okay. Okay. Okay. So this is audio only. Like this is basically like you said, it's literally a party line. If you logged in to the app, you would just drop in on people having conference calls. Am I wrong?
Madonna Refugia 
Well, well, when you say conference calls, yes, it is kind of like a conference call. But there's heart to it. There's connection there. That's what really brings me back every time.
Kulap Vilaysack 
And you can also create your own rooms, right?
Madonna Refugia
You can create your own rooms. Yes. And you can join clubs that host weekly rooms. I'm in a weekly Filipino creatives room that I visit and talk to other Filipinos.
Kulap Vilaysack  26:15
Whoa, could this possibly replace Facebook? The reason I use Facebook is for the groups. Could it replace that? Is that what it wants to do?
Madonna Refugia 
You know, for me, the groups on Facebook are for memes. But like..
SuChin Pak
[…] (laughter)
Kulap Vilaysack 
No, Madonna, please go, for you Facebook as a young person is about memes?
Madonna Refugia 
This is more like you're not even when you look at a person's profile, you're not seeing a ton of pictures, all you see is like their little headshot or whatever. And then they just have like, either some, like some losers have their whole resume. But you know, some people are really smart. And they'll put like things that are interesting and fun. And a lot of people put their astrological signs. And that makes me very happy. Because I know that they're my people.
SuChin Pak 
So I have a few questions. So part of the appeal is this whole invite thing. So explain the invite thing because not anyone could get on this app just yet. Which is I just wonder how that will change. Right?
Kulap Vilaysack 
It's iPhone only right now. So Elon Musk talking about it made everyone like what's Clubhouse? Why can't I and it's not in China right now. So Chinese people are like, sell me your invites.
Madonna Refugia 
I didn't know about the selling the invites thing. That's amazing. And I do have like three invites. And I need to pay rent.
Kulap Vilaysack  28:00
Yeah, hold on to those three. Okay, don't give them out to your friend.
SuChin Pak 
Yeah, don't do that. This feels like it's different than like, back in the day, the party lines or, you know, any of those other things because it feels like the rooms are more focused or more intentional, right? Interesting.
Kulap Vilaysack 
So you know a little bit about me. How could Auntie cuckoo use this? What, how is Auntie cuckoo gonna use Clubhouse in her life?
Madonna Refugia 
Auntie cuckoo. I think you could use it connecting more with your heritage and the people in the Lao community.
Kulap Vilaysack 
Okay.
SuChin Pak 
I do a lot of that though. Could you use it to talk about maybe you could have a room to talk about the documentary you guys had a conversation you connected because Madonna was interested in making a you know documentary about her life and that sort of thing. You've done that. Why not make that conversation available to what is it Clubhouse room?
Kulap Vilaysack 
We already forgot what we're talking about?
SuChin Pak 
Because I want to call it chat house. I want to call it chat house. That's the name. I don't know what club house is. it's chat house. And it's different than finding your people on Instagram?
Madonna Refugia 
I think so. Because Instagram is very like you put a brand out there you put you don't really put yourself out there. And so I think that's what I love about chat house. Is that I not I'm putting my true self out.
SuChin Pak 
That feels better to me. I don't know what clubhouse is.
Kulap Vilaysack 
I think it's more descriptive. But clubhouse make it seem a little, you know? Yeah, like I'm part of a club.
SuChin Pak 
Mine's the Asian version that's gonna come out they're like ours is called chat house. Okay, that was ours is called. Okay. All right. Do we have enough information? Like what do you think? Did we miss anything major about clubhouse?
Kulap Vilaysack  30:12
Is there something else Madonna you think we should consider? Or would that we're?
Madonna Refugia 
Um, no, I think I've had I've said my piece. I think there's a lot they're trying to think of really. I mean that shaman was great. I mean, it was it was Gwyneth Paltrow shaman. You could just,
SuChin Pak 
Buried the headline there. Where is that conference call number.
Kulap Vilaysack 
I thought you were gonna zig and then you zag. And I'm with you.
SuChin Pak
So it's like really people with a lot of knowledge and having access to that.
Madonna Refugia 
Yes.
Kulap Vilaysack 
Okay. All right. Okay. Okay. Thank you, Madonna.
Madonna Refugia 
Can I add one more thing that I love about clubhouse?
SuChin Pak 
Yeah, of course.
Kulap Vilaysack 
Of course.
Madonna Refugia 
I found, allegedly found a shroom dealer. And that made my day.
SuChin Pak 
Again, buried the headline. We got just so you know. This is the headline. If this is the headline, we are talking about an app where you at once could talk to Gwyneth Paltrow, shaman and also find a mushroom dealer. Those are two very powerful arguments for this app.
Kulap Vilaysack 
I was strongly like removed from cart and by removed from cart, it would remain my phone untouched.,
SuChin Pak 
Just in case, just in case.
Kulap Vilaysack 
Much like Tiktok. Much like Snapchat. But now I'm gonna say Add To Cart.
SuChin Pak 
I am now with you that last bit was really important because I was not on the train. Well, you've convinced these two birds.
Kulap Vilaysack 
Okay. All right. Wow, thank you so much for the service that you provided today.
SuChin Pak 
And let us know about the shroom deals. Thank you, Madonna. Thank you for giving us all the details. Now we know.
Kulap Vilaysack  32:07
Madonna, please let us know all your social handles so people can follow you.
Madonna Refugia 
Yeah, follow me at @notthatadonna on Instagram. And @notthatmadonna on Twitter. And notthatmadonna.com to see all my stuff.
Kulap Vilaysack 
Thank you Madonna.
Madonna Refugia 
Thank you.
Kulap Vilaysack 
Well, that is the end of our show. But before we go, I want to do a little self-promotion, if you will.
SuChin Pak 
Sure, you have a podcast for that now.
Kulap Vilaysack 
Is this the reason why I have this podcast? On February 7, my documentary Origin Story will be available in Blu-Ray. Right now it's available in almost every streaming platform service, except for Netflix. Except for Bridgeton. But now it will be available to my Lao uncles and Auntie's who don't know how to stream by Blu-Ray.
SuChin Pak 
And Scott, he knows how to stream but he loves the Blu-Ray. Wait, okay, it's coming out February 7 to February 9?
Kulap Vilaysack 
So sorry, February 9th.
SuChin Pak
Listen, takes a village. Listen, this documentary, I saw this documentary before. I mean, I think we had just kind of met, you know, and it wasn't really I hadn't known very much about you at all. And it just, it punches you in the gut, you know, in like the best way documentaries do which it drops you into your life. And when you're it's one of those documentaries where you turn off and you're just like, where am I you know, you have to like orient yourself, it is such a beautiful story. But it you know, there are painful parts of it, like does it bring up you know, those kinds of emotions or have you had enough you know, distance and time and space from it, where it is something you can talk about without like having to sit in a lot of the emotions that are in the documentary.
Kulap Vilaysack
I, well first of all, those emotions are always available to me, just under the surface. So I love to say this phrase, because I think it's the best way to put it is I put forward to my dysfunction and it was such an opportunity to do that to really kind of through making this documentary, lay out my shit and really see it and connect the dots and get answers and so I love talking about it. Also because when I put it out, it stopped. It's so obviously so much about me and anyone watches it like you, you will know me inside and out. But when you put something like this out, it's less about me and it becomes about what it is for the viewer. And what has been really beyond gratifying is to hear how other people relate and their stories and hearing their stories.
SuChin Pak 
I love it February 9th, origin story Blu-Ray.
Kulap Vilaysack 
Everywhere I think it's going to be you know, Amazon, Best Buy, hopefully local places as well. But you know, I'll post about it so..
SuChin Pak 
all right, and of course we'll post about it on our Instagram follow us at @AddToCartPod to see info on all the products that we talked about.
Kulap Vilaysack 
Yes, and rate and review us and share the show to your friends like give them a gift.
SuChin Pak 
I love when in the comments like people are like at so and so like you should be listening to this I think it's so cute and then I like to really stalk the other person that's not listening be like hello did you just you your friend just anyway, but that's just us. Alright, we'll be back next week. Bye everyone.
Kulap Vilaysack
Bye bye see you on the comments.
CREDITS
ADD TO CART is a production of Lemonada Media. Our producer is Claire Jones and our editor is Ivan Kuraev. The music is by Wasahhbii and produced by La Made It and Oh So Familiar with additional music by APM music. Executive producers are Kulap Vilaysack, SuChin Pak, Jessica Cordova Kramer and Stephanie Wittels Wachs. Be sure to check out all the items we mentioned today on our Instagram at @AddToCartPod. Also, please take a moment to rate review and subscribe to the show wherever you get your podcast.