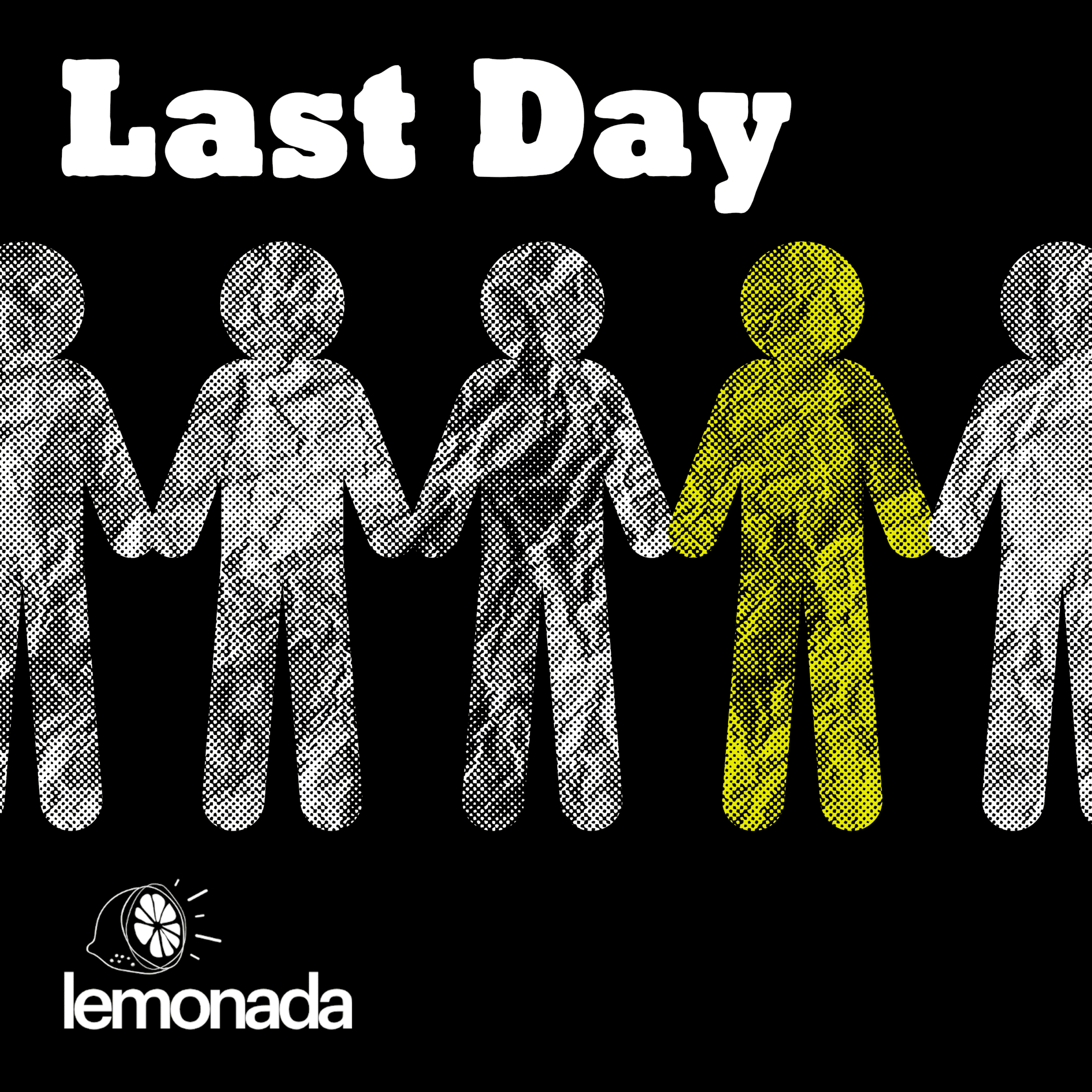 28 Days isn't Enough
Subscribe to Lemonada Premium for Bonus Content
Addiction treatment in America is like a Rubik's Cube. We've talked about this. We know this. We feel this. But good programs do exist. This week, we visit The Women's Home in Houston, a non-profit established 60 years ago, to check out their long-term approach to residential treatment. We delve into the nuts and bolts of their program: 18 month stays, 30 hours a week of therapy, hands-on job training, and what's cooking in the kitchen. And we meet three women with incredible stories of recovery who credit this program with changing their lives. 
Please note, Last Day contains strong language, mature themes, and may not be appropriate for all audiences.
Additional listening:
Transcript
[00:05] Miss Rose: Hello. How are you? Welcome to The Women's Home. 
[00:11] Stephanie Wittels Wachs: This is Miss Rose. She womans the reception desk at The Women's Home. See what I did there? Womans. It's a residential treatment facility in Houston, Texas. And from the moment you walk through the door and Miss Rose says hi, you know you're in good hands.
[00:28] Maggie: After living in horrible places for 20 years, in and out of jail and prison, when I walked into this house, I felt like I hit the lottery. I had never lived anywhere so nice. 
[00:44] Stephanie Wittels Wachs: And this is Maggie. She's a graduate of the program. And she embodies exactly the type of person that this place serves. They help women, first off, who are experiencing homelessness and in need of drug treatment, many of whom come in with a variety of other mental health needs. Maggie arrived at The Women's Home two years ago, shortly after being released from prison. And it had been a really long time since she experienced something as simple as kindness.
[01:14] Maggie: I mean, to me, I was just so grateful. You know, it didn't matter what happened. I was extremely happy just to be where I was. I mean, and everybody was just so nice. 
[01:29] Miss Rose: I love working here because everybody here is so kind — it's just like a family. Just like you've been here all the time. They are loving and they're kind. Everybody helps everybody. 
[01:43] Stephanie Wittels Wachs: I'm Stephanie Wittels Wachs. And this is Last Day. In our last episode about blame, David Smith told us very clearly that he'd point fingers at the treatment industry. That they tend to incentivize relapse instead of recovery. And in order for us to really make strides in curbing overdose deaths, we have to completely revisit the way we approach treatment in America. As someone who lost her brother after he was in and out of several facilities, I obviously have opinions here, too. I know that is shocking. And primarily they are in David's camp. That the standard 28-day treatment model does not seem to work. This whole treatment industry feels pretty lawless because there's not really any regulatory standards for how these places should run. There's inpatient, outpatient, 12-step, faith-based, medication-assisted, residential, 30-day, 60-day, 90-day sober living.
[02:52] Stephanie Wittels Wachs: It is a lot. So as we get to the end of this season, we wanted to take a closer look for ourselves. Over the next few weeks, we are looking at two very different treatment facilities. Neither one at the beach. With two very different models that share a common goal: to help people not just get sober, but stay sober. 
[03:18] Anna Coffey: Our foremothers were powerful, kind, generous people who really wanted to help women. And that's still what we are today.
[03:29] Stephanie Wittels Wachs: That's Anna Coffey, CEO of The Women's Home. And every time someone like Maggie walks through the doors and feels safe, Anna and her team feel like they are fulfilling the mission established by the founders 60 years ago.
[03:44] Anna Coffey: The Women's Home started because a woman named Mrs. Sampson belonged to a church community, and through her church community she learned of a woman who had arrived in Houston who needed help, who was in crisis. And Mrs. Sampson looked all over town for a place to help this first woman, and she couldn't find any resources for her. There were plenty of resources for men. But there was nothing for women. And so Mrs. Sampson did what a lot of Texas women do. She said, well, then I'm gonna do it myself. So she got a bunch of her church lady friends together and they decided that they were going to create a resource for women in crisis. And they did.
[04:34] Stephanie Wittels Wachs: That mission to help women has evolved over the years. Today, the nonprofit provides long-term — by which I mean loooong-term — treatment to women in need. More specifically, they offer free housing, free food, free clothing, free therapy, free job training, free everything for 18 months. And this is one of the most compelling parts of their program, because it's no secret that the treatment industry is very much an industry. Getting sober costs tens of thousands of dollars each time. And that's typically the price tag for a 28 day stay. Here, the model is very different.
[05:25] Anna Coffey: Here's the other interesting thing: most 28-day programs will run you somewhere between $25,000-$50,000. We can care for a woman for one year with full room and board, three meals and two snacks a day, 30 hours of interventions a week, transportation to and from doctor's visits, 12-step meetings in the evenings, full-time help, for $24,000 a year. So we can provide a year's worth of care for what most people pay for a month. 
[06:04] Stephanie Wittels Wachs: This is fucking insane. So that feeling I always had in my gut that these 30-day programs were profiting off of my brother wasn't that far off-base. Of course they're incentivizing relapse. That is a slam-dunk of a business model. But places like The Women's Home, they are looking at long-term solutions.
[06:26] Anna Coffey: We developed something called the whole-life model. We feel like the key to achieving and maintaining long-term stability and sobriety is making sure that every aspect of your life is whole and in good shape. Because if you're taking care of everything else but your body, you're in constant pain or, you know, you have an unaddressed medical issue, it's going to throw you out of whack. Same thing if your personal relationships — if everything else was great but your personal relationships are stressed, it's going to throw you out of whack. And all of those things can threaten your stability and sobriety. So we really believe that it's not just about somebody's disease. It is about the whole person. 
[07:15] Stephanie Wittels Wachs: Yeah, it seems like that's where the long-term thing really comes into play, too, because if you're going to a 28 day program —
[07:25] Anna Coffey: I'll tell you, our women are just starting to wake up at 28 days. They're just starting — the light is just starting to come back to their eyes. And if we were to discharge them right at that point, I mean, a lot of them wouldn't make it because you're just starting to get a sense of what life could be without substances.
[07:47] Stephanie Wittels Wachs: Yes, yes, yes, yes, yes, yes, yes, yes. We have talked around this idea before, but it's always so refreshing to hear it from someone who's working directly in the treatment world. Harris went to three 30-day programs and relapsed every single time the day he got out, which leads me to believe it wasn't enough. And Anna and her team recognize this. They recognize that 28 days is a flash in the pan. So if the lights are just coming back on at that point, what do these women see? Well, here's what Maggie saw. 
[08:27] Maggie: There's hardwood floors, there's a beautiful patio. It's got a waterfall in the back. A chapel. And so, I mean, just walking around that property and thinking, I'm gonna be living here for the next year. It was a really great feeling, you know?
[08:46] Stephanie Wittels Wachs: Did you have any fears about long-term treatment? Like when you were at the door and you're like, all right, I'm about to go in this place for 18 months? 
[08:56] Maggie: Yes, it sounds so scary. Like, whenever people get told me, you can go to The Women's Home, but it's an 18-month program, that just sounds like a million years. But I had come to a point to where my life was no life. I had lost every single thing that mattered anything to me in my life. I realized I don't even know how to be an adult. I don't even know how to — I don't even know what I like. I don't know what color I like, you know. I couldn't tell you if I liked seeing movies. I couldn't tell you if I like reading books. I didn't know. I don't know what things I like to do, because for so many years, my life was just getting and finding and using drugs. 
[09:47] Stephanie Wittels Wachs: This is why 28 days doesn't cut it. For people like Maggie, their whole life is defined by their drug use. So what are you left with when you take the drugs away? Well, at first it feels like nothing. And maybe that's why so many people relapse immediately after getting sober. They don't know who they are or what to do with themselves. They're empty. So to start that very difficult process of filling them up again, The Women's Home starts with a meal.
[10:23] Maggie: The chef would smile and say, hi. Come on in. It's like, wow! That was the first day when I came home and we had dinner made. I probably looked like a silly kid. I was just like, are you serious? We have a chef that makes us food? I mean, wow. And the food was amazing. 
[10:48] Stephanie Wittels Wachs: Yeah, it smelled so good. 
[10:51] Stephanie Wittels Wachs: It did smell good. Very, very good. So good, in fact, that I went back for dinner. 
[10:59] Stephanie Wittels Wachs: So what's for dinner tonight, James? 
[11:01] James: It is going to be broccoli chicken and rice salad.
[11:10] Stephanie Wittels Wachs: It looks amazing. 
[11:23] Stephanie Wittels Wachs: There really is nothing more comforting than a warm, home-cooked meal made with love. I can see why Maggie remembers that first dinner. But just as she had to relearn what she likes, she also had to figure out what she looked like.
[11:38] Maggie: It was very intimidating to me because, you know, I came from prison and on the streets for so long. And these women that I was seeing were all dressed nice. You know, it was just a different vibe. You know, these women were dressed in business casual, they had makeup. It's just not something that I was used to. I had never learned how to properly dress like an adult.
[12:08] Stephanie Wittels Wachs: Most of the clothes Maggie saw women wearing came from a place called the Cottage Shop. It's a retail store located at The Women's Home, staffed by the residents and managed by a woman named Katrina. 
[12:21] Stephanie Wittels Wachs: Do you remember, Maggie?
[12:22] Katrina: I absolutely do. I often say when I go to their banquets, their graduations, "I remember the day you walked in the door. I remember how scared you were. I remember that you thought and felt like it might not work for you. But then I saw you grow."
[12:46] Stephanie Wittels Wachs: The Cottage Shop is open to the public. And when you're inside it, it feels more like an upscale department store than a thrift store. But it's more than a retail space. It's actually doing multiple things at once. First off, yes, it is a moneymaker. It's one of the ways The Women's Home can offer all of that amazing free stuff that I listed before. The store pulls in about $700,000 a year, which goes towards roughly 14 percent of their annual budget. But it's not just a moneymaker. It's also a confidence booster. Katrina has a very special ritual with all of the clients. 
[13:24] Katrina: Well, I meet a lady when she first gets to The Women's Home. I get to shop with her and we get to talk about what clothes is best for her body type. And we talk about what colors look best on her. So I provide a personal shopping experience. The shop is not even open, it's just me and her. And we're getting to know each other. But discussing the rules and regulations of the Cottage Shop, but also setting her up so that business-casual doesn't scare her, because not every woman come in the door with business casual attire. But I want her to feel special, I want her to know that just because we say it's business-casual, that doesn't mean you won't fit in. You're going to fit it. And I don't care the size. It can be a size-2 woman, but it can be a size-20 woman. It doesn't really matter. We're going to outfit that woman and have her feel and look beautiful. 
[14:14] Stephanie Wittels Wachs: I got to be honest with you, the first first time I heard about the business-casual thing, I wasn't sure how to feel about it. Like, were these women being forced into some old-fashioned gender-norm box? No. The Women's Home is not some nefarious place trying to turn women into sober fembots. Katrina is just focused on helping the clients feel proud of the way they present to the world. 
[14:41] Katrina: I just do my very best to accommodate them where they are, because you gotta know that not all of our women want feminine attire. Some of our women want masculine attire. Well, we've got to accommodate that, too. And we do. 
[14:57] Stephanie Wittels Wachs: But Katrina also tries to push people out of their comfort zones. 
[15:01] Katrina: Maggie wouldn't wear a dress. But I said ooh, Maggie, you would look so fabulous in a dress. So we worked up to it and eventually we found the right dress for Maggie. And she looked fabulous.
[15:14] Stephanie Wittels Wachs: When I think of mandatory business-casual, I immediately think of pantyhose, which is just not OK. But Maggie was coming at this from a totally different perspective. 
[15:25] Maggie: I'm walking around and I'm thinking, do you know where I just came from? You know, like, in prison, you have to fight for toilet paper. You have to wear these same clothes that everybody else is wearing. And you only get to change your clothes three times a week. So this was like a huge paradigm shift.
[15:47] Stephanie Wittels Wachs: So the Cottage Shop is a moneymaker, a confidence booster. But also, it's a resume builder. All residents are required to work a few shifts a week. And this serves as vocational training.
[15:59] Katrina: So there's seven positions in the Cottage Shop. And I moved them from each position. And evaluations are done at 30, 60, 90, 120 days. They are just evaluated in those positions as to how they either progressed or digressed or blew it out the water. But yeah, every woman does every position. Some are scared of the register, but we do the register. Some don't want to be a receptionist, but we do the receptionist. All that's got to happen. And we make it happen. 
[16:30] Stephanie Wittels Wachs: I remember distinctly when I had my first job at 15, I had to do all of this filing. And I would put these Band-Aids on my fingers because it hurts so bad. It sucked. And I remember my dad used to say, "it's not called fun. It's called work." And you know what? It's true. Sometimes things do suck at work. But more than that, it's useful to know what you like and what you don't like when it comes time to join the workforce. And these women do eventually join the workforce, armed with a resume full of practical skills. It's a pretty remarkable trajectory from day one to graduation.
[17:08] Katrina: I saw you move through the Cottage Shop. I saw you apply for jobs. I saw you starting to do public speaking. Things that you hadn't done before, because in your addiction, you just didn't even think about doing that kind of stuff. And all of that is just so beautiful, the process of how it happens, and to see that woman from here to there. And it happens all the time. So it's a blessing to see. 
[17:35] Stephanie Wittels Wachs: There is so much you can accomplish with support, resources and time, which is so foreign to the women when they get here. Because up until the moment when they walk through that front door, their lives have been really hard. So if you were to like pick a point or an event or a moment or a year when your story began, what led you here? Where does your story begin?
[18:02] W1: Oh, a story begins in North Carolina in college.
[18:08] Maggie: I think this all pretty much began when I was 16 years old. 
[18:13] W2: OK. My story started when I was actually born, really, to be honest with you. 
[18:20] Stephanie Wittels Wachs: When we come back, the women of The Women's Home.
[20:45] Stephanie Wittels Wachs: We're back, at The Women's Home. Talking to Dre in our little office at The Women's Home feels so normal, like making small talk with any mom at the playground about all the gross kid stuff. And that's by design. The Women's Home focuses a lot on what everyday life might look like for their clients once they leave the nest. Dre graduated from the program three years ago. And she recently moved out to the suburbs to get more house for the money and better schools for her kids. 
[21:53] Dre: I am loving it. It's so, so peaceful. Compared to the chaos that has been my life. I love it. I love the area. 
[22:01] Stephanie Wittels Wachs: But like so many women here, the journey from chaos to peace was long. We spoke with three women who all graduated from the program at different times to get a sense of what these different journeys look like. They're very different, but their stories share some similarities. Here's Maggie. 
[22:20] Maggie: I was doing excellent in school. I was an honor student, playing band, and I went from doing that to hanging out with the wrong crowd.
[22:29] Rachel: You would have never thought I was gonna be the individual I grew up to be or ended up being. I excelled in high school. I was a track star, played flute, very musically inclined. My father's a musician. Music was all around us. 
[22:43] Stephanie Wittels Wachs: That last voice you heard was Rachel, an alum with 10 years of sobriety under her belt. Like Rachel, Dre also saw her life heading in a totally different direction. Before she started using drugs, she was studying microbiology. Yep, microbiology, which is pretty impressive. But that's when things started to fall apart.
[23:08] Dre: I was in college last year of undergrad and got prescribed some painkillers and took them and then just kept taking them and didn't stop taking them and then more and then graduated to higher-level opiates. And before I knew it, I was just struggling through grad school and barely making it to class. And then started writing my own prescriptions. And I didn't know about the prescription databases, so I got arrested and came back to Texas, went to rehab. I went to rehab four different times, different places. 
[23:50] Stephanie Wittels Wachs: She got pregnant with her youngest child while in sober living. And her oldest, who was five at the time, went to live with her mom. 
[23:57] Dre: I left him at home alone. And so I got arrested. And then I was on probation for three years. And during that time, I had my little one, who is now 3, and just started using. And then I actually overdosed on Imodium. Yes.
[24:17] Stephanie Wittels Wachs: I didn't know that was possible. 
[24:21] Dre: It is. It was the scariest overdose I could ever have imagined.
[24:27] Stephanie Wittels Wachs: Apparently, Imodium overdoses are really serious and increasingly common. Imodium is a go-to over-the-counter solution for many drug users due to the havoc opioids wreak on your digestive system. I will leave it there. But it turns out it also includes loperamide, which in massive dosages can get you very high. But taking that much Imodium can also lead to some terrifying side effects and possibly even death.
[25:01] Dre: And so I entered a drug-induced psychosis and was in it for like two months. And I became incontinent. I couldn't walk. I was in the hospital. I was certain I was at an airport. People would ask me, are you OK? I would be like, my flight is taking too long. It was bad. Like having false memories is like one of the scariest things because, you know it's not possible. At the time you could not convince me otherwise. 
[25:41] Stephanie Wittels Wachs: The doctors eventually managed to clear her system, but she wasn't even close to being out of the woods.
[25:48] Dre: It just was the longest recovery process and a lot of therapy. Occupational therapy. Everything. I remember coming in here and like there's this one test they give you everywhere. And it is the dumbest thing: you have to draw the face on a clock. Like they'll say, draw 2 o'clock and you draw your big hand, you draw your little hand on the two. Like, I couldn't do it. And everyone around me was like, well, you finally did it. You've finally screwed yourself up enough that there's no coming back. That was my bottom. Like all the other ones, they're just in and out of jail, whatever. Tickets. You lost your car. It's nothing. Because those are things that you can eventually get back. Like this was something that myself and my family were so scared that it wouldn't come back. My whole brain. That's how it felt. Wow. And I still have letters that I tried to write, like thank you letters to people who brought me food in sober living, and like they look like a kindergartener wrote them.
[26:59] Stephanie Wittels Wachs: Before drugs, Dre was a microbiologist. And now she couldn't draw a clock. The test she kept failing the same tests they gave to people with dementia to determine how lucid they are. And here she was, 35 years old and essentially senile. You lose so much to addiction. For Dre, it was her incredibly sharp intellect. For Maggie, it was her identity as a mom.
[27:27] Maggie: It's hard being a mother and then being a drug addict. And from the outside looking in, it looks like, well, obviously you don't care about those kids. When deep down, I would do anything for them today. But I don't have custody of them anymore and that's because I was not stable. I always had to use. And in order for me to be able to wake up and just function — it got to be where I only wanted to function. I was not trying to get high, I was just trying to be normal. But that lifestyle, you can't live it and have children. And so when CPS got involved and terminated my rights, I spun out of control even more. It just gave me a reason. You know, if you had a life like mine, you would do the same thing. Felt like I was the victim. And the state took my kids. I'm a woman with nothing to lose. I spun completely out of control. And I got arrested and I was sentenced to a year. Well, at the time, I didn't believe that I had any hope.
[28:47] Stephanie Wittels Wachs: Maggie was hopeless. And because detoxing in prison is hell, she was in a lot of pain. Her story sounds a lot like Sarah Gad's story from Episode 8.
[28:58] Maggie: When I first got arrested in Harris County, you know, it really doesn't matter what you say. The most you're going to get for your detox, or I'd get, was Imodium AD and an ibuprofen. So I was just in writhing pain for the first three days. I felt like I had sand coming out of my pores. It was just the most miserable feeling. And I can't even say that it got better. 
[29:34] Stephanie Wittels Wachs: The most painful part of these stories is hearing people share the misery of their rock bottoms. Not just because of the sad details, which are very sad, but knowing that for most people, drugs were initially the only way they could feel happy.
[29:50] Maggie: One of my therapists told me that it was my survival skills at that time. And now that I look back at it, if I would not have found something, I probably would have committed suicide. That's how much pain I was in. And I didn't know how to deal with it.
[30:15] Stephanie Wittels Wachs: This was definitely true for Rachel. Today she is a force, but it's still painful to revisit her drug use. For her, it was the search for love and acceptance. But as all great country songs say, she often went looking for it in all the wrong places. At 19, she married a guy that her dad didn't like who ended up being abusive, and the relationship fell apart as quickly as it had begun. 
[30:43] Rachel: He left, and he wanted to be with someone else. I went downstream because here it is, my dad didn't love me, my mom  — abandonment became an issue for me. And I started smoking weed at first, but then it escalated. By the age of 25, I was full-blown crack-cocaine addict. Prostitution. So long story of that — and I cry because I'm excited by how God changed my life, but at the same time, some of the moments are very painful because when I was going through it, I couldn't feel that. I just thought this was the way things are going to be for me. I never thought that I would have freedom on the side, but because I was trapped. And you asked the question how we get there? Pain. Overlooked. Abandoned. Rejection. Too much responsibility given to us at a young age. Playing mother to kids that was not ever ours. Went through treatment at 16. I just knew that I was gonna die out there. Let me tell you, on the 17th try, I lost everything. 
[32:02] Stephanie Wittels Wachs: And then one fateful night in March of 2009, she nearly lost her life. Content warning: Some of the details of this story are hard to hear. So Rachel got into a car with some guy. The plan was to go buy drugs and to get high in an abandoned building. But she realized once she was in the car that there were no handles on the door. She was trapped. She tried to escape, but the guy pulled a gun on her. 
[32:37] Rachel: And at that moment, I was there, but I really wasn't there. I had an out-of-body experience that I cannot explain. I was looking inside of the window of myself getting raped. I don't remember how it felt. I don't remember anything. When it was over, I hear God whisper: "get your clothes, go out this door. Whatever you can't get, you walk." The guy said, I have the gyn. I was thinking, I'm gonna die in here, or I'm gonna die trying to get out. You're not going to do this to me again. Ladies, I had on just a shirt. No panties. I grabbed my purse and I walked. And, y'all, all I could hear was, "bitch, you better get back over here. I'm fixing to shoot." And all I hear is God saying, "I got you. I got you." I'm walking down the street naked from the bottom. Not one car stopped because he covered me. I made it home and I have not touched drugs since March 21, 2009.
[34:00] Stephanie Wittels Wachs: At this point in the interview, everyone was crying. Me, Rachel, our producer Nikki, It's just such a terrifying story and so, so tragic that anyone would ever have to face that kind of trauma. Before this horrible night, Rachel had tried to get help 16 times. That is 16 possible moments when Rachel's life could have gone in a different direction. And maybe this terrible night wouldn't have happened in the first place. It's horrifying. Something is wrong with our system. All three of these women needed something so different than what they had previously gotten. So here we have Rachel in danger, nearly murdered; Dre struggling to rebuild her brain so she could function better than a kindergartener; and Maggie, despairing in prison, separated from her kids. After the break, they do find something different. 
[37:01] We're back with Rachel, Dre and Maggie at the moment when their stories cross paths with The Women's Home.
[37:08] Rachel: I went into The Women's Home after 90 days at a treatment facility. I was getting ready to go one way, this lady walks up to me and she says, I know the perfect place for you. And I heard about The Women's Home, but The Women's home was this echelon place where, you know, uppity crack kids would go. Right? Uppity crack kids would go.
[37:33] Stephanie Wittels Wachs: The truth is The Women's Home has limited space, and they're known for their high standards. There is this rigorous intake process and the whole thing can feel a little intimidating. All of the women talked about this process like they were high school seniors applying to the Ivy Leagues.
[37:52] Maggie: So once I realized that I had a choice to go there, you know, I got the interview and went over there and I really honestly did not think that I was going to get in. 
[38:12] Dre: And so I came to the interview and we were all on pins and needles. 
[38:16] Rachel: So I call for my phone interview and they liked it. She said normally we don't do certain things in these cases, but we want you.
[38:25] Stephanie Wittels Wachs: What was that first day like?
[38:27] Dre: Scary. I was so scared. 
[38:29] Rachel: I'll never forget the first time I walked in the door of The Women's Home. I knew I was going to stay sober. Even though it was a metal door and it slammed, I knew I was safe.
[38:42] Stephanie Wittels Wachs: After so much chaos followed by so much anxiety, the early days at The Women's Home are pretty, well, routine.
[38:55] Magie: You're put into a routine pretty quickly.
[38:58] Stephanie Wittels Wachs: Yeah, so tell us about that routine. What is that routine like?
[38:59] Dre: It's so necessary for me. Because the routine is basically like normal life, you know, because when you're using — and even like as an addict, when I was clean, you know, I'd have like clean time. I still was a mess. 
[39:20] Stephanie Wittels Wachs: Outside of the recovery world, routine usually means boring. But when you're rebuilding your life, maintaining a routine feels pretty fucking novel. 
[39:30] Maggie: So I know for me — and I can speak for a few people that I know — we never lived a 9-to-5 life, you know? And the life that I was living, it was just so chaotic. You know, I would wake up in one place and go to sleep somewhere else, if I went to sleep. So it was very important to learn that structure. We were up and out of the house by a certain time. We had to be at the school by a certain time. And the school was where we learned how to live. 
[40:07] Stephanie Wittels Wachs: The school Maggie is talking about is the Life Learning Center. It's where the bulk of the treatment takes place, along with some incredible basic training that prepares the women for life. The way they describe the curriculum kind of reminded me of SELF class from Episode 9. It's a safe space to figure out the little nuts-and-bolts that add up to a satisfying life. 
[40:31] Maggie: It wasn't like math and science. It was life skills that some people are blessed to have in their families. They have this taught to them. But I needed the financial literacy classes. I needed the classes on what to do when I don't feel safe, because all I knew was run and get high. I think the best part of it was learning how to get up every single day and do the same thing over and over. And be happy about it. 
[41:09] Stephanie Wittels Wachs: Yeah. That's what life is. It's literally waking up and doing the same thing over and over again and being happy about it. That is what life is. Dre needed that routine too. 
[41:21] Dre: I've never met an addict who didn't have a tumultuous life. Morning, noon — whether you're a drinker or do meth or you shoot heroin, it doesn't matter. Your life is a wreck. And you might be maintaining a little bit like I did for a while there. But you're not making your bed in the morning, and you're not paying your bills on time, and you don't have a savings account. There's just certain things that are pretty true for all addicts. This is like your reset. I stayed here for 16 months and I just focused on me. And, you know, it's hard sometimes and people are like, what do you mean, focus on you? Like, how selfish is that? I was killing everyone around me. Like it was not a me disease. Like my kids were suffering. My partner was suffering and my family. Everyone suffers. 
[42:14] Stephanie Wittels Wachs: Realizing how much suffering accompanies their addiction is a heavy weight for someone who is newly sober to bear. But it's something the women have the time and resources to work through in this program. Actually, working through the painful stuff is almost your full-time job as a client. There are 30 hours a week of therapy. 30 hours! Everything from one-on-one counseling to family therapy. And for Rachel, these resources led to a breakthrough. 
[42:46] Rachel: My father passed away before I graduated here, but he was diagnosed with cancer and we made amends because I got to use the therapist here through the family and my own therapy.
[42:59] Stephanie Wittels Wachs: They invited her father to come in for a few sessions so that he and Rachel could start working through 40 years of baggage.
[43:07] Rachel: He was willing to come was like a miracle within itself. So one day I'd share his process with me, it was amazing how he really saw me. And it was beautiful. "You were my oldest. You were stronger than your sisters," you know, those kind of things. But that never was stated to me at the time I needed it. But when he said those things, I let him off the hook. I was able to live. I don't have daddy issues anymore. You know, so drugs and alcohol was stemmed to something. And it's a core thing. You had to peel back the onion layers, and those are tears that come out your eyes as you peel it back, but once you get to the core, it's this little bitty piece that made all of these layers. And if we can get to the core of the drug issue — because the problem is not the drugs, it is what we're enduring. My dad was always someone I wanted to impress. I wanted to love because I loved him, but he wasn't loving me the way I thought I was. But to be able to take care of him while he was sick, and The Women's Home allowed me to do this and support me — support me while I was going through the most the hardest time of my life, 
[44:24] Stephanie Wittels Wachs: Dealing with this kind of major life event while you're in treatment is like trauma training wheels. That groundwork helps you from falling later when you're newly sober, riding too fast and feeling invincible. 
[44:38] Dre: I don't know if you've probably heard of like the pink cloud. Everyone's pink cloud is different. 
[44:43] Stephanie Wittels Wachs: Tell me about the pink cloud. 
[44:45] Dre: The pink cloud is like when you first kind of start waking up after you've been using for a long time. And you get clean and like you're all on this pink cloud, like, you're so happy and you're feeling emotions and you're able to be excited about things because it's not just like when you're clean, like you're numb to like sadness, like you're numb to happiness. So like, even though something you think it's probably funny, but you can't bring yourself to laugh because it'll sound fake. But so when you're on the pink cloud, it's like everything's funny, and everything feels good and everything's so happy. And some people's pink cloud lasts for like a week, some people's lives for like six months. And like once that's gone, you really think that, like the pink cloud should continue and that nothing bad should happen. So, you know, life happens, you're like, "what?" Then you have to deal with it, and you have to deal with it clean, which is where the discomfort comes in. Because you get used to for so long when something bad happens, you go get blitzed, and then it's gone for a little while. And so you don't have that. It's like taking a pacifier away from a baby. So then you just have an angry baby. Like I tell my sponsees, you're an infant. You've just been removed of your favorite blankie. So you're just gonna have to chill out, you know, and watching my sponsees like sit in that discomfort, it's hard. 
[46:13] Stephanie Wittels Wachs: But at The Women's Home, there's room to sit in that discomfort before you have to do it back in the real world. 
[46:22] Dre: When you're here, you want to get out. I try to tell residents or clients, just chill out, chill out. Enjoy. This is a vacation. Your kids will be there. Your family will be there. The job that you need to get is going to be there. And the car payment and the electricity bill and the phone bill and the flat tires. Speeding tickets. They're all going to be there waiting for you.
[46:45] Stephanie Wittels Wachs: In the sacred little bubble of treatment, the women learn a lot about functioning in the outside world. But unfortunately, the outside world still has a lot to learn about how to support people in recovery, especially when it involves a criminal record. Dre's felony charge made her job search nearly impossible. It didn't matter that she had a degree and a hefty resumé. People couldn't see past the record, but eventually she got a lucky break. She was sharing her story at a Women's Home event, and afterwards she was approached by the owner of a cookware company. 
[47:22] Dre: She came to me afterwards. She was like, "I heard your story and I think I have a job for you." I was like, "really? In cookware?" She was like, yes. She's like, we're developing a new line and we really need a microbiologist who can come and kind of sign off on things and test things out. She's like, we'd love to offer you the job. It's short term. It's only for a few months. And I was like, I'll take it. And so I started and I loved it. 
[47:48] Stephanie Wittels Wachs: Two months turned into two years. And Dre is still really happy there. And she knows a lot of the stability she has today is a direct result of what she learned during her stay at The Women's Home. 
[48:00] Dre: This is an amazing place. It really is. It changed my life. I'm a better person now than I was before I started using. Because I was a super spoiled brat. It was terrible. People told me, "we hated being around you." Really? I had no idea. You know, you gain some humility when you've been knocked down that hard. 
[48:30] Stephanie Wittels Wachs: Getting knocked down is an important part of the process, but it takes time to build yourself back up. 
[48:38] Dre: For me, doing the 30 days is not enough. If you have been using drugs for 10 years or five years, 30 days is nothing. It's a flash in the pan. You're not doing anything. I think I tell everybody, I tell my sponsees, I told my friends, like, go to long-term treatment. Go to treatment for a long time. And they're like, "oh my job!" Who cares? Your job won't be there if you keep using. 
[49:07] Stephanie Wittels Wachs: So what is life like now? 
[49:11] Dre: It's good. It's life. It's like real life. 
[49:14] Stephanie Wittels Wachs: Dre continues to rebuild her life one piece at a time, but she's feeling pretty confident that it will all come together. 
[49:23] Stephanie Wittels Wachs: Well, maybe we'll circle back with you in summer to see how you're doing. 
[49:28] Dre: I'll be doing great.
[49:31] Stephanie Wittels Wachs: For Dre, long-term treatment was a game changer. But that's not the case for everyone. And relapses can still happen at any point, even in wonderful treatment environments like The Women's Home. And when a relapse does happen, their policy is that you can come back one time. And if you relapse again and want to come back, you have to wait 12 months. And many of the clients do, and they go on to become some of their most successful graduates. But overall, long-term success is notoriously hard to measure. Again, here's Anna, the CEO. 
[50:09] Anna Coffey: If someone loses touch, did they lose touch with us because they got a great job offer in Chicago and decided to move, but they're clean and sober and have been for the last 20 years? Or did they lose touch because they weren't able to maintain it and they're embarrassed and feeling shame and don't want to come back? 
[50:29] Stephanie Wittels Wachs: Or dead. I hate to say that.
[50:30] Anna Coffey: It happens. It happens. This is a fatal disease. There's two outcomes. You either find recovery or you die. Those are the two outcomes. But, you know, I think we look at the amount of women who stay in touch with us. We also look at our long-term supportive housing. Many of our clients who are discharged from our program seek housing in our long-term supportive housing, so they're still a part of our community. 
[50:58] Stephanie Wittels Wachs: The long-term housing options that Anna's talking about are pretty awesome. They have affordable housing options for individuals and families. They're essentially really nice apartment complexes that provide amenities that support all the whole-life concepts that they introduced in recovery. Things like an exercise center, a computer lab, something called a meditation labyrinth. All the things you need to build a whole life, and then some. It's like sober living forever. But even though The Women's Home is doing a really awesome job, it's hard for one program to do everything for every person. For example, The Women's Home doesn't do medication assisted treatment, which is something Maggie says helps her stay sober. 
[51:46] Maggie: I had been to rehab before. One of my counselors, she was in my previous rehab. So she told me that since I was a chronic relapser, I might want to check this out. So I went to talk to this doctor at NPC and I ended up — she tried me on some antidepressants and Vivitrol. And I'm telling you, once I started this medication, it was the biggest change ever. You know, I finally felt some relief. And I started to realize that for the past 20 years, I've been self-medicating. You know, there was actually something that I needed help with. 
[52:32] Stephanie Wittels Wachs: Anna says that they are on-board with the evidence for MAT and that they're doing their best to serve the needs of all of their clients. 
[52:41] Anna Coffey: It is considered the gold standard for opioid disorder. And you know, I'm not ruling it out — that we may go in that direction in the future. Right now we have a variety of drugs of choice that people use. And with a small budget, you know, we have to be pretty focused on what we do. So it's not that we don't believe in MAT, it's that we're not there yet. It's not a philosophical difference. It's not a program line that we've entered into yet.
[53:21] Stephanie Wittels Wachs: I have to say, when I first heard that they didn't do MAT, I was a little alarmed. But I think Anna's response makes sense, and I hope that they find their way there in the future. Maggie's only a year out from her time at The Women's Home, but she's making incredible progress and regaining some very important things that were lost. 
[53:44] Maggie: Now I have a wonderful relationship with my oldest daughter. She's 13. My mother adopted her. And so after the adoption was final, my mom realized that a daughter needs her mother. And so I think that was where the change started happening. I started realizing that at one point I had no hope of seeing my children. And now I have this wonderful relationship with my oldest. And so I know that my other two are out there and they will come looking for me one day.
[54:26] Stephanie Wittels Wachs: When Maggie arrived, she was so accustomed to chaos. Now she's got all of these skills to cope with chaos.
[54:36] Maggie: I did not have any way to deal with feelings but get high. I was never — I mean, it was never even given to me that you have an option, you know? Whenever you feel a certain way, you can take a breath. You can meditate. You can do this. You know, I had never learned to meditate. And I thought it was silly and it was stupid and I was never going to do it. But today it saves my life. My day goes so much better if I meditate in the morning. 
[55:10] Stephanie Wittels Wachs: This cosmic shift in lifestyle choices has led to some pretty incredible opportunities. 
[55:17] Maggie: Today, I'm a policy fellow with the Hogg Foundation at Texas Criminal Justice Coalition. So I get up every morning and talk to advocates in the area who are pushing for criminal justice reform. But I am up every day at the same time. I'm out working and it's not a big deal for me, you know? I got into that habit while I was at The Women's Home. So I don't think I would be able to do the things that I do today without them. I mean, honestly, three years ago if you would have told me this would be my life today, everybody would have said you're a liar. I mean, anybody who knew me then — it was like I was hopeless. That that was just the life that I was going to succumb to. And I mean, I really owe a lot of my life to The Women's Home because they taught me that there is a different way to live.
[56:27] Stephanie Wittels Wachs: And Rachel's doing great, too. She got a job as a hairdresser with the help of a counselor from The Women's Home. And that spiraled into more and more and more opportunities. 
[56:39] Rachel: Got a job working at Smartstyle on Dunvale. I rode the bus every night — so excited. Girl, I was in there messin' up people's hair. Excuse me, their hair was just jacked up. But I was just like, look here, come on, next. I was developing, you know. Finally, I went back to school to get my instructor's license in 2011. I've been teaching for 10 years straight. I have had my own shop. I have my own tutorial service for students that have struggles passing the state board. The students that I do connect with struggle in some area of self-esteem and they connect to me a lot. I tell them if I can get to this level of success — and success is not how much money you got, it's being better than you were yesterday. it's engaging in activities that put you on a level that money can never buy. 
[57:37] Stephanie Wittels Wachs: Rachel has reached a level of success that was unimaginable 10 years ago, when her recovery journey began at The Women's Home.
[57:46] Rachel: I'm very excited about the turn in my life. Do I struggle, do I have a moment where I think I'm a relapse? I don't think about that anymore. I'm maintaining. I'm in a maintenance stage. I try to practice what I preach. How I live. It's about harm reduction. No, I'm not judgemental, you know. And I will share something with you. I am going through that with a family member. I'm on the other side now. And she's the baby. And we all have these things going on in our head of what we should do and how we should handle it. And one of things that I'm going through with this loved one is how to approach. Funny thing is I went through it and I know what I wanted, but approach is everything. And some make it some don't. It's not nobody's fault. It's just the turn of the tables, how it's supposed to go. I thank God that he let me live so I could share my story. 
[58:46] Stephanie Wittels Wachs: Rachel is right. Some people make it, and some people don't. But you get the sense that here, these women actually have a fighting chance. And that their willingness to fight is such a huge part of it. Maybe the most important part. But that has to be met with an open door, and inside that door must be a compassionate team with appropriate resources and a whole lot of time. Maggie, Dre and Rachel were ready to fight. And they opened the door to a long-term inpatient facility. But what if you can't do inpatient? What if you do need MAT? 
[59:31] Stephanie Wittels Wachs: Remember, none of this is one-size-fits-all. So next week we are hitting the road again, heading to North Carolina to check out Eleanor Health. Remember Dr. Nzinga Harrison from Episodes 5 and 6? Of course you do. She is a recovery superstar. Well, we are going to her home turf to see how they do treatment. 
[59:54] Man's voice: Connection is how we change the conversation, not punishment. And until we get that through the thick heads of policymakers who really just want to like brush these folks off as disposable — and that's that's a pretty crude comment. but I really believe that. That this is an easy population to discriminate against because they already hate themselves. And so we're done hating here. And we won't let people do that here. And so there's many times, I'm gonna hand you a tissue, hand you some coffee, and tell you to hush. Let's breathe. Let's cry. If we gotta yell, let's do that, too. But let's do it in a way where you can get to the next point, where you can get to the next step, and you can actually create a plan for yourself of being able to look at that person in the mirror and find something positive. Because everybody has something to offer. 
[01:01:44] Stephanie Wittels Wachs: Last Day is a production of Lemonada Media. Our producer is Jackie Danziger. Nicolle Galteland is our associate producer. And our assistant producer is Claire Jones. Kegan Zema is our technical director. Brian Castillo is our editor. Our executive producer is Jessica Cordova Kramer. And our music is by Hannis Brown. Special thanks to Westwood One, our ad sales and distribution partner. 
[01:01:09] Stephanie Wittels Wachs: And a very, very special thanks to everyone we spoke to at The Women's Home. They were all so lovely and warm and welcoming and they even gave us donuts and breakfast tacos. Julie, I'm looking at you. Thank you. You can find us online @LemonadaMedia. And you can find me @wittelstephanie. If you like what you heard today, tell your family, your friends, your coworkers, anyone you know to listen and subscribe. And then review us on Apple, Spotify, Stitcher or wherever you get your podcasts. It is worth your time and it deeply helps our mission. I'm Stephanie Wittels Wachs. See you next week.