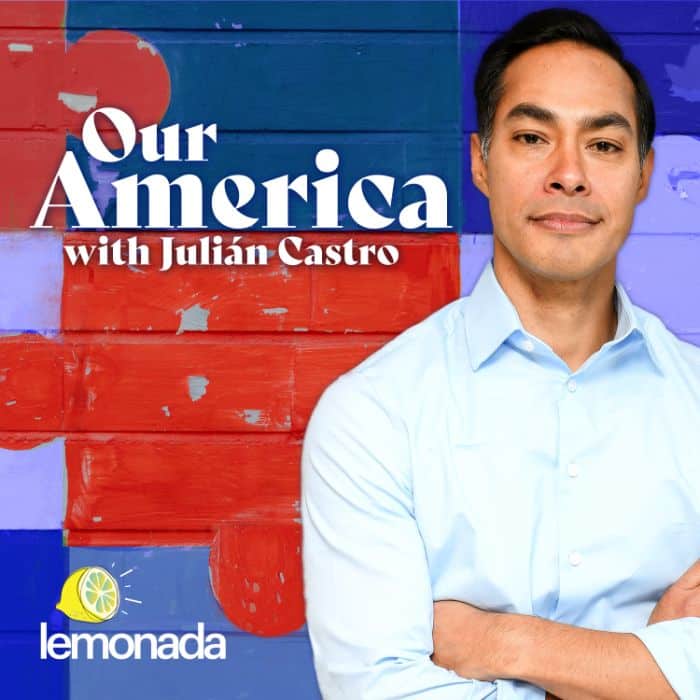 A Beacon of Hope (with Ayanna Pressley and London Breed)
Subscribe to Lemonada Premium for Bonus Content
Description
Although 2020 is behind us, the new year is already off to an unsettling start. On January 6, chaos erupted as a violent mob of Trump loyalists stormed our nation's Capitol, leaving five people dead.
One of this week's guests, Massachusetts representative Ayanna Pressley, was at the Capitol that day. Fearing for her safety, she reached for the panic button installed in her congressional office only to find it had been torn out. The buttons were installed as a security measure in 2019 after members of the "Squad," a progressive group of House Democrats, endured racist attacks from President Trump.
With the inauguration of Joe Biden and Kamala Harris less than a week away, Rep. Pressley and Mayor London Breed of San Francisco join us to talk about the long process of healing and reconstruction necessary for our country. The two influential leaders discuss how to reimagine our criminal legal system and housing affordability, and the importance of building a representative, inclusive economy after a year of reckoning with racial injustice.
Follow Mayor Breed and Rep. Pressley on twitter.
Keep up with Julián on twitter @JulianCastro and Instagram @JulianCastroTX. 
Click this link for a list of current sponsors and discount codes for this show and all Lemonada shows.
To follow along with a transcript and/or take notes for friends and family, go to http://lemonadamedia.com/show/our-america shortly after the air date.
Stay up to date with us on Twitter, Facebook, and Instagram at @LemonadaMedia.
Transcript
SPEAKERS
Jonathan Van Ness, Rep. Ayanna Pressley, Yvonne Villareal, Mayor London Breed, Julian Castro
Julian Castro  00:00
Support for this podcast comes from Marguerite Casey Foundation as part of its effort to encourage thought leadership critical to the advancement of a truly representative economy, where philanthropy empowers communities that have been excluded to shape our institutions, democracy and economy. Marguerite Casey Foundation is shifting power to communities so they can power their own freedom. Learn more about Marguerite Casey Foundation at www.kcgrants.org. Follow them on Twitter at @CaseyGrants and connect with them on Facebook.
Julian Castro 
Hey, y'all, Happy New Year. I'm excited to start off 2021 with a new episode featuring two of our country's most prominent black female leaders, who represent communities on opposite coasts. As 2020 came to a close, you could feel a collective sigh of relief and a yearning for a quieter, more normal year to come. Well, so far 2021 has been anything but that COVID-19 is claiming more American lives each day than ever before. And on January 6th, as Congress prepared to certify the results of the November election. A mob of Trump loyalists stormed and overtook the Capitol building.
Woman on TV 
It was nothing short of a siege hordes of Trump supporters breaching barricades storming the Capitol as members of Congress inside works to officially certified Joe Biden's victory.
Julian Castro
This was an act of domestic terrorism inspired by the President's words, with the help of a group of craven political opportunists in the United States Senate, including Ted Cruz, and Josh Hawley.
Woman on TV
Some members whisked away, while others sheltered in the chamber diving under desks. Instructed to have their gas masks at the ready as the chaplain prayed over them. A line of officers holding back the intruders guns drawn in the Senate..
Julian Castro
Beside of Confederate flags being marched through our nation's most sacred space was a searing reminder that bigotry not only continues to exist in our country. But it's become even more acceptable than it has been in quite a while. Think for a moment about the difference between law enforcement's response to the mostly white male mob last week, and their response to Black Lives Matter protesters last summer. One group was met with little resistance, while the other often encountered tear gas, nightsticks and rubber bullets. These events are evidence that law enforcement too often treats peaceful people of color with violence, and violent white supremacists, with deference. But 2021 has also brought hope.
Woman on TV  02:51
Democrats have captured the Senate Majority after winning two historic victories in Georgia's runoff elections. On Wednesday, CBS News…
Julian Castro 
Reverend Raphael Warnock and Jon Ossoff, a black pastor and a Jewish journalist. Were elected to the Senate. Giving control of the chamber to Democrats. And in just a few days, our country will inaugurate Joe Biden and Kamala Harris. With the new administration comes new opportunity. So where do we go from here? This week, I speak with Congresswoman Ayanna Presley and San Francisco Mayor London Breed two women who face the challenges of the communities they represent head on every day.
Julian Castro 
This is OUR AMERICA, I'm your host, Julian Castro.
Julian Castro 
I'm so happy to be here with Representative Ayanna Presley today. Thanks for joining us, Ayanna.
Rep. Ayanna Pressley  04:05
I'm thrilled to be here. Thank you for the invitation.
Julian Castro 
Absolutely. And you know, you and I met a few months ago, we were on the road, both of us supporting Senator Elizabeth Warren in her campaign for president and you were there at one of the events. And right away, I felt you know that you were a kindred spirit in public service, because I could tell that you're in it for the right reason. And I think it's fair to say that we both had strong women as role models, mothers who worked hard and also moms who were both activists. My mom fought for civil rights and Mexican American and women's empowerment. Your mom was also an activist. And can you talk to me about how you first got interested in going into politics in the first place and why?
Rep. Ayanna Pressley 
Sure, but before I do that, I have to just say that I felt that immediate kinship with you as well. And yes, we do have that shared experience with these mothers who work tirelessly, who make great sacrifices. You know, I think both of our mothers were pouring into us this self-agency and self-determination. And then we belong everywhere. And then my mother's example, I'm such a Chicago cliche, I guess. And then my mother was a community activist and a tennis rights organizer. And so, you know, I grew up in activist spaces and organizing spaces. And you know, my lived experience was very different from my peers. So I was in the minority in every way. My father was cycling in and out of the criminal legal system, based on the criminalization of his substance use.
Rep. Ayanna Pressley 
And I'm a survivor of sexual abuse as well. And so I have many destabilizing factors in my household, both because of policies, and also just because of the stabilization of trauma on household, of poverty on a household, of incarceration on a household or substance use. And my mother read me bedtime stories that were the speeches of Barbara Jordan, and Shirley Chisholm. And then she took me with her to vote in every election. And then the most important thing is she made sure that I knew that being black was something to be proud of. And that black was powerful and beautiful. And that I was being born into a struggle. And it was a cradle to grave struggle, and that she had an expectation that I would do my part in that.
Julian Castro  06:47
There are t-shirts out there that you've inspired, that say "Policy is my love language." Well, tell me about that. Where did that come from? You know, what does that mean to you?
Rep. Ayanna Pressley 
Oh, my gosh, it just happened organically. I think the first time I said it is when you and I cross paths and met for the first time in person. And I just organically said it because it is my truth. And the reason why is my truth and it is my love language is because I ran for congress because I wanted to be a legislator. Because the disproportionate hate hurt and harm that marginalized communities have experienced was not naturally occurring. It was legislated. It was codified through lawmaking. It was very precise.
Rep. Ayanna Pressley 
And so I represent an incredibly the Massachusetts 7th is a diverse, dynamic and vibrant district. And it is one of the most unequal in the country. We're in a three-mile radius from Cambridge, which everyone knows home to MIT and Harvard, to Roxbury, which is the blackest part of my district. Life expectancy drops by 30 years.
Julian Castro 
By 30 years?
Rep. Ayanna Pressley 
Yes.
Julian Castro 
Wow.
Rep. Ayanna Pressley 
Median household income by $50,000 in a three-mile radius, okay. And in the West is..
Julian Castro  08:04
And this is all in your district?
Rep. Ayanna Pressley 
All of my district. And for a black family, there are net wealth is $8. And a white family is $247,000. Now, that's not me saying that that's the Fed. Okay. So if policies, because poverty is not naturally occurring, that is a policy choice. And a deficit of political will encourage, and in other ring, because there are many people that think that being poor is an individual our moral failure or a character flaw. These are policy.
Julian Castro 
It's somebody's choice.
Rep. Ayanna Pressley 
Correct. These are policy choices that have been disproportionately foisted with a precision on marginalized communities. And so policy is my love language, because if hate, hurt and harm can be legislated. I do believe that equity healing and justice can be too.
Julian Castro
You know, I mean, how do you represent a district that is so split in terms of income? I imagine economically segregated, perhaps racially segregated, you have a district that is so diverse. How do you go about doing that and be effective?
Rep. Ayanna Pressley 
You know, I've been in Congress now for two years. And in that time, when I took my oath of office and walked on to the House chamber, we were in a federal government shutdown. A year to the day from that we were voting on articles of impeachment. Weeks after that we fear we might be on the precipice of war, and then not too long thereafter found ourselves in the midst of a pandemic, which has wrought incredible economic hardship, and all of that against the backdrop of a national reckoning on racial injustice. So I think what has served me well other than the fact that I seek to be empathetic, to actively listen to all parts of my district, to remain acutely uncomfortable, so I'm never complacent in the work.
Rep. Ayanna Pressley  10:12
But these destabilizing factors that have happened in our country at the same time with which we are governing. I think has, it is made plain to people, those basic things which we all deserve. But I do think that the times we find ourselves in has given me more leverage in making the case for why I must legislate in a way that is intersectional. And that is precise. And so that's how I'm, you know, now I find a lot less of that pushback when I say housing is a human right. You know, a lot less of that pushback when I say, black students, and brown students barrel and fought more than anyone else. But it's suck tragedy. So sadly, I think that's why I'm better position.
Julian Castro 
After the murder of George Floyd, there has been this outcry across the United States and a yearning for change and an urgency to address systemic racism. You introduced legislation that would begin to address some of these long-standing problems that we've had with excessive force that police use against black men and women, people of color disproportionately. What would your legislation do? And why was it so important for you to introduce this legislation, knowing that it's hey, you served on the city council like I did you know that this is an uphill battle, right? That these police unions and police in general, very powerful interests. Why was it so important for you to get out front and address this issue of police violence? And how would your legislation do it?
Rep. Ayanna Pressley  12:06
So there's several, there's four pieces, I'll just lift really quickly. So the first is I introduced the people's justice guarantee resolution, which is a radical reimagining of our criminal legal system. Decriminalizes low level offenses. Poverty, mental illness, substance use, homelessness, right? As an example. And then in within that it calls for the abolishing of the death penalty and ending our poor profit prison system and a lot of other things that are important. Then, in the context of this national reckoning on police brutality, I introduced a bill in partnership with Representative Justin Amash, to end qualified immunity.
Julian Castro 
Qualified immunity is a bit of a confusing concept. It basically means that when a police officer is charged with misconduct, they can be immune to prosecution, if there hasn't been a previous case that established a violation of rights. But the previous case has to be factually almost exactly the same. It's designed to be nearly impossible to match a previous case with a current one, meaning the officer will often be led off the hook without any consequences.
Rep. Ayanna Pressley
And so what that means is that an officer can operate with callous disregard for human life with complete impunity without any retribution or consequences. I mean, it not be held accountable for murder. So when we're having these conversations about how to actually write budgets, that value Black Lives, which can be done, we have to be talking about these policies, we know what's proven and what works, we just won't fund it. And so that's why these are the things that I've introduced the people's justice guarantee resolution, which was before these most recent consecutive shootings of unarmed black Americans. And then the in qualified immunity bill which was introduced in the wake of as along with my bill, counseling, not criminalization in our schools.
Julian Castro  14:10
While Ayanna was busy making strides in Massachusetts, she had to deal with a very personal challenge. Around this time last year, she started noticing that she was losing her hair.
Rep. Ayanna Pressley
I was getting my hair retwisted, which is a very long process. Shout out to all the braiders out there because it is an art form. And they noticed some spots in my head. And then from there, it just rapidly progressed in a five-week period. I lost all the hair on my head, my face and my body. There are many different forms of alopecia. I have alopecia universalis. So, alopecia affects 7 million people in the country. It is when your immune system attacks your hair follicles. And there are many different forms of it. So some people will have patches. People think I shaved my head. This is just clean how it came out. And so imagine on the eve of the impeachment, that this is what happens to me. And the next day, I have to go and vote on articles of impeachment, which is clearly going to be a very big news day, and a big..
Julian Castro 
Right in the spotlight.
Rep. Ayanna Pressley
Right. A big day for our country. And so, Angela Ryan, who's a dear friend of mine. Helped me to secure a stylist to quickly customize awake for me so that I would be able to go cast the vote. And as I sent him alopecia reveal video, I felt very ashamed, because the reflection in the mirror was a complete stranger to me. And I was very traumatized. But I couldn't hold space for that trauma, because I needed to present as if nothing was going on, and then go back to the house to deliver my statement about why I voted in the affirmative on articles of impeachment, I do have to say I never cried, I had a complete peace about it.
Rep. Ayanna Pressley  16:01
And I do think I'm a very spiritual person. The day that I went completely bald was what would have been my mother's birthday. It's still her birthday, but she's transitioned. She's now an ancestor. And I think that, you know, she gave me a comb and a grace, so that I didn't completely just lose it. And then shortly thereafter, after wearing a wig for a couple of weeks, and I felt I could just been paranoid, but I felt like I was being met by curious glances by my colleagues, constituents and that sort of thing. I decided that I was going to go public that in order for I felt for me to lead authentically, that I needed to be transparent.
Rep. Ayanna Pressley
And I also want to say this, I don't think that I'm any more courageous than those living with alopecia that wear a wig. Everyone's walk is different. But for me, it did not feel authentic. And so I decided that it is my job to not only occupy space, but to create it for others. And in the same way, that my representation as a black woman, as a survivor, as someone who was wearing twist what that meant to so many people, that that representation of my baldness could potentially mean the same thing to so many others. And that's what happened.
Julian Castro 
I said that first day that I met you, I also remember telling you about when my brother Joaquin and I, you know, we're twins, we were both I think 11 years old. And my mom mustered out 37, all of a sudden, she started to lose her hair. You know, we were kids, we didn't know what in the world was going on. And her hair kept falling out and falling out. But I told you, I really admire how you've handled this, because I think it's been you've been a role model for a lot of men and women who are dealing with this, and especially for their kids, who, like we did back then, you know, didn't quite know how to handle this. People have found inspiration in how courageous you've been.
Rep. Ayanna Pressley  18:06
Thank you for sharing your mother's story. I was very touched by then and you know, still am and I hope it's okay with her that we're talking about it, you know, because it is a deeply personal journey. So, but thank you,
Julian Castro 
We're gonna see a change in leadership. Come January 20th of 2021. What do you hope for our country in the years to come?
Rep. Ayanna Pressley
So I just want to say in this moment, again, despite the dire straits and the challenges, these three crises of a pandemic, you know, economic crises and this national reckoning on racial injustice, I still have hope. And, you know, I'm asked all the time, if I'm growing cynical, or, you know, apathetic, and I'm like, I don't have the luxury, you know, people are depending on us, we're standing in the gap. So that's what I want. It's just for a more equitable and just world. And for us, particularly in this moment of reckoning on racial injustice, that we finally learned the lesson. And then we are, you know, serious and committed about doing that work, both in what we write into our budgets, and in the laws that we author.
Rep. Ayanna Pressley 
So, as Rashad Robinson from Color Change often says, racial justice is not charity. This is strategy. If you are really committed to equity and justice to an inclusive economy, to everyone having an equitable opportunity for social and economic mobility to have a life that is a freedom from fear, a freedom from fear. That's what I want for my daughter is that we pass along to them. A legacy of wisdom and wealth, and not the type of disproportionate systemic hurts that we have experience. So freedom from fear, a legacy of joy.
Julian Castro  20:05
That's a wonderful way to put it. Thank you so much, Representative Ayana Pressley. I have more confidence that that America that you described is going to come to pass because you're there. Thank you for the great work. So thank you for joining me.
Rep. Ayanna Pressley 
Thank you. Thank you so much.
Julian Castro 
Okay. Take care.
Julian Castro 
Ever find yourself wading through your newsfeed on Facebook or Twitter. Wishing you could just call someone up and ask, what do I really need to pay attention to here? Now you don't need to. Try out WHAT NEXT with Mary Harris, Slate's Daily News podcast. Every weekday host Mary Harris is on call for you taking one story and going deep behind the headlines. What next is news you're not going to get just scrolling through your phone. Right now. You can count on what next to help figure out what exactly is going on in the 2020 election. And where do we go from here? Subscribe wherever you're listening right now.
Julian Castro
Support for this podcast comes from Marguerite Casey Foundation as part of its effort to encourage thought leadership critical to the advancement of a truly representative economy, where philanthropy empowers communities that have been excluded to shape our institutions, democracy and economy. Marguerite Casey Foundation is shifting power to communities so they can power their own freedom. Learn more about Marguerite Casey Foundation at www.kcgrants.org. Follow them on Twitter at @CaseyGrants and connect with them on Facebook.
Julian Castro 
Before the break, we spoke with Ayanna about the problems of affordability in her district, which are unfortunately far from unique. Mayor London breed joins us next to talk about similar affordability challenges in San Francisco. Having grown up in one of the city's public housing projects, housing affordability and homelessness are issuing the mayor is intimately familiar with.
Mayor London Breed  22:17
The stuff that we had to go through standing in line for food. My grandmother raised me and two of my brothers and my aunt who had a mental disability. I mean, the place was not in the best conditions. We had roaches, we had mold, we had busted pipes, we had, we never even had a shower. I was frustrated as I got older because of the conditions where there were things that weren't fixed or working. And I just didn't understand why it was happening to us. Like why were we in this situation, like why we're not only we in this situation, but like where were the other mothers and fathers of the kids that I was growing up with.
Mayor London Breed 
And in fact, unfortunately, my mother was, you know, incarcerated at one point when I was younger, and the person who lived next door to me who we play dolls with her mom was incarcerated. And there were a lot of situations like that where that was normal. folks were out on the streets, prostituting dealing drugs, incarcerated for various reasons. And it was a very challenging environment. And I got through it, but that's what it is.
Julian Castro 
How do you go from those very tough circumstances to becoming mayor of the city that you grew up in?
Mayor London Breed
It is, I'm still shocked. First of all, that I'm in a position like this, because you know, it wasn't just growing up that way. There was six of us total, my mother had six kids, one of my sisters unfortunately died from a drug overdose and my brother, he's still incarcerated. And so I am just really honored and blessed that I have an opportunity like this. And I have a lot opportunity like this because I think it had a lot of course to do with my grandmother. My grandmother was hardcore, she was strict. I got whooping's, it was like "You going to school or you can't live here." And so that was part of it. But also, I had teachers and I had, you know, counselors who people who took interest in me and they said, Look, you're smart, but you talk too much. Because I was a bit of a loud mouth sometimes in class and when a little bit overboard.
Mayor London Breed  24:32
So I got discipline a lot. And my teachers didn't like say, look, you know, we're just going to send you home. It was the conversations. It was the work. It was my grandmother expecting more of me and also being honest with me about our family and the challenges that we faced and wanting better. And so I wanted to be a better person because I felt horrible that my grandmother who's this elderly person was taking care of us and couldn't live the kind of life that she deserved to live. And so education was what she cared about me doing well in school. And so I fought hard. I worked hard in order to go to school, and I ended up in college. And I was excited about that. My neighborhood, it wasn't common for people to go seek higher education.
Mayor London Breed 
And in some instances, it wasn't common for people to even graduate from high school. And even in fact, now, as mayor, I still run into some people that I grew up with, who sadly are addicted to drugs and have a lot of challenges. And I think a lot of why I'm here, you know, first of all, I'm a spiritual person. So I know, you know that God definitely had a hand because I couldn't have done this by myself. And secondly, I had a praying grandmother, who was very strict and hardcore, and really was very honest with me about our family and the drama and the challenges that existed. And also, there were so many people that I didn't understand what they were doing at the time, whether it was when I played at Rec and Park.
Mayor London Breed  26:03
And there was all this encouragement, and there's this support, like, we think you're smart, we think you can do well in life. So you hear that in a neighborhood with all the chaos happening, you start to believe it in the midst of the chaos, so many people who believe in you, and are telling you that you're this great person, and you start to feel like well, maybe I am this great person, and you start thinking differently. And I didn't want to let this community down. And so when I went to college, I immediately returned home, to work in our neighborhood, to help register people to vote, to help and change and save lives.
Mayor London Breed
Because so many of my friends were being lost to gun violence. Because this community support it and uplifted me, I want it better for them. I wanted them to have the same opportunity that I had. And I felt strongly that it should be the norm and not the exception.
Julian Castro 
A lot of people when they think of your city, when they think of San Francisco, they think of it as one of the most beautiful cities in the country and the world. They think about Fisherman's Wharf, but San Francisco is a city that has also faced a tremendous number of challenges. There's a high cost of living, as you know very well there's been an affordable housing crunch in San Francisco for a very long time. How's your lived experience influenced, you know, the approach that you've taken to try and make sure that people are able to prosper, who sometimes get left behind?
Mayor London Breed 
Well, I appreciate you asking that question. Because I think that we have made things way too complicated for people to succeed. And a perfect example is when I served on the board of supervisors, before I was mayor, we identified a property in San Francisco and from start to finish to build 160 units of 100% affordable housing. It took 10 years
Julian Castro  28:01
A whole decade?
Mayor London Breed
A whole decade to be able to allow the first family to move into this property. And then when I propose even as mayor in San Francisco, I propose changes to that policy to say, Well, why do we need a conditional use? Why? Why can't we do this as a right? If it's following the zoning, if it's going by all the laws in the city codes that exist? Why can't this happen as of right? Even though the whole point was to not discriminate against people because of their race, it was in fact leaving out African Americans who were a vibrant part of these communities. When you look at the data, they were not getting access to affordable units in San Francisco whatsoever in the communities that they were born and raised in.
Mayor London Breed 
And so the fact that someone like you was at HUD at the time, you know, I was on the board, I had this lived experience of public housing, I wanted to make sure that there was a connection between the change and the policy, and how it could actually impact someone's life is what made the difference. So there was Willie B Kennedy apartments, 98 units of senior housing. And we were able to get a significant number of people who were born and raised in the community, including Mr. Hawkins, who grew up in the neighborhood who was five years homeless, walks on a walker and I see him on the corner of Fillmore and Gary every single day just hanging out.
Mayor London Breed
And I think that there's been a mistake with the number of policies that we've allowed to make things like more difficult to happen in San Francisco. They sound good, but they don't always translate. So there's a lot that needs to be done. But this widening income inequality gap is something that I am focused on and making it a top priority in my administration.
Julian Castro
But I remember how much of a champion you were back then when I was at HUD for creating more affordable housing and for ensuring that the people that had been part of the neighborhood for a very long time, and especially the black community that, you know, has been decimated in San Francisco over the decades, was actually able to stay, if there were more affordable housing opportunities created, that they should have an opportunity to actually be a part of that. And you're a real champion for that. And I was happy that the policy could be tailored to make that possible. But talk to me about that. You have watched your city, over many years, become less and less African American. You know, what can the city do about that?
Mayor London Breed  30:44
So just going back to my experience, the public housing development that I grew up in, and the reason why we moved is because it was torn down, there were over 300 units when they were torn down, and only 200 units were built. So it was clear that everyone wasn't coming back.
Mayor London Breed
The Bay Area's housing crisis is a slow-moving storm that's been churning for decades. But now the storm has become a full-on hurricane.
Julian Castro
Gentrification has become a major problem for longtime San Franciscans. As big tech and other companies have grown, their employees have bought or rented housing, often in more affordable neighborhoods that are historically significant to the city. These same neighborhoods are where generations of San Franciscans live, people like Mayor Breed and her family. And when housing costs inevitably rise, these folks get displaced and priced out of the communities they call home.
Mayor London Breed
And many of them went to Vallejo, Fairfield and other places. Some of them, of course, wanted their kids to grow up in San Francisco and go to the high schools that they went to. And so what I have done is I want people to understand that look, I know that I'm mayor of the whole city, and I know that we have a less than 6% African American population. But it's not just because I'm African American, that I look at the disparities, which mostly in this city, disproportionately impact black people. So for example, 47% of our homeless population is black.
Julian Castro  32:18
Even though blacks are only 6% of the overall population.
Mayor London Breed
Yes.
Julian Castro 
It's 47%.
Mayor London Breed  32:24
Yes. And when you look at the dropout rates in our high schools, the criminally justice involved. Even the people who are pulled over by the police, disproportionately high numbers of African Americans. In a place with a less than 6% population of African Americans. So it should not matter if you are a black Mayor or not. That should be called of concern. And this is why I've made those deliberate investments, while we shifted $120 million from our police department to invest in the African American community in ways that we have not invested before, and why we are working with people to try and change the outcomes.
Mayor London Breed 
Because I know from personal experience, it provided an opportunity what a difference that can make for a child's life. I want to change the outcomes and change the outcomes means not only investment, but changes to policies, and trying to move forward in a way that is going to bring all communities along for the ride. And not just some we should not be content with seeing the conditions of our African American community get worse in San Francisco. So my investments, my policy changes, my aggressive advocacy with people that I know throughout San Francisco to get them more actively engaged because they haven't been. Has everything to do with making sure that this community is shaping, you know the future of their lives and their children's lives in San Francisco.
Mayor London Breed
I've gotten, of course, the criticism for the shift of the money to the African American community. I got criticism, of course, for the shift of a significant amount of money to the Latino community to address the disparity around COVID that exists in our city. They represent over 50% of the cases and COVID. So we have to do a lot more around testing, contact tracing and a number of things which are very costly, but we have got to deal with that disparity. So just looking at the data, and making the right decisions about the data can help to change that. I hope it can help to change that.
Yvonne Villareal  34:46
Some say there are no seasons here in LA. But in Hollywood, there's at least one. Award Season. Listen to THE ENVELOPE, the podcast from the LA times every Wednesday to hear from the talent behind some of this year's best movies and TV shows. Including stars like Rashida Jones, Hugh Grant and Anya Taylor Joy. It's hosted by me, Yvonne Villarreal and by my colleague Mark Olsen. Our podcasts will also feature conversations with showrunners and directors. Along with a regular awards minute from times entertainment columnist Glenn Whipp, the envelope the podcast is available every Wednesday on the LA Times app, Apple podcasts, Spotify, or wherever you listen.
Julian Castro 
You are in the middle right in the backyard of this huge fight over the approach on creating more affordable housing between the traditional NIMBYs are not in my backyard. And this new group of NIMBYs are yes in my backyard, people who are pushing for the development of more affordable housing, how do you navigate those two sides that have been going at it in a productive way to actually create more housing opportunity for people in a community that desperately needs it, just like New York, just like Seattle, just like increasingly more and more communities across this country.
Mayor London Breed  36:15
So it's tough, because when you look at a place like San Francisco, on the east side, you see all the high rises. And on the west side, you see the beach with single family homes. And the community there, I remember I was at an event and the community was absolutely upset over increasing density on the west side of town. We want to keep our neighborhood character, we want to keep things the way they are, this is why we live here. So I asked, how many of you were born and raised here, bunch of people hands went up, how many of you raise your children here, bunch of hands went up, how many of your kids still actually live in San Francisco. And hardly any of their hands went up, how many of your kids can actually afford to live in the city where you raised them, hardly any hands went up.
Mayor London Breed
That is why we need to figure out a better way to be open to other possibilities. Density does not have to be a bad word. A six-story building does not have to be, you know, taboo on the west side of town, we got to be open to other possibilities. We can't be mad about homelessness and affordability. If we're not okay with getting more housing built in our city, your grandchildren could be closer right now, if we would allow more housing units to be built in San Francisco to not only make it more affordable to but to make it more accessible. This city, I think has this is what the biggest problem has probably been is the fact that we've not built enough housing in general. So the cost is going up. But the solution is not to stop building.
Mayor London Breed  38:01
And the solution is not to roll over on everyone and to tear down and to all of a sudden make it too easy to tear down housing like we did in the redevelopment days to take away people's homes, there's a balance. And so that's really what I'm trying to do is really strike a balance. It doesn't have to be absolute. It doesn't have to be my way or the highway or this or other. It has to be building. But it also can be building at a smart and a more rapid pace that will provide the resources we need around housing in general. I think that people will come back eventually, but it's going to be hard for us for some time.
Julian Castro 
Part of the change that you called for has been reimagining public safety after the death of George Floyd. San Francisco has been upfront in terms of moving forward. Investments in the African American community in different types of services in lieu of over policing the community. What is your plan to reform the San Francisco Police Department and just the approach to public safety in San Francisco?
Mayor London Breed
Well, well, my plan didn't start, you know, after the tragic death of George Floyd. It really started early on in my community where we, unfortunately, on a regular basis witnessed police brutality. And back then it was like a beating, right? You get beat up by the police. And that was common. This was common in the black community. And things have, you know, just completely gotten out of control in various neighborhoods where, you know, from my perspective, I didn't understand why it had to elevate to the point where people have to shoot somebody and kill them. And in fact, sadly, you know, that happened in 2006, to my family to my cousin, who was killed by the San Francisco Police Department.
Julian Castro  40:09
What happened there?
Mayor London Breed 
Well, there was a, it's a long story, but the fact is, there was an altercation, or a situation that happened between the police and my cousin, and he ended up dead. And the problem there, my aunt, when she tried to find out what happened, she was treated like a criminal. And we never got an independent investigation. We never really got closure, we just, I remember being at the funeral thinking, well, what happened? And then you're hearing the stories about what happened? And it's like, okay, did this happen? Does this make sense? It was odd, wasn't very publicized, it was, you know, like a chase and a couple of other things. But the fact is, the least I felt like our family was old was an explanation and an understanding from an independent person about what actually happened.
Mayor London Breed 
And fast forward to the time when I was on the board of supervisors, and one of the first things we did is, when there is an officer involved shooting, there is an automatic independent investigation, period, no questions asked, no one has to ask for one, and if an officer even draws their weapon, there is an investigation. Because that was important to me. But it was also important to so many people who sadly have lost their family members, to the hands of law enforcement. And some people have criticized to say "Well, why isn't it moving faster." And the fact is, I want people to get it. When they get this training around time and distance, anti-bias training, where you're coming in, and you have the ability to take someone's life, where I want them to understand what these policies actually mean, this is not about checking off a box for me.
Mayor London Breed 
This is about making sure that people, especially unfortunately, mostly, in most cases is African American men, and some Latino families have experienced this as well. in San Francisco. You know, I want to make sure that this does not happen. So they have to get it, or they should not be working for this police department. We're going to be making an announcement about removing certain phone calls from the responsibility of the police department. So I'm sure you heard about the guy who was riding on his property and a woman called the police.
Woman on a recording  42:35
"I'm asking you if this is your property."
Man on a recording 
"Why do you ask them?"
Man on a recording
"Because it's private property."
Woman on a recording 
"Because it's private property."
Man on a recording 
"Are you defacing private property?"
Reporter on TV 
Now, this took place in the cities.
Mayor London Breed
And now we have this law, this Karen law. Like we could, you know, that really centers around not letting people do that and holding them accountable for doing that. Well, why should a police officer actually need to respond to that?
Mayor London Breed 
When I became mayor, I made it clear to the department that I am here to manage the city. To serve and protect all of its citizens, including it's police force. And what I need you to understand is who I am as a person, my personal experiences with law enforcement, and how I don't want this to be the kind of law enforcement that would allow for your future Mayor to ever have those kinds of experiences. And so I was very honest with them about what I expect. We want you to actually care about people and care about serving and protecting all people, not just people who like police officers.
Mayor London Breed
I just don't want that your bias to lead to somebody's death. So I think part of it is trying to strike a balance and making decisions about our resources, making decisions about accountability, and working with our communities to address safety in a way that makes sense for that particular community. Because there is no one size fits all solution around public safety and it doesn't completely or should not completely rely on police officers.
Julian Castro  44:20
You've lived this American Dream story, growing up in tough circumstances in public housing, getting elected as mayor, the pride of serving your hometown, and leading it through one of the most difficult challenges that any mayor has faced in the last 100 years. What do you hope for your community? in the years to come?
Mayor London Breed 
When you put it into that perspective, it can be hard sometimes. 2020 has been like nothing I've ever experienced. I'm sure everyone feels the same way.
Julian Castro 
Yes.
Mayor London Breed
I remember when this pandemic first hit. I got a note from a neighbor. That basically said "If you need any help with anything, grocery store, run, errand run in any way, or just someone to talk to. I'm here, here's my cell phone number. And here's my email address." And I thought to myself, how beautiful that was, that someone would take the time to understand this is challenging for all of us, didn't know who I was, and was just putting notes out to the neighbors to say "I'm here for you." And that's what we have to be at this time for one another.
Mayor London Breed
We have to be that support system; we have to be that beacon of hope. We're going to look back on this time. And we're going to tell so many stories about where we were, what we did, how we overcame this, and how we even develop new relationships with people or chose a different career path because of our experiences. So I want people to be optimistic and hopeful about the future, because we're going to be a better stronger, more resilient country because of it.
Julian Castro  46:11
That's a wonderful vision for our future. Thank you for sharing it. And thank you for spending a little bit of time with me.
Mayor London Breed 
Thank you, this is fun.
Julian Castro 
It's understandable to feel worried. In the wake of the crises that Ayana mentioned. COVID-19 is still very much an obstacle to overcome. As is the economic and social toll that has come along with it. But let's look at the new year as an opportunity. Like Mayor Breed said, we need to be that beacon of hope for one another, especially as more vaccinations become available. And we're able to focus on the America we want to build. Next week, I talked with Jonathan Van Ness from the hit show QUEER EYE, about how the HIV epidemic shaped his life, and how he's using his platform to show up for our country's LGBTQ plus community.
Jonathan Van Ness 
This is like when you try to like I don't want to get a cab on the way home from the bar. Like even though I'm drunk. So I'm just going to drive, you got a DUI, that's $10,000. Now you should have just gotten the cab, and that is similar with HIV AIDS, the cost that we incur from people not getting medication and the virus continuing to spread and all the health complications that arise from HIV AIDS not being treated. You might as well be in a developing country. I mean, we have really bad HIV AIDS rates in a lot of places in the United States.
CREDITS
OUR AMERICA is a Lemonada Original. This episode was produced by Matthew Simonson. Jackie Danziger is our supervising producer. Our associate producer is Giulia  Hjort. Kegan Zema is our technical director. Music is by Hannis Brown. Executive producers are Stephanie Wittels Wachs, Jessica Cordova Kramer and Julian Castro. Help others find our show by leaving us a rating and writing a review. Follow us at @LemonadaMedia across all social platforms, or find me on Twitter at @JulianCastro or in Instagram, at @JulianCastroT