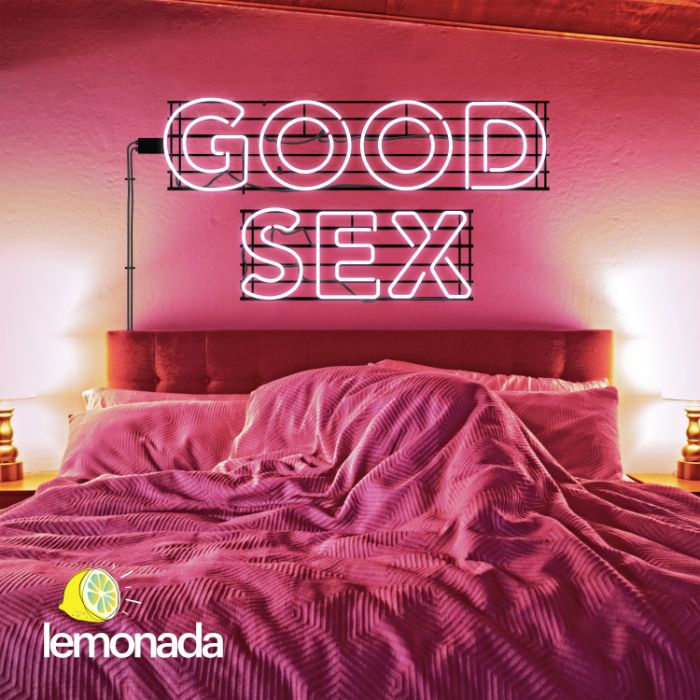 Esme & Jasper: When He Says 'That P*ssy is Mine'
Subscribe to Lemonada Premium for Bonus Content
Description
Esme and Jasper have the best sex when they realize it doesn't have to be perfect. This takes them back to the summer they first met as camp counselors when they uncovered the benefits of leaning into the funny and awkward.
"I think good sex is being whoever your sexual self is, not necessarily who you are." – Esme
As expected, Good Sex contains mature themes and may not be appropriate for all listeners.
Stay up to date with us on Twitter, Facebook, and Instagram at @LemonadaMedia.
Click this link for a list of current sponsors and discount codes for this show and all Lemonada shows go to lemonadamedia.com/sponsors.Joining Lemonada Premium is a great way to support our show and get bonus content. Subscribe today at bit.ly/lemonadapremium.
Transcript
Jasper  00:00
We met at this kind of fancy schmancy adventure camp for mostly affluent teenagers on the East Coast. And I didn't know who my co-leader was going to be. I was going to spend every day of the 6 to 8 weeks. Some person named Esme.
Esme 
This was in like the peak time of when Facebook actually was supposed to be where you actually like find out stuff about someone, Jasper didn't have a Facebook. So I just Googled Jasper and what came up was like one article that he wrote about Nelly.
Jasper 
I had no idea who she was or what she looked like.
Esme 
I remember going to this field and I was sweating so much and I was in this blue synthetic shirt that just only makes your B.O smell bad.
Jasper 
I see her standing under this tree. And she's like a foot shorter than me.
Esme 
I did one of those like, all the way up with your eyes.
Jasper 
She has this big stupid smile. I just immediately feel comfortable. Somehow we got into this conversation about hypothyroidism.
Esme 
I asked you have you worked here before?
Jasper 
I had to skip last year because my thyroid was so messed up. I got so sick. And then you looked at me and you were like,
Esme 
I have hypothyroid.
Jasper 
I'm so hypothyroid
Esme 
I am so hypothyroid Hi, I'm Esme.
Jasper 
I'm Jasper.
Esme 
We've been together for three and a half years. And you're listening to GOOD SEX. We actually started dating two years after we were co-workers.
Jasper 
I was making a big road trip striving through and seen as man two years what I thought was going to be an hour-long lunch turned into five hours.
Esme  02:11
We ended up having some of the most like raw conversations I had had in years.
Jasper 
And we colored pictures at the farmers market with a bunch of kids.
Esme 
We locked eyes on that blanket, surrounded by kids. And I don't even think I knew your eyes were green. But the sun was shining into them. And I was just like, you were like, why can't you make eye contact with me? I was like, oh, I'll kiss you if you get too close and look at me like that.
Jasper
We got breakfast. And then I just had this feeling. And along with this feeling very nervous diarrhea. And I was like, I have to tell this person how important she is to me.
Esme 
It was all very nerve racking. There was definitely real and emotional diarrhea that happened. And you were looking at me like I had really fucked up like something was wrong. You were so scared. And I was like, what's wrong? Did I do something? And you said yes. And then you said..
Jasper 
Esme, I think you're my person.
Esme 
That's totally how you said it. I'm gonna cry
Jasper  
So, Esme, what was it about me that made you want to have sex with me?
Esme 
A lot of things. But what sticks out, you have such sexy arms. So that was like the physical attribute that I remember being like, what if those were wrapped around me and kind of like squeezing me really tight. You do this thing where you like to like flex on accident when you're nervous. And I remember seeing your arms do that. And I was like, whoa, that's hot as fuck. And you were all tan. And like, jolly from like, the summer I feel like it was like summer time. And then, you know, not just physical reasons was I felt like I had your like full attention whenever I was like talking and you'd ask me the deepest questions that I would feel kind of exposed. When we were kind of reacquainting ourselves with each other. You just would ask these very intense questions and I just felt like I was all you were looking at. And I think that was a turn on also, but I was scared to kiss you up first, I think too. I was like, what if I don't know how to do it? I don't know. I think I got really nervous and really shy and I think that is even more why I wanted to fuck you because I knew it was gonna be a big deal
Jasper 
And it was so nice.
Esme 
I had the same question. So what about me made you want to have sex with me?
Jasper
I think initially, like one of the first traits of yours that I felt really drawn to was that you are unfailingly, emotionally intelligent. I think the summer we worked together, I just I noticed how in a space and in like an environment where there are so many like dominant men. Like I loved how you carved a like a space for yourself. And we're just so knowledgeable and like so good at what you did. You have like this aura about you that is kind of sexy. I don't know if I can explain it. It's like maybe you talk about sex a lot. And it's something that's really important to you. And it's like, really interesting. And that makes me curious. Or just like the way that you carry yourself. Also, like your laugh to have the best laugh. It's like a cackle that gets split an iceberg is my favorite thing in the world. So also that summer, I did see your boobs once. Didn't mean to but pretty nice. Alright, next question. When you see me naked, what is the first thing you think?
Esme  06:47
That ass? That is what I think of. It's just like so perfect. It just is shaped so good. The best booty and all of this world and other universes, I'm sure also but I think I do the same like scanning thing because there's so much beautiful surface area to look at that I just kind of scan my eyes everywhere. But the first thing I usually like to see is your butt. So Jasper, when was the last time that we were in public and you couldn't wait to take me home to fuck me.
Jasper 
Probably after that drag show we went to you know the one where the waffles were shaped like penises and then we went and played long games in the park. And I wanted to take you home and smash. I think both of us felt pretty free to be our weird selves. And I think when I know that I'm in my body and I feel okay, just being weird and being whoever I am and when I can see that Esme feels comfortable feeling yourself. Yeah, I think the more that we have levity and laughter and play in our lives, I think that definitely helps us.
Esme  08:20
Yeah, I think that play is absolutely our path to each other that way. They're like very few berries like serious sexual encounters that we've had. So I feel like that's just one of our like greatest ways to connect with each other is to just like try weird stuff and laugh like that one time that you punched yourself in the balls while we were having sex and then kept going that was hilarious. And it is it's so true when we both feel light and silly and playful. It's a lot easier to kind of sink into our like Nadia selves. I feel like.
Jasper 
I can think of like a lot of examples of that. Just like covered in oil. Like how did we get here? Why are we like this? Here we are. So there's that.
Esme 
Mind just for the record is like whenever we go to the bookstore, and I just want to buy your books and then fuck you.
Jasper 
I want that too. What is something you wish that I would do more?
Esme
I wish you would smash me up against stuff more often and surprise me more often, like sneak attack sexuality kind of thing. You know, grad school has been really hard as well as COVID isolation and stuff like that. I think the mundane feels so oppressive these days in a very different way, you know, just feels heavy and feels like something's weighing on us all the time. I wish there was some little nuggets of surprises in the mundane. And I think sometimes if you just came home and didn't even say hi to me, and just like, tore my clothes off, I would be like, yeah, that's so bad. I think I would get less in my head about stuff. If I was kind of more like, whoa, your desire for me is really obvious. Because you just walked in the door and smashed me up against the wall and made out with me like that would be so hot and cool. I wish you sang more. It's so hot. And it's also like kind of what you're saying of when we're both in our bodies, it's easier to be attracted to other one. And I feel like singing is one of those things that like immediately grounds you. It's one of the most tender things me getting to watch you sing feels like this secret little gift. And so I think it could lead to more intimacy for us too. So yeah, the smashing against the wall is how we fuck more, but then I think you seem or it could lead to more intimacy as well, just because I think you get so happy and embodied and it's such a joy to kind of get to witness that.
Jasper  11:22
Love to do that. I would also love to have that done to me.
Esme 
You want me to sing for you and smash you against stuff.
Jasper 
Yeah, I want you to pick me up.
Esme 
Just for the record, I'm 5'4. What would you say is our biggest roadblock to having good sex?
Jasper 
I think probably that we both lead really stressful lives. And we feel like we don't have a lot of time. And then sometimes we don't prioritize it as much. And it feels like every time that we get the opportunity to connect and like be with each other and fuck it out feels like it has to be like the best. And so I think letting in the idea that sex doesn't always have to be magnificent, and transcendent, tantric, but just like that any of that time is as valuable. That's what I would say. I know I have some shifting to do in my head.
Esme  12:35
That was really based on how you feel. But like what do I do that roadblocks it?
Jasper 
I think maybe you feel that same pressure that I do, and has to go a certain way. And maybe also that like, your arousal is different than mine. I think I can get turned on by like touching your foot on accident or something..
Esme 
A gentle breeze.
Jasper 
Yeah, exactly. Like very spontaneously, and your house all is different. And that's okay. And sometimes I just forget about that. Because I'm like, well, I'm ready to go. And you're like, oh, like, I need some contacts. Like you got to flirt with me and create the conditions for this to happen. Yeah, whereas I'm like pretty..
Jasper 
Esme, what is the dirtiest thing that you could think of to say to me?
Esme 
First instinct is like, okay, so also full disclosure, we don't really do that much dirty talk. But it's really fun to think of. If I could give a voice to my most turned on self, what would she say. Maybe she would be like really dominant, which is weird to say out loud. But I think I would like tell you to like shut up. I'll go with like, order you around, maybe. And I think I would be a little mean and kind of bossy.
Jasper  14:09
Works for me.
Esme 
Yeah, like I think I would be like shut up, take your clothes off. Sit there and then I would just mount you. I think it'd be very dominant. That's what I'm gonna say. Okay, same question. What is the dirtiest thing that you could tell me in bed?
Jasper 
Man. Sometimes I want to tell you to just like, sit on my face until I can't breathe anymore. I kind of want you to choke me sometimes. Just a little bit. No sleeper hold or anything.
Esme 
I don't even know how to do that.
Jasper 
But I think those are both me being submissive and then I think I also like to be dominant too.
Esme 
Yeah. What's one of the dirty dominant things you would say?
Jasper 
I mean, something that I love saying is like that pussy is mine. Kind of pretty gentle, shy, generally introverted person. So I'm like, well, Jasper, who is that? It feels like it's not me saying it.
Esme 
Yeah, I think the first few times we were having sex that was so erotic and sexy. Both of us felt like we could become totally different people. And then the other one would still love us afterwards. Because I think that's what good sex is. I think good sex is being whoever your sexual self is not necessarily who you are. You're allowed to like, levitate out of your body but also deeper into your body at the same time to just kind of be whoever you want. And I remember being like, Oh my God, that's so cool that Jasper can also put on this like hypersexual persona that meeting you on the street. It's like I get a little secret. Like no one knows that. You have that inside of you except for me. So [..]. Thank you for listening to GOOD SEX.
CREDITS
GOOD SEX is a Lemonada Media Original. And even though this is the last episode of season 3, we are still looking for more people to come on the show. If you and someone you love, are down to talk about your sex lives in a fun and intimate way. We want to hear from you. So leave us a voicemail at 833-453-6662 Tell us about you and your person. Or you can also email us at goodsex@lemonadamedia.com. This show is produced by Claire Jones and Matthew Simonsson. Our supervising producer is Xorje Olivares, with Jackie Danziger as our story editor. Executive producers are Stephanie Wittels Wachs and Jessica Cordova Kramer. Music is by Dan Molad with additional music from APM music. Sound design is by Matthew Simonsson and Elle Rinaldi. If you like GOOD SEX, the show not, you know? Why don't you rate and review us listen and follow for new episodes each week, wherever you're listening right now. And if you want more GOOD SEX, subscribe to Lemonada Premium only on Apple podcasts.