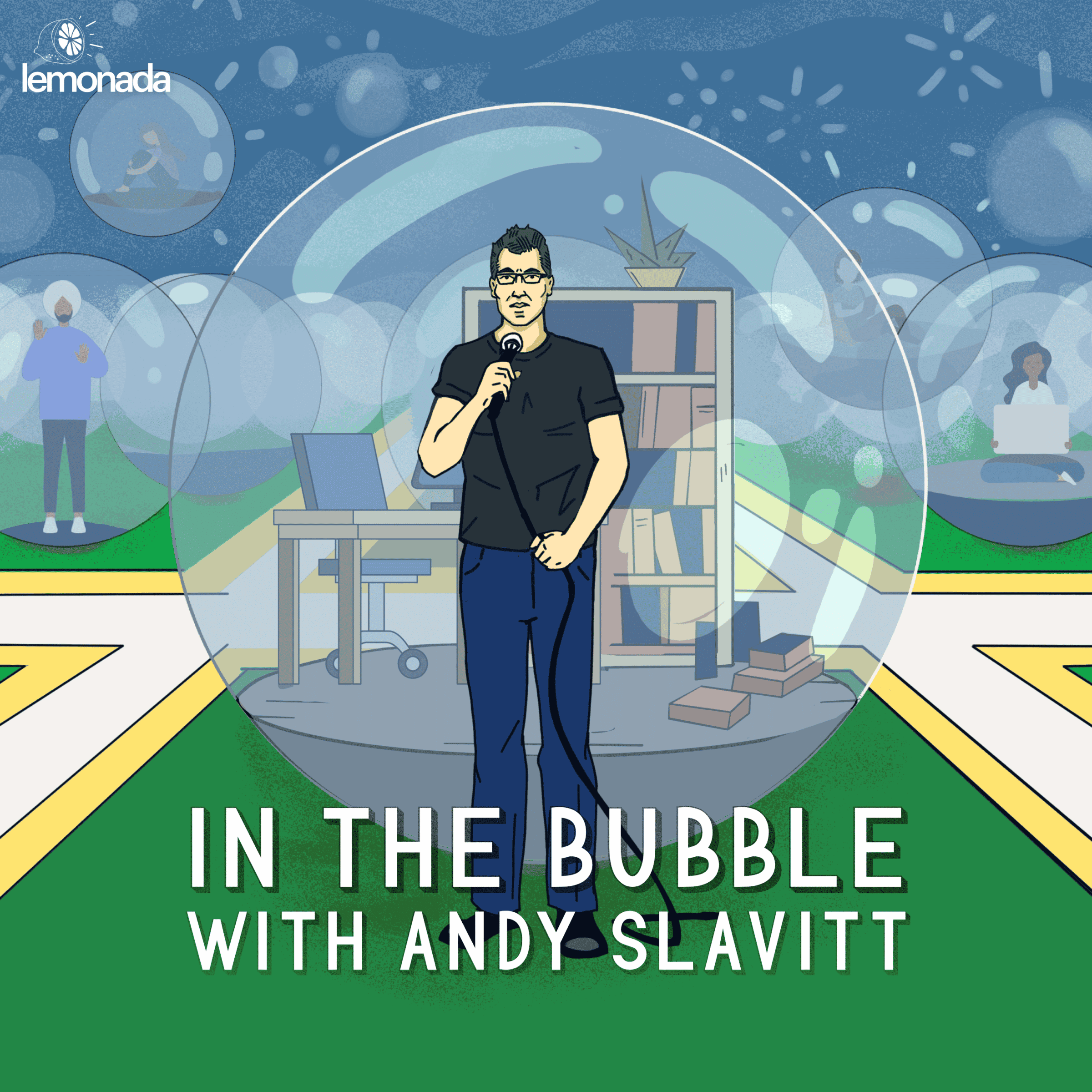 EXCLUSIVE: Pfizer CEO Albert Bourla on the Delta Variant, Boosters and Masks Indoors (Part 1)
Subscribe to Lemonada Premium for Bonus Content
Description
Andy gets answers to listeners' most important questions from Pfizer CEO Albert Bourla in Part 1 of a two-part interview, including how the Pfizer vaccine is holding up against the Delta variant, if we'll need booster shots, the data out of Israel showing waning immunity after six months, if Albert is wearing a mask indoors again, and more. Bourla is back next week to talk about kids under 12, full FDA approval, and vaccinating the globe. Plus, Andy reacts to the new CDC recommendation regarding indoor masking for some vaccinated people.
Keep up with Andy on Twitter @ASlavitt and Instagram @andyslavitt. Check out In the Bubble's Twitter account @inthebubblepod.
Follow Albert Bourla on Twitter @AlbertBourla.
Joining Lemonada Premium is a great way to support our show and get bonus content. Subscribe today at bit.ly/lemonadapremium.
Support the show by checking out our sponsors!
Check out these resources from today's episode: 
Stay up to date with us on Twitter, Facebook, and Instagram at @LemonadaMedia.
For additional resources, information, and a transcript of the episode, visit lemonadamedia.com/show/inthebubble.
Transcript
SPEAKERS
Andy Slavitt, Albert Bourla
Andy Slavitt  00:00
So preparing for this interview, I sent out a tweet and said, Hey, I'm going to be talking to Albert Bourla, from Pfizer. Any questions you think I should ask him? 1268 questions.
Albert Bourla 
Well, we have time,
Andy Slavitt 
Yeah. Fortunately, I was a little bit of overlap.
Andy Slavitt
Welcome to IN THE BUBBLE. I'm your host, Andy Slavitt. By the way, you wouldn't believe how often I have to repeat those lines sometimes because I can't even get them. Right. But I think got it right this time. So glad you joined. today's podcast features the first part of my interview with Pfizer CEO, Albert Bourla. It was a great discussion. And as you heard me say in the clip, we just played, you submitted over 1300 questions for me to ask the CEO of Pfizer, Albert Bourla, in just 24 hours. Now, I didn't ask him all 1300 questions. But I did consolidate them down. And I feel pretty good about the fact that I got to ask him just about everything. And I found him to be very honest, I know people tend to be skeptical of the answers they may get from a corporate CEO, particularly pharmaceutical CEO. And I get that, so you'll have to judge for yourself. But I know Albert, somewhat from the work in the White House, we did, rolling out the vaccines. And I found him to be very much of a straight shooter. And I think you'll hear that he's not always flattering to the vaccine, he often is, in some regards.
Andy Slavitt
But look, I think it's an interview where the person who sees the most data and is most clear eyed about what's going on around the world. answers your questions. And he does it for a long, long time. So much so that we have to turn this into two episodes. So Part one is today. And part two will be on Monday. So before I go further, how are you? I know you can't answer me. But if you're doing great, raise your hand. I see you. If you're just doing pretty well. Okay, go raise your hand. If you're not sure. You can raise your hand. Keep em' up. Come on. Okay, now if you're having a bad day, or even a bad week, go ahead. Raise your hand. And if you're just playing miserable, raise your hand.
Andy Slavitt  02:47
Yeah. Well, look, I hear you. It's a confusing time. It's not the easiest to know what's going on, which ends up and you know, what do you do, you can do the same things we do in all challenging times. You hang around the people you love. You get some facts. You shut out the noise of cable TV, or the internet or anything else that's distracting, you get some fresh air, and you get busy. You just get busy doing stuff. But I really think among everything else, I would say what you don't do is you don't give up on the things that are important in your life and you don't let where we are with the virus put you, and put things on hold. If you've been vaccinated, you get every reason to feel confident. I do think you should wear a mask indoors. But I do think you're very, very safe. I know there's other issues, kids, we're gonna have a whole couple of episodes coming up on that beginning with one next week. But it's a far different picture than it was last year, even the most challenging areas.
Andy Slavitt
And I think there's some data which says that the Delta variants gonna swing through pretty quickly. So, let's hope that is true. You heard Eric Topol, say that in Monday's episode, okay. So only thing I want to talk about before we get to Albert, is this news this week, that we are starting to finally see requirements pop into place for people to get vaccinated, happening in the city of New York, happening in the state of California, happening in the Department of Veterans Affairs, and more to follow. And it's been something that I have been working on slowly and in the background over the last couple of weeks. And I think people are really priming that pump. We're also starting to see; Republican governors do as many Democratic governors have done and set to barnstorm their own states. Be in Alabama, Arkansas, West Virginia, to really pound the table about vaccinations. Good they should be doing that.
Andy Slavitt  04:58
Anybody who took this for granted really missed out. And worse, I think, when Delta wasn't here, when politicians decided to say, hey, let's not raise this issue, they really missed an opportunity to help people, in some even hopping on the bandwagon of misinformation, just shameful. So this idea that people should be required when they go into venues or going to work or go into school, to be vaccinated, what do we think of this? What do we think? Is that fair? Is that fly in our country, is that objectionable on the basis of our rights? Look, I think the reality is people want to be around safe space, you go to the hospital, you want to know your nurse has been vaccinated, go to a baseball game or a soccer match, you want to know that people there have been vaccinated, otherwise, maybe you don't want to go. And if you make that point, we'll make that point pretty clearly vaccinate this place, then maybe you'll start to see people do that. And I think we can get some real momentum and some real energy there.
Andy Slavitt  06:08
Look, if people don't want to take vaccine, I get it. I appreciate that. But if you want to be in a place around other people where you can make them sick, all you have to do is take a test show that you're negative, do it several times a week, and all fair. You don't want to put a vaccine in your body. You don't put a vaccine in your body, but you don't need to go around other people who you could infect when you don't need to be there, stay home, stay home, that's fine. Take a test show that you're negative. That's all it is. That's all it is. Very simple sermon, very simple truths. But I think the country is going to have to start choosing between this sort of slavish devotion to individual liberties into assuming that anything the government does is by definition bad, just because the government does it. And then go choose between that, and some notion of the common good.
Andy Slavitt
That we can do things, not just for us, but that we can do things for one another. Right? It's not why we're here. Isn't that what makes us feel better anyway? Isn't that why we have crappy days, when we just think things aren't really good, no one really cares, no one really is trying to help. Well, that's just not acceptable, it's not acceptable anywhere. It's definitely not acceptable on IN THE BUBBLE, this podcast, if anything, I hope, I hope is some voice, which says that we care, we're going to help, that what you care about matters. And that there's no reason to panic, there's no reason to overreact. There is every reason to think we can get through this. And if someone doesn't want to play nice with others then we can care about them, we can sympathize with them. But frankly, they got to stay out of our space. They just have to stay out of our space. Because public spaces are for people who care about the rest of us.
Andy Slavitt  08:20
Public spaces are for people who are willing to not make other people sick, we have the tool. We have the tool, the tools, the vaccine. And if they don't want to take that tool, they can watch the baseball game, from their couch. That's all there is to it. Because we all have kids, we have elderly people, we have cancer survivors, we have HIV survivors, who are trying to be careful. And we don't need people around them who just don't care. People can make whatever individual choice they want for themselves. That doesn't mean that they have to get in to the airport, train, bus, school, ballgame, or whatever. That's their choice. That's their consequence. That's my sermon. Let's get going with Albert Bourla. I think you're gonna find this conversation absolutely riveting. And part one is today. Part two is Monday.
Andy Slavitt 
Before I introduce Albert, I want to add one more thing. This is actually the next day. And I want to talk about the new CDC guides that came out on masks. Very consistent with what we've been saying on the show that added protection is important particularly in high prevalence areas, even if you're vaccinated. That's what the CDC came out with today. As always, the CDC is going to face its share of criticism, often on both sides in this case, for being too slow by some and by others for flip flopping. My view is neither one of those things will be expected the CDC is then to continuously watch for facts and update things as they move along. And that's exactly what they're doing here. And don't be surprised if guidance continues to change over time. And having said that, let's now go back and get to our exciting interview with Albert.
Andy Slavitt  10:25
So how well are the vaccines working against Delta?
Albert Bourla
I think the vaccines work very well against Delta, at least I'm talking about our vaccine, because I have seen the data, we create a very strong neutralizing titers against the elder, and with the second dose. And the only talents is that the duration of this protection is challenged after six months, that's everything that I have seen from data on out which direct. So the vaccine is very well protecting, the second dose until the first month, then in the six months, we start seeing waning of the efficacy. And that waning still affects infections and mild cases, mostly, less so affects the hospitalization.
Andy Slavitt 
Is that what we're seeing in Israel? The waning is that, that's what the Israeli government has said at least.
Albert Bourla 
Yes, it's very clear the data, they have done a tremendous analysis of this data. And we can see that there is a drop in the protection of infections. And there is a drop in the of course protection against those realizations, but only for people or mainly for people, that they are six months, that they did six months ago, their second dose. And the situation, if you did the Pfizer for free is very, very different.
Andy Slavitt 
Is that true with every age group, or is that true primarily among older people or people with different immunocompromised status?
Albert Bourla 
I believe that data which are still analyzed, will show that if you have a higher risk in terms of not having an immune system that responds well to the protection, of course, you will see earlier when in your immunity, but I don't think that we have seen dramatic changes between ages so far, remains to be seen. The good news, though, is that we already have tested the third dose. And the results are extraordinary, and particularly for Delta, I'm not speaking about generalities now I'm talking about how the third dose would protect against the Delta variant, the new titers we are able to produce or let me put it this way, the neutralization titers against Delta, after the third dose are approximately tenfold higher than after the second.
Albert Bourla  12:54
So if you had a good immunity, just the first month, after your second dose, you are getting titers that are tenfold high. Now, if you take into consideration that we have a significant drop of these titers, 6-months after your second job, the difference that we see with the third dose is almost 100 times. So the timeframe that is rarely, for example, now are looking at the new protection, the protection of the vaccine is going down, which is six months. If you take this as a baseline, what is the neutralizing titers of the blood of those people, 100 times more approximately, you generate with the third dose. This is what gives me so high confidence. But let's not worry about that, what we have to do is to be prepared and see the data, we're going to submit them and then decide how we can best use these vaccines to protect us against COVID.
Andy Slavitt 
Got it. And does that imply that a third dose would last longer than six months if the first two doses started to wane at six months with what you're seeing in the lab imply that the third dose would last longer?
Albert Bourla  14:06
We don't know […] I think theoretically, we should expect, because the starting point of the third dose is way higher than tenfold higher than the starting point of the second. And that likely should be translated into also longer duration of immunity, let's say 12 months, but this is not something that we have tested yet, because we didn't have the time.
Andy Slavitt 
So there's a lot of numbers that float out there. How much stock do you put into the report that came out of Israel that showed 39% against symptomatic infection is that because it's it either can be seen as an outlier against a much higher numbers in the UK. And the earlier numbers in Israel or is that evidence of waning? And that's in fact, what we're observing when we see those numbers or in fact is that number not very credible?
Albert Bourla 
My opinion is that the data from Israel and the data from UK actually they're pointing both in the same direction. If you do the analysis with Israeli data for the first three months, compared to the second three months after the second dose, there is as big difference as between Israel and UK. And the UK data that we have seen so far, they are up to three months duration, so both of them are pointing to the same direction.
Andy Slavitt
So got my vaccination in the White House in February, and now it's July. So that's little four months or so out. So should I expect that in a couple of months, most likely, I'll need a boost? And that in the interim, that I have a slightly elevated risk for a mild symptomatic infection?
Albert Bourla  16:21
Well, I'm not the doctor, and particularly, I'm not your doctor, and I don't have licensing the US, not even as a veterinarian. So I would refrain from giving advice to you. But what I know it is the data that we are submitting, and I believe that the FDA should see them. And first of all, say what they think the claim of this vaccine should be if it is safe and effective. And then CDC should see the data and to base on that, they should give advice for the different groups within the US population.
Andy Slavitt 
Okay, so you're not my doctor, but how about in your case? When did you get vaccinated?
Albert Bourla 
I got my vaccines in March. I waited until the time for the non-essential workers for Pfizer have gone. So I have now, how many months..
Andy Slavitt
Till September?
Albert Bourla 
I think that September, I will make six months. You are right.
Andy Slavitt
Exactly. Exactly. So your anticipation is that possibly we do that. In the interim, do you wear a mask indoors? Do you wear a mask or because you're vaccinated do you feel no need to do that?
Albert Bourla
No, I tried to follow the rules of the authorities where I am, for example, I just came back from Japan. I was there, I had a meeting with their prime minister. But mainly I went to the Olympics in the opening ceremony, I felt it was symbolic that, you know, civilization is winning against the virus, by still having the Olympics. In Japan, they have a rule that everybody should wear masks, I was wearing masks everywhere. Here, the rule is you don't have to worry a mask if you're vaccinated. And so when I am among vaccinated people, and I know them, usually I am careful, but I don't wear a mask. But when I don't know with whom I'm with, I'm more likely to wear a mask.
Andy Slavitt  18:23
Same with me. For what it's worth, we have the same policy.
Albert Bourla 
We are both wise men, Andy, this is what everyone should be doing. This is not about being brave. It's about being smart.
Andy Slavitt 
Right. Just to say to people, if it's raining out, just because you have a great umbrella, doesn't mean you should also wear a raincoat. If you want to stay dry. It's a matter of how much risk you want to take. And you could take the best vaccine, but you could shove yourself into a room with 50 unvaccinated people for a month. And you're just gonna all you're doing is challenging the vaccine to perform when you can continue to take other measures. At least that's how I look at it. If you agree with that.
Albert Bourla 
I agree with you and I look at it the same way.
Andy Slavitt 
So what's the longest amount of data we have? It must be the clinical trial participants, the original clinical trial participants? Are we seeing the same kinds of things with them that we're hearing about from Israel?
Albert Bourla 
Yes, yes, we did. If you and we are publishing those data, scientists, they do know that in the first six months, for example, the efficacy of our vaccine was different in the first two months, then in the second two months, and three months. We started at 97% protection against asymptomatic and then we went to 90 in the two to four months. And then we went to 83 in the four to six months and that was not in the presence of Delta variant that seems to be more able to replicate faster and overwhelm the immune systems also that is pointing the right direction. Also, we did tests about not the real word efficacy, but in terms of immune ability of the plasma to neutralize the virus. And we saw that as we went to the eight months, for example, although we were still ahead of being able to protect for the wild type virus, for the Beta, which was the one that originates of Africa, we were borderline at the max.
Albert Bourla  20:28
But then again, with a booster, we were taking about way, way higher. And this was the reason why when we started our studies, we also created a special vaccine against the Beta variant, we created it, and then we tested it as a third booster, to have the original vaccine. And at the same time, we tested a third booster the same vaccine compared to the original vaccine. And we realized that we don't need the new vaccine. So we basically put it on the south, we are doing the same now with Delta. Everything points out that we will not need a specialized vaccine, that we will have excellent, excellent protection against Delta with a fair dose of the same vaccine. However, just in case, we discovered something a few months down the road that we didn't anticipate already we started working on a delta a vaccine that would be ready by the time we complete the studies. If we don't need it, again, we'll put it on the shelf. But if we need it, we don't have to wait three months to make it.
Andy Slavitt 
That's a really important question. How adaptable is the vaccine and the mRNA platform to other and new forms of mutations, is that a quick process? Is it a challenging process? Are there some types of mutations that you worry that will be difficult for the vaccine to adapt to?
Albert Bourla  22:00
We tried to develop a process that would be less than 100 days, that was a difficult task requires a lot of coordination. But you know, for a team that was able to do a full vaccine in nine months to do a variation in free, look okay to me, and they tasked them to do it, we were able to design the process and execute it and stay on the timelines with a better variant. So that was done in 95 days. And we are shooting this 95 days, again, for the Delta. So far with everything that we have seen, we can stick with this time once to have a new revised version, that it is tested, according to all the standards that have the ACE ask and EMA asking, for testing this type of vaccines now. I wouldn't say it's 100%. Because nothing in biology is 100%, we could see somehow a smart variation and smart mutation that maybe complicates our process. But so far, we haven't and I don't anticipate that is the likely scenario.
Andy Slavitt
Do you think that we're going to have an endless cycle of mutations and continue testing of the vaccines to see if they need to be modified on a kind of a regular basis for the foreseeable future?
Albert Bourla 
I think so. And, at minimum, we are preparing to do that. So we have a surveillance system that tracks every single variant. And once it appears, we try to get our hands around it and then test it. And that will be doing constantly. And I'm saying that I think so because the variant is now pandemic, so many billions of people that results in trillions of replications of the virus, right? And the fact is almost serendipity that the mutations that we'll be able to differentiate themselves and make the virus more efficient, and will always occur. But I'm optimistic that we have tools that will allow us to stay ahead of the curve, as long as we are diligent and we are staying on top of things and this is what we plan to do.
Andy Slavitt
Got it. And the things that make the virus tricky or the mutation tricky, like in Beta is that when it altered something about The spike protein per se, and the way the vaccine works, at least as I understand it, is directly with the protein. Are there other possible delivery and attachment points that might be needed if there are trickier mutations that are dissipated, in other words, that there are other ways for the vaccine to bind into the cells?
Albert Bourla
So far, all the mutations that I have seen are variations of the spike protein, everything is happening there. And so we create a new, basically antigen every time that we are replacing the mRNA into our current vaccine. I don't know if, for example, a new mutation one day will emerge in the body and not in the spike of the virus. But if that will be the case, then we'll try to isolate and create a protein that will bind there. So far, we haven't seen it though.
Andy Slavitt 
We hear about Lambda? What do you hear about Lambda?
Albert Bourla  26:03
Nothing specific. What do you mean?
Andy Slavitt 
I think what I might sense from what I've heard of Lambda, I believe, if I'm not mistaken, somewhere in South America, it emerged, it is doesn't seem to be replicating at the speed of Delta. So maybe it gets out competed. But without any data, there's been some noise that it's been more challenging for whatever vaccines are use locally. And I believe this may be Sinopharm or something. So very sketchy in terms of reports, only something that we hear people talk about watching out for I just was curious if you had any perspective, if you'd seen Lambda in the lab, and had any insight into it.
Albert Bourla 
I haven't seen myself data in the lab against the Lambda, I haven't seen also real-world efficacy data against Lambda, particularly with our vaccine. So I don't know. But I'm certain that we are testing it. And certain that we will know.
Andy Slavitt 
Got it. It's interesting, because it seems like and this may be circumstance versus how it actually works. But Alpha and Delta, which were the variants that are spread most rapidly, have also been, according to the real-world evidence easiest for the vaccines, and the ones that have been trickier for the vaccines, namely Beta, Delta plus, those seem to be well they're trickier. They seem to get out competed. Is it the case that  the variants are going to be, you know, in either more challenging or faster or could you imagine, you see a variant that has both qualities at the same time?
Albert Bourla
I think you can't exclude that. I think, as I said, the variants through the trillions of replications, they're coming to mutations, but they're smarter and smarter trying to survive. But I want to point out that against the Beta. We have outstanding results with the current vaccine. And in fact, in South Africa, with two doses. When we did the study, we had 100% efficacy, it was a smaller sample. So there is a variation, we're varying the level of confidence, but the 100% is 100%. So that was a very strong. And in the lab, as I said, although at the eight months, it seems to be a little bit more tricky than the because the protection was waning faster, for the Beta. It was very strong, all the way to the first six, seven months, the eight month was when it started to get tricky in our case, and then with a booster, we completely overwhelmed the virus. So I don't think that so far, there is any mutation that can escape our protection.
Andy Slavitt  28:49
Great. So it sounds like enhancing the level of titers with a booster that looks exactly like the first two shots people had, which by the way, are already manufactured and being manufactured. seems to work. The obviously the other choices, which you mentioned that Pfizer is pursuing are potentially there would be a need to adapt the vaccine at some point in time, and that's something you could do for a variance. Is it also possible that that becomes a by valent? That you have a vaccine that does both? Or even someday a tri valent that takes on influenza? What are the possibilities there.
Albert Bourla 
I think possibilities are there and we may find as we are making new vaccines we always try to see if we do monovalent against the new strain that is of concern. Or if we can do by valent, where a which contains partly the new strain and partly the old one, the current vaccine, and see if we can have better results. The current one wins in all the cases so far, with a third dose.
Andy Slavitt
So let's talk about some near-term things that are important to people. And obviously a lot of these things are dependent upon the regulatory authorities. But probably the number one question that I got asked was, how close are we to being able to vaccinate children under 12?
Andy Slavitt  30:20
Okay, kind of a cliffhanger. That's for we stop for this episode. We'll pick up with that very question. And Albert's answer on Monday, we cover a wide range of topics in the rest of this interview. Let me play a clip from it here. What do you think about cancer patients, people with HIV others who have compromised immune systems for some reason? Is there a strategy for them? Is there something that you recommend or that Pfizer is working on? That addresses the concerns that those folks have obviously about making sure they feel protected?
Albert Bourla 
In our studies of the 46,000 patients in collaboration, and under the guidance of the FDA, we did have a lot of people that they were either immunocompromised with HIV with other are the diseases, cancer, etc, etc. And we analyzed this, some data and the vaccine was very good even with them, it's likely that the immune responses to those people could wane faster. This is something that scientifically theoretically you should expect. So special care for them should be taken. This is why a lot of authorities in the world already started giving their dose even before approval.
Andy Slavitt
As you can see a lot of talk about what's happening with kids, with the vaccine applications around the globe, and many other things. So I think you're really gonna enjoy that. So that's Monday's episode. On Wednesday, Mike Osterholm, Mike Osterholm. They call him Dr. Doom, but he's not. One of the leading epidemiologists in the country, if not the world, dear friend, exciting conversation. We're gonna be talking about kids in school, and how to make those kinds of decisions before we get into some great episodes if I was gonna read that or toolkits and schools episodes. I want you to have a great rest of the week. We'll take you on Monday when we conclude this interview. Thanks.
CREDITS
Thanks for listening to IN THE BUBBLE. Hope you rate us highly. We're a production of Lemonada Media. Kryssy Pease and Alex McOwen produced the show. Our mix is by Ivan Kuraev. Jessica Cordova Kramer and Stephanie Wittels Wachs still rule our lives and executive produced the show. And our theme was composed by Dan Molad and Oliver Hill, and additional music by Ivan Kuraev. You can find out more about our show on social media at @LemonadaMedia. And you can find me at @ASlavitt on Twitter or at @AndySlavitt on Instagram. If you like what you heard today, most importantly, please tell your friends to come listen and please stay safe, share some joy and we will get through this together.