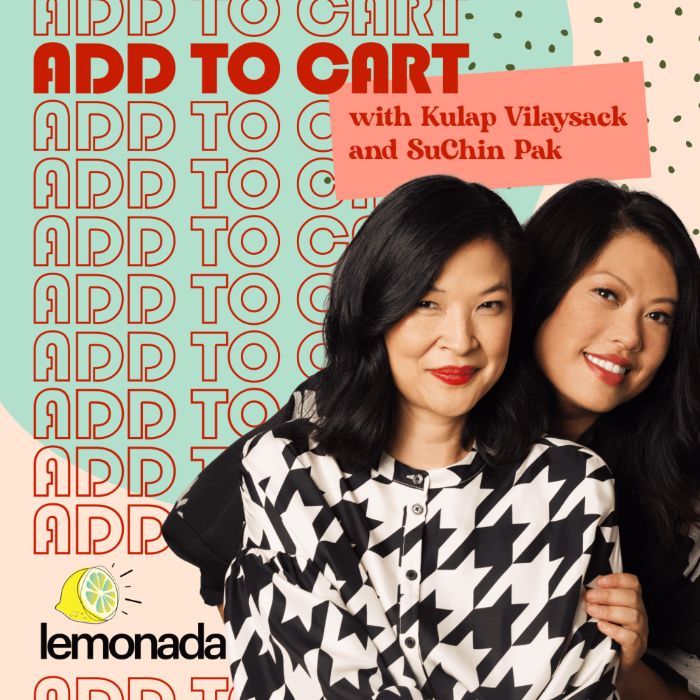 He Said/She Said with Mike Bender
Subscribe to Lemonada Premium for Bonus Content
Description
The moment we've all been waiting for – Mike Bender (a.k.a SuChin's hubby) is here! In a recent article for Men's Health, Mike describes how he and Su built their new house to be safe for Mike's health issues. He shares some of his favorite add to carts that helped make that possible. Plus, we finally get the scoop on life with SuChin and his side of all the Mike Bender stories Su has shared on the pod.
Please note, Add To Cart contains mature themes and may not be appropriate for all listeners.
To see all products mentioned in this episode, head to @addtocartpod on Instagram. To purchase any of the products, see below.
Mike's MensHealth article is called: There's getting sick, and there's what this guy had: a decades-long struggle with a mysterious illness that short- circuited his nervous system and ransacked his body, testing his patience, his marriage, and his resolve. Then he built the house that just might save his life. It will be available online this week.
Find more information about SafeCoat
The website for Andrew Pace
Our voicemail winner, John, will receive the Essential Capsule from Brightland
Stay up to date with us on Twitter, Facebook, and Instagram at @LemonadaMedia.
Joining Lemonada Premium is a great way to support our show and get bonus content. Subscribe today at bit.ly/lemonadapremium.
Click this link for a list of current sponsors and discount codes for this show and all Lemonada shows: lemonadamedia.com/sponsors
Transcript
SPEAKERS
John, Kulap Vilaysack, SuChin Pak, Mike Bender
SuChin Pak  00:10
Hello Add To Carter's and welcome to another episode of ADD TO CART. Now this is a show where we buy things, and we tell you what they say about who we are. I am SuChin Pak.
Kulap Vilaysack
And I am a very excited Kulap Vilaysack because we have the most special of guests, our guest, we speak about him so much. He is the co-founder of awkward family photos. He's a screenwriter of Not Another Teen Movie. He's also a children's book author, he wrote the book about nothing. The end is just the beginning and the upcoming board panda. He is also Susan's husband, please welcome, Mike Bender.
SuChin Pak 
That's it, you got the full intro.
Mike Bender
I love it. I so appreciate it. And I want to just, I want to start by saying that I am normally on the other side of the wall while you guys are recording, I'm usually making myself some sort of a strange meal or in the process of having an anxiety attack. And so I've been hearing everything from the other side of the wall. I have watched your guys rise from the very beginning. And I just want to congratulate everybody who's involved on the show.
SuChin Pak 
Even me?
Mike Bender 
Even you, even you, even you. I just I'm just so impressed that everything and how it's grown and just to hear you guys week after week, so I want to start with something very sincere and then I will proceed to my insincerity. The second thing though, that I just want to just get out there is that you know, SuChin, before we get into anything, she's had one episode to warm up. She is an orator, we know that. Always, always been a good speaker. But I ask the listeners as we as we discuss certain things to take what she says she's gonna, she's gonna make accusations she will say see things like, I don't know I'm a distracted driver at times.
SuChin Pak  02:32
I've never seen anybody drive like that. I've never seen anyone drive like they ride a bike meaning Hey, there's a noise let's look all the way over there. And wait, is that someone coming up behind me on the bike path? Oh, there you are. And he's driving I've never seen anyone drive like that.
Mike Bender
Not true. But I do feel a tremendous amount of pressure when you're in the car. And I do believe that can make somebody make errors. So I attribute them but when she's not in the car, I never have issues so I will let you all be the judge.
Kulap Vilaysack 
I picture Mike Bender Tokyo drifting throughout Santa Barbara when SuChin's not in the car.
Mike Bender 
I do have a Honda so you are not far off. Not far off at all. She'll say things like that I sleep like a corpse, again, not true.
SuChin Pak 
Not true? Then what is true in life?
Mike Bender 
What is true is that SuChin is beside me buried in so many pillows. It looks like she's like trapped you know it's like someone has to rescue her in the morning because she's literally under the weight of so many and so many various types of pillows. Like an weird Tommy Bahama like outdoor pillow that's in our bed.
Kulap Vilaysack  04:00
Wait, that's news. There's a Tommy Bahama outdoor?
Mike Bender 
It's not even Tommy Bahama, Kulap. It's below the standard of Tommy Bahama. But it's that style.
SuChin Pak 
I did add another small pillow to the mix. We don't have to get into why I did that because it's not my episode. And I'll bring that up another time. But yeah.
Kulap Vilaysack 
We'll put a pin in that and why it needs to be of outdoor fabric. I'm not sure why a Sunbrella fabric needs to be in your bed. But yes, we'll move on. We'll move on. You're right.
Mike Bender 
And lastly, she might bring up the fact that every now and then she accuses me of peeing on the toilet seat. When in fact when you oftentimes when you flush the toilet, a little splash will come up. And sometimes you get some residual droplets.
SuChin Pak 
What an excuse. I just want to say, we have three women here on record, do any of the women in this room and I want to be honest believe that excuse for the droplets that it's actually when you flush sometimes the water overflows and on the flushing and then leaves droplets, yellow droplets on the seat.
Mike Bender
Not yellow droplets, that is false and this is what I'm talking about. I ask people to take what she says with not a grain of salt because that's too big, with the fine grain of a baking powder or a baking soda. That is my request as we dive in.
Kulap Vilaysack
I love when we started episode with disclosures. We have things to disclaim, you really set a table and I think that's it's good. It's good, Mike. I think it's really good. And the way we like to start you know, our interviews with gusts, I want to hear what type of shopper are you? How do you consume, sir?
SuChin Pak  06:01
Mike, should I answer that? Oh, no, it's for you. Okay, go ahead.
Mike Bender 
I am. I do like to shop. I kind of spied the same thing over and over again. I think I'm one of those people that will see a blue shirt and go oh my god, that's nice. And then I buy and I'm like, I have 14 of those.
SuChin Pak 
The other day I saw you holding up a puffer jacket that you were wearing.
Mike Bender 
True, might be the only true thing she says but..
Kulap Vilaysack 
This is a real he said she said episode and I'm here for it all.
Mike Bender 
Oh, and you're literally in the middle.
Kulap Vilaysack 
I'm comfortable being in the meat in the sandwich. Now, let's get into some of the Add To Carts that you brought for us and let's start with safe coat paints. Tell us about it.
Mike Bender 
Okay, so well I'm actually I'm going to kind of bundle safe code into another add to cart so I recently just wrote an article for Men's Health magazine about an experience, I won't go too deep into it, but an experience we had over the last year, just doing a renovation, I'm a sensitive man.
SuChin Pak 
Some would say your intuitive.
Mike Bender 
Intuitive, an empath.
SuChin Pak 
Imagine that me, married to an intuitive sensitive man. I'm so sorry, Mike. I'm just gonna say that right off the bat.
Mike Bender 
It's true. It's like a rock next to a flower.
Kulap Vilaysack 
But, Mike, before we continue, I want to say the title of your Men's Health article that you wrote. And it's called there's getting sick. And there's what this guy had a decades long struggle with a mysterious illness that short circuited his nervous system, and ransacked his body testing his patience, his marriage and his resolve, then he built the house that just might save his life.
SuChin Pak  08:07
Wow, I didn't, you know what, I didn't even know that was the title, what a title.
Mike Bender 
The was written by my good friend, Ryan […] who edited the article and a friend from college, and he really, I have to say, allowed me to write this article, because I called him in the midst of the craziness. And I said, hey, I have this idea. And you know, would you ever think about this being an article and he would, he went for it. And I so appreciate that giving me this opportunity to do it. I have had a kind of a journey over the past year, just some health stuff. And I learned a lot about doing this renovation and I really wanted to do a renovation that was non-toxic, but also create a home where you could heal. And where anybody could heal, doesn't matter what you have going on in your life.
SuChin Pak 
Now, before you get into the person that you're going to add to cart. It's a fascinating read for anybody. And it's certainly a fascinating read, even for the people that have been in our lives, you know, because I think that when you're going through something as time consuming, as all-encompassing as what we've been going through for the past 10 years or so, that's not want to talk about when you finally get together with friends, you don't sit and you're like, oh, I haven't seen you in a while. Let me tell you about this mold renovation, you know, disaster that's going on, you know, you sort of talk about other things going on in your life. So I think it was also really great for people that have been in our lives to read in black and white, and it's so clearly laid out and so beautifully written about kind of what's been going on and why this house that we're in and I've talked about it on the show about moving into this home, the renovation and what went into and what was at stake, you know, for us moving into this home, I mean, the stakes could not be higher. Like, this isn't like, hey, you know, should we try blue wallpaper or a different kind of trim. This was, are we going to be able to live in a home any home? And then what happens if that doesn't work out? So I just wanted to set that up. Because I think that I don't want people to think that this isn't about a renovation, this is about creating a home that you could heal in, but that for all of us as a family that we could actually live in, because we haven't lived in a home that's been healthy for our family. Ever? I mean, maybe, our first home together.
SuChin Pak 
Hard to say, right? I mean, in reading it is Mike, it's really well written, you told me a fraction of it, but to see it all laid out. Now I fully understand. And again, Mike, we're gonna let you get into your add to carts just really quickly want to say that I love the photos. And you both are very attractive. I have screengrab that shot of the both of you. And it is, you know, the background of my laptop. But go ahead, Mike. Mike, what is your Add to Cart?
Mike Bender 
Yes, by the way, just an off that, if there was one thing I wanted to come out of that article, it was very attractive photos. And I let them know that I said, putting aside the life story, I need to know that we're gonna look really good in this thing. So thank you Kulap, for that because you validated something I was concerned about. I am going to add to cart I don't know if anyone's ever added to cart a person, has anyone actually put a person a human into the cart?
Kulap Vilaysack 
I don't know if they have.
Mike Bender 
The person I'm adding to cart, I'd say is kind of the guy that was most central to allowing me to go through this process because I didn't know what the hell I was doing. And so I found, I knew I was gonna have to sort of put together like a team and it felt very Ocean's 11. As mentioned in the article, very A team. I was like, I need to do that classic montage and every movie where you assemble that team, that ragtag team of guys and women who can do different skills, and so the first person that I found, because I knew material wise, I couldn't do all the research fast enough to put this together. So I found this guy's name is Andy pace from the green design center. I think he's a one of a kind. I call him the Oracle, because you can ask him any question. And he has an answer. He happens to also be the sweetest, nicest man. What he does is he works with people from all over the world who have any sort of sensitivities, health problems, whatever it might be. And he will help you through any home project, whatever it is renovation, anything you're doing. If you're moved into an apartment, and you're having issues you want to figure out, what can I do to make this apartment a healthier living situation.
Mike Bender 
This guy knows everything about healthy building. And he was the first one to point out to me that what is eco-friendly, what is green isn't necessarily healthy. And I don't think most people realize that I certainly didn't. But that was a huge revelation for me. I hired him on so you can hire him for like, a 15–30-minute call to consult. So let's just say like you're painting your baby's room, and you want Andy's help, He will guide you through that and say, hey, here's the paint to use. It's called Safe Code. Safe Code is this really cool product invented by a former chemist from a paint company who got cancer, and said, I'm going to create a paint that isn't going to make people sick, and Safe Code has been around. I didn't know about it. Most people don't. It's the first thing I tell people that I know and love our friends. If you're going to paint us this paint, you can match to any color, any color that you love, or Benjamin Moore color, whatever it might be. And that paint will not smell, it will not off gas. It has no formaldehyde. It has no ammonia. It is truly a wonderful, wonderful product. And it's something that we all paint, we all have paint in our house. So it's everywhere in every room. And it's an easy one to just knock off the list and know that you're doing something really good for yourself by using any of the Safe Code products.
SuChin Pak  14:45
And you can call him, you just schedule it online 15 to 30 minutes. I mean, what does that cost?
Mike Bender 
it's, I mean, I don't want to tell any but I mean, it's very reasonable. It was like I think it was like 30 bucks or 50 dollars, something like that.
SuChin Pak 
And the paint isn't that much more expensive than you would get, you know, if it was a Benjamin Moore paint or something like that. What I'm saying is that like, what Mike, you know what he's adding to cart with this person who is such an expert, the kind of expert that is one of a kind. This is not a solution only for people who have a lot of money, and resources. These are solutions that anyone wanting and curious about creating a home that is healthy for you and your family. These are simple things that you can do.
Mike Bender 
That is right. And this guy. I asked him at one point because a lot of people don't like to work with sensitive people. It's very difficult to do. A lot of these people are in fight or flight all the time. And so they can be difficult. I asked him how, why? How do you do it because a lot of people burn out, doctors who have to deal with people like that burnout. And he said that he does it because he knows in his heart that he can help them. And he's just like, he's a special guy. So I had to put them in the cart. I hope he's not offended by the fact that I'm putting him in a cart.
SuChin Pak  16:19
We'll put a little fuzzy blanket around, he's so comfy.
Kulap Vilaysack 
Now Mike, I noticed that I have a note here that their Add to carts, remove from carts that you didn't want us to know ahead of time. What do you got for us?
Mike Bender 
Let's go to my removal from cart. This is something that, you know, SuChin does. I want to just preface this by saying that..
SuChin Pak 
Wait, wait, hold on.
Mike Bender 
Hold on. But I want to preface it by saying that while it's a removal, and I'd like to remove it from the cart, I also enjoy it at times being in the cart so that I can feel like I want to remove it. Does that make sense? So my removal from cart is that SuChin has a very specific talent for giving pet names to activities. Okay, I don't know what you would call that. But it's like pet names for activities. So she like will tell everyone that she's going to have a snacky snack. Or that she needs to close her peepers. Or that she's going for a walkersons. I don't know. They're always..
Kulap Vilaysack 
Wait, what? You see I'm going; I have to go for a walkersons.
SuChin Pak 
I make it fun.
Kulap Vilaysack 
Well, I didn't […] for someone so whimsical.
SuChin Pak  18:03
Really? I bought a glass picture with a glass fish floating in the bottom of the […]
Kulap Vilaysack 
Is that an indication? Okay. Okay, please, Mike, continue.
Mike Bender 
So for me, it's like, you know, at times, it's like, it's close to like someone having a baby voice. And so I will say to her like, I know you're going to close your peepers for 15 minutes. I got it. Is there any way we can come up with a signal? A verbal cue? A smoke signal? Something that allows me to get the same information without you saying you're going to close your peepers. And we're still working through this.
SuChin Pak 
And by the way, I don't say any of this in a baby voice. I'm not a baby voice person. I do like to drop a little fun. You know, an unexpected moment of fun. You know, wherever I can.
SuChin Pak 
What do you think, Kulap?
Kulap Vilaysack  
In case you lose her, you just have to follow that little bit of fun, back to wherever she's at, little crumbs of fun. Because I do things where like I say things to be annoying to Scott and then I just say them like it'll start out. That's where, you know, a decade ago I started saying bro ironically and now here we are. It's in my vernacular, it's that's what it is. I say bro, I say dude, you know, and, you know, it started as one thing and then it became who I am. I don't know. This is all very new to me, Mike. I have to kind of process this. Not sure.
SuChin Pak
The thing about it is, is that I do 50% of what I do, I do to annoy Mike, right off the bat. I think about something and I say, Can I do this in a way that will also annoy Mike and I generally choose that path, you know, whether it's loading a dishwasher, loading a dishwasher, filing my taxes, whatever it is, I think there's many paths, many choices one could take. And I always tried to find the one that…
Mike Bender  20:26
Let's talk about the sink.
SuChin Pak 
In terms of, and I want to hear about the sink. I'm so interested in the sink. But in terms of the adding fun to the phrases, I mean, I do that. I say snacky snack to the kids, I say snacky snack to myself.
Mike Bender 
They've also asked her to stop.
Kulap Vilaysack 
Wow, that's some tough feedback.
SuChin Pak 
The first thing that I will be asking them when they come home from school. I shall let you know if that's true.
Mike Bender 
I know Kulap you're gonna you're gonna feel me on this one. When I go to the sink, especially sometimes in the morning, sometimes during the day. It's like a diarrhea explosion has happened in the sink, there's splatters everywhere. I don't even know how she I mean, it's almost artistic what happens in the sink? It's like a Jackson Pollock. There's so many things that have been hardened to the side of it, you know, like, petrified? And so I just, I don't, I never understand why the things don't go down the drain.
Kulap Vilaysack
Su, do you have an idea of that? Of the why?
SuChin Pak  22:03
I mean, I you know, I'm not, I've never claimed to be a scientist. And I'm not one. So I can't tell you about the physics of splatter. I only do what I do, which is I wash my stuff. And then I put it I put it in the dishwasher like you've asked me to do. I don't like a rinse. You won't catch me rinsing.
Mike Bender 
She's a very quick, quick rinser. If you've ever seen anyone rinse this fast. It's like she'll kind of just shake it under the sink quickly. And that's the rinse and I see oftentimes I'm like And I don't comment on it. But I see that very little has come off of that spoon and then but for her it could then it goes on the drying rack she is put on the drank, she just sprinkle in a little bit of water. So it's technically wet. But now it's on the drying rack and now it's drying and it's crusting and so these are the things that I have to just bite my tongue.
SuChin Pak 
Kulap is violently shaking her head, violently, your wig's gonna come off, Kulap.
Kulap Vilaysack 
All right, you don't like to rinse, let's start back. Let's go back to just the state of the sink. Then can we take a sponge and wipe?
SuChin Pak 
We can.
Mike Bender 
no doesn't use a sponge, Kulap, but I have a huge one for you now doesn't use a sponge only uses the little bristle brush and the bristle brush. She scrapes it something that's concave so it doesn't even get in everything. And it doesn't remove everything. Listen, I understand there's a place for that personal brush but that is not an end all solution.
Kulap Vilaysack  24:01
Su, you're not bristling you're our place pans, right?
SuChin Pak 
No.
Mike Bender 
But you should see the condition of those. Oh my god.
Kulap Vilaysack 
What's wrong? What's happening? What has been done?
Mike Bender 
These things have been thrashed. Well take a look at our air fryer, the things become so thrash because what happens is, she won't clean it after the use and she'll kind of use it seven or eight times. And so it builds such a buildup of old oils and old beats. There's so many needs in this house.
SuChin Pak 
I thinked you meant season?
Kulap Vilaysack 
This is not a cast iron pan. These are things, oh wow, I am. I don't have eyebrow hairs anymore. It's not the wig anymore. It's all of my facial hair.
Mike Bender 
I mean, I get it you're buying a piece of antique furniture, you look for a patina, I get that. But when you something you cook and eat off of, if that patina is a four-week-old […]/
Kulap Vilaysack 
A nubbin of pork, Su?
SuChin Pak 
I would say a season of pork.
Kulap Vilaysack 
This is inaccurate. You shan't drag us down. Nope, nope, nope, nope. I have relatives in Laos that don't do what you're up to. In Laos, they do not have running water. They don't do what you're talking about.
Mike Bender 
They don't even have water.
Kulap Vilaysack 
The US bombed them 40 years into the past. They do better than SuChin Pak. You heard it right here. You heard it right here.
SuChin Pak  26:05
The thing is, number one, wildfires. Wildfires. Okay. You start rinsing out the sink, you deplete the environment of water, everything dries up. And then there's a wildfire and I cannot go to sleep with that on my head, you know, and I do what I can to keep Mother Earth moist. And if that means that my rinses are quick, if that means the sink is splattered, listen, the sink is splattered, right? I eat you know, a fried egg. I'm washing it. It splatters in the sink. I am not going to take that moment in time to wash down the sink because I'm going to eat again. And that's going to splatter. And so I feel like I will clean these things at the end or at a point, when you know when I want to rather than as the day progresses. Does that make sense?  Both of you look very confused.
Kulap Vilaysack 
I simply hate it. I truly hate it.
Mike Bender 
I don't even know if that was English what I just heard.
Kulap Vilaysack 
Mike is saying is you don't ever want to clean it.
SuChin Pak 
Well, he cleans it. I have never seen a human being spend more man hours at a sink than this man here. He is rinsing and washing and clearing dishes. I would say 60% of his waking hours is at a sink. It's an incredibly noble yet an incredible waste of time. I believe. I believe that you are smarter than that you are creative. There are children books that need to be written There are jokes that need to be had. And yet here you are at the sink, washing the sink.
Kulap Vilaysack  28:23
I mean it begs the question for both of you, you know chicken before the egg or maybe a reframing is that it's amazing that in this crazy wild world the two of you found each other, the two opposites that have found, you know, your balance.
SuChin Pak 
That drives me nuts, I don't know why you do that. Open window and not closing the screen. I don't understand. We bought screens, very expensive screens. Nobody uses the screens but me.
Kulap Vilaysack 
This is truly just like a Sunday, like an ice cream sundae one episode Mike Bender, where can we find you on the internet's, the interwebs?
Mike Bender 
Well, you can find me in a number of places. But mainly you can find me at @iammikebender on Instagram. Of course you can come check out at awkward family photos see what we're doing over there.
SuChin Pak 
The article is out now, that's in men's health.
Mike Bender 
And I have another children's book which be coming out in about seven years it's called Bored Panda. And if you have children they won't be when it comes out.
Kulap Vilaysack 
Mike, you know, come back. I want you to come back. I already miss you before I say fully say goodbye to you.
Mike Bender 
First of all I bonded with you before, but I feel so much closer to you now after this episode.
SuChin Pak  30:02
Sure feels like it was a sneak attack. Could have seen that coming but didn't.
Mike Bender
I've just had a great time here today. I just want to say that. So thank you Kulap for everything you said and done, and I just appreciate it
Kulap Vilaysack 
Before we leave, we'd like to announce the winner of this month's giveaway. Congrats to John, let's hear the voicemail.
John 
Hey SuChin and Kulap. This is John trying to get more massages recently. That's something that I never really wanted to treat myself before. And it's been a huge help with my stress, and body aches and stuff like that. So, hope this is some good advice for your listeners. Stay safe. Happy New Year.
Kulap Vilaysack 
John, I'm with you as a Taurus. I like I've said it before, and I'll say it again, all hands-on deck, you know what I mean?
SuChin Pak 
Oiled up, powdered bottom, ready to go.
Kulap Vilaysack 
That's right. You know, some heated stones.
SuChin Pak 
I mean, but you know, during this time where massages maybe weren't, you know, practical or recommended. We have been adding to cart all sorts of things trying to make up for massages, you know, the Lanshin Hearthstone, the Tomarion heating pad, so many things. So it's kind of nice as things are starting to open up to get back into taking care of ourselves like, oh, like, I feel like so many of us have learned that during this time that like how important it is to take care of ourselves. Like, it's not a frivolous thing. It's not something to be taken lightly. So we love it. John, thank you so much. We'll be sending you the […], which includes two California olive oils, as well as their finely crafted delicious, double fermented vinegars, man, I want that prize. But anyway, that's to you, John.
Kulap Vilaysack  32:17
That's it for this set. Thanks for listening. If you like the show, leave us a review so more people can find it.
SuChin Pak 
And if you want free stuff like us leave a voicemail 833-453-6662. We are going to be doing a voicemail giveaway once a month.
Kulap Vilaysack
We're going to try to, let's not be making promises we may not be able to keep. Find everything on @AddToCartPod.
SuChin Pak
We'll see you next week. I mean, I'll be here. scrubbing away. Scrub scrubbing.
CREDITS
ADD TO CART is a production of Lemonada Media. Our producer is Claire Jones and our mix is by Ivan Kuraev and Veronica Rodriguez. The music is by Wasahhbii and produced by La Made It and Oh So Familiar with additional music by APM music. Executive producers are Kulap Vilaysack, SuChin Pak, Jessica Cordova Kramer and Stephanie Wittels Wachs. Be sure to check out all the items we mentioned today on our Instagram at @AddToCartPod. Also, please take a moment to rate, review, and subscribe +to the show wherever you get your podcast.