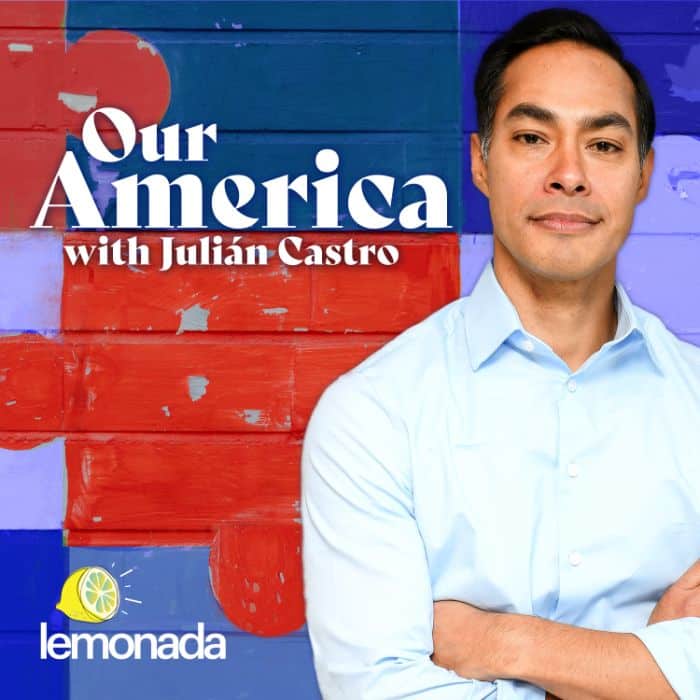 How We Reach the Working Class (with Bernie Sanders)
Subscribe to Lemonada Premium for Bonus Content
Description
From his humble beginnings as Mayor of Burlington, Vermont to his seat in the Senate, Demoractic Socialist Bernie Sanders has consistently backed the working class, universal health care and taxing the wealthiest Americans. The Vermont Senator joins us this week to talk about the future of Trumpism, priorities for the new administration, and what this upcoming shift in power could mean for transformative, inclusive change.
Our team is taking a break for the next few weeks, but not to worry – we'll have new episodes ready for you come January. In the meantime, stay safe and happy holidays!
Keep up with Julián on twitter @JulianCastro and Instagram @JulianCastroTX. 
Resources from this episode:
Follow Sen. Sanders' updates on Twitter.
Learn more about your local Democratic Socialists chapter here.
Support the show by checking out our sponsors
You can digitally purchase life insurance from Haven Life Insurance Agency at havenlife.com/ouramerica. Haven Term is a Term Life Insurance Policy (ICC17DTC) issued by Massachusetts Mutual Life Insurance Company (MassMutual), Springfield, MA 01111 and offered exclusively through Haven Life Insurance Agency, LLC. Policy and rider form numbers and features may vary by state and not be available in all states. Our Agency license number in California is 0K71922 and in Arkansas, 100139527.
The Marguerite Casey Foundation, creating greater freedom for changemakers to create a truly representative economy. Learn more at caseygrants.org, and connect with the Foundation on Twitter and Facebook.
To follow along with a transcript and/or take notes for friends and family, go to http://lemonadamedia.com/show/our-america shortly after the air date.
Stay up to date with us on Twitter, Facebook, and Instagram at @LemonadaMedia.
Transcription
SPEAKERS
Sen. Bernie Sanders, Julian Castro, Speaker 3
Julian Castro  00:02
One of my many counterparts in the 2020 presidential primary was a Democratic socialist from Vermont who you may be familiar with, Senator Bernie Sanders. After sharing the campaign trail for nearly a year, one thing became increasingly clear. Bernie had a consistent message. He has been fighting for social and economic justice since his days as a college activist, of fight that he sustained in his current role in the Senate. But the campaign trail far behind this and Joe Biden said to become the 46th president in just a few weeks, Senator Sanders and I sat down to talk about the challenges facing our country in 2021 and beyond. And what looking a little deeper into the election results can tell us about what needs to be done.
Sen. Bernie Sanders
Now, the very good news is that Joe Biden got 80 million votes. That was 11 million more votes than Hillary Clinton received, that's extraordinary. Bad news is that after four years of Donald Trump, Trump received 72 million, 8 million more votes than he got last time.
Julian Castro 
Yeah.
Sen. Bernie Sanders
I think that's an issue we have got to think long and hard about.
Julian Castro
This is OUR AMERICA, I'm your host, Julian Castro.
Sen. Bernie Sanders 
I grew up in a you know, lower income home I lived in New York City was called Rent Control. And that was program by which working class lower income families couldn't pay more than a certain percentage of their income. And that was a godsend to us because we didn't have much money. But the role that money played in my family or lack of money plays the kind of tension, that it created between my parents the arguments that would be taking place, can we do this? Can we afford to do this? My mother wanted to do something my father and want to do it, you know, money, money, money, you know, and I understood, we were not the only family in that position. So what does it mean, to be a family in America of which there are 10s, and millions, who today are struggling to put food on the table to pay their rent? So that I learned, and that's a lesson that I never forgot.
02:33
And the second lesson that I learned is, I'm Jewish. And as a little boy, having been born in 1941, I can remember, you know, learning about the Holocaust. And knowing my father's family was wiped out by Hitler, and to ask, how could that be? How could that be? How could people do such horrible things to other human beings? So I learned at a very young age before, you know, emotionally before I did intellectually, what so called white nationalism was about. A group of people who thought they were superior to other people. And that leads you to the horrendous conclusion that Nazi-ism led to 50 million people dead. So you know, those were the two, I think, pervasive influences in my political life.
Julian Castro
And you became active when you were a student at the University of Chicago. Why did you decide to go into politics in the first place? You know, like, what was the leap that you made to actually jump in and run for office?
Sen. Bernie Sanders
Well, my electoral life is very different than I think anybody else in the United States Senate. I mean, I got involved in the civil rights movement when I was a student at the University of Chicago, when in this great bastion of liberal thought one of the great universities in America, well, guess what? Back in the 60s, University of Chicago owned segregated housing. How's that? And what we did is we sent a white couple out to the University Housing system, Marin said, you know, we'd like to look to for an apartment. And the guy, they thought, well, we got three or four apartments here that might serve your needs. And then an hour later, we sent the black couple out. Oh, we're sorry. There's just nothing available.
04:27
You know, so they were running a segregated housing system. And we dealt with that with some success, I think. But when I came to Vermont in the early 70s, I got involved in a third party called the Liberty Union Party, which was dealing with economic issues and the war in Vietnam at that point, opposition to the war and dealing with the problems of working-class families. And I ran for office four times on a third party, and only on the first time I ran,  I got 2% of the vote.
Julian Castro
Which is not uncommon, not uncommon for a third party, right?
Sen. Bernie Sanders
Exactly. And I ran the second time I ran for senate the first time I ran for governor. The second time I got 1% of the vote, heading the wrong direction. And I ran a few more times, then I kind of stopped and then, you know, seven years after that, I got talked into running for mayor and I won by 10 votes. That's my political history.
Julian Castro
Third party politics are something I'm personally familiar with. When my mother saw a gap in policies that address the concerns of Mexican Americans in Texas in the 70s. She joined and eventually played a leadership role in a third party called La Raza Unida, she was pushing the establishment to become more progressive, not unlike Senator Sanders has done. Bernie's humble beginnings as mayor of Burlington, Vermont served as a launchpad for a political career in Congress, and eventually, the Senate. Over the years, he's been a vocal proponent of universal health care and increased taxes on the wealthiest Americans. And he's gathered a groundswell of progressive momentum by spotlighting issues of income inequality.
06:15
If you ask somebody 10 years ago, whether Bernie Sanders in the year 2020 would have become the phenomenon that you became politically, people would have probably said, "What are you talking about?" You know, like, no, that's not gonna happen, that couldn't happen. Can you talk to me about initially deciding to run for president in 2015? What did you see that convinced you that was the time to do it?
Bernie Sanders
So what do we have three or four hours to discuss this?
Julian Castro 
Yeah (laughs)
Sen. Bernie Sanders 
You know, I have always felt , Julian, ongoing way, way, way back. That where people were at where ordinary people working people were at, was in a different place than where their political leaders were. That goes way back to when I know, I'm talking to a fellow Mayor here, right?
Julian Castro 
It's right.
Sen. Bernie Sanders
And back in 2015, when Hillary Clinton had been anointed as the Democratic candidate by the establishment, everybody else, it occurred to me that, you know, maybe it would be a good idea to have a voice out there. That spoke to where the working families of this country were at the pain that they were experiencing, spoke to the young people, spoke to the African American community, the Latino community, raised issues that were not coming from the political establishment. And I thought it was just be an important idea, for there to be a progressive voice out there raising those issues, and bringing people together. And it turned out that the campaign had a lot more resonance, and ended up with a lot more support in 2016.
08:21
And in 2020, then, people, the establishment people, the media, thought possible. And the truth is what I believe then and what I believe now is that there's a lot of pain out there. People want real change in this country. And it turns out that when you start talking truth to power, people start nodding their heads, that's about it. I'm sure you've had that same experience.
Julian Castro
Yeah, no, absolutely. And I mean, I think that you did a fantastic job in both of your runs in 2016, and 2020. And speaking very plainly and speaking truth to power, and then connecting that with the concerns that exist in the everyday lives of people around the country. And the thing that I would hear about you from regular voters was, "Hey, he's been consistent. We know what he believes." And all of us as candidates, right, you're looking at the other candidates. I mean, not only did I listen to what you were saying in 2020-2016, but we went back and looked at what you said, in 1995 and 1985. And you have been consistent on these issues, you know, and made me feel like the country has been ripening to your message because inequality has been growing bigger and bigger and the pain that you talked about, the way people are feeling it, even folks who used to consider themselves solidly middle class, they feel it more now
Sen. Bernie Sanders
Julian, I think what I'm proud of, is simply raising issues that people you know, with thinking about a little bit but nobody out there on the national stage was talking about it all that much. I mean, you got 50 people in America today. Well, more wealth than the bottom half of American society. All right, folks, do you think that's right? People don't think it's right. We pay 10 times more for certain prescription drugs, that people in Mexico, Canada or Europe pay. Hey, raise your hand, if you think that makes a lot of sense. And then you got to connect the dots. Why is that? What about the power of the healthcare industry? And the drug companies on the Democratic and Republican rule? Why do they have so much power? How come we are the only major country on Earth not to guarantee health care to all people?
10:43
Gee, that's a pretty simple question. And yet, we're spending twice as much per capita on health care. And when you raise that issue, people start thinking about well, why is that? What does this have to do with a corrupt political system? What does it have to do with the enormous power of lobbyists from the healthcare industry? And that takes you to Super PACS, right? And it takes you to the power of the billionaire class. Look, we just came through an election. You got I imagine hundreds of billionaires contributing. God knows how much money on both sides of the earth. How many people out there think that makes sense. All right, there are people in Texas that correct me if I'm wrong, Julian, making nine bucks an hour right now. Is that right?
Julian Castro 
Sure.
Sen. Bernie Sanders 
How do you live on nine bucks an hour?
Julian Castro
Yeah, you can't.
Sen. Bernie Sanders
Okay. And there are millions of people. So when you said I said five years ago, raise that minimum wage to $15. "Oh, Bernie that's such a radical idea." Well, that's not were working people making nine bucks an hour what they thought was a pretty good idea. And now it's kind of main stream. You got a half a million people who are homeless. My God. I was out in California during the campaign, you were out to California, Los Angeles, San Francisco, Seattle. Unbelievable. Unbelievable. richest country on Earth got veterans, half a million people sleeping out on the streets, half the people living paycheck to paycheck in the richest country on Earth. All right.
Sen. Bernie Sanders  12:10
So I start off with that proposition. And you're right, that's kind of the proposition I've started off with a long, long time ago. Those are the problems that we could argue about how we address them. All right, but at least acknowledge the reality and at least acknowledge the incredible power that the 1% in large corporations have over the economic and political life of America.
Julian Castro
For Senator Sanders, the issues are clear, man, even though he's not headed to the Oval office in January, he has some ideas about what should be at the top of the next commander in chief to do list.
Julian Castro 
What do you think that Joe Biden needs to do right away when he takes office for the country?
Sen. Bernie Sanders 
I think what the people are wanting now is a president who says, You know what, look, I am there on your side, I understand the power of the wealthy, and the large corporations, I understand that you are in pain. And together in a very bold way, we're going to start addressing these issues in a bold, bold way, above and beyond dealing with COVID, which obviously, is an enormous issue. dealing with climate change, dealing with immigration reform, dealing with systemic racism, dealing with the economy. I hope, and I'm not sure that this is going to be the case. But I would hope that the Biden people, and Joe himself understands that we cannot go back to doing politics in the same old, same old way.
And if it means having to take on powerful special interests, well, you know what, we're going to take on powerful special interest, because the times cry out for us to do this. And let me just say this holding Julian, and you can tell me if you think I'm crazy on this one. But I want everyone to think about how after four years, people knew who Donald Trump was, right?
Julian Castro  14:14
Exactly, yeah.
Sen. Bernie Sanders
8 million people more voted for him, than in 2016. And he did very well in working class areas, white working-class areas, all over this country. And in many areas, he did even better than he did in 2016. This is what I worry about. Because the next time somebody runs on a Trump like program, he won't be crazy like Trump is. Undisciplined like Trump is. You'll have somebody smarter and more disciplined, and we could end up with authoritarianism. Now, I throw that out. Am I crazy?
Julian Castro 
I mean, I think you're right, look, it's frightening. You know, it really is frightening. I mean, I think we have to understand well, why and then how do you address the concerns? Legitimate concerns, right? There's some people that are voting for reasons that you never gonna get to them. But there are people that are voting for some legitimate concerns that they have. And I think, you know, many people have pointed this out that a lot of what you were putting out there was resonating with people on a different level, on economic policy, on the kinds of investments they think would help their everyday lives. And so, I mean, if you could dream up this scenario for the first 100 days or first year of the Biden-Harris administration, what would your top priorities be?
Sen. Bernie Sanders 
I'm going to answer that Julian but I'm gonna throw it back to you. You don't mind me interviewing you, right?
Julian Castro
No, no, no, go ahead.
Sen. Bernie Sanders
Because I respect your opinion on this one.
Julian Castro 
Coming up, Bernie flips the script and asked me some tough questions about how to reach those Trump voters.
Sen. Bernie Sanders  16:06
I got a woman in my office who grew up in rural Iowa. And the place I grew up in, rural Vermont, and I talk to them. Grew up as kids and I said, Do you think your neighbors, the people you grew up with? Many of them voted for Trump? Do you think that they are terrible, awful, horrible people? And the answer is no. Some of them, as you indicated, some of them are racist, and sexist of the worst kind. But, you know, I personally don't believe that is all of them, because many of those people actually voted for Obama. Right? They voted for the fellow running for the Senate in Michigan, a black guy. All right. So I you know, I don't think you can just simply categorize them as deplorable human beings were racist and sexist.
Julian Castro 
And every now and they may crossover also right and vote for some democrats and down ballot races or other things. Yeah. Yeah.
Sen. Bernie Sanders 
So the question that we have to ask ourselves is, why? Why did Trump get 8 million more votes? And I think it speaks, and I don't know all the answers to it. I really don't know. I think we better come up with some answers. I think first of all, a lot of those people think that the elite in this country, including the Democratic Party, holds them in contempt. To be honest with you. All right. "Hey, I work at home and I got a computer I'll make 150,000 a year your what? Just farmer? You're going out there we are working in a factory. Oh my god, I'm going to a $300 lunch with CEOs tomorrow. What are you doing? Eating at McDonald's?" I think in one way or another that contempt comes from the corporate media, comes across from, you know, politicians were superior to you. And you know, people don't want to hear that.
And then you combine that with the economic issues. If you were working in a factory for your whole life and say, you didn't have union? You're making 20-30 bucks an hour, your job went to China or Mexico. And now you're working at Walmart's for 12 bucks an hour? How do you think you feel? And your kid is going no place in a hurry. What does that make you feel, you're going in the wrong direction. And Donald Trump comes along and says, "I'm gonna take on the establishment. I feel your pain." Now. He's a liar, and a fraud of the worst kind. But he's acknowledging that they exist. How many national Democrats do you know, end up going to Kansas or Nebraska? Or the rural parts of America? They're are out in Texas, throughout in California in New York raising a lot of money. Think they're talking to farmers? In Wisconsin? Maybe? I don't think so.
Julian Castro  18:55
I agree with you on this idea that people you know, Donald Trump was like, for a lot of people throwing a middle finger at the establishment at elites in general, right. Like he was one of them. For some people. He was one of them, because they also felt this powerlessness. And he was throwing a finger at that and saying, "Oh, you know, I'm not part of that either. And let's go shake it up."
Sen. Bernie Sanders 
That's exactly right.
Julian Castro 
And the question is, how do we do that? And at the same time, be responsible and channel all of that in a positive way for people's lives, right?
Sen. Bernie Sanders
That's exactly right. That is exactly the question. Trump is a fraud. He took on the establishment. Really. Yes. That's why he hired more billionaires to his cabinet administration than any president in history. Yeah, he took on the assumption really, and why he wants to throw 22 million people off to health care they have etc, etc. But you ask the right question. And I think that gets back to the you know, the question you asked me about what a Biden might, you know, want to be thinking about and, I think you could do you know, unlike Trump, who's a fraud, I think Biden is going to say, You know what? We are going to take on the establishment. Okay. And there are things you could do on executive order. There are things you could do, obviously, with legislation.
20:18
How do you think America would feel? If on day one, Biden makes a very simple statement. And he says to the pharmaceutical industry, and I got to tell you, I speak only for myself. In my view, they're crooks. They're engaged in price fixing and collusion, that's my own personal belief, okay? And charging us outrageous prices. And Biden says, within six months or three months, we will no longer be paying the highest prices in the world for prescription drugs, we're going to cut drug cost in half. And I want every American to know that out of the pharmaceutical industry hasn't liked it, they can go to hell, because we're going to deal with that. Now, how do you think the people in rural areas Trump people, and everybody else would say, they say, "Hey, Joe, thank you very much."
Julian Castro  21:07
Yeah.
Bernie Sanders 
Am I missing something or not? And then the pharmaceutical industry will go crazy. And they'll put 30-second ads denouncing everybody. But you want to take on the establishment in a responsible way. That's what you do. What about, you know, I'm an advocate of Medicare for all. I think the current system is totally dysfunctional, wasteful, cruel, don't get me going. But at the very least, if Joe announces, first week, that if you are a worker out there, was 58-59 years of age, and you're struggling with health care, this is what we're gonna do. We're going to lower the eligibility age of Medicare from 65, down to 55. We're going to make it simpler; we're going to do away with a lot of the co-payments and the deductions that you have to pay.
What do you think people of this country in Texas and Vermont and everyplace else would be saying? "Oh, wow, Joe, man, you're great." Well, but to do that, you're gonna have to take on the power of the insurance companies. Joe prepared to do that. Well, let's see. If we say that by a stroke of a pen, matter of fact, through executive order, we can cancel student debt up to the first $50,000 of student debt. What do you think the young people in this country would say to Joe Biden, if he did that?
Julian Castro  22:30
They'll name colleges and universities after him, I'm sure.
Sen. Bernie Sanders
Yes, they will. See, those are what I'm saying here holding on. Those are dramatic, simple acts that will resonate with the overwhelming majority. And then some of the Trump people who said, "Well, I hate Joe Biden, he's a loser." But you know what? He just said something for my kid. He just did something for me. Maybe I'll listen to what he has to say. Maybe the Democrats, you know, are not whatever, they are crazy, you know, will Joe do them? We'll see. But Trump, you are absolutely right. I like that metaphor. He gave the establishment the middle finger, but he was a fraud.
Julian Castro 
Yeah.
Sen. Bernie Sanders
Well, I think it's time that we stood up to the establishment, and for working people, but in an honest way, which improves their lives. What do you think about what I'm saying? I'll put you on the spot.
Julian Castro
I think one of the lessons that we have learned or should have learned is you got to produce results for people. You got to actually have produced results that people feel in their lives. Of course, Mitch McConnell, obviously understands that we want to produce results. And he has been one of the most effective blocks on progress in this country. I mean, what do you see shaping up in terms of our ability to actually produce some of these results on health care, on education on student loan debt on any number of things?
Sen. Bernie Sanders  24:00
Well, obviously, a lot of that has to do with what happens in Georgia with Reverend Warnock and Mr. Ossoff. Who are good candidates running against, you know, real Trump bytes out there. If they can win, and it's going to be a hard struggle, it will give Democrats with the vice president voting in a 50/50 Senate, she will break the tie, and we will then have control over the Senate. We'll have the chairmanships of all the committees, we can push the agenda and go forward. And when you do that, what I would do and that's what I you know, just indicated I thought Biden should do is we can begin to put, obviously if we have the majority we can go forward but we can put our opponents on the defensive.
You know, one of the things Julian, that has always driven me a little nut is Democrats come up with enormously complicated proposals. And I think we need to come up with simple straightforward proposals. nothing complicated about saying you're gonna cancel the first $50,000 of student debt, pretty simple, nothing complicated about saying you're going to lower Medicare eligibility to 55. Raise the minimum wage to 15 bucks an hour, nothing complicated about it. And I think if we do not gain control of the Senate, and I certainly hope that we will, then what we got to do is take those simple issues around the country, we got to go to Kansas. And we got to go to Louisiana. And we got to say to the people, here is the bill, you tell your senator, you tell McConnell, do you want a $15 an hour minimum wage, or do you not?
And we've got to take simple, straightforward legislation to the people get outside of the Beltway, and get them to say, "hey, Mitch, you know, I live in Kentucky, and I can't make it on 10 bucks an hour, raise that damn minimum wage, or else I'm not gonna vote Republican anymore."
Julian Castro  26:03
In this election on November 3rd, even as Florida gave its 29 electoral votes by I think something like three points this time, unfortunately, to Donald Trump. The voters passed a $15 minimum wage proposal that scales up to $15 in 2026. But time after time, when that kind of proposal has been on the people's ballot. It has passed.
Sen. Bernie Sanders
That's right. That, and I think somebody's got to analyze that. Point being that the issues that you and I fight for are popular issues.
Julian Castro
Yeah.
Sen. Bernie Sanders
And then they go out and vote Republican. Why? A lot of reasons for that, but that's what we got to be thinking about.
Julian Castro 
We're back.
Julian Castro 
Bernie, and I spent a lot of time discussing the future of our nation. But so far, we've conveniently avoided talking about what was next for each of us.
Julian Castro
You ran in 2016. You ran in 2020, 2024? What is next for Senator Bernie Sanders?
Sen. Bernie Sanders 
I think I got that very, very much. I am gonna be 50 years of age next week. So, I'm getting up there.
Julian Castro 
I'm gonna be, I'm gonna be 20. So don't worry, you know, we're both getting up there,
Sen. Bernie Sanders
So yeah, if you're not careful, I'll ask you that question.
Julian Castro
Yeah, I don't have an answer, either. I mean, I'm just going to learn but more seriously. I mean, you've indicated a willingness to take on the role of Secretary of Labor. You know, obviously, President like Biden is still making his decisions on his cabinet. But just what is your interest in that role? Why is it appealing to you?
Sen. Bernie Sanders  28:04
Well, you know, I love being in the Senate. And if God Willing Democrats gain control of the Senate, there's enormous things that we can do. I'm on some really exciting committees that I look forward to working on. But this is what I think, you know, getting back to the point that we discussed a moment ago, imagine having a secretary of labor, who didn't spend all of his time or her time in Washington, DC, but went out to Texas, and told a few 1000 people at a town meeting in San Antonio, or Houston or someplace Dallas, I want to hear what it's like to live on $9 an hour. Okay, I want to hear about your experiences and tell me why you think you need to raise the minimum wage.
And I want to tell you, you tell me why what happened when you try to form a union, and your employer fired you. Why do you think we need unions in America? And why do we need legislation to prevent corporations for making it hard for workers to join unions? And if you're a woman out there, tell me about why you're making 70 cents on the dollar, compared to the guy who's doing the same work next you?
Julian Castro 
Yeah.
Sen. Bernie Sanders
All right. So in other words, to take these issues to the people, not just in Washington, but to talk about how people are getting ripped off with wage theft, and not getting the overtime that they deserve. And God knows during this COVID, if we've seen anything, it's so many workers are forced to work in unsafe working conditions, they're dying, because they don't have the protections that they need. Now imagine a secretary going out to the people hearing the people and saying, "Well, what do you think we should do in Washington? Okay, let's do it." So it's not sitting in Washington coming up with complicated ideas. It's going out to the people and making them aware that the United States government is listening to them. That's what interests me.
Julian Castro  30:01
Wow. There are tons of young people out there who were particularly inspired by you. And in the decades to come, there are people who are going to run for president themselves and may well become president. Because they were originally inspired by your leadership and your runs in 2016, and 2020. What is your advice for young people in our country, those who want to go into public service, and then just folks who have their dreams and want to achieve them?
Sen. Bernie Sanders  30:42
Let me just say this, thanks for asking that question. And whenever anyone asked me about that, I usually break out with a big grin or a big smile. Because honestly, God, Julian. Some of the most beautiful sights that I have ever seen in my life, and I say this from the bottom of my heart is being California elsewhere. And seeing 1000s and 1000s of young people out there, black and white, and Latino and Asian American and Native American, you name it. what America is, and you see these beautiful young people, deeply committed to the struggle for justice, it is a beautiful, beautiful sight.
And I will take with me to the rest of my life, one of the most beautiful and moving things I have ever seen touched me very, very deeply. And when I go out, and I talk to young people, we did a virtual rally during the Biden campaign two months ago. And some young lady, she was on the city council in some small town in California that I never heard of. And she says, "I'm on the city council, because you said we should run for office. And I did. And I won." And I see that we have supported hundreds and hundreds of young people, mostly young people, all colors, backgrounds, who are on school boards, they're on City Council's there, we've helped transform state legislatures, New York State, a very different legislature, that it was Chicago, there were six Democratic socialists on the city council right now. All new. So there's a lot of movement among young people. And, you know, I hope that and by the way, let us not minimize the role that the young people voting in this election had for Biden.
32:33
That was by far the highest turnout of young people ever. And he won a number of states, Georgia, certainly being one of them, precisely because of young people. So I would say to young people, don't think you cannot do it, you can do it. You can be on the city council; you can run for state legislature. Get involved, support your friends. And if you love the country, our country, help transform it. And I think that's happening. And that's a beautiful, beautiful thing.
Julian Castro
Well, you certainly have helped to transform our country, Bernie, and thank you for speaking truth to power and for your advocacy and courage of your convictions and for continuing to lead. And thank you for taking a little time to talk.
Sen. Bernie Sanders
Julian, let me give a mutual thanks to you for your life's work. And then you got a few young people supporting you as well. So let's keep going together. And thank you very much for having me.
Julian Castro
This is a moment of opportunity for our country, it's a chance to fight for transformative change without ceding ground and making deals that hurt and alienate the very people whose lives we're trying to improve. But if we want our policies to reflect the true makeup of our country, we need policymakers who represent that mission. Next time, we talked to two women doing just that on opposite sides of the country.
Speaker 3  34:04
My mother read me bedtime stories that were the speeches of Barbara Jordan, and Shirley Chisholm. And then she took me with her to vote in every election. And then the most important thing is she made sure that I knew that being black was something to be proud of. And that black was powerful and beautiful. And that I was being born into a struggle. And it was a cradle to grave struggle, and that she had an expectation that I would do my part in that. It's not just about growing up black.
Speaker 3
It's about growing up poor. It's about having a grandmother; it's about being spiritual. It's about caring about people. It's about understanding that we all have unique experiences. And with those challenges come opportunities for us to do better.
Julian Castro
We'll see you back here on January 14 after the holiday break. I hope you and your family have a wonderful holiday and a happy new year.
CREDITS
OUR AMERICA is a Lemonada Original. This episode was produced by Kegan Zema. Jackie Danziger is our supervising producer. Our associate producer is Giulia Hjort. Music is by Hannis Brown. Executive producers are Stephanie Wittels Wachs, Jessica Cordova Kramer, and Julian Castro. Help others find our show by leaving us a rating and writing a review. Follow us at @LemonadaMedia across all social platforms, or find me on Twitter at @JulianCastro or on Instagram, at @JulianCastroTX