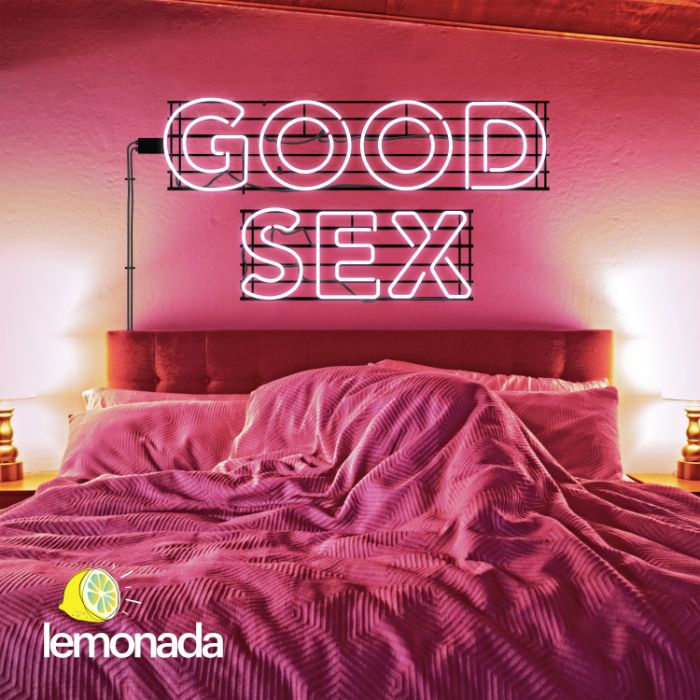 Mistress Mary & Prof. Grey: When Besties Bond Over Bondage
Subscribe to Lemonada Premium for Bonus Content
Mistress Mary and Professor Grey are both femdoms with a penchant for spanking and a deep connection to their kinky community. These two besties talk about how they first got into BDSM, the distinction between professional and lifestyle dominatrixes, and why touch isn't always about sex for them.
If you're interested in being a part of Good Sex, please fill out this form: bit.ly/goodsexpodcast
As expected, Good Sex contains mature themes and may not be appropriate for all listeners.
Stay up to date with us on Twitter, Facebook, and Instagram at @LemonadaMedia.
Click this link for a list of current sponsors and discount codes for this show and all Lemonada shows go to lemonadamedia.com/sponsors.
Joining Lemonada Premium is a great way to support our show and get bonus content. Subscribe today at bit.ly/lemonadapremium.
Transcript
SPEAKERS
Gray, Mary, Speaker 3
Mary  00:02
I am a dominatrix that is considered sex work. And I'm not going to stop. This is who I was supposed to be. Hi, I'm Mistress Mary. I'm a professional dominatrix and my pronouns are she/her.
Gray  00:19
And I'm Professor Gray. And I am a lifestyle dominatrix and my pronouns are she/her.
Mary  00:36
Professor Gray and I actually just celebrated our one year friendsaversary. We were taking a class from another femdom dominatrix in the community. And funnily enough, it was BDSM one on one. And we're just like, here's a great opportunity to meet some new people. Do we need to take the class? Probably not. But we did.
Gray  01:02
And we had drinks and it was just like an instant, like, connection. It's like we've always known each other. You know, I don't necessarily subscribe to past lives or anything. But really, it does feel like we were friends in a previous life we just picked up organically, like we'd always known each other, and really just became thick as thieves and we've been inseparable for literally the last year.
Mary  01:24
I call her my soulmate. I know it in my heart, where she's my best friend, and just knew right away that these two badass bitches were meant to be. How did you first get into kink and BDSM.
Gray  01:44
I was first introduced to kink activities through the swing community, which is actually more sexually orientated. I had a group of friends that were very much into that lifestyle. It's not personally for me, but I was invited to some of those parties, was invited to join, which I respectfully and politely not even politely declined, just said, hell no. But interestingly enough, one of the individuals said, Well, if you don't want to have sex with me, then you can spank me. Yeah, so of course, I spanked him. I had no idea what I was doing. I use my hand and then I use a belt. And after that, I went and looked up, like what does this mean? How do you hit people? Basically, like, what does this mean? If I want to, like hit somebody, like what's wrong with me? And then I started moving on from there started kind of dabbling in I continued to play with this individual for a while and then started seeking out other opportunities. How about you?
Mary  02:58
Okay, here we go. Buckle up. So I was hanging out wink nudge, with my college booty call. And having not the best time, it wasn't bad. And we were definitely having sex in this moment. And there was a moment where I was daydreaming, like actively daydreaming, not in the moment at all. I reached for my phone at one point, grab it, opening it up, try and start paying my electric bill, did not love that. Did not love that. I just was just going through the motions. And then I realized that I was not having a good time. And so I said, fuck it. So I put my phone down, flipped him over and climbed on top, started doing a little breath play, didn't know what it was called at the time, and just really kind of did whatever the fuck I wanted to do. And I had the best time after that. I felt powerful. I felt in control. He wasn't running away. He was into it. And so it just kind of clicked something on in me. And I wanted to do more. So the next day I researched what, what's it called when a woman is in control in the bedroom? What does that mean? It led me to femmeDom, which was a bunch of really bad porn, was fantastic. I loved it. And then it led me to BDSM and it led me to kink and I was hooked. And I was told and I still can't wait to do more every day.
Gray  04:46
When you first describe your kink lifestyle to individuals, how do you approach the conversation?
Mary  04:53
So within the BDSM community, their lifestyle and professional Dom, I always can use this example when I'm explaining it to someone new, where if I was a jewelry maker if I my hobby was making jewelry, and I love it so much when I want my profession to be something that I so wholeheartedly enjoy, that's what I'm doing. I love BDSM I love helping people in this more unique way, something that can really let people experience something new. And so I practice and I've honed in, and I've really trained hard to get to that next level so that I can start charging for my services, because you can come to me at any point in your life, and have an experience in a safe way.
Gray  05:38
right. And from the lifestyle perspective, it is another extension of myself with people that I choose of my own choosing, which is the very, that's the crux of the distinction here. Because I am not providing a service. This is my lifestyle, my choice. My individual partner needs to be on board with that, right?
Mary  06:06
I get paid. Honestly, that's kind of that's a big, that's a big decision distinction, I get paid for my services. When I'm playing with a client, I call them my little lambs. When I'm playing with a lamb. You're getting a very similar experience. I'm just also getting paid for my service. And I have a vanilla job. I have vanilla family; I have vanilla friends. So this is a conversation that does pop up every now and again. I was asked to be an officiant for one of my friend's weddings. And I hadn't told him about my lifestyle or my secondary profession. So I wanted to tell him and I started the conversation by saying, hey, I just want to let you know, I have a side business. And I'm really proud of it. And I want you to be aware of that. Before I officiate your wedding, just in case you're uncomfortable with it. Because I know it's not for everyone. So I said I help people. My job is to take someone to a space, a super safe space that they're able to experience things that normally they aren't able to. And he was like, that's really cool. That's really great. Good for you. I'm on board. And I was like so I do it in a really unconventional way. And he was like, okay, and like he is just a goofy dude. So he's like, so what are you doing? Are you like hitting people? And I was like, yeah, yeah. And he was like, okay, dope. Okay, dope. And I continue to explain as like, I do hit people I you know, I use whips, I use canes, I use paddles, I use my hands. My favorite is a flogger, although I'm strongly becoming a fan of a whip. And it does something for people, it helps people with traumas, it helps them just forget about their day to day, and helps people not have to constantly be making choices, because that's the world that we live in right now. So you're always having to choose what's the right next step. So let me take that away from you for a moment. You don't get to choose anymore, and just trust in me that I'm going to take care of you. And that's when he was like, it's not for me, that sounds painful. But I get it and I respect it. And that's what I'm looking for when I'm telling someone new, you don't have to be into it. But as long as you respect it, then we're on the same page, right?
Gray  08:35
I've gotten to the point now in my life where I just kind of rip the band aid off like, yo, this is me. You either like it or you don't damn right. I would say that recently, like I've told my parents about my lifestyle and what that means. I think I learned a little too much information about my parents in the get go for that. But that's TMI, that'll be a conversation for therapy. But now, I will say with partners, so for example, as I brought in new partners, kind of the same thing like here, this is me, this is a part of who I am. This is my private life, right? Because again, vanilla career, professional career, but this is what my preference is on this side. You know it's either pass. Thank you. That's not for me or yeah, let's get in it.
Mary  09:36
Which you find happens more? Let's get in it when you're dating.
Gray  09:40
Yeah, more about the curiosity of it. You know, they're always, you know, we both like to say everybody has a little bit of kinky, right, because everybody does and there's a spectrum to everything. So while they might dip some toes in or they might go up ankle deep. There's always something kinky that can be employed blindfolds, hair pulling. Bondage scratching, spanking, biting all, you know, so many kink that people just don't, that they think it's part of just normal sex.
Mary  10:13
Anything above missionaries kinky as shit.
Speaker 3  10:23
Do you want to be a guest on good sex, either solo or with someone else? We'll fill out the form in the Episode Notes for a chance to appear on the podcast. And don't worry, it'll be safe and fun, just like the show.
Mary  10:43
How do you separate your own romantic and intimate relationships from your lifestyle?
Gray  10:48
So in the context of BDSM lifestyle, there's a large BDSM community that has various events, various parties, gatherings, conventions, educational offerings, etc, etc. I would say in that context, it's for me, it's more about honing the craft and learning, right? Practicing on some volunteers. But in the context of partners in the context of intimate relationships, that is different, because that is really developing those really interpersonal relationships, opening up communication and trust, and really kind of learning each other's kinks and or pushing each other's kinks. I would say that, you know, my intimate relationships are mine there. There's also, you know, sexual intimacy, emotional intimacy, which is different than the construct of like, you know, a pre-planned BDSM scene within the context of like a private party or a kink event.
Mary  12:07
Yeah, and for me, I have to separate out quite a bit between my intimate romantic life and my profession. And I kind of boil it down to care. Care is a big one for me, I care about everyone, everyone I play with, I'm going to give you as much attention as I absolutely can. I want to make sure you're not injured, that you're not triggered, that you're completely safe at all times. I care. I also care about your personal life, I want to make sure you're doing well, I want to make sure your mental health is okay, because a lot of not a lot, some BDSM does circle around trauma. And so I want to make sure that we're also looking and paying attention to that, because it's important to me, right? So Kara is going to be there with every single person that I interact with. Realistically, the difference between my personal life and my profession is that intimacy and romance, and that's different. It's more personal. In my sessions in my profession, I don't do much sexual contact, nobody gets to touch me either. So you remove that aspect of it, and it removes that romanticism for me. But I am definitely touching and making sure I'm warming up bodies, I am giving some people this other release that they may need. And whether that's touching their arms, touching their back touching their penis, touching their ass, whatever it is, their breasts. It may seem sexual, but it's really just touch. It's just touch. And that's part of my session.
Gray  13:59
How do your intimate partners navigate and comprehend your BDSM lifestyle? And the other caveat, are they part of the lifestyle?
Mary  14:09
Okay, so this is a really interesting question. As we both kind of begin dating, I didn't take for a really long time. I think same for you. There's so many like unwritten rules with dating. There's so many new challenges, we both have this part of ourselves that I'm unwilling to give up. So it's it is hard when you're navigating, especially because, like our main website for the community is called FetLife. And a lot of people think it's a dating website. But it's not it's Facebook. It's a way to like connect with your friends. It's a kinky Facebook, so we don't really have an opportunity to just like, connect with kinky people. So we're meeting a lot of vanilla people and having to explain and explore this with people that maybe don't have any idea, but I was talking about on the first date or there's no point in waiting otherwise. Because if you're not interested in it, that's totally fine. That's okay.
Gray  15:05
Right. And I would say the same thing. I think it's hard to conceptualize what BD Okay, so 50 Shades of Grey, right? Like, that's what everybody knows about BDSM right now, right? Because it's kind of what brought it into mainstream. But really, you know, they have this idea of what BDSM is. And it's really so much more than that, or they're going to sources like PornHub, or, you know, internet sites, and they're getting a very skewed look of what that is. So it is a little difficult to navigate. Like, you can't just walk in and just expect to know everything day one, like you have to continually take those education opportunities, to be able to continue to learn more about it, grow about it, and really be able to understand and comprehend the lifestyle.
Mary  16:00
And I think the part of learning that really was helpful for me is understanding the why behind some of the activities, people have reasons, people are just wanting to get chained up and whipped for an hour, just cause I mean, maybe, but usually, there is a reason behind it. And that's what an intrinsic need. That's what made it make sense to me is like understanding that BDSM is part of what you see on TV and in movies, in social media and all the porns and whatever. There are elements for sure. But it's so much more than that. If you could tell others one thing about the BDSM community, what would it be?
Gray  16:53
Let's see, I would say that, it is an opportunity for you to explore within yourself, your preferences, I challenge you to maybe look outside the box a little bit. This is the opportunity for you to kind of break the mold, experience something that may be a little bit exciting, maybe unlock something within yourself, that may make you happy, right and give you a joy. And you might find that it's you know, a missing element, or it might find something that actually helps bolster or improve you in some capacity. And it's fun, as hell.
Mary  17:35
So dramatic. It is so fun. Oh my god, it's so fun. It really is. It really is. I'd say this is the place that you can be 100% yourself. Nobody's going to judge you. Nobody's going to make you feel bad about yourself. Because it is absolutely the definition of community. Everyone together. Everyone wanting to support and explore and be 100% themselves. It was so great talking with you as always. Thank you for listening to GOOD SEX.
CREDITS
GOOD SEX is a Lemonada Media Original. The show was produced by Kegan Zema and Dani Matias our supervising producer is Xorje Olivares. Executive Producers are Stephanie Wittels Wachs and Jessica Cordova Kramer. Music is by Dan Molad and APM music. If you like GOOD SEX, please rate and review us. Listen and follow for new episodes each week, wherever you're listening right now. And if you want more good sex, subscribe to Lemonada Premium for some quickies additional conversations between our guests only on Apple podcasts.