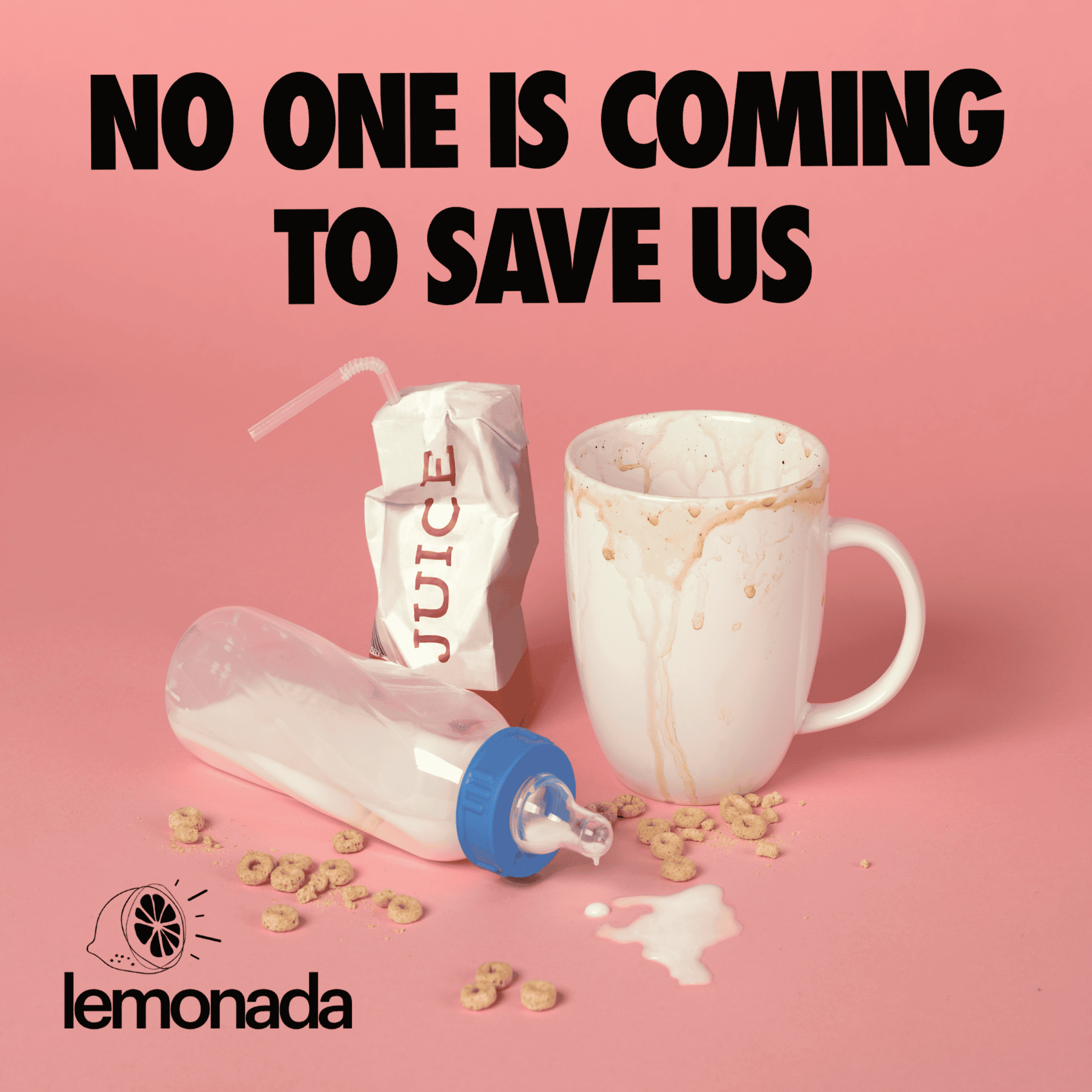 No Parent Should Have to Worry About Their Kid Going Hungry (with Caron Gremont)
Subscribe to Lemonada Premium for Bonus Content
Description
Gloria begins the show with her reaction to the unimaginable tragedy in Uvalde, Texas. Then, as America's infant formula crisis continues, Gloria is joined by Caron Gremont, Director of Early Childhood at the No Kid Hungry Campaign. They discuss the toll that hunger takes on kids, how many childcare workers also face food insecurity, and what you can do to make "no kid hungry" a reality.
Follow Caron Gremont on Twitter @carongremont. Keep up with the work of No Kid Hungry at @nokidhungry and at their website, nokidhungry.org.
Read No Kid Hungry's statement about the formula crisis: https://www.nokidhungry.org/who-we-are/pressroom/statement-no-kid-hungry-national-infant-formula-shortage
This podcast is presented by Neighborhood Villages and brought to you with generous support from Imaginable Futures, Care For All Children by the David and Laura Merage Foundation, and Spring Point Partners.
Joining Lemonada Premium is a great way to support our show and get bonus content. Subscribe today at bit.ly/lemonadapremium.
Click this link for a list of current sponsors and discount codes for this show and all Lemonada shows: http://lemonadamedia.com/sponsors/.
Laugh, cry, be outraged, and hear solutions! Join our community: https://www.facebook.com/groups/nooneiscomingtosaveus.
Stay up to date with us on Twitter, Facebook, and Instagram at @LemonadaMedia.
For additional resources, information, and a transcript of the episode, visit lemonadamedia.com.
Transcript
SPEAKERS
Gloria Riviera, Caron Gremont
Gloria Riviera  00:00
Hey, I'm gonna try to get through this. It's taken me a few times. So here we go. Listen, this podcast is all about taking care of little kids, right? Where we take them to feel safe and secure. And so we thought it was appropriate to talk about the shootings in Uvalde, Texas. I know the detail that will stay with me is that most if not all of these kids were in the same classroom. That really got to me, the same fourth grade classroom where they're supposed to be learning, and smiling and getting ready for summer. And instead, it was where their little lives ended. And I know the stories that are going to come out, they're going to be all details about who these little people were. And that will make us think of who they will never now grow up to be. I know, the President is asking, where is our backbone in this country, I am asking the same thing. I feel a total loss of control. And if I know anything, I know these two issues, child care, and gun control in the US and mass shootings, all of that. They share the same conclusion. It doesn't have to be this way. It does not have to be this way.
Gloria Riviera  01:25
Hi, guys, that was my raw reaction to the unimaginable tragedy in Uvalde, Texas. I don't know what to say. Other than I am shattered. Other than we have to do better. There's no choice. Our kids deserve so much better. They deserve to be safe. This is no one is coming to save us. I'm your host, Gloria Rivera. My heart is heavy. And I would bet yours is too. So I'm really glad you're here. I'm glad we can be together. Today's episode is a very important one. It's one of those conversations that connects the dots for me in important ways. As I learn as we all learn more about the childcare crisis in this country. Our guest is Caron Gremont. She is the Director of early childhood at No Kid Hungry. It is an awesome organization working to end childhood hunger in America. In this interview, Karen lays out how food insecurity has negative emotional repercussions for both the mom who is often the first person in the family to forego a meal and the child. She walks me through what happens when a kid shows up to school hungry, all of it comes into the classroom with them, their anxiety, their stress, their guilt, their shame, all of that, just comes walking on in with them as they sit down for circle time. And then guess what? This is a stat that will keep me up tonight. Caron tells me that 1 in 3 childcare providers report experiencing food insecurity too. 1 in 3. So that child who goes without at home is often being cared for by a provider who is also food insecure. And then you're fully on the hamster wheel of no return. Karen makes it clear that she believes access to healthy food is a basic human right. And boy, are we seeing that tested right now with the formula crisis. I had this conversation with Karen before the shortages. We're making things so hard for so many families, but just keep that in your mind as you listen because all of that applies. Alright folks, here's my conversation with Caron Gremont. I like to start every episode with this question. What logistical issue did you triage in your head? Like before you got out of bed this morning?
Caron Gremont  04:03
Such a good question. I feel like it's like a broken record. I'm triaging the same thing every single day and it is always about my kids. I have a middle schooler and an elementary my son is an elementary school and every day it's school ends. Who's got what activity? How are we getting each child to set activity? My husband and I share a car, my daughter's got play rehearsal I volunteered to help for play rehearsal.
Gloria Riviera 
See, the volunteering. That's your issue.
Caron Gremont 
I know. The truth is they're doing frozen and my daughter's in eighth grade and frozen was really this iconic moment. And I feel like you know it really take those early years for all of us.
Gloria Riviera 
But there are logistical challenges. It's the jigsaw puzzle that like you're like, wait, this part doesn't fit with this part. How do we make it all work? We need help.
Caron Gremont
I mean, that's exactly it every day. It's a jigsaw puzzle. It's a different jigsaw puzzle. And what I have learned is that I cannot we cannot do it alone. We've got carpal friends sometimes, you know, not even necessarily people I know very well. That is the only way this works for all of us. I mean, that's the community.
Gloria Riviera 
That happened to me last week. My oldest son is 13. And somebody drove him first of all, this is so terrible. Well, I don't know, he Uber to rugby practice. I mean, I thought it was fine. But then someone I didn't know drove him home. so kind, so nice. I went on the little parent app. And I was like, who can help me out?
Caron Gremont 
But I mean, it's just real life. Like every that is the juggle of that it's different than it was when they're younger, but in some respects. I mean, it's different. It's hard to have its own different kind of way.
Gloria Riviera
Yes, it is. And then when you're kids, as a mother, when your kids were little, how did your family navigate childcare?
Caron Gremont  06:07
So both my husband and I work full time out of the house. At the time that my daughter was born, I was working for a […] of LA, which is this global communications firm in their health and nutrition practice. And I loved my job. I never, you know, I knew it was going to be hard. But I always knew that I wanted to keep doing the work that I was doing. So when my daughter was born, after I got back from maternity leave, we put her in childcare, and both of my kids were in childcare. At the time, we were living in DC, really hard to find childcare in DC. But we did, and they were there until they went into kindergarten. And what I didn't expect being a new mom was how much those childcare providers would become part of my family and my community, and how much they would help with nap times, and potty training and all that kind of basic stuff. But at the time, I was working in food nutrition, and I was working on how to inspire and educate Americans to make healthier choices in their diets. So I was bringing that home, when my kids were a few months old. And, you know, it was time to introduce solids like I was, I was ready, I was excited. This is what, you know, this is what my professional career was. But it was hard. And I went, you know, just like I had gone to them about naptime. I went to my kids childcare providers and said, can you help?
Gloria Riviera 
What I'm sensing from you is that while your passion for nutrition was, you know, what drove you at work, you also had these young kids. So we had a real time, you know, sort of study group.
Caron Gremont
That's exactly right. And I kind of felt like if I knew everything, and I was struggling, how was anyone else dealing with it.
Gloria Riviera  08:07
And you were struggling with the introduction of different kinds of foods, we're gonna get into all of this. I'm so excited to talk about nutrition, food insecurity with you. But this is interesting to me, because you're bringing your work home and your home is coming into work. It's all happening at the same time.
Caron Gremont
I mean, you know, some of it was like, I was told, you know, the guidelines change regularly, I was told, you know, pick a vegetable, mash it up, do it for three days, and then move on to something else. Well, can you mix them? How much? Where do I start? Ff you start with a sugary something? Does that mean your child develops a taste for sugars? Like it was just a black hole of knowing how to do it in the right way? Or what even is the right way? I asked my friends because we were all in it together. And I mean, no one had any idea. Never mind that we were all just like, you know, struggling to keep up. The childcare center that we use, you had to pack a lunch. And like, I don't know, I got a two year old. What do you put in the lunchbox for a two year old in child care.
Gloria Riviera
But her child care providers were right there with you. They were partners for that they were able to give advice.
Caron Gremont 
They were partners, they were supporters, they did not know, they had no guidance in this.
Gloria Riviera 
okay. So it was just like pack a lunch, put whatever you want in it. And we'll offer it to the kid.
Caron Gremont 
And we'll help them open it. And that was it. So I felt an obligation because this was my field and because honestly, I felt like my friends were saying, Well, this is what you do. So you must know how to you know, get our kids excited about healthy eating from an early age and I was like I got a lot of learning to do. So I really jumped in and that you know, it's when I think about The role that childcare played, it was equally as important for my children what they got out of it as it was for me, because that is really what the merger of my commitment to childcare and the importance of health, nutrition and food security and young children. And my work in food nutrition became kind of tangled in those moments when my kids were in childcare. And I have never untangled them. And it honestly is because of that. I mean, it really has been a surprise blessing for my life.
Gloria Riviera  10:35
Let's look at some extremes. So you made it through early childcare and education. Your kids are now off to the races in public school. But you've stayed committed to this issue of nutrition and kids under five. Have you had a chance to veer off that path? What led you to No Kid Hungry? I mean, being important to valley and working in health and nutrition is one thing but being it No Kid Hungry is something entirely different. So what made you make that jump?
Caron Gremont
You know, I think what I've realized is that access to healthy food, I believe is a basic human right. And as a country, we are not doing that we are not committed to that. I believe that one of the fundamental challenges we're facing as a country is our attitude and belief around food and the role that food plays in our life. And it's, you know, very obvious connection to health, and all the other parts of it. I also just personally, I love to cook and I realize not everybody loves that. But what that has meant for me is that I see the power in food and bringing people together and sharing a meal and creating community. And what I realized when I left Porter Novelli and started to do work, really in the community was we all share that, regardless of race or gender or family history, food really connects us all. And there's something really, really powerful about that. But there are simply too many people in this country right now that are struggling to get food, to get enough healthy food, but even just to get enough food on the table in 2022 in the United States, and I just, it's just honestly, it's just, I can't live in a country that we cannot ensure that most basic right is given to everyone.
Gloria Riviera  12:37
In prepping for this interview, I watched Viola Davis, the multiple amazing award winning actress talk about her own food insecurity. Can you share with us what it likes for a child under the age of five to go to school hungry? And what kind of path that sets them on in a social emotional way?
Caron Gremont 
So there are two different answers to that question. I'm going to go take us a little bit of a step back before the child shows up in school or in childcare hungry and talk about families, right. And let's just be really real and put this into context. Right now. Food Security has ebbed and flowed during COVID. It was at its lowest rate in decades before COVID. One in six children were food insecure. It's a lot but that was the lowest rate in decade, we are now new data released in February from our friends at rapid and this is data specific to children under the age of six is saying one in four children is food insecure under the age of six. So with that as a friend and one in four children, baby's struggling. So the first thing that happens is you got a family. There's concerned about finances, money and food and there's anxiety and there's stress, especially on Mom, how am I gonna get the next meal, a lot of preoccupation and energy spent on thinking about food. So we start with that funds are, you know, kind of getting more limited, then we move to monotony of diet, right? Because if you don't have a lot of money, you're not going to buy broccoli, or buy kale to introduce it because it could get wasted and that's just a waste of money. So now we've got you know, young kids eating more and more of the same kinds of food and oftentimes not the healthy food because that is expensive. Then we start getting to scarcity and the first person that's going to pass on a meal is going to be mom. So now mom's eating less to keep her babies fed. Mom's hungry mom's tired mom's stressed mom's mental health is really struggling and trying to keep it shielded from her kids. Not wanting her kids to see that. You know maybe saying at the dinner table oh, I'm just not hungry tonight even though of course her stomach is rumbling and, you know, we know that kids pick up on this stuff. Even younger kids can feel the tension and pick up on the stress, then if we're still struggling, then Mom has to start cutting back on what her kids are eating. So before this child even shows up at daycare, all of these things have taken place in the family unit in the relationship with mom and with a child. And now we've got a kid showing up hungry and childcare. For a lot of these kids, you know, they're young. So it doesn't show up necessarily the same way as they do in elementary school, where we've heard a lot of horrible stories about shaming and you know, having to pay for meals or not getting meals if your parents haven't been able to make payment.
Gloria Riviera 
And that's the path that this early experience sets them on. By the time they get to elementary school, they're going to feel different, and they're going to feel anxious about that feeling. Lots of unpleasant things are gonna follow.
Caron Gremont 
And they feel guilt, that now they're taking you for a mom, what I saw, you know, we'd have kids that would show up to childcare on Monday morning, and you know, you could tell that they had not eaten very much over the weekend, and they would come ravenous.
Gloria Riviera  16:13
What does that look like? What does the kid look like when they show up?
Caron Gremont
They're stressed, they're anxious. They they're, they can't really sit still. When you know, while breakfast could be cheerios and milk. What we tried to do was knowing that kids were going to come in hungry, you have to overcompensate. So it would be eggs, maybe turkey, bacon, something hot, a lot of protein, something really filling, you do that Monday morning, and you do that Friday for lunch, because you knew that those weekends and those nighttimes, families were struggling. So you know, that is a very vital role that childcare and our schools play in keeping kids fed and fed with healthy food during the week.
Gloria Riviera 
Remember, a couple of weeks ago, when we talked about how a lot of centers who take kids on subsidies get paid based on attendance and not enrollment? Turns out, there's a similar system in place for meals. Karen will tell me all about it when we come back. And when you look at the landscape of childcare providers, early educators, talk us through, run the gamut of what you see that's working. And then where you see you need to yourself work the most. Like a school that does it well, a school that Leaguer it's like, they don't even know where to start. Because these kids that we're talking about, you said like they're showing up at their child care facility. Like let's just stop for a moment and you know, good, they have a spot, they're going somewhere. But these are issues. I always feel like we're peeling back the layers of the onion. You know, just because you get a spot. There are other issues that need work once you're there. So my original question was, where do you see, you know, they're doing an okay job. And then where is your work, where you have to start almost from ground zero?
Caron Gremont  18:34
So I think it's a great question. The first thing to say is there actually is a federal program that provides meals to schools and childcare. It's called CACFP. It's the Child and Adult Care Food Program. It is a great program. It has good guidelines around healthy eating and what qualifies as a healthy meal. children in child cares that are eligible for this program are getting breakfast, lunch, and a snack. It is served family style, or at least it was pre COVID. family style is when you really put all the food at the table and kids serve themselves major benefits in that both in you know motor skills and social skills and being able to say it's my turn and please pass, but also in teaching kids how to understand their own appetite, and how to serve themselves based on what they want and what they need major benefits in that beyond just the actual health of the food. It is a great program. It is only a program that is eligible for children who are deemed low income. And it's in headstart programs and other programs like that.
Gloria Riviera 
And that's been around for a while, right? That's been around for a while. And what is a while of, two decades like it's been long enough for you not to know so that's good.
Caron Gremont 
And you know, it is serving almost 2 million children on average every day. Now that said, it is an administratively burdensome program for childcare centers to run. So you are reimbursed for meals that you provide, which means you have to track. You have to keep attendance who's coming in who's getting a meal.
Gloria Riviera  20:19
So wait, but you have the food and the school, right? So this is reminding me of something I just learned last week, which is providers are paid on attendance, not enrollment, correct. The same is true of food.
Caron Gremont 
So you're still buying a lot of food, right? You still need to pay chef to cook the meals. But if Johnny goes home early, that meal is no longer reimbursable.
Gloria Riviera
Right. Reimbursable. just talk me through how that financial structure works. They have the food there, they've paid the chef to make it Johnny goes home early, he doesn't take his last snack, the food is not consumed. So that's really bad. But what about the money? Where does the money come in for that?
Caron Gremont 
So this is the administrative burden on childcare centers to provide those attendance logs and invoices and food purchasing to their state to be reimbursed from the state for the CACFP meals?
Gloria Riviera 
Wow, that's huge. So it's all on the school to manage?
Caron Gremont 
That's correct. There are some groups that kind of provide that, you know, for a small center with maybe five or six kids at home. The burden of that, and quite frankly, you know, the delay in payment is sometimes too much for centers. So there are state association agencies that can act as a partner and kind of an umbrella to help with that. But at the end of the day, the administrative burden is on centers to report and be reimbursed for. So when I, you know, when we talk about, I mean, I, too, am still mourning. What apparently is the end of Build Back Better. But you know, as we talked about expanded, early childcare and pre K, what thrilled me was the reality that, that would be an expansion of the CACFP program, right. And that would really, when we think about how to address food security for young kids, if we can get in if we can close that gap, and we can get every single child who wants and needs a spot in a spot for high quality childcare. We are also massively improving food security by providing two meals and a snack five days a week for those children
Gloria Riviera  22:42
here and this is such a moment because it's a reverberation of significance. Right? It's, it's like the domino effect. Yes. Horrible. build back better is not going to be apparently the way we do it. But they're all of these other elements that would have happened. Had that become the law of the land?
Caron Gremont 
Well, I mean, I totally agree. I will say also, though, that I think there's a real opportunity here that I don't think we talked enough about, I think that childhood hunger, food insecurity is a bipartisan issue. No one likes the idea of hungry children. I think there's an opportunity to incorporate that messaging into our fight for expanded childcare in this country, and talk about the critical role it plays, I think people generally believe and understand that schools provide food, and that that helps address food security. I don't know why we're not in a place where we see that child care can and must also play that critical role for our youngest children are quite frankly, the most vulnerable in those early years for the impacts of being hungry on their brains and bodies.
Gloria Riviera  24:02
Right. So you're talking about the messaging needs to clarify that when we talk about supporting the family supporting the parent, that there are several things on that list. Not only is the child going to be well looked after but the food element that you're helping this family provide for the child long after they leave every day, right? They got that turkey bacon, they have those eggs, they are literally filled with help to get to the next day, to get through the weekend.
Caron Gremont
Wow. Absolutely. And you know and think about the freeing up on mom's budget if childcare is providing those good healthy meals, yeah, it frees up mom to be able to take those resources and invest in more fruits and vegetables on nights and weekends. And let's just be really clear. What we hear from families struggling with economic security is they want fruits and vegetables. I know there's a lot of myths around, folks perhaps not eating the best food. But what we hear what I see is that families at every income level, but especially those who can't afford it, they want fruits and vegetables, they know they want to be eating it, but they can't, it's too expensive, and it takes too long.
Gloria Riviera 
And those stories we're hearing more and more right now with the uptick in cost everywhere. So absolutely. I just heard a family say, we're not buying as much meat, you know, that's not good. What specific thing or is there a family, is there a child that stays with you in the many years that you've been doing this work? That represents for you, the kid we have to help? Is there a story around that child?
Caron Gremont 
Oh, that's such a good question. I think for me, one of the memories that will always stick with me, I, you know, have been working in DC for a long time. And we were running programs at elementary schools, and you know, the kind of pre-K up age group in DC in what those of us in DC know, as east of the Anacostia River, it's a part of DC that is geographically and physically isolated from the rest of the city. It has much higher rates of unemployment, much lower rates of income, health disparities are significant. And it tends to be neighborhoods that are black and brown. Yeah, so you know, the health equity, there is real. So we were there at a school, you know, doing a we created a pop up farmers market. And part of that was to really we know, we know that in order to get kids excited about eating fruits and vegetables, we have to make it fun. And we have to get them involved. So we were making that day green smoothies, we had a you know, a chef, educator, really young, dynamic guy making these smoothies that kids were throwing in, you know, handfuls of spinach tossing in the pineapple, and I'm standing watching and I love it like it is just those are the moments that really kind of inspire you. And I'm standing there with his dad, and he's watching his son, that kid maybe was four or five, and he's like, he's not gonna eat that. He didn't like anything green. And then like, he's having fun. You know, that's a win, too. Let's just see what happens. Of course, the smoothie comes out. Of course, this kid is just gulping it down. Tastes good. And he helped make it. Yeah. And then this moment, the child comes to his father and says, Dad, you have to try this. And I can see, this dad does not like green things. He is not into eating the spinach. It's always harder for the adults. And there's this moment where you could see he's like, oh, what do I do? What do I do? And maybe it's because I was standing there and it was pressure. But he took a sip. And he actually was like, it's actually not that bad. I love that moment. Because it reminds me that we're all in this together. That healthy eating can be fun, that families who are struggling still deserve the same joy in their food and the same access to beautiful healthy food. And it still brings me joy and motivates me even on the dark days.
Gloria Riviera  28:36
After this short break, Karen and I talk about food insecurity in childcare workers, plus your real childcare moments, the voices of the no one is coming to save us community. Those are coming up right after this. Sadly, there have been several dark days and part of the community suffering from food insecurity is actually the childcare workers themselves. Talk me through that. Like what are you seeing out there? I mean, we focus a lot on child care workers and early educators leaving to go work at places that can afford to pay them more, but for those who choose to stay, they're going hungry too, essentially
Caron Gremont 
It is a huge problem. So we work very closely again with the folks at rapid and they are doing monthly assessments in childcare spaces and with families of young kids. So their data from February of this year says that 1/3 of childcare providers experienced hunger in February 3. So let me add on to that. So just think about that 1 in 3, and their women who are caring for our children are struggling themselves with food insecurity.
Gloria Riviera  30:08
And it makes me think of how you describe the mom. The mom is stressed the mom's, you know, under pressure. And kids feel that tension. So 1 in 3 child.
Caron Gremont 
And most of these moms have young kids too. So we're all kind of in the same universe.
Gloria Riviera
But like, Mom is sending her kid to school hungry. That child is feeling the tension of mom at home, but then also feeling that tension possibly from the teacher there.
Caron Gremont 
Absolutely. So what Rabid did after that was they said to these childcare providers, how many of you are worried about the children that you care for being food insecure? 29%. So just one in three childcare providers, they themselves are struggling with food security, and how to get food on their tables at home with their families, then they're coming into work. And they are not worried that one in three of the children that they care for, is also struggling with food insecurity. And just to be clear, these are childcare. These are not folks that are in the homes, seeing what's happening. So this is probably an underreported number, right? This is childcare prevent providers who are actually able to have heard or see or know that a family is struggling. So they're carrying that burden and that way too, while of course, we know they're making poverty level wages.
Caron Gremont 
So Karen, what do we do about this? What do we do about this? What's on your to do list now? And what's on your year and five year out to do list? I often ask what would you like to see? I feel like that is a very, not such a hard question to answer. But where are you getting into this right now?
Caron Gremont  32:01
Well, I think let me start with the early childcare opportunity. And this is a great podcast, I've listened to every single episode, you have provided amazing ideas and resources, I'm going to throw something slightly different in to the mix for your listeners to consider. I think I oftentimes hear when we engage folks in early childhood on this issue. And especially women, they caveat it by saying, Well, I don't have kids, or I don't have kids yet, as if you need to have young children or have children to be able to join this fight for childcare. And I want to remind us all that we are not going to do this alone, we have to make the tent bigger. And we know the benefits of childcare, on the economy, on women, on small businesses. So let's invite everyone in and believe because we know that the benefits of childcare will lift up our country and our economy. So let's make everyone feel that they have a place at this table regardless of whether or not they have children and whether or not they have young children. I think women especially who do have young children are struggling to get through every day, we cannot expect them to have the time and the energy to lead this battle. We have to be there before and after them. And that is our opportunity and our obligation as it relates to food security. You know, I think over the last two years, the government has really leaned in and helped a lot in addressing food security. And that's why the numbers have stayed steady during what has been an incredibly difficult time. That said, there are some significant waivers that are about to expire. So for example, snap, commonly known as food stamps, or it used to be known as food stamps anyway, is a significant program about one in nine Americans is on SNAP right now. Over COVID, there were waivers and emergency allotments made that allowed every family on SNAP to get the maximum benefit with their snap dollars. That was huge end of June. That disappears. So to put that into context for some families that may have been getting $200 on SNAP because of this maximum benefit boost. Their benefits are now going to $20. And you know there are average. It depends everyone's kind of eligible a little different level base on their income.
Gloria Riviera  34:49
That's a huge cap to that benefit.
Caron Gremont 
We know food costs are significantly higher and are prices are increasing. So we have got to keep the pressure on our elected officials on the White House, to even though perhaps the COVID, quote, unquote, emergency is over the long, long white tail of COVID. Recovery is real. And we have got to keep fighting to not go back to what it was before. And to take what we've learned of these last few years, and keep pushing forward, no one wants to go back to the way it was, that is not an option, we have to go back to a better way.
Gloria Riviera 
I feel at least like we're aligned in a really, you know, pointed way, which is we cannot go back to pre-COVID on either childcare and early education or the food security issue that that was unacceptable. I mean, it just, I have reached points where my sort of, you know, it's like, I'm just hitting my head against a brick wall. And I want to say thank you, because your very, your passion for this is inspiring to me, as well. So I, you know, I want to talk to more teachers who can tell us about what they're seeing, but it looks like you guys have a pretty good handle on that. How is your perspective nationally from state to state?
Caron Gremont  36:19
Yeah, you know, it does vary state to state food insecurity, rates and numbers. But the reality is that for some reason in this country, we've kind of just accepted that food insecurity, hunger is just never gonna go away. Yeah. And I don't know why we have accepted that as a foregone conclusion, considering the incredible wealth and the abundance of food in this country. So I think, you know, part of it is we have to keep pushing, and keep reminding ourselves and each other that we don't have to accept it just because it is the way that it has been for so long. It's inexcusable.
Gloria Riviera 
I agree. I agree. I say somewhat embarrassingly, I say that I was not a childcare voter before this podcast, I did not know how my representatives really felt about childcare. I mean, I assumed we were aligned. But now I feel like I'm also a food security voter, right? Like, you can vote? And how will you use your vote, and we need to be aligned on that as well. It's interesting, because, you know, those are considered low priority issues for politicians. That's the perspective in our country, and they need to be at the top of the list. I like to end the show by I mean, I feel like I know what's weighing on you. But I'll ask you anyway, what's weighing? In addition to like, how you're gonna get your kids to where they need to be after school today? What else is weighing on you?
Caron Gremont 
You know, honestly, I think like many people who are actively working personally and professionally in this space, it is it is exhausting. I also want to acknowledge that I'm not on the front lines, I have a lot of privilege, that allows me to go home every day, and I do know what meal my kids are going to get. So you know, I want to be inspirational for myself and your listeners. But the truth is, I think we have to we have to also give ourselves grace and time and space. There is no alternative besides action and change, we have to do it. But there are days that it does seem too hard. And I think on those days, you have to just breathe and pause and you know, go for a walk or do whatever you can, because this is a long fight. And we have to save our energy to do it and fix it. And it's not going to happen overnight.
Gloria Riviera 
When you said there are days that are hard. It was interesting, because my reaction was like no, no, you can do this. Like I think expanding this community and connecting people and articulating the realities to one another. Whether or not you're focused on food security, I'm focused on child care and early education. We need to buck each other up. And we need to align our message and vocalize it as coming from one place. Right one demand.
Caron Gremont 
And that's why we need to make the tent bigger. Right too long. This has been an issue of childcare advocacy for moms who have young children. No, no, we know this is not that issue. This is much bigger. This affects all of us every single one of us in very direct and indirect ways. That is what COVID has laid bare. We have to come together and address this. And part of it is you know, I think especially in those early years of being a new mom, we're so isolated, we've lost our community. So and I, you know, I think that we are kind of kept isolated, there isn't the same mechanisms and opportunities to create community. And that prevents us from coming together to fight together. And we got to strip that back people, we're all in this together.
Gloria Riviera  40:28
It's so true. Because when you're a new mom, you know, and maybe, you know, other new moms, but everyone's exhausted, nobody has the bandwidth to create that community, which drives action.
Caron Gremont 
Absolutely. It's so funny. Like, I remember those first few weeks, I was home with my daughter and I'm almost embarrassed to share this. But there was a day that I was so hungry, and there was an apple on the counter, and I really wanted the apple. And I just, I did not know how I was going to clean and cut the apple and thinking about it. Now. It's like insane to me that that was so hard. But I swear to you that seemed impossible. We cannot expect those moms to lead the fight for childcare. Yeah, you're right. It's right lipstick, and they should not bear that burden.
Gloria Riviera 
Yes, they should not bear that burden, they are too tired. That is why we need people. And I've spoken to them on this show that do not yet have children, and who don't want child care and early education and food insecurity to be what it is today for their children, for their community. And their energy is amazing. When I talk to these people, I'm like, okay, your batteries are charged.
Caron Gremont
But you know, you also I mean, you had Elliot Haspel on talking about the role and the obligation that the private sector plays in this. We need those people. We need those people at the table, and we need them to understand this is an issue they too have to fight for, because it threatens their bottom line. Right? If that's what's going to make change in action, then let's speak that language. And let's bring them in. Right?
Gloria Riviera  42:04
It's a different language. This is the last question I have for you, what gives you hope? Is it that dad that took a sip of the smoothie and decided it was not so bad?
Caron Gremont 
I mean, it is stories like that I was talking a few days ago to some of our headstart friends in South Carolina. And, you know, they were talking very openly and honestly about their struggles with staffing and, you know, just keeping staff and all that. But they also then shared this really beautiful story about these high school moms and a dad actually, who were parents at their Headstart center, who had done a healthy cooking class as part of our work on food security and healthy eating, and they had made black bean brownies. And if you can just imagine teenagers making black bean brownies. I mean, you can sort of imagine the jokes and the ridicules and Instagram posts. But they had said to me, you know, it's amazing. We just reconnected with some of them. And they are still making those black bean brownies. And it's like, that kind of stuff, that's everything. And that, you know, I feel like oftentimes, when it gets too big, and the problems get too big, the only way to survive is to go really, really small. And focus on the one kid, the one family, the one neighbor, that that you can reach or that you can connect with. And I mean, that's the only way to get through this work.
Gloria Riviera
Yeah, it makes me think that whenever, you know, a good friend is down or my husband, I always say, you know, do something good for somebody else, because it makes, it fills you up. And I think that black bean brownie say that nine times fast. It makes me think that that is lasting change, which one day will become the norm.
Caron Gremont  44:05
Well, I agree with you. I would add on to that to say I think that a very small thing we can all do. We all have friends that have babies, and when they have babies, we send a baby gift or we drop off a meal. That is great. But you know what we should also do every time a friend has a baby, we should send a tweet to a member of Congress, we should make a phone call, we should help them by supporting the systemic change that we all need to make change. Because at the end of the day, that meal is going to get them dinner that night. But what we really need is to use that same energy to activate and to energize real change. So I have committed to every time I know someone has a baby doing something bigger or more systemic, in addition to helping them in a small way.
Gloria Riviera 
I mean, I could do it and my friends, we're not having babies anymore, but I could go back, I could make it retroactive, right? Whatever it takes from middle school like, get it off to high school, you know?
Caron Gremont 
Well, I mean, that's the truth. I don't have a lot of friends having babies either. But I have a daughter who's starting high school next year. I gotta do this fight for her and her kids and my son's kids. So it doesn't end just as you know, they enroll in elementary school.
Gloria Riviera 
That's right. Karen, thank you so much for your time. I appreciate it. I know our listeners will appreciate it. And let's keep going. Let's do this.
Caron Gremont 
I thank you so much for drawing more attention and bringing more light and making this topic something that is as interesting and important as we all think it is. So thank you very, very, very much.
Gloria Riviera 
I mean, someone tells me a baby is on the way because I need to tweet at my local government. Sorry, no more adorable baby socks for me, folks. I am taking action. I love that Karen is horrified with the status quo and is dedicating her work to changing it for the better. We're not going to take it from Twisted Sister, please. When she told me about CACFP that is the Child and Adult Care Food Program. It drew me right back to my conversation with Camille Bennett from a few weeks ago about the childcare subsidy system in Alabama. If you have not listened to that episode, yet, I highly recommend that you go back and find it. It is a good one. In Karen's words, the CACFP is an administratively burdensome program for childcare centers to run, you are reimbursed for meals you provide. So you have to keep attendance. Okay, ding ding. The food is there in the school. But if a child doesn't show up to eat it, the school doesn't get paid. What kind of system is that? What Bell does that ring? I'll tell you. It's the one that forces small business owners, mostly women, to hustle, to track down payment to submit receipts, which takes time and can cause delays in payments, all of which can contribute to a center closing. Which speaking of closing, I have some sad news to report. These stories happen all the time. But you guys remember Deb VanderGaast. She was on our show a few weeks back. She is the woman running for office in Iowa on a childcare platform. Well, she wrote to tell us last week that her childcare center is closing at the end of the summer. Deb says they simply could not afford to pay competitive wages, so they could not attract or retain quality staff. But Deb says she is going to keep working as hard as she can to save the remaining centers and to help make childcare more affordable for families while also making sure child care workers get a living wage. And we are going to keep fighting right along beside her. All right now it is time for my favorite part of every episode, your voices, your real child care moments. Here are this week's voices from the no one is coming to save us community.
Speaker 2  48:06
So I have two teenagers now but when my children were in daycare, it was so incredibly challenging. My children were in daycare, only about 10 minutes from my work. This works out, okay until my oldest started kindergarten. And then despite being on a waitlist for a daycare for months, I couldn't get them at the same place. So for two and a half years, I had to pick each child up at a different location and […] patient had different pickup rules and different pickup times and fines if I'm late. Thank goodness, my oldest is graduating from high school. I do not miss those stressful daycare years. One bit.
Speaker 3 
Hey, Gloria. So I have a unique situation. I have been a childcare center director for over 10 years. And during that time, I now have four kids. And so the dilemma that I'm having now is I have a degree, I want to do more. I want to work at a higher level than I am right now. I need to be paid more than I am right now to support my family. But I cannot quit my job and get a job that pays more and has benefits because my current job as a center director allows me to bring my children to daycare for free. And there is no other job that I can currently get or I have that luxury and or job that I could get. That would pay me enough to also allow me to pay for childcare for free. Are children. I don't have the luxuries that other people have of having family. I really rely on the childcare system. And the system is just not in place for me and my family.
Gloria Riviera  50:20
That first mom, that phrase, those stressful daycare years that she doesn't miss. It should not have been that stressful. And the second woman who feels trapped essentially in her job, because it accommodates her being a mom, did you hear that? She said, I really rely on the childcare system and the system is just not in place for me and my family. The system is just not in place. No, it is not. But it doesn't have to be this way. It really doesn't. Thank you all so much for continuing to send us these voice memos each week. I love hearing from all of you. If you want to participate. It is so easy. Just take out your phone, record a voice memo and send it to me, gloria@lemonadamedia.com. I cannot wait to hear what you send. Coming up next week. Ellen Galinsky. She is the Chief Science Officer at the Bezos Family Foundation, and executive director of Mind in the Making, she will tell me all about the seven essential life skills every child should have, and what parents and caregivers can do to teach them to their kids. And then the week after that, I'll be talking to probably our most requested guest of all time, Dr. Becky, I'm gonna go out on a limb and say you all know her. She is a clinical psychologist, and the host of the good inside podcast. She's going to talk to me about separation anxiety, mom, guilt, burnout, and so much more. It's basically a free therapy session. I think you're gonna love it. Okay, that's it for this week. Hang in there, folks. I will see you next time.
CREDITS
NO ONE IS COMING TO SAVE US is a Lemonada Media original presented by and created with Neighborhood Villages. The show is produced by Kryssy Pease and Alex McOwen. Veronica Rodriguez is our engineer. Music is by Hannis Brown. Our executive producers are Stephanie Wittels Wachs, Jessica Cordova Kramer, and me Gloria Riviera. If you like the show, and you believe what we're doing is important. Please help others find us by leaving us a rating and writing us a review. Do you have your own experiences and frustrations with the childcare system? Do you have ideas for what we could do to make it better? Join the no one is coming to save us Facebook group where we can continue the conversation together. You can also follow us and other Lemonada podcasts at @LemonadaMedia across all social platforms. Thank you so much for listening. We will be back next week. Until then hang in there. You can do it.