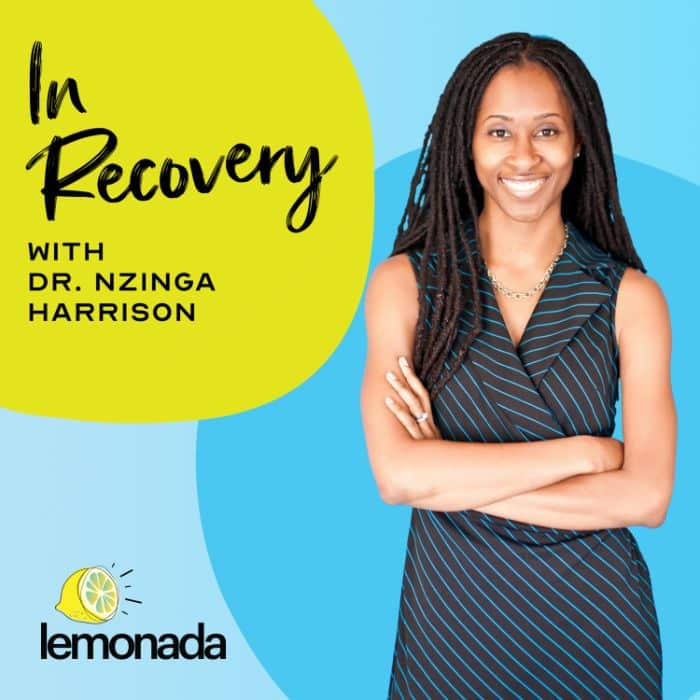 Not Guilty for Reason of Insanity
Subscribe to Lemonada Premium for Bonus Content
Description
Not guilty for reason of insanity is a full acquittal of criminal charges. Does that mean it's a get out of jail free card? Turns out it's much more complicated. Olachi Etoh first started hearing voices in 2009. It hit its peak five years later, when she thought she was experiencing a terrorist attack at Chicago O'Hare airport. Her reaction landed her in Cook County Jail for a year awaiting trial.
Please note, In Recovery contains mature themes and may not be appropriate for all listeners.
Click this link for a list of current sponsors and discount codes for this show and all Lemonada shows go to lemonadamedia.com/sponsors.
Have an addiction-related question? We want to hear from you! Call 833-4-LEMONADA (833-453-6662) or submit your question through this form:  bit.ly/inrecoveryquestions
To follow along with a transcript and/or take notes for friends and family, go to www.lemonadamedia.com/show/in-recovery shortly after the air date.
Follow Dr. Harrison on Twitter, IG, and FB @naharrisonmd
Stay up to date with us on Twitter, Facebook, and Instagram at @LemonadaMedia.
Joining Lemonada Premium is a great way to support our show and get bonus content. Subscribe today at bit.ly/lemonadapremium
Transcript
SPEAKERS
Dr. Nzinga Harrison, Olachi Tiffany Etoh
Dr. Nzinga Harrison  00:05
Hi, everyone, you're listening to another episode of IN RECOVERY. And I'm your host, Dr. Nzinga Harrison. So this week on IN RECOVERY, we're so excited to be hearing lived experience from writer, speaker and advocate, a Olachi Tiffany Etoh, she has a dynamic focus on mental illness because of her own lived experience with it. So I won't tell your story Olachi. But welcome.
Olachi Tiffany Etoh 
Thank you, I'm so happy to be here.
Dr. Nzinga Harrison 
So, I really just want to jump in a bit chronologically, and help the audience get to know you if we can. So tell us about who you are, and kind of who you were growing up and what your experience was like, and then move us into this experience that has turned you into the advocate you are today.
Olachi Tiffany Etoh 
Right. Absolutely. I grew up in Baltimore, Maryland, where I am now. I am the last child of two Nigerian immigrants. And you know, we were really proud of who we are in our nationhood living in Baltimore, Maryland, I grew up rather sheltered, you know, my parents were very protective of me. And for good reason. I think they wanted us to achieve, you know, at an early age, and excel passed what they were able to achieve. And so with that kind of parental approach comes discipline, and, you know, making sure that we're in the right lane at all times. And it was even more so pronounced, you know, being an immigrant family as well, knowing that there's some injustice is there that their children could face down the road and wanting to prepare them for that? I went to Boston University. And that was when things started to change, right? Like the landscape started to change a little bit.
Olachi Tiffany Etoh
And many people who, you know, have mental illness, and, you know, they note that they probably were like, in their 19 years old, 20s, when they started to have that first break. And that's what it was for me as well. I started to hear voices, you know, and almost immediately, I recognized that something was wrong. Because my mother was a psychiatric nurse, actually at Johns Hopkins. So there was this knowledge there, this background knowledge, though minimal, that, you know, what I was experiencing wasn't right. And so there was less stigma there with her working at Hopkins. So I immediately reached out to her, you know, and this was, it was, you know, debilitating because there's so many different symptoms of different mental illnesses. But hearing voices is like, the most epic kind of peak symptom that many people have to endure.
Dr. Nzinga Harrison  02:59
Tell us what was it like? Like, what did they sound like? Did you know who it was? What did they say? What was the emotional experience, like bring us inside that experience with you as a 19-year-old college student just away from home.
Olachi Tiffany Etoh 
Right. So the voices were a mixture, they were of people that I knew and people that I didn't know. So it was, there was a common theme, right? A common delusion, that kind of thread through them all. And it was this idea that I had telepathy, right? And every time I discuss it, you know, it gets easier to tell, and it's an important story to tell. But nevertheless, he sounded crazy. The day is long, you know, and, you know, it was this thread that everyone in the world were telepaths. And we could all hear each other's thoughts, and I just had to learn to cope with it. Right? And so the voices would often kind of belittle me and say, wow, like, you can't get ahold of your telepathy. Like, everybody has telepathy, what's wrong with you, Olachi?
Olachi Tiffany Etoh  04:12
You know, I immediately kind of resisted, like, I knew this wasn't right. I knew it wasn't true. But when you hear that kind of repetitive communication and voices, there is a shred of you, in the back of your mind that's like, what if this is real, especially not having, you know, a troubled upbringing or any sort of traditional trauma that we are, you know, associated with many mental illnesses? It seemed out of nowhere, right? You know, here's someone with this typical, I don't know if I'm gonna say typical, but conventional upbringing and, you know, there was nothing that would be apparent to unseat my mental illness like there's nothing that I could say, that moment when I was 12. That's what, you know, changed everything for me, I didn't have that. So it was hard for my parents to accept that I had this mental illness and in a lot of ways, hard for me to accept it as well.
Dr. Nzinga Harrison
Had anybody else in your family experienced a mental illness?
Olachi Tiffany Etoh 
No, not that we know of. And also because you know, we're Nigerians and you know, I'm first generation born in America, if there was someone, you know, they were in Nigeria, and there's almost no way to trace that. Right?
Dr. Nzinga Harrison 
And so you're 19. And you're having this telepathy delusion, and the hallucinations and voices that are reinforcing for this for your brain that this must be true. You call your mom?
Olachi Tiffany Etoh
Yes, it was actually the day of Barack Obama's inauguration. And, you know, I was watching the ceremony and listening to these voices coming in, and calling my mom and just not knowing what to do. And she immediately got me a train ticket from Boston back to Baltimore. And that's where my journey with mental illness really began.
Dr. Nzinga Harrison  06:16
While you were at school, wouldn't have been externally apparent, either to your friends or to your professors that you were struggling.
Olachi Tiffany Etoh
That's very possible. And I and I liked that you asked that because later down the road, my illness was apparent to others and not to me, and that's the thing with mental illness, other people will notice before you can look inward and say, hey, something is wrong here. Something's not right. But at Boston University, which I think kind of aided in this disconnection and isolation of the illness, it's like, the school was so large. So you had professors and 400 other people in auditorium, you know, in a lecture, so there was no sense of intimacy between me and even some of my friends, you know, there was a lot of us and we were all, you know, millennials, inward, navel gazing, you know, thinking about ourselves, and not what was going on with our fellow human, which is something I definitely advocate for that checking in, and that making connections is so important for people with illness
Dr. Nzinga Harrison 
For people, period. So okay, so you come home, and you're in an IOP program, there's a particular psychiatrists that you really connect to, pick us up there.
Olachi Tiffany Etoh
Yes. So I started my mental health journey, trying different medications. And some of them were really debilitating. You know, I found that over the years, there's not a whole lot of investment in mental health research. So some of our medications are the same medications we were using in 1980. And you take certain medications, and almost immediately, like, it's easy to just lose your body. And not yet regain the mind. So I found that it's like, I was taking medication that increased my weight, you know, 60 pounds, and like, I was still having these delusions. So like that risk benefit analysis with the medication was hard for me to kind of like blindly accept. But what was stronger within me was that I knew that what I was experiencing was not normal. So I wanted to find a solution.
Olachi Tiffany Etoh  08:50
So I kept taking the medications that we, you know, we tried. And unfortunately, I wasn't for years able to find a medication that really brought the type of healing that, you know, we as people with mental illnesses can even achieve in today's society, because there is no cure. So all you can do is hope that a medication will alleviate these symptoms. And because I wasn't able to find it in those early years, I just assumed voices were something I'd have to deal with for the rest of my life. You know, I tried Geodon and Abilify and I did not give anti-psychotics enough of a chance. You know, I will admit, I think I had that self-stigma there where I was not, you know, I was just averse to the idea of taking something called anti-psychotic, right?
Olachi Tiffany Etoh
So like I thought, you know, a mood stabilizer. That sounds a little bit more amenable, right? You know, so I was, you know on mood stabilizers I transferred to the University of Baltimore in my hometown. So I could be closer to family, which was a good move, I think. I think that was exactly what I needed. And I know a lot of people don't have that, you know, I can only imagine what it would be like to go through this alone, right? I wonder if you know, someone going through this alone could even make it to the other end, you know, because, you know, so many days, they were dark, you know, I had, you know, the voices would say things like, sleep on your left side, and you'll wake up a telepath. So that was like, for those early months with the illness, I would just sleep on my left side every single day thinking I would awake and the problem would disappear, right?
Dr. Nzinga Harrison
We're gonna take a quick break, and we will be right back. I really want to shine a bright light on something that you said, which was, early in your journey, as you were taking these medications, it seemed, and I'm gonna not get the quote, exactly right, but, easy to lose your body, but you weren't regaining your mind. And I want to say, I want to shine such a bright light on that for those of us who are on the treatment side of the relationship, because I think we often get lulled into a lack of understanding about how significant what you're losing, can be, as we tried to get back to, you know, regaining your mind. And there are studies, to your point that you said, you know, there's not a cure. The same is true for diabetes, the same is true for high blood pressure, right? The same is true for asthma. And there are studies that show us that at a year, 70% of people are not able to follow the recommendations that we've made for whatever combination of reasons.
Dr. Nzinga Harrison  12:46
And to you saying that I always ask the question like, and so what is it about the recommendations that I'm making? Or what are the barriers to people actually following those, and I think one of them for you early on is like, I'm losing my body. Right? At the same time, I'm losing my mind. And I'm not even, like, maybe I would lose my body if I were regaining my mind, but I don't even feel myself regaining my mind.
Olachi Tiffany Etoh 
Right, right. And I think, you know, even to take that further, it's like, I did not have any kind of concept of how my mental illness could evolve, right? or like or what could happen, or how it could affect others. So I just thought, Oh, I take this medication. And that will be it. Like, everything's protective, everything's secure. But it takes a level of insight to make sure of that. And, you know, we don't really talk too much about some of the unfortunate events that can take place because of someone's mental health.
Dr. Nzinga Harrison 
So let me go ahead and pull that thread now, Olachi, walk us up to the experiences you ended up having.
Olachi Tiffany Etoh  14:07
Right? So as I attended University of Baltimore, I was able to graduate and graduate with honors, which was difficult to do when you're hearing voices, right? So there were times where I'd run out of the classroom, you know, just gather my things and abandon a lecture because I was hearing so many of those voices, but I graduated and I became infatuated with the idea of medicine. You know, I had cousins who were in medical school, and it just felt right for me to try and pursue that path of psychiatry because I thought, you know, with my illness, I would be able to help or inform treatments or be someone who can teach someone to swim because they It's been in the water, right? So I went to Loyola University of Chicago for a post baccalaureate and pre medical sciences and I thought, you know, this was going to be it for me. But then my illness started to inch slowly toward to the surface more so than it had. In my previous days. I started to have panic attacks.
Dr. Nzinga Harrison
Give us a time marker here, we're how many years into your illness by this point?
Olachi Tiffany Etoh 
My illness started in 2009. I got to Loyola University of Chicago in 2013.
Dr. Nzinga Harrison 
Okay, so we're four years in?
Olachi Tiffany Etoh 
Right.
Dr. Nzinga Harrison 
So a continuous struggle for four years.
Olachi Tiffany Etoh 
Right. It never went away. And like my only option was to continue to move forward through it. And because I was seeing a psychiatrist, I thought this was the best it could get. I thought, you know, I'll take the medication. And this is life, like I will always hear the voices, I will always have to be battling this illness on a daily basis. And so I left Loyola University of Chicago, I took a leave of absence because of the panic attacks and anxiety. You know, at this point, I had bipolar disorder NOS. So I went to go work at a technology company in downtown Chicago. And it was there that my illness started to impact me in a level that I had not yet experienced. I started hearing the voices again, which had been in some in like a quiet remission for some months. They were still there, but I was able to kind of move forward and, and keep things and integrate with the community. I was volunteer at the Art Institute of Chicago; I was taking improv courses. And the problems I had, at the time, I just assumed were a part of like a quarter life crisis. I never thought that it could be because of my illness.
Olachi Tiffany Etoh  17:14
So while I was at the technology firm, I started to hear those voices come in, and suddenly I was detached from reality. I heard the voices of my coworkers, you know, saying that they, they were threatening and sent saying that they wanted to, you know, harm me. And it was very scary. And that was the first time that I had that detachment from reality. So I started wandering the streets of Chicago, in psychosis. I was, you know, having delusions and hallucinations. At one point, it felt like a musical it was just like this sensation of like euphoria, but also paranoia and fear. And my mother couldn't get ahold of me. So she flew out to Chicago to try and find me. I was wandering the streets, my phone was dead, I wouldn't go back to my apartment or my job because I thought they wanted to kill me. My mother called the Chicago Police Department and said, you know, can you help me find my daughter, you know, she has a mental illness, she could hurt herself.
Olachi Tiffany Etoh  18:31
They told my mother that because I was an adult, you know, they couldn't help and they couldn't do any kind of welfare check. My mom flew out here to a hotel, I think it was the Hilton Hotel and the concierge has tried to help her find me and would drive her to different locations where I was and by the time she had gotten there, I had disappeared. Just following delusions and hallucinations. You know, I kept going to O'Hare Airport, because I feel like in the back of my mind, although I was not located in the present. There was some shade within me that said, you know, get home, get home to Baltimore. I had a travel voucher, you know, that I wanted to use to purchase a ticket, but every time I got to a kiosk, I couldn't execute the task because I was just lost on delusions and hallucinations. So you know, I'm walking through the airport and I suddenly hear gunshots. And this is the biggest auditory hallucination I have ever experienced to date. And I'm hearing gunshots and it feels like it could be a mass shooting or a terrorist attack. You know, that was the understanding that I had.
Olachi Tiffany Etoh 
I am walking through the airport, I feel like everyone's running and I'm like swept up in like this gunfire It was like, these were the things that I saw and that I felt and that I heard, you know, and I saw a young mother with her child. And immediately I'm thinking, Oh, I have to help them get to their departure gate, like we all have to survive this, do whatever you can find a police officer and help her with her child. And it almost felt like there was that telepathic delusion again, you know, thinking that she agreed to this or wanted that. But really, this was just a stranger, and we were not talking right? You know, but because I was hearing those gunshots, I was like, if I don't help her, I will be the person that let someone die in the middle of a mass shooting crisis.
Olachi Tiffany Etoh  20:58
So, you know, I picked up her child, and I walked towards an escalator, thinking that she was along with me. And this is, you know, a matter of seconds, and she's able to retrieve the child from my arms. And as the child was leaving my arms, I didn't even see the mother. So it felt like the child was like floating above me. Again, it was that disjointed reality, all of the sensory delusions that you could possibly think of. And so I tried to secure him in my arms, and she was able to take him back from me. And no one was harmed, and I'm thankful for that every single day. And, you know, whenever I look at the, you know, eyes of my nephews, I know that what took place was sacrosanct. You know, I know that it was not my intention to harm anybody or, or scare the mother. And I'm glad that everyone was able to walk away unharmed. But to
Dr. Nzinga Harrison  22:13
that, to that mother, and everybody else in the airport watching. You are a woman who they can't tell at first glance is ill, right, who just came and took this woman's child and ran, and she ran. And then when she tried to get the child, you were trying to hold the child because you thought the child is floating, and she's trying to steal her child back from a stranger. That's what it was to the outside eyes, although you're having a completely different experience. And so I can imagine what happens next. But first, let's take a quick break.
Dr. Nzinga Harrison 
Okay, so we've left off, and you just take in a woman's child thinking in your mind that you are helping her in a dire situation.
Olachi Tiffany Etoh
When I look back at the footage, you know, when they showed the footage at my trial, it's like no one was even running. So even that aspect, that urgency was all in, you know, my head, like it was a very calm, like, quiet Tuesday afternoon at O'Hare Airport at the baggage claim, you know, she's able to retrieve her child from me in like 20 seconds, you know. And I left and I went to Starbucks, you know, I had another delusion and forgot what had happened. I forgot that it had even transpired. And as I'm walking through the airport, I am approached by several police officers, and they arrest me and they put me in handcuffs and for aggravated kidnapping, which is, you know, one of the biggest charges that you could ever face and they set my bail at $450,000.
Olachi Tiffany Etoh  24:26
You know, my family kept callings, you know, spoke to the reporters, letting them know that I have a mental illness and that, you know, I was in, I was not a criminal. But at this point, you know, this criminal justice system had stepped in and once they step in it, there is almost no reason no logic, no compassion. You know, I have such incredible remorse for what has happened. And, you know, I can't even Imagine how the mother felt. And I know that it, you know, it looked so intense. But at this point, my mental health disorder had disordered my understanding of right and wrong. And, you know, when they threw me in jail, it was even like, for one second, I may have felt relief, because I was no longer on the streets. You know, the Chicago police couldn't link that my mother had been calling for welfare checks and for them to find me, you know, the help they gave was just basically by throwing me in jail.
Dr. Nzinga Harrison 
And then, so you're in jail? How does your mother find you? How does the experience go forward from here?
Olachi Tiffany Etoh 
Well, she, you know, my mother finds out my whole family finds out that I've been arrested at O'Hare, they tried to explain to everyone my mental illness, and I had no criminal history prior to this. So I basically am stuck in jail, though, because there's nowhere where I could be discharged. My whole family lives in Maryland.
Dr. Nzinga Harrison  26:17
And your bail is $450,000.
Olachi Tiffany Etoh 
Exactly right.
Dr. Nzinga Harrison 
So even if your family was right there, the chance that you could make that bail.
Olachi Tiffany Etoh 
Right, very slim. So, you know, I'm in jail, hallucinating for a year and having hallucinations. I am in jail from September 3rd, 2014. I believe my trial; my bench trial was in August 2015. What? Yes. So I'm, I sit in jail. And I mean, there's one psychiatrists for a million people, no one's getting any kind of treatment. I there were times where I had to go to solitary confinement. I don't even remember why just hallucinating. And I didn't know what I had done until eight months had passed. I had to ask the law librarian like, why am I here right now, because I just was lost in those hallucinations and delusions. I asked the law librarian why I was here. She returned with a printout of the state statute for aggravated kidnapping, and it still didn't make sense. And so I get to my bench trial. And there's one day of testimony. And I'm found not guilty by reason of insanity, which is a full acquittal. But as I've written a lot, in my memoir, this type of acquittal doesn't behave like what we know to be an acquittal.
Dr. Nzinga Harrison 
Follows you forever,
Olachi Tiffany Etoh 
They take you to a hospital, which behaves in a lot of ways, like some sort of extended prison, you know, there are doctors and there are nurses. And yes, there's this pretense that we're in recovery and that we're not being punished. But when you're there for four years, and they're telling you that you're lucky that you got out in four years. That's insane. That's intense for you
Dr. Nzinga Harrison  28:28
spent a sentence of five years a year in jail, plus four more years.
Olachi Tiffany Etoh
Yes. And then when you explain this to advocates, they say, Well, this is not supposed you're not supposed to be sentenced anywhere, right? Like, you're supposed as a not guilty by reason of insanity patient, you're sent to a hospital, and then the judge awaits word that you are ready to be released. And that's how it's supposed to be theoretically, you know, and then they discharge you once you're no longer, you know, in psychosis or a danger to yourself and others. But what we found was that people could easily be at the hospital for 10 years, 15 years, 20 years. This is like a never-ending consequence, right? So and they can always say, well, we have to make sure you're not a danger to yourself or others. And that's the catch all and that has no end date, or any need for proof.
Dr. Nzinga Harrison
What happened that allowed you even to get out in four years. And then once you did get out, move us to your present day because I think it will be hard for people listening to conceive of the experience of psychosis that you're telling us about it. And the just a very clear way that you're able to tell us the story and your advocacy and your functioning today. So I want to draw a bridge. Okay, how did those four years come to an end? And then how did you get to the point where your cognitive emotional thinking social advocacy functioning is what it is today?
Olachi Tiffany Etoh  30:24
Okay. So while I was at the hospital, they had a past system. So you had to, in a lot of ways, show showcase and prove your stability. I was able to do this without any kind of negative interference by being in the criminal justice system, because I had advocates, I had my family who was behind me. So the people at that hospital knew that there were so there was someone they would have to answer to, right? There were people that wanted me back.
Dr. Nzinga Harrison 
That is so important. And I just have to put like, a hard, bold and underline on this, like, the reason people stay for 10 and 20 years is because they don't have anybody that the system has to answer to. There's nobody saying like, we don't accept this for our loved one, or for this person.
Olachi Tiffany Etoh 
I also had a lawyer, which was huge in a hospital like that. And because that was, you know, the doctors and the nurses and you know, the specialists there would answer to the court system. And there were many people who did not have lawyers and their trajectory would be at least two years longer because of that, getting any of the people at that hospital to take you seriously depended on a lot of things that God had blessed me with. And I was able to go through their past system, their requirements, to gain release, and I had people watching. But in one positive thing I will say, though, while I was at that hospital, I discovered or I didn't discover, but I was given Risperdal, which has been huge for me, that has been the one medication that has taken away the voices completely. I never thought it was possible.
Dr. Nzinga Harrison 
I don't mean to give Risperdal a free ad. But I to have had lots of wonderful experiences with both Risperdal and Invega for people that I've taken care of.
Olachi Tiffany Etoh
That has set me up for success in life that I did not think I would ever have.
Dr. Nzinga Harrison  32:51
So bring us to today, how you got to today and what today is.
Olachi Tiffany Etoh
So once I was released, I went to a group home in the outskirts of Chicago, the hospital where I was they didn't really allow people to go home to their family, which was like another thing that they did that didn't make human sense or recovery sense. It was, you know, punishment sense. They just wanted you to be at another state brand facility, I was able to meet an attorney named Patrick Yingling. And he immediately was passionate about me getting home to my family. And everyone had told us that it would not be possible that the state of Illinois, you know, now had me for an extended period of time, and I just refused and he refused and my family refused. And the prosecution, they prosecute you to the fullest extent of the law. It doesn't matter what you know, we know about mental health, or we know about progressive thoughts on recovery and how mental health works or how treatment works. They will always bring up what happened at O'Hare as a reason to never let me you know, leave the hospital or go home to family or move forward. But I had a judge who saw through that, which I'm really thankful for because again, that doesn't happen to everyone
Dr. Nzinga Harrison  34:35
Or to almost anyone.
Olachi Tiffany Etoh 
Right. You can have judges that don't know anything about mental health and the fear will be enough. And they will say, No, she can't leave, you know. So we went to have a hearing at the end of December 2020. And that whole year in the group home was the year of the pandemic and you know, I wrote a lot and I was able to bring this memoir together. And at the end of 2020, we went to a hearing and we had expert witnesses, psychiatrists that believed in me, and who knew that I had been in remission since 2016, officially, and the judge was amenable, he granted a modification of my conditional release. And now lets me live with my family in Maryland. And this is where I've been advocating, writing, you know, helping to further the discussion of mental health in the criminal justice system. I really, truly believe that the mental health pathway, people that are not guilty by reason of insanity, the things that we endure, should also be a part of this greater conversation of criminal justice reform.
Dr. Nzinga Harrison 
What I think will be a new concept for people who are listening is, you know, there's this idea in the general public that not guilty by reason of insanity is just a free, let you off the hook, no consequences. And what you're describing is, honestly, the complete opposite, which is the criminal justice systems, inability to stand in the evidence base of medicine and psychiatry and recovery, and actually enacting more harm on people that have mental illness as part of a punitive criminal justice approach, rather than that big incident, and O'Hare being an opportunity to try to most quickly get you to a pathway to recovery, as a way of preventing that from right from happening again. Yes, the last year was harrowing, for everybody for so many reasons, and not being with your family. And being told that the state of Illinois has you like this such a scary idea.
Dr. Nzinga Harrison 
What we talked about on this show the idea of the magic formula. And so I want to talk about what your formula was for coping and recovery and health and mental health, throughout the pandemic. And now that you're back home with your families, what is that formula, because while people may not be able to relate to the full psychotic episode that you have, people can relate to the struggle, and to our minds, sometimes convincing us of things that are different than the rest of the world is seeing it, and to being caught up in, you know, a system and not being able to access the support, the resources that they need. So what did your formula look like through the pandemic? And what does it look like now.
Olachi Tiffany Etoh 
So my formula has always been anchored on hope. And I know that sounds corny, but actually actively envisioning yourself as the person who can overcome adversity, and the person who can achieve your wildest dreams has given me such strength. And it's been my strength since the very beginning of the hospital. You know, each day I wrote down everything that transpired everything, I thought, business ideas, everything I dreamed. And when I left the hospital, you know, my parents had collected 30 notebooks, because every time they came to visit me, I gave them a stack of notebooks. And I, that whole year, I went through the notebooks kind of reliving every idea or hope or dream or tragedy that I experienced. And having that outlined for me was what gave me this sort of anchor that I knew I could succeed, and I could maybe build the things that I had thought of earlier.
Olachi Tiffany Etoh  39:04
And I know not everyone can relate to psychosis. And I remember feeling so seen when Lady Gaga came out. For the me you can't see and discuss how she was psychotic at one point. But I mean, it was a surprise to me, as well. It was a huge surprise that my mental illness could evolve in such a way and having the hope to be a better person knowing that I've been in remission in these many, many years and that I am more healthy than I was before my mental illness is hope for me and if anyone is out there listening to this and they hear voices, or they know someone that hears voices, I want them to know that there is hope for that too. And I didn't even know to ask for anything better, because I thought that was just a baseline for the rest of my life. And it has ended, you know, and I just, I think, without the hope that, you know, my parents instilled in me, or spoke to me over the phone or even lawyers who had hope for me in their professional sense. I think all of that came together in mindset, this impenetrable mindset that I had to build, to combat some of the adversity and challenges that I faced.
Dr. Nzinga Harrison  40:35
That's it for this week's episode. Thanks for listening, and we'll be back next week.
CREDITS
IN RECOVERY is a Lemonada Media Original. This show is produced by Claire Jones and edited by Ivan Kuraev. Jackie Danziger is our supervising producer. Our theme was composed by Dan Molad with additional music by Kuraev. Stephanie Wittels Wachs and Jessica Cordova Kramer are our executive producers. Rate us, review us, and say nice things. Follow us at @LemonadaMedia across all social platforms, or find me on Twitter at @naharrisonmd. If you've learned from us, share the show with your others. Let's help to stigmatize addiction together.