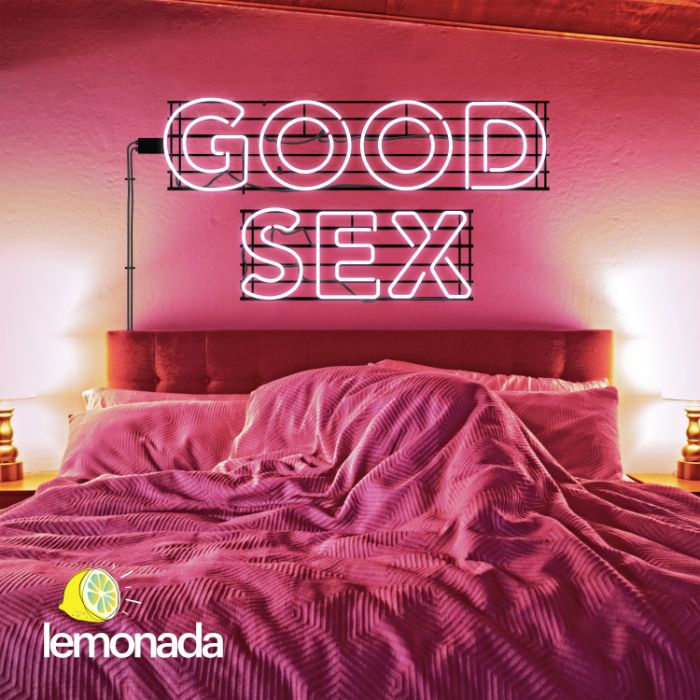 Oscar & Garlan: When the Booty Call Changes Everything
Subscribe to Lemonada Premium for Bonus Content
Garlan and Oscar just recently closed their relationship, but that doesn't mean there aren't more areas to explore with each other. The couple talks about advocating for yourself in the bedroom and why production value matters when you're camming. Plus, they curate a celebrity threesome!
If you're interested in being a part of Good Sex, please fill out this form: bit.ly/goodsexpodcast
As expected, Good Sex contains mature themes and may not be appropriate for all listeners.
Stay up to date with us on Twitter, Facebook, and Instagram at @LemonadaMedia.
Click this link for a list of current sponsors and discount codes for this show and all Lemonada shows go to lemonadamedia.com/sponsors.
Joining Lemonada Premium is a great way to support our show and get bonus content. Subscribe today at bit.ly/lemonadapremium.
Transcript
SPEAKERS
Garlan, Oscar
Garlan  00:02
I find that sometimes I'm like […] there dick, can I say dick?. Hi, Garlan and my pronouns are they/them.
Oscar  00:14
Hi, I'm Oscar, my pronouns are he/his, and you're listening to GOOD SEX.
Garlan  00:25
Oscar and I met last April on hinge. And then in January, we went to see a Matinee on Broadway. And Oscar took me a Dallas BBQ after and asked if I wanted to the officially to hold hands. I said, sure.
Oscar  00:46
I'd say we've been lovers for over a year, we've been dating for about six or seven months. So we spent a summer exploring what it meant to be lovers and nit traditionally dating. I was very vocal that I wanted to be a slut that summer.
Garlan  01:03
And I bet you are.
Oscar  01:07
And then we were still in each other's lives after that.
Garlan  01:11
Yeah, I guess it's worth saying that you were very vocal from the start about like, wanting to be casual. And you know, you were newer to the city, especially being able to do things during a pandemic, as things opened up. And, yeah, it seemed cool. And I respect that the whole time. Until I guess it became more of a thing.
Oscar  01:39
We had been hanging out a bit. And I think we were both people that it was kind of surprising that we didn't have sex the first time, which made it intriguing. And so then we hung out a bit. And then I got out with my friends that day, and had just been out all day and then was getting in an Uber home. And you told me that I should change the address to your place. And I was like, in the middle of Uber. And so I switched the address, and I went to your place, and I stayed over and slept in my contacts, you know? And we did it.
Garlan  02:07
Yeah, we hung out. We definitely hung out a few times. And I don't think we even kissed I don't think was even a kiss. I was like, okay, this person's friend zoning me, or whatever, then yeah, and then a booty call him.
Oscar  02:23
The booty call that changed everything. Do you think sexual compatibility is inherent? Or is it something that we have developed over time?
Garlan  02:35
It's very intellectual question. I for talking generally, I think it depends on the person. I'm a pretty as you know, sexual person. I like to connect to my Scorpio nests that I'm feel very, like physically excited by people. I think like more. A deepening is obviously developed over time that sure sex couldn't just be like, kind of transactional hitting all the beats getting all the marks. But I think it can get interesting when you, you know, do a bunch of stuff on and you find out more fun ways to do it. Or you just realize you want to discover new things. But I've also had some like, very one night Standish I suppose you could say sexual interactions that were pretty like wild and fun. Meant to be.
Oscar  03:37
Yeah, I think I was thinking about it directly after watching that episode of Sex in the City where Carrie is having sex with someone she really likes, but it's bad. Or the way she handles it is by saying we should talk about it. So it made me start to think about the ways in which I think we've had very open discussion of like, I like this, this way. And I think that's good.
Garlan  03:57
Yeah. I feel pretty comfortable in the bedroom now. So I think it doesn't take me to like have to be in a relationship with someone to be like, can you do that or not do that. I think it's an area in my life where I feel very like, I'm not afraid to say. I don't want to say, generally. Do you feel that way?
Oscar  04:18
I think it's a journey.
Garlan  04:20
I feel like you love saying no. So I can't imagine you being shy about telling someone to not do something.
Oscar  04:25
Yeah. And even not do something but do something differently. Also do something in a way that is more pleasurable for you specifically, I was in a relationship before I felt very like sex was different than discussion in which I like to be like, vocal and laugh and be silly when I do it and be very much in the moment because I think sometimes people get really into the performative nature of it and then feel removed. So if something happens, then it kind of shifts the mood and then everything gets ruined. But for me, I think I tried to keep a conversation going and keep it light. So in that sense, right, it feels a little bit easier to be like stop do it this way. You'd turn around this way, because there's something inherently awkward about sex like it's like, awkward, like clunky and like weird. So if you can really accept that and be like, come this way, turn that way. Don't do it that way. Has been a journey, but it's been nicer. And I also it's ever since like being with you, I think I feel comfortable in doing that, too. I've just been like, okay, you can just say that and just move it around rather than like, sit in the awkwardness and then not actually do what you want to do.
Garlan  05:26
You're also very sweet because you're very consensual. Usually like, can I do this. Do you mind doing this? And it's not like, somebody will be like, oh, gosh, what a buzzkill. I'm like, I find it very sweet. It's very fun.
Oscar  05:43
It's my Midwestern upbringing. Yeah, excuse me. Can you please slap me in the mouth?
Garlan  05:49
Do you mind not too much? So my question for you Oscar is, is there an area you would want to explore more? If so what would it be?
Oscar  06:05
Like geographically? I mean, I famously have never had a threesome. So I think that is always interesting. But also seems to take a good amount of planning. It feels like there's an element of like, you either jump into one or you plant it with someone else. And so figuring out those dynamics has been interesting.
Garlan  06:29
Well, what's interesting to talk about the threesome thing is that, you know, when we started officially being together, being open, and then more recently, we've decided to become exclusive. It's a weird word to not be open. But yeah, we've always talked about, we used to have a threesome at some point. And now I'm like, I don't know if that's, is that on the table? Being monogamous, do you? Is it okay? Because the other person's there, and you're both engaging?
Oscar  07:00
Who knows? I think my never having a threesome is a personal failure. It seems like one of the things that like just should happen, it just comes to you. But maybe I haven't kept my eyes open enough for possibilities. I did once recently, when I was Halloween, and I had just won the Miss Sycamore bar Halloween pageant. And I had a couple come up to me, and they're like, Oh, we like love your vibe, but then they didn't invite me over after. Sighs like, did I not fumble that like, Is that how you're supposed to do it? But I just didn't really follow through.
Garlan  07:30
How did she respond?
Oscar  07:32
I talked to them for a little I think they just liked my vibe. I don't think they're trying to have sex with me. I just think they thought I had a great costume on. So yeah, that's me to explore. But also, in those situations, it has to be the right environment of like, I'll do it when it's presented to me. In a great way.
Garlan  07:49
Yeah, I the idea of planning a threesome sounds strange to me. I think. To me, it seems like it really hypes it up. Like, okay, we're planning. This is where we're gonna be. This is what we're going wear, this is what we're gonna do. You're gonna do this, I'm gonna do that. They're gonna do that. I have had threesomes as you know, and I am pretty sure all of them were just spontaneous. Just being out and it just kind of happened. Most of them were not good. And I mostly just did them because like, cool, I'm gonna have a threesome, not because I was that into are attracted to the people. But I had one good threesome with a couple that was kind of planned. I was, I think I was talking to them both separately. And scruff, and then eventually they were like, See, you're also talking to my boyfriend. And so then it was kind of playing, and we're like, oh, maybe we should all hang out. And they come over to my apartment. And we had a lovely threesome, multiple orgasms.
Oscar  08:50
See, that's the kind of high jinks I want to get into if it's going to happen. Are you a fan or what are your thoughts of digital sexual experiences?
Garlan  09:02
I don't like it. I don't know about you, but I've had people will be like, you want to switch to video I right now? No, I need this facade of I don't see you don't see me we're just saying things for each other. Maybe sharing photos. I mean, I like it in terms of folks who do it to like make money I'm like get that money. Yeah,
Oscar  09:29
I think it's an it's an interesting other aspects of sexual experiences. Which definitely, I think feel separate than in person ones just because they're not really comparable.
Garlan  09:41
Have you done the video camming?
Oscar  09:44
I have in the past I have done it. I've tried as a career option before didn't really work so well for me, but also just interactive. Just kind of like online hooking up with people, which I think is interesting.
Garlan  09:56
He's like showing people your hole.
Oscar  09:59
but I mean, there's so much into I mean, backdrop, I mean, is your bed made? Like where are you setting it up? Do you have headphones in like, there's so much that goes into it that I think is really interesting of like, being good at it.
Garlan  10:09
Potentially a lot of people don't think about it. They're just like in their messy bedroom.
Oscar  10:14
And they're quiet and they're not like, you know, you kind of want to have the right experience in there.
Garlan  10:19
I feel like you told me before, but why didn't your career as making money from about..
Oscar  10:25
A lot of sex work experiences. I have never found my niche. I think that's what it is. People who are specifically looking for 5″11 Latinos who are a certain way, like very, very specific and going into that.
Garlan  10:38
You're not 5″11 though.
Oscar  10:46
Well, yeah, I just think it's an it's an interesting other element to thinking about sex and sexuality. Because it also kind of blends into social media and kind of performative self-online, which I guess I think about in person sexist performative, also, but when you're standing behind a camera, it can also feel very different, and very much performative in a different way.
Garlan  11:07
Yeah. When I was in like, middle school, I definitely went into different chat rooms on AOL.  My favorite was to go into straight chat rooms returned. I was like, a blonde with big breasts.
Oscar  11:23
Yeah, I mean, I also think that's a really formative experience. So I think a lot of us had who grew up on like early internet as like, being in chat rooms, we shouldn't have been at young ages. They're like old men on cam, like showing me their dog. And I'm not turning my camera on. Because I'm not what I'm saying. I am at like, 14. So I think those have been maybe not thinking about that, like how much those were formative experiences and the way that now we can think about digital sexual experiences, because they do feel kind of second nature in the way that the internet feels second nature.
Garlan  12:16
What is potentially a kink you'd want to explore, and how might you or we initiate engaging with that? Do you currently think you have any kinks?
Oscar  12:28
Yeah, I mean, I'm, I'm interested piss play, but I don't think with you. I think there's also circling back so I want to get paid for it. But I do think it's interesting. I like this a lot. So I'm like, it seems second nature. You know, I did a while ago have someone who messaged me on Grindr and said that they would pay me if I went to go piss on him. And I was at the bar and I was leaving. And I'm like, well, I'm not gonna use the bathroom because I have I got a bladder full. And on my way there, they canceled on me and then I had to take the train home and I was full of piss. Cuz they were fraud. I shouldn't have believed it.
Garlan  13:06
And they were trying to pay you?
Oscar  13:09
They were on the corner. I was just mad that I didn't. I should just use the bathroom before I left the bar.
Garlan  13:13
But have you done this piss play like on cam?
Oscar  13:17
In second waiver?
Garlan  13:20
Just in a sexual encounter? So you're not even saying essentially a thing it turns you on, you're just interested in the exploration?
Oscar  13:30
I think someone else being turned on by it would turn me on. But it's not something like I really want to piss on you. It's more like the experience of it being in a space where someone finds that really erotic.
Garlan  13:41
Have you watched piss play in porn?
Oscar  13:45
If it like it comes up here and there, but I don't really search it out.
Garlan  13:49
Yeah, I've never like Googled piss play porn. But when you know, when you go down a dive of searching for videos, and then other suggestions come up. I've watched some PIs play once and I'm like, either they just edited this and like, put it on repeat a lot. Or these people have a lot of piss inside of them. And they're just sharing with each other.
Oscar  14:13
That's me. That's why I feel like it'd be a natural at it. I just like, I drink a lot of water. And I'm just ready to go at any moment.
Garlan  14:20
Yeah, no, no. You gotta have a tarp. Otherwise, you're just shower. You have a big dry cleaning bill.
Oscar  14:35
If you could curate a celebrity threesome, who would you choose for you?
Garlan  14:40
Me and two celebrities? That's something I definitely have never thought about.
Oscar  14:48
This is a hard question. You want to like Timothy? Charlemagne there.
Garlan  14:51
Oh, okay. Thank you for Yeah, I'll say Timothy Shama is one of them from the back I would rather be switching I don't want it to be me getting spit row said. Like not really my style anyway Timothée Chalamet, me, and Elliot Page. Yeah, That's a good one. What do you think about that?
Oscar  15:20
Solid. I didn't know this was going to be a hard question.
Garlan  15:25
I don't know if it's the room or having to answer I know that I've answered. I'm just really turned on by this three some of me Timothy and Elliot.
Oscar  15:34
Yeah. My personal answer is Oscar Isaac.
Garlan  15:38
Okay, so you only asked me this question because you are going to answer it, classic narcissist.
Oscar  15:43
I've been thinking about this question for two days. So of course, I had my own answer.
Garlan  15:46
Okay, Oscar, who would you have a celebrity threesome
Oscar  15:49
With Oscar Isaac and Petra Pesco.
Garlan  15:54
I don't know who either of those people are. Good. Do you have photos of them? Did you like collage?
Oscar  16:01
Like a collage? Someone getting spit roasted? And I put our faces up there.
Garlan  16:04
Yeah, there you go. Gorgeous.
Oscar  16:06
What about porn stars?
Garlan  16:12
Jack Hunter comes to mind totally, totally have no idea what that is. But, you know, you never know what they might be like off camera. It's a little too close to the actual thing because you're watching them have sex. Like I couldn't see myself being inserted in there. But they could be quite different. People might not necessarily be a bottom in real life. Or they might actually be a top but they reserved that for people that they actually are choosing to have sex with. This was the celebrity threesome question.
Oscar  16:45
I just switched into porn stars more in your wheelhouse?
Garlan  16:49
Gosh, I do have a separate porn tab on my computer. I have one Google Chrome that's, you know, my life and one that's all porn.
Oscar  16:57
I mean, I find it interesting that you don't close the tabs after
Garlan  17:00
Well, I maybe it's a video I want to revisit and I don't trust that I'll actually remember it. I do get a lot of like things happen to me. And I'm like, oh, I'll remember to do that later.
Oscar  17:10
You're not gonna remember Jack's Colby rides Austin.
Oscar  17:15
I don't know.
Oscar  17:16
I just made up all those names. Yeah, I do find that interesting. I mean, yeah, that's good. If you find when you like keep the tab open.
Garlan  17:26
And I do. This is a fun question. So hopefully you have fun with that. If your butt and your penis had to have names, what would they be?
Oscar  17:43
I mean a million come to mind Cheech and Chong. Cheech and Chong. Laverne and Shirley.
Garlan  17:50
Which ones Cheech, and which ones Chong? Which one's Laverne and Shirley?
Oscar  17:53
though I'm just thinking of like, I was dynamic. Like you're not being thoughtful about the question right? Okay, so if I'm thinking specifically serious, the tortoise and the hare. Okay, one for my penis, one for my butt.
Garlan  18:06
I don't know which one be the tortoise which shouldn't be there.
Oscar  18:10
The one for my butt has to be something that's small but mighty.
Garlan  18:17
Slow to get a go and but once you do, wins the race, and your will be the hair because it's slow, always ready to go.
Oscar  18:26
It's fat. Those are actually really good. The Tortoise and the Hare. So if I did a my but it'd be the tortoise. Yeah. Slow and steady wins the race, but you get there eventually.
Garlan  18:34
Yeah, it's worth the way like I might add.
Oscar  18:39
And then my penis is the hair.
Garlan  18:49
Thank you for listening to GOOD SEX.
CREDITS
18:56
GOOD SEX is a Lemonada Media Original. The show was produced by Kegan Zema and Dani Matias our supervising producer is Xorje Olivares. Executive Producers are Stephanie Wittels Wachs and Jessica Cordova Kramer. Music is by Dan Molad and APM music. If you like GOOD SEX, please rate and review us. Listen and follow for new episodes each week, wherever you're listening right now. And if you want more good sex, subscribe to limonada premium for some quickies additional conversations between our guests only on Apple podcasts.