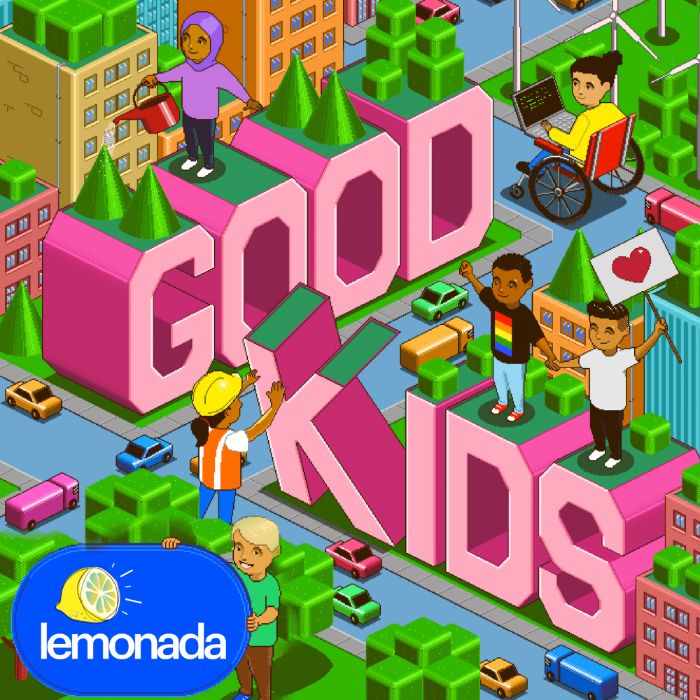 Re-Imagining Parenting From a Wheelchair
Subscribe to Lemonada Premium for Bonus Content
Description
Yumi Shim always knew she wanted to have kids. But after a muscular dystrophy diagnosis in her early 20s and a frank conversation with her doctor about parenting with a progressive muscle disease years later, Yumi's hopes of becoming a mom were waning. "So we left that appointment and we got in my car and I cried and I cried and I cried." Now, ten years after that appointment, Yumi is the proud mom of two kids. In this episode, she shares the challenges, triumphs, and joys of raising two able-bodied children as a mom in a wheelchair.
Support the show by checking out our sponsors!
Livinguard activity masks use materials with amazing properties that deactivate viruses and bacteria continuously, safely and in a sustainable way. They are super comfortable as well. Get 10% off your activity mask when you go to shop.livinguard.com and use code GOODKIDS10 at checkout.
To hear more stories of LGMD like Yumi's, follow her on Instagram @DearLGMD, a storytelling space featuring individuals affected by Limb Girdle Muscular Dystrophy. @DearLGMD's vision is to expand awareness and connection, one story at a time.
With emerging treatments on the horizon, it is more important than ever to get a genetic diagnosis and consider participating in a disease-specific patient registry. Simply being registered in a patient registry can drive research forward and open doors to find others who genuinely know what you are experiencing. Visit https://lgmd-info.org/ for general LGMD resources and to learn about access to genetic testing. Visit https://www.jain-foundation.org for LGMDR2/2B/Dysferlinopathy/Miyoshi Myopathy specific information.
To follow along with a transcript and/or take notes for friends and family, go to http://lemonadamedia.com/show/good-kids/ shortly after the air date.
Stay up to date with Good Kids and everything from Lemonada on Twitter, Facebook, and Instagram @LemonadaMedia. For additional resources, information, and a transcript of the episode, visit lemonadamedia.com.
If you want to submit a show idea, email us at goodkids@lemonadamedia.com.
Transcription
SPEAKER
Yumi Shim
Yumi Shim  00:05
Hi, I'm Yumi Shim and you're listening to GOOD KIDS.
I am a mom of a 10-year-old son and an 8-year-old daughter. And I'm going to talk about parenting able-bodied children when you have limb–girdle muscular dystrophy.
So limb–girdle muscular dystrophy is a group of muscular dystrophy it's like an umbrella term. And it's characterized by muscle weakness, it's progressive. I was one of those people who always knew I wanted to have kids, I never dreamt about what my wedding would be like, I didn't fantasize about who my perfect man or my husband would be. But I was always the kid at church that wanted to hold the new baby. Or if a mom was busy, I want your toddler, I'll play with them, I'll do a game. And that never changed. So once I got diagnosed, I was seeing a neuromuscular specialist at Cleveland Clinic annually. And, you know, one day I'm bringing this man with me and introducing him as my boyfriend. And he's coming with me to these annual visits. And then now it's like, you know, he put a ring on the finger. And now it's my husband that's coming with me. And I remember, it was probably 2009. And I was there for my checkup. And Simon was there with me. And my doctor asked, "So what's new? What's going on? How are you feeling? What are your plans?".
01:56
And I shared with him that I was looking into going to grad school. And he looked at me and said, "So do you guys plan on having any children?" I'm like, "Oh, definitely, definitely." And he said, Okay, well, I don't know what kind of parent you plan on being. But babies tend to require a lot of work. And I'm like, right, he goes, lifting them, carrying them. And I know you're feeling really strong right now. But if you want to be an active engaged parent, maybe you should consider having kids before you go back to school. And he said it in such a polite and gentle mentor-like way. And you know, he wasn't going to scare me and say, "Yumi, you're getting weaker," you know, "you're making the wrong choice". And he just said it in a way that I understood what he was trying to communicate to me. Because at that point, you know, until you become a parent, you really don't know what it takes to have a baby to be pregnant to you know, raise a toddler.
And, I felt like he was really trying to tell me that, you know, we all know that this is progressive. But if you do want to have kids, and you want more than one, maybe you should have that conversation now. So we left that appointment, and we got in my car, and I cried and I cried and I cried and I mourned it, because who wants to be told that there is a ticking timer, and that you're running out of time? That's really sort of how I heard it.
03:51
I had a lot of identity wrapped up in motherhood in the traditional able-bodied way. And if you're the type of person that wants to be the best, or do it to the best of your ability, you know, what's the picture that you see? You see a perfectly immaculately groomed mother who has a baby on her hip and a toddler on her wrapped around her calf and she's wearing high heels and pearls and she's cooking dinner and she's smiling and teaching your children that effects at the same time. You know, there's just this immense pressure on mothers to be everything. And I know as a pregnant woman and as a mother of two very young children. They're only 18 months apart. I admittedly looking back operated from a place of fear and I don't apologize for that because there wasn't a lot of information out there. I remember asking the hospital of the OB Is there anyone that you know that has a muscle disease that have babies?
Could you connect me with someone that I could have a phone conversation with? And say? "How do you do the things? How do you get to the pediatrician? How do you manage the crib? How do you move around the house? What's safe, what's not?" And so a lot of the choices we made were made in a mental macgyvering of just let's just figure it out. If there's no handbook on this, then if I want to go to the park, well, let's see, what does it take? How do we get the baby safely in the car seat? How do we, you know, and, and really thinking things through, and then we would come up to a roadblock. Well, I can't, I can't get the stroller out, and open it by pushing with my foot and clicking with my thumb. And you know how strollers require you to do sort of penciling of your body to make it work. And then we would find a product or a baby gear that was simplified in a way. And we would just, we just kind of figured things out as we went along. And now my kids are 10 and 8. And we don't have to struggle with things like strollers, but there is a lot less fear.
06:25
There's a lot of upsides and joys in being a mom that is in a wheelchair with able bodied children because in many ways, it's no different. my story's about what's wonderful about our family, and my children, and my husband and our family life is not any different than what any other mother or father would say about their own family that brings them joy and fills her heart with love and makes them want to brag about their children. But I will say being in a wheelchair, there were some things that my children had to see and process. And in some ways, it's made them incredibly empathetic and compassionate. And who knows, maybe that's who they were gonna be anyway. But the reality is, is their mom is in a wheelchair, and mom can't do certain things. But one of the things that when I look back, or when they surprised me with things is, you know, I was helping my son write a paper last year and it was taking a really long time and my feet were sore.
And so we put him up on an ottoman and you know, we're sitting there, my feet are up, he's sitting at the desk, we're talking through this paper, and he just gets up and he starts massaging my legs, and he starts rubbing my feet. And for him, it was just kind of second nature. Because he's heard me say, "Oh, my feet hurt or my legs are sore." And I didn't ask him to do it. But he saw that I put my feet up which meant mom's feet are sore and so I'm gonna go and I'm gonna rub it for him and I just remember that moment just kind of thinking what incredibly loving act that was and your only nine.
CREDITS  08:35
GOOD KIDS is a Lemonada Media Original. Supervising producer is Kryssy Pease. Associate producer is Alex McOwen and Kegan Zema is our engineer. The show is executive produced by Stephanie Wittels Wachs and Jessica Cordova Kramer. The music is by Dan Molad with additional music courtesy of APM music. Check us out on social at @LemonadaMedia, recommend us to a friend and rate and review us wherever you listen to podcast. If you want to submit a show idea, email us at hey@lemonadamedia.com. Until next week, stay good.