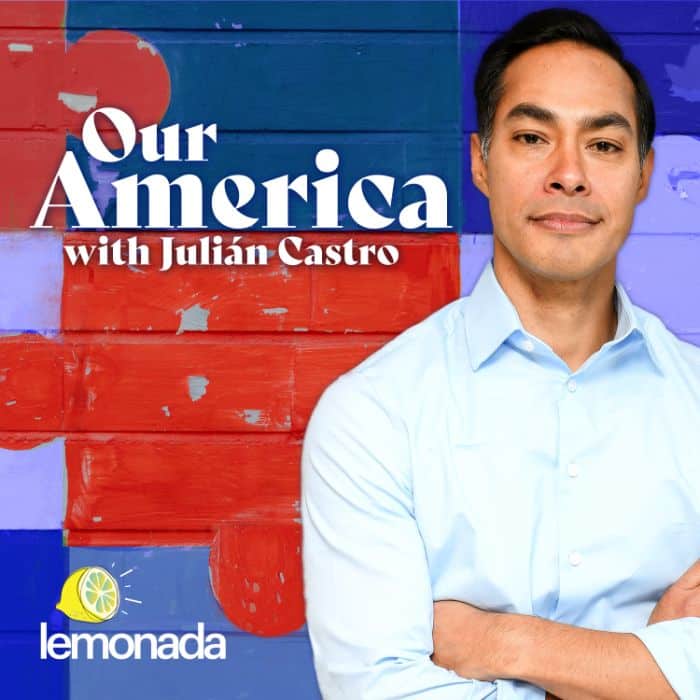 All Podcasts
The Death of Roe and the Rise of Omicron (w/ Lauren Rankin & Andy Slavitt)
The Death of Roe and the Rise of Omicron (w/ Lauren Rankin & Andy Slavitt)
Subscribe to Lemonada Premium for Bonus Content
Description
Julián and Sawyer welcome writer and abortion rights activist Lauren Rankin to make sense of the Supreme Court's latest efforts to potentially invalidate Roe v. Wade. They also chat with 'In the Bubble' host Andy Slavitt about the emergence of the omicron COVID variant and his work with the Biden administration earlier this year to help combat the virus.
Follow Andy online at @ASlavitt and Lauren at @laurenarankin.
Keep up with Julián on Twitter at @JulianCastro and Instagram at @JulianCastroTX. Sawyer can be found on Twitter and Instagram at @SawyerHackett. And stay up to date with us on Twitter, Facebook, and Instagram at @LemonadaMedia.
Leave us a voicemail at 833-453-6662.
'Our America' is presented in part by the Marguerite Casey Foundation.
Click this link for a list of current sponsors and discount codes for this show and all Lemonada shows go to lemonadamedia.com/sponsors.Joining Lemonada Premium is a great way to support our show and get bonus content. Subscribe today at bit.ly/lemonadapremium.
Transcript
SPEAKERS
Andy Slavitt, Lauren Rankin, Julian Castro, Sawyer Hackett
Julian Castro  00:13
Hey there, I'm Julian Castro.
Sawyer Hackett 
And I'm Sawyer Hackett.
Julian Castro 
And welcome to OUR AMERICA, where we tackle some of the week's leading political headlines impacting your community. This week, we're digging deeper into the threat that the new Omicron variant may pose. As we head into the holidays, we're going to have with us in the bubble host and former Biden COVID-19 response team member, Andy Slavitt. But first, we wanted to spend the beginning of today's show addressing the threat to abortion rights, with the Supreme Court's review of a Mississippi abortion bill. And to help us do that. We're excited to welcome writer and activist Lauren Rankin, who's the author of the forthcoming book, Bodies On The Line: At The Frontlines Of The Fight To Protect Abortion In America. She also has a new article out in InStyle, titled, Sonia Sotomayor won't be gaslit by her fellow Supreme Court justices, and neither should you. Lauren, thanks so much for joining us.
Lauren Rankin 
Thank you. I'm so honored to be here. Right now,
Julian Castro 
You can just feel the tension out there, the anxiety about the fate of the right to an abortion and what's going to happen to Roe versus Wade. Last week, the Supreme Court heard arguments in a Mississippi case, and I want to get to all of the ins and outs of that, and how you see it. We want to have a conversation. But first, let me just ask you, how did you come to this work?
Lauren Rankin
That's a great question. My mother has always been a big supporter of abortion rights. And I was raised in a pro-choice house. But I really came to see this issue in a unique way. When I became a clinic escort, which is a person who walks patients past protesters at abortion clinics, I started to see the human side of abortion. It isn't just a political fight for the people who have abortions. It's really just a matter of, I need to get this health care and get on with my day. And the six years I spent as a clinic escort really taught me the importance of relating on a human level to people, and understanding that you never know where someone is in their life. And abortion is a fundamental component of each and every person being able to live their lives the way they want to. Without that, you know, we actually don't have liberty, and we don't have equality and we cannot have justice. So it's tied to a broader vision of what I believe my, our fundamental American values should be. Without access to safe and legal abortion. It's a pipe dream.
Julian Castro 
And that right to an abortion has been the law of the land since Roe vs. Wade almost 50 years ago. But recently we've seen the Supreme Court take up at least two cases that had given people real paws about Roe's fate. You know, here in Texas, we know very well the Texas legislation that would outlaw abortion at perhaps six weeks. But could you tell us a little bit about the actual law that Mississippi passed, which is the one that was in front of the Supreme Court last week.
Lauren Rankin
Absolutely. They're two different pieces of legislation with the ultimate same goal. But the case last week, Dobbs versus Jackson Women's Health Organization centers on a 2018 Mississippi ban on abortions at 15 weeks. And for the average layperson, they might hear that and go, Well, that doesn't seem like that big of a deal. I don't know what the big deal about that is. But Roe vs. Wade, very specifically codified into law. You cannot restrict abortion before the point of fetal viability that is 24 to 28 weeks at the very earliest. So this is completely unconstitutional. And that's why it was signed and passed into law. They really the Mississippi decided this is going to be yet another way to try and get the Supreme Court to overturn Roe. If we pass this blatantly unconstitutional ban. It will be challenged in court which is exactly what they wanted. It will probably be rejected and appealed all the way up to the Supreme Court. In 2018, Well, the first half of 2018 if this ban had made it there, it wouldn't have even been taken as a case. There's absolutely no way that a Supreme Court with Anthony Kennedy and Ruth Bader Ginsburg would have accepted this challenge. But of course, that isn't the court anymore. And now we have Brett Kavanaugh and Amy Coney Barrett, who I think last week made it pretty clear. If anyone, Susan Collins, I'm talking to you if anyone believed when they said that Roe vs. Wade is settled law, they were lying.
Lauren Rankin  05:22
And now the question is, how far will the court go? Will they uphold Mississippi's law banning abortion to 15 weeks? That seems undeniable. That seems like it's absolutely going to happen. The question is what happens beyond that? Because Mississippi asked the court, hey, while you're at it, so we want to ban abortions at 15 weeks, but could you also just overturn Roe vs. Wade? Get it all done. Two birds one stone. Simple. So the question is, how far will the court go? And John Roberts knows the legitimacy of his court is on the line. The problem is, he can't do anything to stop it. They don't need him anymore. So those of us who follow this closely, are really just curious at this point, how bad is it going to be? Are they going to leave roe in name, but 15 weeks completely shatters that leaving other states to ban abortions at any number of weeks, as they've been doing for years? Or are they just gonna say we're done and overturn it outright, and then we will see a cascade of catastrophe within a matter of weeks.
Sawyer Hackett  06:36
So Lauren, I've seen a lot of justice reporters suggest that that even if the court doesn't overturn Roe, if they just uphold this Mississippi law, it still sort of opens the floodgates to potentially overturning Roe at the state level.
Lauren Rankin 
Exactly.
Sawyer Hackett 
Can you talk a little bit about like, how that works? And you know, how you see that playing out? Should this Mississippi law get uphold but Roe not be overturned?
Lauren Rankin 
Sure. I think it's it can be confusing a little bit sometimes because people get you hear overturn Roe, and you think that means abortion illegal everywhere, which is not the case. But even if they don't actually overturn Roe vs. Wade. And they say that they're going to do that a 15 week ban directly violates rose fetal viability standard that was upheld by the Supreme Court in 1992. This is not untested. What I think is probably going to happen is the Supreme Court won't outright overturn Roe, but they will uphold Mississippi's 15-week ban. And that will do everything to fuel other states to say, well, okay, you said we could do it at 15 weeks. So why not 12 weeks? Well, why not 12 weeks, then why not 8, I think we've already seen 12 week, 8 weeks, 6 weeks total bans that haven't been allowed to go into effect, I think without actually saying we're going to overturn Roe vs. Wade, this case will overturn Roe vs. Wade and states like Indiana, Missouri, Arkansas, Georgia, Alabama will start passing more and more draconian laws and actually be able to put them in effect, which will be a complete tragedy. So if this does happen, 26 states more than half of the states in the union will ban abortion.
Sawyer Hackett  08:27
Like they already have those laws either on the docket, should Roe be overturned or they're just sort of pending in case they need to pass them?
Lauren Rankin 
Exactly.
Julian Castro 
You got all these GOP politicians with all of their ambitions, right. The ones that want to run for president the ones that want to be Speaker of the House and their state legislature, whatever it is.
Lauren Rankin
I think what people also don't understand is yes, overturning Roe what I said will not end abortion nationally. But that is not the end of this. It's not like they like Yay, we did it. 50 years we finally did it. And now we can go back to just being jerks and private. No, they're going to try to ban abortion nationally through Congress, depending on who's in Congress. That may happen. They're going to use this to chip away at the entire right to privacy that on which Roe was predicated, that came before that and Griswold v. Connecticut in 1965. That legalized birth control for I think it was actually married women. And then a couple of years later, the court was like, Yeah, okay, you don't have to be married. But Lawrence v. Texas, the landmark case that overturned anti sodomy legislation that's also predicated on the right to privacy, and so was Obergefell, which legalized same sex marriage nationwide. So really, what you're seeing here is an entire ecosystem devoted to eroding this basic right? For marginalized people. It's also important to note that just because abortion is illegal does not mean people will stop having them. And it certainly does not mean that Republicans will stop needing abortions for their mistresses and the people who are close to them, that they're going to continue to access abortion, they just have the financial resources to do so.
Julian Castro  10:16
What did you say? I mean, that hypocrisy ran so deep. And many folks pointed out after listening to the Supreme Court hearing or for those who were there watching the Supreme Court hearing last week in the DOPPS case, that, you know, these conservative justices are pretending as though they're not being partisan, pretending as though they're not about to overturn an important benchmark precedent, in legal doctrine in our country. And you wrote this article called Sonia Sotomayor won't be gaslit by her fellow Supreme Court justices, and neither should you. Now, during those oral arguments, Judge Sotomayor had said and I want to quote her, she said, Well, this institution survive the stench that this creates in the public perception that the Constitution and its reading are just political acts. I don't see how it's possible, then end quote. And you wrote, In response, finally, someone on the Supreme Court is willing to tell it like it is. Talk to us a little bit about that.
Lauren Rankin 
Completely. You know, I listened to those oral arguments. And I just felt myself pumping my fist after she said that, because Amy Coney Barrett and Samuel Alito, have both been playing this game with the press. We're not being partisan. This isn't really just about, you know, the sanctity of legislation and the breakdown of things. And meanwhile, we have Justice Breyer, who I think we can all agree, probably needs to retire yesterday. But even if he doesn't, Justice Briar, one of the three liberals on the court keeps saying, I don't know what everyone's talking about. This is a hallowed halls of the Supreme Court. We're just doing normal Supreme Court things here. And Sonia Sotomayor knows she cannot win this. She knows she doesn't have the votes. And she knows that there is nothing she can do anymore to stop this, and a wave of other nightmares coming from this court. So she said, I'm done. Everybody out there listening to this, you know, what you're listening to. This is absolutely absurd. They are lying to you, when they tell you they aren't going to overturn Roe vs. Wade, they're doing it right now. They are lying to you, when they tell you they aren't going to append voting rights. They're doing it to you. They are lying to you. And you know what you smell, you can smell this. It's undeniable. And it was such a liberating moment from really, in my mind, the heart of the Supreme Court at this point. She is it and she knows it. And she knows that she is the only one who can speak that directly to power from her position. It almost moved me to tears, the rest of it moved me to tears because it was so horrendously depressing. But she just refused to be a part of the gaslighting of the American people around this. And the only way that the Supreme Court can do this overturn Roe vs. Wade, that's been settled law for half a century, and is supported by three quarters of Americans. The only way they can do that is if we ignore the stench, and Sonia Sotomayor is telling us not to.
Sawyer Hackett 
And she's flipping that argument that some of the folks on the court have been making on its head by, you know, they've been pushing back on potential reforms to the court like expanding the court or adding term limits. And they're saying that would undermine the sanctity of the court and it's politicizing the process. And she's saying, hey, look like you're about to overturn 50 years of precedent here, like, talk about undermining the sanctity of the court. I mean, it doesn't make any sense at all.
Lauren Rankin  14:08
I think that was what felt so powerful to me that she was just like, I'm not dumb, and you're not dumb. And I'm not going to let you lie that the shadow docket isn't really happening. And we're not really letting this actually put SB8 into effect, even though we didn't say anything. It's just complete nonsense. And if Briar is gonna say it, and Kagan can't say it, Sotomayor is gonna say it and more power to her.
Julian Castro 
I started off, you know, our conversation by saying there's a tremendous amount of anxiety out there. Because this is a fundamental right that in the least, is going to be severely limited and in the effect may be in some states a good number of states that it's taken away completely or almost taken away. And you mentioned that you once served as an escort at a reproductive health clinic, you have been there for women who have made that very personal, intimate decision to have an abortion at a very fragile moment in their lives. You've seen the human impact of this. What do you see as the future that we're likely headed toward? If the Supreme Court makes the decision that we think it's going to make? I mean, just at a human level, what are we going to see out there?
Lauren Rankin 
I think we're going to see a wealth of human suffering. In writing my book, what I think shocked me the most is how early after Roe vs. Wade, was decided this significant backlash already started happening at clinics. I mean, it's early as 1975. Protesters were picketing at clinics and yelling at patients. And it's hard to understand what that feels like to see in front of you, someone getting screamed at by another someone that they don't know that they're evil, that they're horrible that they're a murderer, and to feel the weight of that pain and unnecessary trauma. It can't help but move you, the people who are having abortions. I mean, imagine that you're going to get your knee to get knee surgery, you don't want to do it, it's a pain in the butt, it's gonna hurt, it's gonna take a little while. You just want to go in there, sit down, get it over with and go home. The same is true for people who have abortions. But instead, they have to walk down a tunnel of people screaming at them. Now, all of those clinics in states like Georgia, and Tennessee and Kentucky will be gone. So add on to that they have to drive possibly up to 500 miles is the estimate out of Texas, if Texas does actually fully implement SB8, going forward, the average distance for a Texan to have an abortion will increase from 17 miles to 543.
Julian Castro 
Wow. I mean, from 17 miles to 543 miles. And I mean, just so folks understand that's like driving basically from San Antonio to El Paso, you know, that can take eight and a half, nine, nine and a half hours or more.
Lauren Rankin 
And that' I mean, that's the average, right? So that means that some are going to have to travel well over that. So that's either a short car ride or a plane ride. So now, a patient has to, oh, crap, I'm pregnant. And I really don't want to be I can't do this right now. My family can't afford it. I have to go to the clinic. Oh, all the clinics in this state have closed my options are to covertly find medication abortion online, and get it to my house without police finding out which for women of color is already a non-starter, they've been prosecuted for having miscarriages. So that's my choice. Or I can get on a plane that I can't afford and fly to a state where I can get it. What do you think that does to a person? What would that feel like to you if that if the stakes are that high for your family, and those are your choices. And we know that in countries where abortion is severely restricted or illegal, banning, it doesn't stop people from having abortions, it just makes it a lot harder to have a safe one. So not only is it farther for them to get to the clinic, but there's more protesters at those clinics, because they know where to go, now they know exactly where to go. These are the only places we can go to scream at you. So you're going from maybe having to deal with dozens of protesters to hundreds or even 1000s. It's just heartbreaking and nauseating when you really think about it as on a human level, this is a person. And that's why I don't argue about When does life start? The life of the person in front of me matters because I can see it, I can feel it. It's up to all of us to continue to we're going to need to pour money into this to help people get out of state and still access the care that they're going to need.
Sawyer Hackett
So Lauren, for years, I think people like you have been called an alarmist for suggesting that Roe, you know, could be struck down or that you know, reproductive rights are under assault. I remember in particular; you know, Democrats being scolded for suggesting that Amy Coney Barrett would vote to strike down Roe. Do you think that Americans understand how vulnerable those rights are right now? Do you think this is a boy who cried wolf situation where the public hasn't really awoken? to this reality that these rights might soon be completely gone?
Lauren Rankin  20:04
That's such a great question. And I do remember you Senator Ben Sasse, calling us hysterical when we said this exact thing about Brett Kavanaugh. It's not that I think that Americans aren't aware. I think that something that the religious right and the far right has done incredibly well. It's channel white supremacy, alongside misogyny quietly for years. So 30 years ago, when my mother's generation was saying, hey, Roe versus Wade is threatened. They weren't lying. What they were saying was, we're seeing something happen. And the religious right played the long game. They did. They played the long game for 50 years to get to this point where American democracy was so eroded by gerrymandering fascists, white supremacists. I don't know the last president we had I refuse to actually name him. We're at such a tenuous point right now. That overturning Roe vs. Wade is actually going to happen. But how can anybody sensibly or who just supports abortion but never thinks about it? Really think that this is going to happen? It does sound like the boy who cried wolf. It just hasn't been. It's been the boy who's crying. There's a wolf in the distance. He's still coming. Okay, he's a little closer. And for 35 years, if you're like, alright, I get it. The wolf is coming like I got to get my kids to soccer you know, I got to make dinner I got to go to work, whatever. If a 30-year wolf crying resulted in the wolf right actually out the door. But it's too late now to actually do anything about it. And I think they played the long game and they played it incredibly conniving Lee and smartly and easily and it's not as I said before, it's not just about abortion. It's a whole host of other basic rights that are people have been crying wolf about for years. But there is a real wolf and the wolf is in the house. The call is coming from inside. It's happening here.
Julian Castro  22:26
Lauren, thank you so much for joining us, you know, your words, and also your writing. And your advocacy remind us that, you know, we can hope for the best, but we have to keep fighting and prepare for the worst. You have a new book coming out. Tell folks how they can preorder that?
Lauren Rankin 
I do. I have my debut book called bodies on the line at the frontlines of the fight to protect abortion in America about the history and evolution of the clinic escort movement and what we're facing right now. You can preorder it right now at Penguin Random House, at Amazon and at your local independent bookstore. So it comes out in April and I would be honored if it's something that we can all share. We all have the  ability to fight back. And now's the time to do it.
Julian Castro 
There you go. hope folks will check it out. Thanks a lot, Lauren.
Lauren Rankin 
Thank you so much.
Sawyer Hackett 
Thanks, Lauren.
Julian Castro
We're back on OUR AMERICA. Andy Slavitt is the former White House senior advisor for the COVID-19 response under President Biden, before that in the Obama administration, he served as the head of Medicare-Medicaid. In addition to that, he's written a book called preventable, that focused on the early response to COVID. He also hosts Lemonada is in the bubble, which comes out every Monday and Wednesday. Andy, it's great to have you back on our America. Thanks for joining us.
Andy Slavitt  24:12
It's good to be back.
Julian Castro 
I mean, there's so much to talk about. And let me just say it's been great to watch the success of of your book and in the bubble, and the expertise that you've brought to help calm the fears of a nation that has gone through so much anxiety over these last, what, 21 months or so of the COVID 19 pandemic. But here we find ourselves again, with news about a variant that is beginning to grow in other countries and here in the United States. I mean, let's just get to the heart of this. Andy, how much do we have to worry about when it comes to the Omicron variant versus the Delta variant? Or the original COVID strain, as far as you can tell.
Andy Slavitt 
Yeah. We have indeed been experiencing quite a trauma as a nation and as a globe. One of the things that I think is that this McCrone situation raises, inherent in your question is how much do we have to worry. And I was struck the other day by how, when the news of Omicron hit in South Africa, so many of the questions that I was getting work, is it going to come to the US? And how much is it going to hurt us? And my, and you know, are we going to take a step back as an economy as a country and people, and it's very natural to think about yourself in these situations. But I realized what the virus is trying to tell us is until we start caring about what's happening to people in Africa, right now, we're bound to repeat the situation over and over again, that the lesson of the virus is, if you just worry about yourself, and protect yourself, and don't worry about others and protect and protecting others, then this virus is always going to be here with us. And we just haven't done a great job of, in our own country haven't done a perfect job, certainly, but even globally, like what we could do to support these countries and get people vaccinated around the globe is really going to help us.
Andy Slavitt  26:20
It's a part of the reason we face this situation Julian is that we have still not learned that I think very, very basic lesson from the pandemic that that started so long ago. Now as it relates to Delta. There's a bunch of unknowns. And we haven't really seen Omicron in a live environment where there's a lot of Delta that's been spread, or that's currently spreading. And so we know that environment, however, where there is a lot of former Delta, and not a lot of current Delta, and not a lot of vaccinations, that Omicron spreads pretty broadly. And we actually have environments like that here in the US that it's called the American South, and other parts of the country that are mostly unvaccinated where there's prior infection from Delta. In those environments, unfortunately, prior infection doesn't do us a lot of good. Now, in environments where people are vaccinated, my sense is we're going to see less effective vaccines but still effective, it'll probably feel like it started to feel like at the end of the summer, before people started getting boosted, which is that we have kind of, okay, protection against infection, kind of 50/50, and maybe slightly degraded protection against serious illness and hospitalization, but nothing too terrible. And of course, there's a possibility that Omicron could be that variant that comes along, that's actually less dangerous than Delta. And if that's the case, if I'm a crime is less dangerous, then this is actually the path people talk about, about how this virus evolves to something more like the common cold way too early to conclude that yet. But there's some kind of interesting data emerging, that suggests maybe this is a little less dangerous. And if it's less dangerous, and more rampant, that's actually a pretty good thing.
Sawyer Hackett  28:13
Do you think, Andy, we're going to have to adapt the vaccines that we already have to the Omicron variant? Or are we going to have to continually be taking, you know, different versions of the vaccine to prevent, you know, the spread of these new variants?
Andy Slavitt
It's a really interesting question. And I actually think that we have the ability to create a more […] vaccine, if that's what the situation calls for the mRNA platform is pretty remarkable. It's a little bit plug and play. It's like changing the code. It's like changing code on a computer is really the equivalent of what it is to develop a more compatible vaccine. But the question is not, can we, the question will also be should we? Should we for what might be some improvement, go put another vaccine out there ask people to get boosted yet again, after just asking them to get boosted? When you know, the bigger real issue really is with people who aren't vaccinated or boosted at all. My sense is that we're gonna get to a steady state, probably starting the follow 22, we will probably want our boosters to be updated annually, most of us will probably decide to get an updated vaccine as we get our updated flu shot. And, you know, we'll probably make sense to account for whatever variants are currently present, like we do with the flu.
Julian Castro
Andy, you pointed to a really, it's one fundamental vulnerability that we have as a people not just as a country, but all over the world, which is the fact that there are many, many people still unvaccinated for different reasons. But let me just briefly take on the two that you mentioned, first of all, in developing nations, clearly the world community has not done as good a job as it should have, or perhaps could have. That's one issue. Here at home, the other is the fact that you still have a lot of people in our nation that refuse to get vaccinated for whatever reason. In the first case, what do you see as the hope for getting that vaccine distributed? And getting folks vaccinated in these developing nations In short order? And at home, is it time for the administration to put its foot down when it comes to broader vaccine mandates? Yes or No.
Andy Slavitt  30:32
First of all, I think we should be pretty proud of the Biden administration and what we've done globally overseas, we've committed 1.2 billion vaccines to give out free around the world, we've already vaccinated, the US taxpayer is vaccinated 96, close to 100 million now, people in Africa, and we've also had USAID in the ground. And they've committed $250 million in the process of signing people up to be vaccinated. Now, if the rest of the G20 stepped up and did what the US did, we'd be in a lot better shape. We have enough vaccines; we have enough money. Part of the problem in Africa is that they have the same issue we have here with vaccine hesitancy. And you may have heard that in South Africa, they've actually told Pfizer to stop sending vaccines, because they're worried that they can't use all the ones that they have. They only vaccinated like 35% of the population down there. But for good reason, in the continent of Africa, they've come not to trust global pharmaceutical companies and developed nations very much for the same reasons that African Americans don't trust, the medical establishment sometimes here. You know, we went years, decades, in fact, when we had the ability to help Africa, with the AIDS epidemic, before then president, George W. Bush set up PEPFAR and we really did the right thing with global pharmaceutical companies. So there's a lot of mistrust. And I think that's also translates into what's happening in the US to some degree is, you know, to boil it down, I think you've got like 20% of the public in the US, that is just doesn't trust science, doesn't trust government doesn't kind of some of them believe it, conspiracy theories, don't trust institutions.
Andy Slavitt  32:21
And so it's not even so much that they're just anti-vaccine. It's something deeper than that. And it's not so much that it's political, red versus blue. I don't think this is Donald Trump's the cause of this, actually, I think it's the wave Donald Trump rode into office, is this sort of very anti-establishment said it, if you go into certain communities, the way they talk about the vaccine is very much like somebody who is the government's trying to do something to you, that is coercive. And so the question of what can President Biden do about this, it's a longer, harder, deeper problem to figure out the story of 20% of Americans. Now, there are a lot of people who are still sort of on the fence, to whom that a mandate from their employer, from their state, from a venue or a bar, they want to go into telling them, hey, you really need to be vaccinated, or you can't be around people here. Those do work. Those do help. They don't work with everybody. But they work with a lot. But boy, we really need to work on this sort of cleave. It's funny, Julian, if I told you, the you got 80% of the vote adds up, then you'd say, Boy, I won big time. 80% usually a good enough number.
Julian Castro
But if I get a very good like, 80% in my math class, I wouldn't be very happy when I was in high school.
Andy Slavitt 
You hold yourself to such a high standard. But it's true that like, in a pandemic, like this 80% turns out not to be enough. And that we're all paying the cost, because there's a number of people that whether they would feel describe themselves feeling left behind, or whether they would just describe themselves as feeling like this very disconnected from this country. It till that's repaired, I don't think you get, I don't think you ever get there.
Sawyer Hackett  34:09
So Andy, after, after the Omicron variant was discovered in South Africa, the United States, you know, suspended travel from South Africa to the United States, a number of countries followed that. Obviously, since then, we found out that it wasn't originally in South Africa, it wasn't, I guess it spread to other places beforehand. The UN Secretary General came out and said that these restrictions on travel to South Africans is quote, travel apartheid. Now that we know that the variant, you know, didn't originate there, and it's elsewhere, do you think that those restrictions should be changed or lifted? Or, you know, what do you think's the next steps on travel?
Andy Slavitt 
So first of all, the decision to suspend travel had nothing to do with whether or not the virus originated in the country and the first known cases in Botswana, but what it has to do with is where's the hotspots? And where's there a lot of travel to the US. So it doesn't matter. I don't think this decision was made based upon where it would originate. The question was, and the question for the government was, if by suspending travel from nations where there's hotspots and a lot of travel to the US, will we slow down the spread of the virus to the US and therefore save lives and give ourselves a chance to respond? Now, it's a complicated question for a couple reasons. First of all, unless you put in place a very comprehensive ban, which says, not only are we going to ban travel from there, but if those people fly to Scotland, and we haven't banned travel from Scotland, then we're really not going to be in a situation where it's a pretty leaky bucket. Right? So first of all, it's not necessary that people would point out, it's not necessarily super effective.
Andy Slavitt 
The second thing people would point out, is that you really create a disincentive for people to do the right thing, which is to report when you see a new variant emerging in your country. And we need some sort of international treaty at a minimum, which says, We will financially support countries that do the right thing and report the presence of a new variant, because you want to encourage people to report them. And so a lot of people are pointing out, hey, it's a bad thing. To do that. Now. The tone from the UN could comment, you know, is this is this some sort of apartheid? And are there racial undertones and overtones to it? I will leave that for other people to judge. But what I can tell you is, and this is a question I'd ask for you, Julio to do is if you're sitting around the table in the White House, and a number of Cabinet Secretaries and a principal meeting are asked, hey, what do you think? Should we ban travel, or at least temporarily, from countries with hotspots? It's a very tough decision. And it's easy to be outside of it on Twitter and say, hey, you know, don't do that it doesn't work perfectly. It's quite another thing to be inside the government and have responsibility for the health of the American public. And when someone tells you, hey, we can do something, which would reduce the spread, to not take it very seriously consider it. So I'm not saying it's an easy decision. But it's by no means what I say it's a decision where people around the White House, were doing something, because this was Africa. And it's complex. We've seen hate to go to the Asian community from things that have happened there. And we so I think that we very much need to be sensitive. But I think it's a very difficult debate. And one that I think if you're inside the administration, it's hard not to take seriously the possibility that that that might be something worth supporting. What do you think, Julian?
Julian Castro
well, and I think you've sketched out right, you know, the source of concern if you have these hotspots around the world. And also the need to have it, I think I saw that there is conversation, or maybe more than that now about formulating a treaty, that would essentially outline how nations are going to cooperate and what the rules of the road are, if we face a pandemic like this in the future, hopefully, we won't, but if we do, so that these things aren't these kinds of decisions have a little bit more of a blueprint to them. I think with regard to, you know, the feeling of hey, you know, was there a jumping of the gun on a travel ban on South Africa, but not on other places is that people need a confidence that you do have a set of variables you're looking at, and that those are being applied evenly, no matter where the hotspot is. And because of the actions of our country and others in the past, maybe on other things, there's a suspicion they're always about, hey, you know, are you treating this country differently? Because of who lives there versus other countries? And for the administration, I think to the extent that they make that analysis clear, and how it's being applied evenly, you know, assuming it is indeed being applied evenly, then I think that will allay a lot of those fears.
Andy Slavitt 
I think that's a really good point. I mean, the problem with these situations is, if you don't act fast, it's not worth acting. Because if you, you know, one day, there's 10 cases the next day, there's 1000 cases that say there's 10,000 cases. So, if you're going to act, you've got to act with incomplete information. And it's, as you know, every time you make a decision in government, you're always subject to criticism, you should be, you should criticize yourself and you should be willing to accept criticism for others. And you're absolutely right. If you can explain what you did and why you did it. It does help. But this is one of those situations where you're going to be wrong in some people's eyes and right in other people's eyes.
Julian Castro 
You know, you wrote a fantastic book called preventable and it's based on your experience stepping in early in the Biden ministry. and taking on this senior advisor role to the COVID response. Yeah, I mean, can you just describe what y'all found when you got the, you know, keys to the operation? What did you find? from Trump? I mean, the title of your book itself says a lot, Preventable, right? I mean, but describe for just sure all of us who weren't there and who aren't as steeped in the operation of it, the science of it, the protocols of it, what did y'all find that what gave you the most alarm when you got there?
Andy Slavitt  40:39
So the couple of things that I think are very hard to dispute, one of which is, this was not a transition that the outgoing president wanted to see succeed. They were not the kind of historic meetings and transitions and support that you would normally get. This was a president that didn't want to leave the building, let alone help with anything. And look, we now know that he went to a presidential debate with Joe Biden, a 79-year-old man, knowing he had COVID himself, Donald Trump.
Sawyer Hackett 
And then he held rallies the next day
Andy Slavitt
And held rallies. And he tried to, he tried to cross the stage and come and try to give COVID-19 There's no other way to get there. Another thing you could conclude, other than that, he was trying to, in fact, Joe Biden, 79-year-old man, so this was not someone who took COVID Seriously. Now fortunately, he had people in the department's career civil servants, and even people in the White House who did take it more seriously. And so I'm not going to suggest that there wasn't something effort going on. But to the extent that there was an effort that was really to be seen by the American public of doing the at least the bare minimum, and when it came to vaccinating the country, they threw out a lot of big numbers, we promised to vaccinate, you know, everybody by the end of January, and blah, blah, blah, blah, blah. But what we found was some pretty horrifying things. For one, their objective appeared to be produced vaccines not to get people vaccinated. So that set up no vaccine sites. They brought in no vaccinators they hadn't mobilized the military, they had mobilized, nurses and doctors.
Andy Slavitt  42:16
Secondly, they hadn't created it. There was no inventory of vaccines. So we got there. And they said that they have a huge inventory of vaccines, and they just weren't on, we were still very early in ramping up production. And then the vaccines that were sent out to the states, only 46% of them could be accounted for 54% of them were just getting lost in into the ether. And in large part what was happening was people were hoarding them, because they were there's no predictability of the production. So we knew our job was to maximize was to get as many people vaccinated as quickly as possible, and as safely as possible. And we just turned it into a 24 by seven emergency operation, ramped things up. And then my job was to go talk to the public and tell the public the truth. And what the President asked of me was, he said, Andy, I don't care. If you make me look good, all I care is give people the information they need to protect themselves. That's all I care about. And so my job was a lot easier that people had to communicate on behalf of Donald Trump, who had an audience of one.
Julian Castro
Yeah, that was like that was exactly the opposite problem.
Andy Slavitt 
It's exactly the opposite. And so my job was a lot easier. And so we just leveled with people told them we have a shortage, told them exactly how many vaccines we had reported to the public, directly how many people were getting vaccinated every day, until we solve these problems. And then we just basically, literally worked around the clock until we could do this, we knew we were going to run up against another set of issues, namely, that there are people who didn't want to get vaccinated. And we knew that there were but at that point in time, we had to understand that but even as we understood that, we had to go and help the millions of millions of seniors and others who couldn't get vaccinated figure out how to do it. And it was a time-of-day time when you made it, people made it. Remember this 5000 people were dying every day. There were hundreds of 1000s of cases every day, things were completely out of control. And it didn't seem like the government that had come before us really much cared about anything other than kind of checking the box on the vaccine program. And the President Biden had run on being able to do that well and efficiently. And you know, myself, Jeff Zients, Ron Klain, a few others, we had held the keys to responsibility to do that. And I will tell you, I'm sure you've been through these situations before yourself. You don't sleep. It's part of the reason you know, sleep is because you're working but partners you know, sleep is because you're just frightened, just frightened of all the people that are dying, and not being able to do enough and I felt like that's why we were there just to basically stay, stay on it until we got it fixed.
Julian Castro  45:09
Well, one of the things that does give me confidence as we close out 2021. And when we grapple with this new variant is that no doubt that President Biden made so much improvement in our coded response operation, including bringing on people who know what they're doing. And you've certainly been one of those folks, and one of the important voices out there, Andy, thanks so much for joining us. And thanks for the work that you're doing.
Andy Slavitt 
It's a pleasure.
Julian Castro 
We're back on OUR AMERICA. Thanks so much for joining us this week. As you know, we like to end our show on a positive note. Please feel free to share your thoughts with us. Leave us a voicemail at 833-453-6662. That's 833-453-6662 Well, I'm excited about next week's show. We're gonna have a great guest here. Maya Rupert, who of course, was my campaign manager and then has done other fantastic things in politics, a real rising star and she's gonna help us discuss the most inspiring, uplifting, important and trendy 2021 political news. I'm looking forward to that, Sawyer.
Sawyer Hackett  46:59
Yeah, it's gonna be fun. We're gonna break down, you know, some of the headlines of the year some of the most consequential stories with my old boss, Maya Rupert, who, you know, joined, she was our campaign manager. As you mentioned, she then joined the Warren campaign as a senior advisor. And then she was the campaign manager for Maya Wiley's mayoral campaign in New York City. So she's got a lot of a lot of wealth of knowledge to share with us. We're excited with that conversation.
Julian Castro 
She's great. Don't miss that conversation about politics in 2021 with Maya Rupert, next week on OUR AMERICA.
CREDITS
OUR AMERICA is a Lemonada Media Original. Our Producer is Xorje Olivares, with executive producers Jessica Cordova Kramer, Stephanie Wittels Wachs and Julian Castro. Mix and scoring by Veronica Rodriguez. Music is by Xander Singh. Please help others find the show by rating and reviewing wherever you listen and follow us across all social platforms at @JulianCastro, at @Sawyer Hackett and at @LemonadaMedia. If you want more OUR AMERICA, subscribe to Lemonada Premium, only on Apple podcasts.