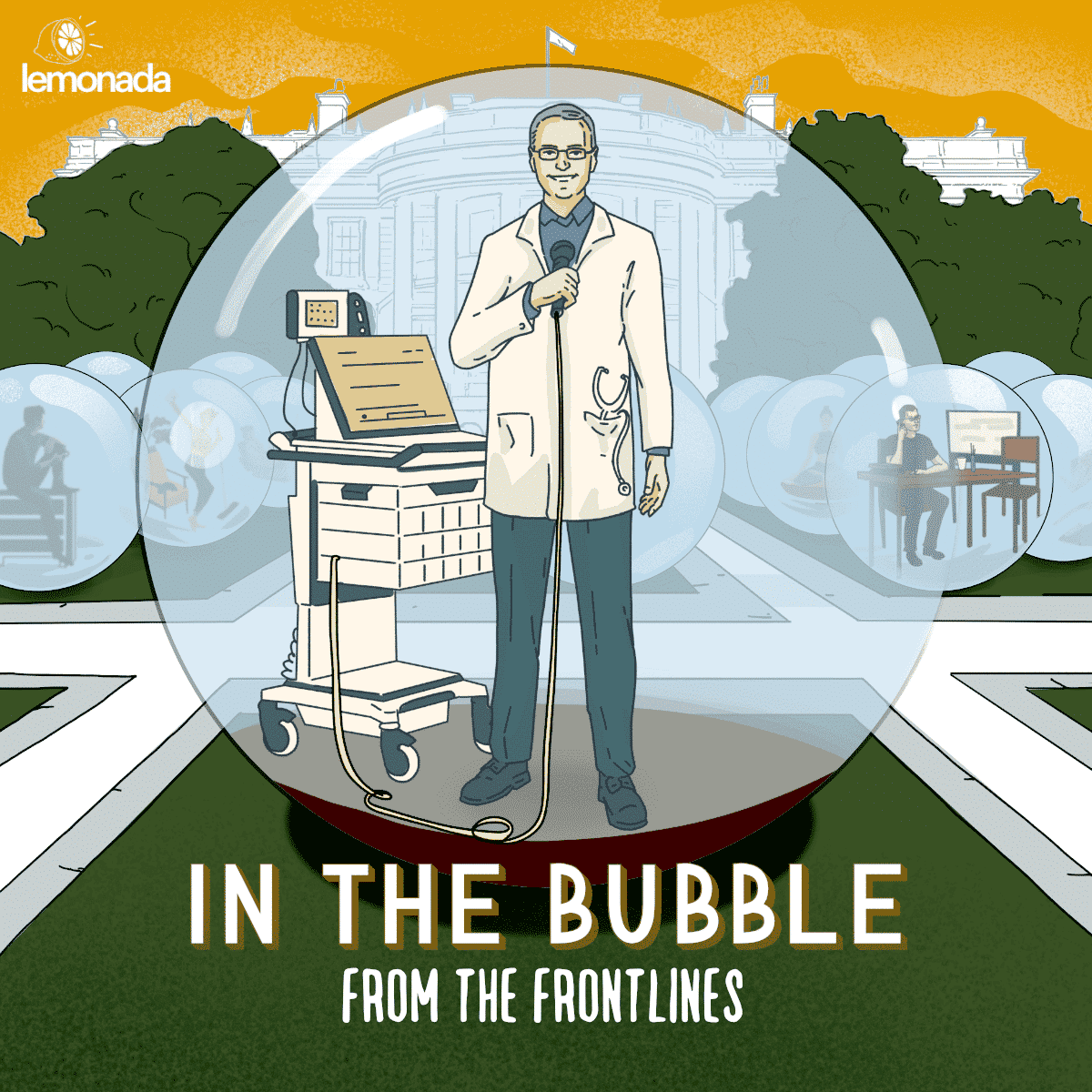 Toolkit: Getting Back to "Normal"
Subscribe to Lemonada Premium for Bonus Content
Description
The good news: things are starting to open back up. The bad news: it's going to feel weird. Dr. Bob is joined by Lucy McBride and Craig Spencer for this toolkit all about how to navigate the "new normal." From taking off your mask in public to dealing with anxiety to navigating post-vaccine life with unvaccinated kids… this toolkit's got something for everyone.
Follow Dr. Bob on Twitter @Bob_Wachter and check out In the Bubble's new Twitter account @inthebubblepod.
Follow Craig Spencer @Craig_A_Spencer and Lucy McBride @drlucymcbride on Twitter.
Keep up with Andy in D.C. on Twitter @ASlavitt and Instagram @andyslavitt.
In the Bubble is supported in part by listeners like you. Become a member, get exclusive bonus content, ask questions, and get discounted merch at http://lemonadamedia.com/inthebubble/
Support the show by checking out our sponsors!
Check out these resources from today's episode: 
To follow along with a transcript and/or take notes for friends and family, go to www.lemonadamedia.com/show/in-the-bubble shortly after the air date.
Stay up to date with us on Twitter, Facebook, and Instagram at @LemonadaMedia. For additional resources, information, and a transcript of the episode, visit lemonadamedia.com.
Transcript
SPEAKERS
Dr. Lucy McBride, Dr. Craig Spencer & Dr. Bob Wachter
Dr. Bob Wachter  00:09
Welcome to IN THE BUBBLE. I'm Dr. Bob Wachter. In the United States, at least, things are returning to normal. But normal is almost anything but normal. And all of us are struggling with how much we should return to normal, and how to deal with it. And I think we've all just had this experience now, take Newman out for a walk and don't wear a mask, because that's reasonable. And the CDC says I don't need to, and yet, it's weird. And I see other people's and many folks in San Francisco are still wearing masks, and everybody's looking at each other funny. And I had resumed my monthly poker game a week or two ago and all vaccinated inside a house reasonable. We did it without masks, but it was strange.
Dr. Bob Wachter 
And it's going to be strange for a while, and we're all navigating this normal. And we're also grappling with the fact that there were a lot of things about normal that weren't so good. We've learned a lot in the past year and a half about ourselves in our society. And as we return to something resembling normal, it's reasonable to ask the question, are there things about normal that we want to jettison and try to make better, and not just back to the way they were in 2019? So there are a ton of interesting questions that we're all dealing with. And we thought spending an episode on it would be useful and fascinating.
Dr. Bob Wachter 
You all came up with a ton of questions and scenarios when we put out the call for this Toolkit. And so that's what we'll do. We have two wonderful guests to talk about the return to normal. One is Craig Spencer who's Director of Global Health and Emergency Medicine at New York Presbyterian Columbia University Medical Center. When it's not a pandemic, he divides the time between providing clinical care and emergency medicine in New York and also working internationally in public health. I'm a real fan of Craig's as a Twitter follower. He's been a terrific communicator during COVID, particularly in the early days, in New York, he was giving us a view of what it was like in the ER there.
Dr. Bob Wachter  02:21
And he's written a lot of interesting pieces about different aspects of the pandemic, but has turned his focus to normal, and recently wrote a piece about how quote, "life is about to get weird", and we'll talk about that. second guest has also been a fantastic communicator in issues around a COVID. It's Lucy McBride. She's a practicing internist in Washington, DC, a healthcare educator, a mental health advocate, and a Bloomberg New Voices fellow. Her perspective is really that of a practicing primary care doc who's seeing patients in the office. And so as she deals with getting back to normal for herself, her family, she's also seeing that play out with a lot of her patients.
Dr. Bob Wachter
So two interesting and very different perspectives, I think, a fascinating conversation, one that we're all struggling with, in part because there's a disconnect between the rational evidence-based science percentages, parts of our brain, and the part of our brain that has learned to be afraid and hunkered down over the past year. And it is one of the things that is normal is having this internal conflict between our ears, as those two parts of our brains battle each other for primacy. So we'll talk a lot about that and answer a lot of the questions that you had. So with that, let us bring on Craig Spencer and Lucy McBride.
Dr. Bob Wachter
Alright, so we're gonna talk about normal, whatever that is, I tell people, sometimes we're heading we're normal-er, and we're heading toward normal-ish. So let's start before we get to the many listener questions we got just let's have some personal reflections from each of you about what getting back to normal is like for you personally, let me start with Lucy.
Dr. Lucy McBride  04:09
Sure. So getting back to, quote unquote normal for me is akin to what I'm seeing in my patients every day, which is a combination of excitement about reclaiming parts of my life that I had to let go of, and ambivalence. I think with any transition, there's naturally a set of complex emotions that come with it and when we have been conditioned to be afraid, and to protect and locked down, you know, back in the spring of 2020. I think it's very hard to pivot from that fear-based way of thinking into taking small calculated reasonable risks, and I am not immune to those feelings as well, at the same time I am lucky enough to have a front row seat to the facts and data that are coming in. So I understand that the risk of me getting COVID after vaccination is, you know, .0005% three zeros and a five. So I'm able to mitigate my fear of any normal activities by understanding the facts. If my patients however, I might take a lot more time.
Dr. Bob Wachter 
So tell us about one thing that you did where you, your sort of brain fought against itself, the anxiety hormones were going off, and then the rational part of you fought back with the .000 and let's say the rational part one.
Dr. Lucy McBride 
Well, let's take this example that I wrote about in an opinion piece on CNN on Friday, where I'm now taking my mask off with my vaccinated patients when they are willing and when they have normal immune systems. And I'll tell you every single patient, it has been delighted and excited to take our masks off part of the patient doctor relationship. In fact, I would argue the glue of the patient doctor relationship is the connection, facial expressions, reading, you know, cues. So that at first seemed nerve wracking, but you know, when the risk of two vaccinated people infecting one another is as close to zero as can be and the benefits of human connection, particularly as I'm addressing physical health, mental health, you know, the emotional fallout from the pandemic, the benefits of a mask game with my vaccine patients greatly outweigh the risks, but you know, it does take time to adjust to this new normal.
Dr. Bob Wachter  06:33
Yeah, yeah. Have any patients said, no, I don't want to do that?
Dr. Lucy McBride 
Yes. This morning, a patient of mine said no. And I said, you know what, absolutely, we should stay masked. There is no role for shaming or blaming, or pressuring people to step into a place where they're uncomfortable. I think we all have a little bit of PTSD, I would call the pandemic a collective trauma, we've all experienced loss, whether you've lost your job, you've lost a loved one, or you've lost your high school in person experience. And naturally, we're going to be afraid to pivot into some parts of normalcy. So, you know, we need to take it slow and understand that people have varying levels of risk tolerance, especially after a trauma.
Dr. Bob Wachter 
Yep. Craig, how about you?
Dr. Craig Spencer
That's a good question. I think part of the problem is that we're trying to walk around actually just defining what we mean, we even say normal, normal-ish, normal-er. I think the first thing to recognize is that for 580,000 families, there's no going to be going back to normal, right? We've had so many people die, and so many people impacted by COVID. So many with long COVID, who are not going to go back to normal, regardless of how we define it. I think it's important to think about normal as it existed before this pandemic, as not this ideal, but something that was deeply flawed, which is what got us in this place that we're at right now. And by that I mean the fact that our healthcare system was great if you had money and had insurance, but we had 10s of millions of people that had neither of those.
Dr. Craig Spencer 
We had racism as a public health crisis before George Floyd's murder, we had problems with trying to find childcare primarily where the burden fell on working moms. And we've seen the impact that this pandemic has had and pushing them out of the workforce disproportionately, there are so many other issues that lead us into the pandemic and made us really unable to respond in a cohesive in quite comprehensible manner. That going back to that normal, it's not something that I and I hope many others don't want to I don't want to go back to a normal, where people have to struggle to find health care where my patients come in the emergency department weeks after their initial illness, because they were concerned they weren't going to be able to pay for it, or concerns that my wife or someone else is not going to be able to go back to work because of issues around childcare.
Dr. Craig Spencer  08:49
So when we talk about going back to normal means I think we need to re-envision what we want. Because if we don't we'll end up back in the same scenario that got us here in the first place. And I think lastly, when we talk about going back to normal, normal-ish, normal-er, what we're kind of all alluding to, is that sense of security and being around friends, feeling like your friends are a source of support as opposed to a potential contagion being out in having a beer or having brunch with friends inside or outside. And I think that's a lot closer than many of us think. I think as Lucy pointed out, you know, these vaccines are absolutely incredible.
Dr. Craig Spencer 
We've undersold them from day one, I think that we're getting our messaging in a better place but we need to do a lot better to let people know that these vaccines don't take away all the risk but nothing takes away all the risk. And we need to do a lot more to get back to some sense of normal that allows us to explore our mental health and feel a lot better in our daily activities because you're right this past year has been a collective trauma and it's going to be hard for us to cast that off.
Dr. Bob Wachter 
Yeah. Thank you.  […] wrote. What did you mean by its gonna get weird, Craig?
Dr. Craig Spencer  10:03
Well, I think we're all figuring out right, I went out a couple days ago to see some of my friends down in Brooklyn. I haven't seen them in over a year. We were all outside. Most of us had been vaccinated, a couple weren't fully vaccinated. There's some that hadn't been vaccinated yet. And we all walked up. And it was just weird, right? Like, these are people that I've known for as long as a decade, there was question of who's going to take off the mask, are we going to take off our mask, I was trying to tell people, you know, what I felt safe with. And then other people were saying, well, my wife is pregnant, and I'm not fully vaccinated. And we have a two-year-old and a new baby coming, so I don't feel comfortable.
Dr. Craig Spencer
And so we're gonna have to navigate those conversations, sometimes with imperfect evidence or advice. Sometimes, not even relying on advice, but relying on people's experiences over the past year, not just the collective experience, but their individual experience. And that's not something that you can do in a brief 30 second, hey, how do you feel about this? And, you know, our social skills have not been great. We haven't seen a lot of people over the past year, it's gonna be a little rusty. But, you know, really, what I meant by it being weird, is that not only going to be weird, just to take off your masks or to see someone take off the mask and have them reveal something you haven't seen in a really long time.
Dr. Craig Spencer 
But it's gonna be weird, because we don't know what else is behind that mask, right? Like, we don't know what individual experiences have been. People that have gotten sick, maybe didn't share that people have lost family members that maybe we didn't know, people like myself that walked into an emergency department at the height of COVID, every single day here in New York City and felt like I was walking into the apocalypse. We've all had different varied experiences. And we're going to bring those to these really exuberant meetups that we're about to have. But we'll all be entering that with a little bit different baggage, and it's going to be some time before we're able to share that.
Dr. Bob Wachter 
Yeah. Yeah, I'll add one more caveat to the normal idea, my younger son is on the spectrum. And he hates the word normal, and pushes back when I say it, he will say, he'll say dad, it's called safe and healthy. As opposed to normal that has such a it's so loaded for so many people. And not just because, quote, normal was a pretty imperfect state, as you pointed out, but I think for folks like him, it's quite a loaded term.
Dr. Craig Spencer  12:13
Can I say one thing quickly, cuz I was reading this the New York Times yesterday, they had this just kind of short essays from people and one was from someone who I believe, was autistic. And he said, normal means loud noises and people standing really close to me in the line at the post office and all these things that like, I don't like, for the past year, this has been for him, he's like, this has been really great. And so going back to normal for everyone means going back to discomfort, and feeling strange and feeling anxious all of the time.
Dr. Craig Spencer 
And so I think that's important, too, right? Like going back to normal, it's going to be different things. And doesn't matter whether you have autism, whether you had a family member die, or whether you, you know, live the pandemic in a penthouse apartment in a place that didn't have you know any COVID, like everyone is going to be coming to this with something different.
Dr. Bob Wachter 
Yeah, yeah, that's absolutely right. A number of questions related to the fact that for the foreseeable future, and maybe the forever future, we're going to be in places where people are vaccinated and others are not. And that will color temper, one's attempt to get back to and I'm gonna keep using the word normal, although I think all the caveats we've made are important. So we got a voicemail from a listener, let's listen.
Listener No.1 
I'm calling to ask a question about the new normal. So my husband and I are both vaccinated, but we have two kids who are unvaccinated. Now, if we go out and do all the things that are telling us to do unmask, doesn't that put our unvaccinated kids at higher risk? Thanks so much.
Dr. Bob Wachter 
Lucy, how would you respond to that?
Dr. Lucy McBride
So this is the exact type of question I'm getting every day in my primary care practice. You know, primary care doctors and doctors in general deal with the gray area right we are, we are masters of the gray we help people apply broad public health advice and complex scientific data. And we try to marry it with people's unique health conditions risks, and then understand their risk tolerance and their particular health goals and then help guide their decision making. We are in a gray zone where people are vaccinated people are unvaccinated. We are opening up gradually. There's risk everywhere. We've never been promised our risk-free existence. There's risk everywhere, everywhere you look. And so you know, people want to get back to convening with loved ones, traveling. And what do we tell people? What do I tell people who are vaccinated who have unvaccinated kids?
Dr. Lucy McBride  14:36
I tell them this. Number one, if you're vaccinated, you are stunningly protected from COVID-19 your risk of getting COVID-19 again, based on the CDC data out, you know, it's rolling out just last week is that it's hard to get COVID-19 after you get vaccinated. We also know that vaccination protects people against transmission, not 100% because 100% perfect was never on the menu. But so you're being vaccinated as a parent means that your kids are less likely to get COVID-19 from you. Similarly, as we roll out more vaccine, and we have 3 to 4 billion shots in arms every single day, as community rates of COVID that go down, kids are protected when they're unvaccinated by that being surrounded by COVID-19.
Dr. Lucy McBride 
Last, children in general tend to do much better than adults do in COVID-19. We know from abundant data, that kids can die, kids can get sick, but they just don't get sick as often as adults do. So when I'm helping people calculate the risk of say, visiting grandparents getting on a train, the kid going to summer camp with a mix of vaccinated and unvaccinated people, we need to understand that we're dealing with an evolving public health landscape, we have to understand risk in context of what our goals are. And then we have to understand how to protect ourselves against risk without losing sight of our broader human needs.
Dr. Lucy McBride  16:08
So in other words, there's no one size fits all prescription for human behavior. There's nuance, there's individual preferences, there are different risk tolerances. But in general, I would say, you know, kids are pretty darn low risk for getting COVID-19. And as we get closer to every person under the age of 16, and hopefully this week, 12-to-15-year old's get the shot, kids are going to be so much better off tomorrow than they are today. And hopefully by the summer we'll be in a much, much different place.
Dr. Bob Wachter 
Kim wrote, "How do I explain to my kids why they have to mask when I don't? Or should I just continue to mask to be a good role model?" You can see this dissonance also being pretty darn weird. So how do you grapple with that one?
Dr. Craig Spencer 
Oh, no, I got the tough question. That's a hard one. You know, it's hard because..
Dr. Bob Wachter 
I thought Lucy's was hard enough, but yours is..
Dr. Craig Spencer 
I've got two kids and for me, like I'm fully vaccinated, my wife will be fully vaccinated a week from now, my two-year-old will not be fully vaccinated for some time, and then my four-month-old, like probably not for a very, very long time. And so we have like four different levels of risk in the household. And I kind of work at the most cautious one, because I'm exposed to COVID on a near daily basis. But in terms of like, how do I convince my kid that she needs to wear a mask when I don't, and to be clear when I go outside, unless I am with a bunch of people. And I felt this way for a long time. So I'm happy to see the CDC share this but mask off like, I'm not concerned about people getting COVID outside, it feels really good.
Dr. Craig Spencer 
You know, I don't have that weird suntan anymore. I'm looking forward to the summer much more than last. But my kid my, two-year-old, she's two and a half. So you know, about half of her life has been in this pandemic. I remember last year, around about a year ago, she looked up at me as I was about to leave the house, and say a lot of words, but she said, "dada, where's your mask?" And she is one of those kids that it's all about it. She wears it everywhere. She's happy. But just the other day, she pointed out as we're walking, she's like, "dada, where's your mask?" We were outside she had her mask on? And I didn't have mine on? I don't know the answer is I'm not really sure I'm trying to navigate that right now with a tiny human who's you know, kind of level of rational thinking is isn't super complex.
Dr. Craig Spencer  18:40
So I'm gonna have to try to tell her why I think it's important. That being said, you know, when we're outside, even with her, I feel comfortable, if I'm pushing her in the stroller, or if we're going for a walk even here in New York City. I'm not worried about her getting COVID just from a casual walk if with a bunch of people that she's playing with a bunch of other friends, especially indoors, obviously, that's different when I bring her in a daycare that's different. But I don't know, Kim, this is a long way of saying, I really don't know the best way to do this. And I think this is something that I'll be feeling out with you as well.
Dr. Lucy McBride
I'd love to take a stab at that question. As a mother of three teenagers who have very different risk tolerances. I mean, I have one who puts his finger in the proverbial electric socket regularly and realizes what is good and not good for him. And then I have another one who is very, very risk averse. It is complicated to advise families. But I do think I do think the data are clear that the risk for outdoor transmission of COVID is so so tiny. I mean, if you look at that study, in the fall of 2020 done in Wuhan, China where they so fastidiously did contest cruising, there was one case of outdoor transmission out of 7000. And then the recent study from Canterbury shows, again, that our current transition is low.
Dr. Lucy McBride 
The problem is, you know, so in other words, I don't think we should be masking outdoors, for vaccinated people, certainly, but even for unvaccinated kids, unvaccinated folks in general, and particularly kids when they're so low risk for COVID-19 to begin with. And I think that masking children in general, while it was necessary in March 2020, is not appropriate. But that is obviously, hotly debated. And a place where on Twitter, you can get skewered. But I do believe we need to follow the science and practice facts-based decision making and not fear based decision making.
Dr. Bob Wachter  20:32
Yeah, one of the tensions now is nobody has a label on their forehead that says, I'm vaccinated, right? And even if they did, it's decent chance they bought it on online for five bucks. So we're increasingly going to find ourselves in scenarios where you might feel one way if you knew everyone was vaccinated and a different way, if you didn't know, in those situations, what do you assume? Do you just make the assumption there gonna be some unvaccinated people around and go with that?
Dr. Lucy McBride
I think it's a great point, Bob. And I think, you know, one of the things that we need to do as human beings is respect our communities, right? That's why we get vaccinated is partly for ourselves, but also to protect our communities. It's why we care about our global allies in India is because it's not just the right thing to do, but because, you know, it protects us by protecting them. When we don't know who's vaccinated walking around, like I was at the Giant last night buying bananas. No one knows I'm vaccinated.
Dr. Lucy McBride 
So even though technically, I could probably take my mask off and be fine. I'm gonna wear my mask out of respect for people who haven't had access to or haven't been able to get the vaccine yet people who are hesitant. So I think that until we have achieved as a place where every person who wants a vaccine has had access to both those doses, we really need to respect the fact that unvaccinated people are still vulnerable to COVID-19.
Dr. Bob Wachter 
Claudia Cummins wrote, "I live in an area non-urban Ohio, where vaccine hesitancy is high and vaccine rates are stalling. What will life in my community be like, if only 50 or so percent of citizens, that's a hopeful estimate, end up being vaccinated?" I'll add to that I live in San Francisco, where 50% of people now were fully vaccinated. 75% or so have had a single dose, it looks like we're going to get to a super high number. So you can imagine a world where we say, in the United States, this is normal. But I imagine a place like San Francisco or some other places are very high vaccine rates may have different risk profiles on other parts of the country. How would you navigate that, Craig?
Dr. Craig Spencer  22:42
This is a good question. I wrote about this; I think last week in this kind of understanding of or misunderstanding of herd immunity or community immunity. And, you know, we are being told that we need 70% or 80% or 90% of people to get vaccinated for us to get to community or herd immunity, and then things will be safe, when clearly that's not true, right? Like this isn't an on-off switch. This is something where every single vaccination gets us closer. Every other person in our community that gets vaccinated makes that community safer, nothing magically changes if the herd immunity threshold is 80%. And we're at 79% And then we click over to 81% tomorrow. This is you know, incremental.
Dr. Craig Spencer
Now, the one thing that I don't think people recognize is that there is going to be a varied experience around this country, just like there has been since the beginning of the pandemic, March 2020. We got walloped here in New York City, then it went to the Sunbelt, and it moved around the country. And I think what we're going to see is that different communities are going to have different risk profiles going forward. New York City, Queens where antibody survey suggests, you know, up to half of the population had COVID, at some point, in addition to a high level of vaccination means that there's going to be very little place for that virus to hold on and to spread in that community, and other communities where they haven't seen a lot of COVID.
Dr. Craig Spencer 
And where vaccine hesitancy may prevent people or other reasons may prevent people from being vaccinated, you're gonna have more people who are susceptible to COVID more likely to have these outbreaks. So I think we talk about these issues as countrywide issues, but they are community issues at this very polarized time in our politics. I wish we would have thought about kind of our communities at the beginning, as opposed to just a country and how we responded to COVID. But going forward, and it's not just the next few weeks, but the next few months. COVID is going to be with us.
Dr. Craig Spencer  24:30
COVID does not kind of magically disappear at the end of the summer, even in the fall will likely be with us for some time. And there will be smaller outbreaks in communities that haven't seen the virus haven't been vaccinated. So I think if herd community gets to 50% to 60% of people who are vaccinated, that's actually pretty high, and the likelihood that you're going to have kind of big outbreaks there is pretty low, not impossible, but again, every single person that we can get vaccinated is one less person that can carry and spread this virus and so that should be our goal and our focus right now.
Dr. Bob Wachter
So Craig, if you have come to a "New Normal" in New York and you're living large and living 2019-ish. And you have a friend or relative in Claudia's community in Ohio, where they have 50% of people have been vaccinated 50% have not. Do you change your behavior when you get off the airplane? Or do you look online somewhere to see if they're having a little outbreak there? How do you decide whether to modulate your behavior based on these regional differences?
Dr. Craig Spencer 
That's a good question. I think just like we check the weather before we leave the house to see if we need an umbrella, you can go to the CDC website, and you can look down to the community level to the county level, to see not only what percentage of the community that has been vaccinated, what percentage of the community, you know, how much COVID there is in the community right now, how many new cases there's all of this data that is down to this very granular level. And if I'm going to go somewhere, I'm definitely going to find out what's happening there. I'm going to see if there's a bunch of COVID I'm gonna see if you know, a lot of people have been vaccinated, and that will change my risk, especially for me, having two kids that are unvaccinated, we will travel at some point, this summer will drive somewhere. And I will know where I'm going, what the risk of COVID is for my family for sure.
Dr. Bob Wachter  26:10
Yeah, Lucy, you want to add?
Dr. Lucy McBride
I think I would follow up on that and agree with you, Craig, and say, you know, that's what we do in medicine every day in primary care is help people make complex decisions about their particular family unit, as its little a micro community. So for example, if you are vaccinated, and you have unvaccinated people in your household, and you have someone who's immune compromised, you know, that's going to be a very different recommendation I give you on how to behave, where to go, how to travel, that if you are an immune competent, you know, 25-year-old and your parents live with you. And you're, you know, hopefully you get to live without your parents at some point.
Dr. Lucy McBride
But if your parents are immune competent, I guess what I'm saying is that there's nuance in public health guidance, there's nuance in making recommendations for individuals. And it all comes down to this concept. There's no one size fits all prescription for any one person, we have to have an understanding of our unique risks our unique health conditions, our understanding of the data, we put it in context, and then we decide and we hope for the best. Because again, the risk is never going to be zero. And we have to accept that just like we accept that the risk of driving a car is not zero, the risk of having a relationship with someone is not zero, the risk of walking out your front door is not zero. It's about harm reduction.
Dr. Bob Wachter 
Do you like the idea that some have promoted including me at some point, that flu is the metric of almost revealed preferences, we show by the fact that we live normally, quote unquote, in the world of flu, which kills 30,000 people a year, that that's a risk we're willing to tolerate. And so when we're at that level, then we can go back to something resembling normal. Some people have said, oh, we were being careless with the flu. We should all be wearing masks every winter anyway, because look how bad the flu is. What do you think about that comparison?
Dr. Lucy McBride  28:03
I think that, you know, it's a tricky comparison to make. Because back in 2020, Donald Trump was talking about the flu and COVID being so similar when it's absolutely not when it comes to adults. There's so much more nuance to it. But I think the data are clear that in children, for example, the 12 and unders, the flu poses more risks to that age group than COVID does. I think, as Craig was saying earlier, you know, there are a lot of parts of, quote, normal that we don't want to go back to upon re-entry, which may include not allowing and tolerating about 30,000 Americans dying from the flu every year, we could do better.
Dr. Lucy McBride
Do we need to lock down schools and close down our lives to avoid that? Absolutely. Not, in my humble opinion. But I think we've learned a lot from COVID-19 about what the risks that we undertake in our everyday lives, including during flu season. I mean, I remember the days where I'd go to work with a sniffle. I mean, I would no more do that than fly to the moon now. I will probably always wear a mask on an airplane. Because why not? I will be much more careful about you know, hand hygiene.
Dr. Lucy McBride 
I hope I was already but yeah; I think that we've learned a lot and I think that we have what as we face re-entry. And you you're if you're a parent and you're thinking about your child's risk, I think it's important to put it into context that your child's risk of severe complications from COVID-19 are on par with Influenza, which is pretty low.
Dr. Bob Wachter 
Do you think a couple of years from now you'll go on an airplane you'll see a bunch of people with masks. Do you think you'll go on the subway in New York and see a bunch of people with masks?
Dr. Craig Spencer 
Absolutely. I think that's gonna be it, especially here in New York City. I think that you know, again, part of that collective trauma, that has been a holdover, even for people who know that it's safe being maskless outdoors are going to hold on to their mask. I mean, I talked to very well educated, smart vaccinated people who are young and had already had a low risk of complications from COVID, who are still wearing masks, not because they're afraid of COVID. But because this is what's happened over the past year, like we've had this collective trauma, where we've seen an experience something so horrible, so I suspect that that will linger, we'll still have people I will wear a mask on the subway, I always have worn a mask in the emergency department kind of around flu season.
Dr. Craig Spencer  30:36
So I do think that there will be some persistence of this. And I do think that, you know, this idea that we can kind of accept 30,000 flu deaths as kind of going back to the normal is not okay, for a couple of reasons. One, you know, we've had flu vaccines where people haven't, we haven't had huge uptake of them in the past. And they're not super effective, right, like 50% to 60%, they prevent severe illness. But we now have vaccines that can almost completely eliminate the likelihood of you being hospitalized or dying from COVID.
Dr. Craig Spencer 
We have vaccines that very, very, very efficiently prevent transmission of disease prevent you from getting infected. And so I think if we get to the point where we're allowing, you know, 10, or 20, or 30,000 people to die from COVID and say that that's okay. That's the price of doing business. That's a failure, because what we have to prevent that I think, is so much better and so much stronger than what we have to prevent the flu.
Dr. Lucy McBride 
I totally agree. And I think we need to reassess what it means to be a citizen in this country. And it means getting your flu shot, not just to protect yourself, but to protect your neighbor. And, you know, I think, I mean, there's so many lessons learned from COVID-19. There's it's really hard to talk about opportunity in a global crisis. But there are things that have been made so clear, good and bad, that we absolutely need to change. I mean, my hope is that, as we face re-entry, we realize that COVID-19 has laid there, the fundamental universality of mental health. If you have not met, reckon with your mental health in your life, if you've never kind of looked in the mirror and faced uncomfortable truths about yourself, your life, your relationships, you're the way you manage stress, you probably had to reckon with it somewhat in COVID.
Dr. Lucy McBride  32:19
And I hope that we as humans realize the relevance of mental health to our physical health and our medical outcomes, which is what I'm talking about all the time. And I hope that were address health care in this country where we put mental health in the doctor's office where we weave behavioral health, into the conversation about what it is to be healthy because health is more than the absence of disease. It's not just about not getting a virus. So I think there are a lot of lessons learned as we face this, quote, new normal, which could potentially be a better normal.
Dr. Bob Wachter
It's good segue to a couple of questions. It's a little long. Let me read both questions, because they get at the same theme Michelle, wrote, "I read Dr. McBride's article on Coronaphobia and I definitely suffer from this even though I live in a really safe neighborhood in a really safe city." This person lives in Glen Park, San Francisco right next to my neighborhood. "And a bit extremely careful all year. My question after year of living with so much caution, I feel I have somehow developed both Agoraphobia and Claustrophobia. It's hard to get back in the world. And I get nervous in spaces that aren't well ventilated any ideas for how to feel comfortable in the world again?"
Dr. Bob Wachter
And then let me read Nicola Dedmond's question which is a good follow up to that. "What is the best way to support a friend or family member who seems to be suffering from irrational "COVID paranoia", despiteful vaccination, without diminishing their feelings or making them feel ashamed or gaslit? Is a sort of, quote, exposure therapy to public life advisable at this point? Or could that make things worse? Are there professional resources and therapy services available for this specific and unique problem?" And I'll add, personally, I've got a close acquaintance, who was incredibly excited about vaccination for the chance to go and visit aging parents and then when it came time to get on the plane could not do it. This is real. It's common. So, Lucy, why don't you start with it?
Dr. Lucy McBride  34:05
Oh, my gosh, I could talk all day about this, Bob. So just giddy up here. You know, fear is part of the human condition. Anxiety is part of the human condition. It's how we're wired for survival, right? So to run from danger. We have these chemicals in our bodies, that course through our veins, adrenaline and cortisol when we're faced with a threat and Lord knows COVID-19 has been a threat. So we have been in a state of kind of stacked fear stack trauma for now 14 months, so it's only normal to have the physical, emotional and behavioral consequences of chronic stress.
Dr. Lucy McBride 
That includes everything from heart palpitations, sweaty hands, headaches, jaw tension, low back pain, elevated blood pressure, elevated diabetes markers, those are the things I'm talking about and seeing in my office every day, two, insomnia and depression, anxiety, addiction and gravitational pull towards behaviors that numb uncomfortable feelings that ultimately, self-sabotage or make us less healthy, to an exaggerated sense of risk where we despite understanding the facts of the vaccine, despite understanding the safety and efficacy and benefits to ourselves, in our communities, we are afraid to get vaccinated.
Dr. Lucy McBride 
Or once we've been vaccinated, we're still afraid to get on a plane and see loved ones, even though that's the very activity that would help our anxiety. So what is my recommendation? First, let's name it, let's call it what it is, we have mental health we all do as part of the human experience, you can't opt out of mental health, like you can opt out of a feature on your iPhone, you have it. So let's call it what it is, let's call it anxiety, let's call it something that is a medical condition if it's interfering with your quality of life and your physical health, and then let's navigate it in the doctor's office. So talk to your doctor about it.
Dr. Lucy McBride 
If you don't have a doctor, talk to a trusted friend, talk to a pastor, talk to people who I'm quite sure are experiencing some degree of the same thing, because we all are experiencing some level of stress. And then ask for help professionally. I mean, my hope is that one day in America, mental health services will be accessible to all Americans in an unfettered way that we have access to universal health care, universal mental health care, because mental health is health. And there just shouldn't be any shame about feeling uneasy in a global pandemic, if you hadn't had some sort of anxiety experience and a pandemic, I would be wondering what was kind of rough with you. So we have to name it, we have to normalize it, and we have to navigate it. And there are many ways to do that.
Dr. Lucy McBride  36:38
One is exercising, getting outside in nature, taking off your mask, because you can breathing in all that pollen, connecting with loved ones, understanding the facts, knowing the very real data on the vaccine efficacy so that you can start to liberalize your behaviors gradually and with kindness and compassion for yourself. And then again, asking for help, because it's hard to do that alone when you're debilitated from anxiety. And many, many, many, many people are.
Dr. Bob Wachter 
Yeah, Craig, anything you want to add?
Dr. Craig Spencer 
Yeah, I'll try to think about how I'm approaching is how I'm thinking about this from my time in West Africa in 2014. Ebola is very different than COVID. But I was sent to West Africa to be part of the Ebola response then. And, you know, Ebola is transferred by body fluids. That's why we try not to have direct contact with other people. So no touching, no hugging, you can be close to each other. It's not a respiratory virus. But we didn't want anyone to be afraid that they use the same fork or shook hands with someone who later was confirmed with Ebola. And so when you get off the plane, really, from the time you get on the plane, you don't touch anyone else you don't hug.
Dr. Craig Spencer 
So I got into West Africa, I got to the guesthouse, I saw someone was late at night, I was jet lagged, I put on my hand to shake their hand and they looked at me like I had foreheads and I was just a crazy person. Because clearly you don't do that, Craig, you should know better. We don't touch anyone here. And very quickly, I said, I'm never going to do that again. And I didn't in the span of the next few days, I got very used to not touching anyone I got very used to not having that physical contact, that it depends so much on in my daily life. And while I was in West Africa for five or six weeks, I didn't touch other people unless I was in personal protective equipment. And then I got on a plane and I came back home. And I was so excited.
Dr. Craig Spencer  38:19
And I got off the plane here in New York City, and entered this space where people were bumping into me on the subway, and I went into a restaurant to see friends and they gave me a big hug. And all of this weirdness just came rushing back in me at one point, and no one around me had any clue that I felt so uncomfortable. I didn't understand why I felt so uncomfortable. Because it's only been a couple of weeks, it's hadn't been a year like we're seeing in the pandemic. And I think what I was experiencing is what a lot of people are experiencing right now and they're doing at different rates.
Dr. Craig Spencer
For me, within the span of a few days, I was able to kind of come back to feeling normal, touching people and hugging. But I would imagine other people in that same scenario would have taken a shorter period of time, or would have taken a longer period of time. One thing that I think we need to recognize is that as humans, we can look at the science, we can follow the public health, but people's own personal risk tolerance doesn't always track along the actual risk itself. And I think we need to recognize that for people they're going to be in a different place. You do see are other people saying you should take your mask off when you're outside, but you don't feel comfortable. Trust your gut.
Dr. Craig Spencer 
I think eventually what people are going to do is they're going to see everyone else around them outside, comfortable being okay, they're going to see case numbers go down, they're going to see less of the fear on the media, they're going to see kind of back to that normalcy that we had before and will slowly and gradually let down their guard to the point where they feel comfortable incrementally. So I think that, you know, I don't think exposure therapy, ripping off someone's mask and throw him into a mosh pit is the right thing to do. But I think trying to get people outside to you know, try and get people outside trying to do the same thing that people did for me when I came back from West Africa, which is we need to get you out, we need to get you exposed, we need to get you into some back the sense of normalcy and gradually and incrementally that helped me.
Dr. Craig Spencer  40:06
And I suspect that's going to help a lot of other people. But as Lucy pointed out, that's not going to help everyone there are going to be people who have been scarred and impacted by this not just for me to being sick or losing a loved one. But because of the mental health ramifications of everything we've seen over the past year. And for those people, they absolutely should be encouraged to seek out some assistance. This is not an individual fault. This is a collective trauma that we need to recognize some people are going to need more help kind of getting back to a place where they feel comfortable again.
Dr. Lucy McBride 
And we've seen not just Coronaphobia and anxiety, we've of course, I mean, I'm witnessing in my patients, such an increased prevalence of depression, alcohol abuse and overuse. And even people just drinking more than they want to, and it negatively affecting their health. You know, you don't have to have quote, alcoholism, to have alcohol affect your health in a negative way. It's a very convenient way to kind of self-medicate uncomfortable feelings. And let's face it, after a long day at the office, I mean, there's nothing like a glass of wine.
Dr. Lucy McBride 
But I'm just saying that there's an enormous fall out in terms of mental health and the pandemic that is showing up and showing up in doctors' offices. And I think it's really important that primary care doctors and ER physicians, like you, Craig, understand what's happening in people's lives. In addition to protect themselves against COVID-19. People are also experiencing a lot of stress, a lot of trauma. They're parenting, kids on Zoom school, they're caring for elderly parents themselves. They're working. They're under a lot of stress, and that affects our day-to-day health and our medical outcome. So again, we have to we behavioral health into the doctor's office, having mental health challenges, doesn't mean you're mentally ill it means you're human.
Dr. Bob Wachter
Yeah, maybe last question. And we started off with your personal stories and observations. So we'll end that way. It sounds like a lost count. But I think five kids between the two of you ranging from toddler to teenagers, I noticed yesterday, a couple days ago, Disneyland opened back up again. So Marian Wada said, "Can I go to Disneyland?" assuming that Marian wants to but maybe I'll pose that to the two of you if you are that your kids wanted to go to Disneyland? How would you be approaching that decision today? Lucy, why don't you start?
Dr. Lucy McBride  42:25
Oh, gosh, I don't love theme parks. I personally hate rollercoasters. I'd rather go to a national park. But no shame for anybody wanting to go to Disney World. God love you. I think you can make it safe. I think we have learned over 14 months how to make activities safe. There's no mystery as to how COVID is transmitted. If you're vaccinated, you're pretty darn safe. If you're unvaccinated, you're not as safe. But you can mitigate risk by masking spending time outside and distancing from other people. You know, there's nothing like being on a roller coaster and the ventilation they are in to naturally disperse COVID-19 I just don't want to be on that roller coaster. So that's what I was saying. I don't want to be on it. But I think you're fine. If you go on it. I just wouldn't. I just wouldn't go into crowded. You know, restrooms and restaurants. If you're unvaccinated if you can avoid it.
Dr. Bob Wachter 
Yeah, Craig your kids are little, so maybe this hasn't come up yet, but it will trust me. Yeah, so what do you think?
Dr. Craig Spencer 
I think if my four-month-old told me that he wanted to go to Disneyland we'd be doing something else. I don't know. I'd be pretty amazed.
Dr. Bob Wachter 
Call the Guinness book or something.
Dr. Craig Spencer 
Yeah, turn off the TV. I don't know what they're watching. I'm less concerned about walking around outside at Disneyland than I am about the flight getting down there for my kids or for being indoors, at an airport with them or being indoors even at Disneyland itself. You know, if it were me only if I was going to Disneyland solo, I would have no qualms you know about being someone who's vaccinated. I'm not worried. If it was my wife, I'd say let's wait until next week when you're fully vaccinated. Even if it was with my two-year-old who was you know, wearing a mask, especially when we were indoors.
Dr. Craig Spencer  44:09
I would have less of a concern even with the plane. I think for me, you know, the variable is a four-month-old and obviously with a four-month-old if my baby gets a fever, I need to you know, maybe get bloodwork done and we need to have his urine check all these other kind of protocols where it's not just COVID-19 that I'm worried about, I'm actually you're just very cautious about kind of other exposures so with him no, I wouldn't, not because walking around outside of Disneyland makes me feel unsafe. It's you know, getting there and the things that we have to do indoors for example, with unvaccinated folks and my family. That does.
Dr. Bob Wachter
Well, it is a lot of fun when the time comes it's just bring a whole lot of money with you. That's the biggest risk. Thank you both for really nuanced conversation. This is tough stuff. And I think emphasizing that everybody's different. And there should not be any shaming about how people are approaching this. It's really, really tough, having been through what the human brain was not built to handle this much anxiety for this long and then sort of toggle back to and now it's a different world. And all of a sudden, they just say, okay, fine, that's just not the way it works. So being sympathetic to people, listening carefully is really important.
Dr. Lucy McBride 
Can I add one thing? Maybe I'm messing you up here. But I'd love to say this, that it can feel strange to be excited about the benefits of vaccination, and look at the news on India and watch the tragedies overseas. But what I want to point out about that is that, you know, we can have two thoughts in our heads at once simultaneously, we can be glad for ourselves that we can connect with loved ones, and that we are luxuriously protected by this extraordinary vaccine, and be sad about our global partners in the same time. I think, you know, that's one of the things we do in medicine all the time is hold complex thoughts in our heads, and patients do too.
Dr. Lucy McBride  46:12
And patients are a lot smarter than we sometimes give them credit for. They're able to understand that they have diabetes, but it's their birthday. So they want to have cake. So we figure out how to make it work. I think that, you know, we need to understand that, you know, we can hold paradox in our minds, and we can feel joyful, we can feel sad, we can feel, we can feel hopeful, and we can be cautious at the same time. Those things are not mutually exclusive. Caring for our communities and caring for ourselves are also not mutually exclusive.
Dr. Bob Wachter
Yeah, I appreciate you raising that. I think it's a struggle, this incredible split screen that we see. I mean, we've seen that throughout the pandemic, when New York was getting hammered. And where I lived was quite benign. And now we're seeing it at kind of an international scale, I think an important point I've been asked about this is how do I know that I'm safe in New York or DC or San Francisco or Ohio? When all these you know, this is happening in India, and people will travel and there are variants? And I think the answer is it adds a tiny bit of uncertainty. But if there were new and much nastier variants out there, we might have been caught blind in December, but probably won't be caught blind now, we will have a hint that they're entering our world and you know, if their predictive their vaccine resistance, I think we'll know that. Craig, is that the way you process this?
Dr. Craig Spencer
Yeah, well, we know today, and I know so many people are scared about the variants. And when they first came around, I was concerned as well, we didn't know what impact they would have on vaccines that it happened. You know, the B117, first from UK happened around the same time that I got vaccinated and healthcare workers were getting vaccinated, like, oh, man, we made it this far. And now we're going to be undermined by these variants. But what we found so far is that these vaccines work really well against all of them, right? Like, I think that we can hold that thought of being concerned about future variants in our mind, with also the concern that we should get other people around the world vaccinated because we don't want to see this play out not just because we're concerned of the impact variants will have on us, but for the moral and humanitarian argument for the fact that we have the means to help in other places to get vaccinated if we only commit them to this cause.
Dr. Craig Spencer  48:22
And I would like for people to celebrate the fact that we're vaccinated here, but also celebrate the fact that we're helping get people around the world vaccinated. If we want to in this pandemic, it doesn't end at our borders, it ends everywhere else where we get this where we get COVID, you know, hopefully vaccinated, out of existence or as much as possible. And that's not gonna happen unless the US I think, steps up and plays a bigger part.
Dr. Bob Wachter 
That's a good way to end. And thank you both for your leadership and helping explain these things to us and stay safe.
Dr. Lucy McBride 
Thank you so much, Bob.
Dr. Craig Spencer 
Thanks, Bob.
Dr. Bob Wachter 
I thought that was fascinating, really, really interesting topic. And this is one where time will heal, to some extent, to the extent that it should, as I think Craig mentioned early on, for the 600 or so 1000 people that have died, and many, many more people who've had serious cases of COVID have had long COVID families of people who have been very sick or who have passed away, life will never return to normal. And that's going to be important for us to think about. It's also going to be really important to think about the people in other parts of the world that are still being ravaged by this pandemic, even as things continue to improve in the United States.
Dr. Bob Wachter 
But lots for us to chew on here. And I think they helped me at least think through some of these different scenarios and give myself and give ourselves some permission to struggle, because that's the way this is going to be for a while, you know, as you know, in six months or a year or two years, this will feel different. But for now, as we come out of the worst of the pandemic, and we move into this, this new world, it is perfectly logical, and in fact, quite normal for it to feel weird for there to be a struggle for there to be a fear of normal. And we will get through this and things will get back to something that feels a little bit more stable.
Dr. Bob Wachter  50:27
We have a number of other terrific episodes coming up here on IN THE BUBBLE, we're going to talk about the restaurant industry, one that has been battered by COVID. And talk about challenges in coming back to normal. The restaurant industry is almost first and foremost, it had to completely pivot to take out and then outside dining. And now as a tries to do inside dining, trying to figure out how to make that work and make it work economically. And also, were there things that they learned in the last 6-8 months that actually will make the industry better and healthier. so fascinating topic, we'll talk to celebrity chef and restaurant owner, Justin Sutherland about that.
Dr. Bob Wachter 
We'll have an episode on long COVID. We haven't talked about that for a while. But it's a huge issue for a lot of people who are struggling with the after effects of COVID. And we don't have a guest lined up yet. But we are gonna have some terrific guests talking about the experience of long COVID and what we've come to learn about the science of that disorder. And finally, we haven't talked about sports for about 6 months or so. All of the sports leagues are gearing back up, stadiums are increasing their attendance levels, we're not talking so much about the bubbles for the players as we were last year, although there still is risk there. And teams are having to figure out their strategies this year as they did last, terms of keeping their players and their staff and their fans healthy.
Dr. Bob Wachter 
A lot of teams are doing a whole lot of different things here in San Francisco, I see what is going on, including with the San Francisco Giants, where right now they are requiring evidence of vaccination or proof of negative tests, including doing tests. At the time of entry to the stadium. They may be changing that over time. But they've had to make a ton of decisions about how to stage baseball games in a big outdoor stadium and do it in a way that's healthy and comports with all of the rules and regulations which are constantly changing.
Dr. Bob Wachter
For that one, I'm going to talk to my old friend Larry Baer, who is the president and CEO of the San Francisco Giants. He has a number of World Series rings to his credit, and he's a very thoughtful person who's really grappled with how to manage his team and his franchise during the pandemic. So I look forward to that as well. So I hope you'll tune in for those and our other episodes. Until then, stay safe, please get vaccinated when you can and look forward to talking to you soon.
CREDITS  52:58
We're a production of Lemonada Media. Kryssy Pease and Alex McOwen produced our show. Our mix is by Ivan Kuraev. Jessica Cordova Kramer and Stephanie Wittels Wachs executive produced the show. Our theme was composed by Dan Molad and Oliver Hill and additional music by Ivan Kuraev. You can find out more about our show on social media at @InTheBubblePod. Until next time, stay safe and stay sane. Thanks so much for listening