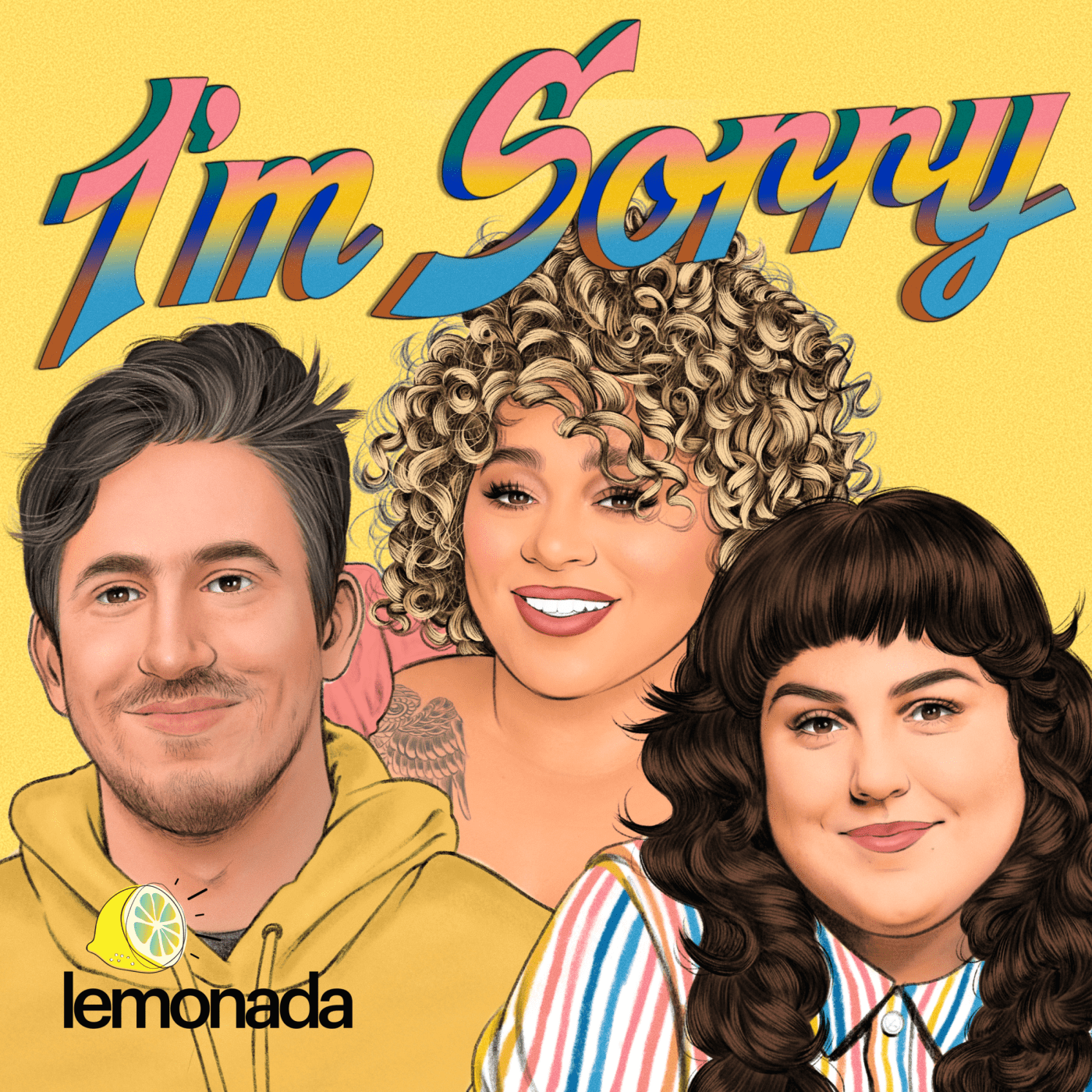 What's Going On With Mormon TikTok? (with V Spehar)
Subscribe to Lemonada Premium for Bonus Content
Description
Kiki, Hoja, and Mohanad dive into the wonderful world of TikTok with V Spehar, founder of Under The Desk News and host of the new podcast V Interesting. Together they analyze their 'For You' pages, investigate what's going on with Mormon MomTok, and learn the many signs and symbols of the soft-swinging community. Then, Mohanad tells us why we need to leave Britney alone, and Kiki recaps the latest from the January 6th hearings. Plus, V tells the story of seeing Pete Davidson and Kim Kardashian at the White House Correspondents' Dinner.
Please note, I'm Sorry contains mature themes and may not be appropriate for all listeners.
Follow V on Twitter @vitusspehar and on TikTok @underthedesknews. You can listen to their podcast, V Interesting with V Spehar, here: link.chtbl.com/vinteresting.
Do you have someone you need to apologize to? Does someone owe you an apology? We want to hear about it! Send us an email at imsorry@lemonadamedia.com or DM us on Instagram @imsorry_podcast.
You can find out more about our show @lemonadamedia on all social platforms.
Joining Lemonada Premium is a great way to support our show and get bonus content. Subscribe today at bit.ly/lemonadapremium.
Click this link for a list of current sponsors and discount codes for this show and all Lemonada shows: http://lemonadamedia.com/sponsors/
For additional resources, information, and a transcript of the episode, visit lemonadamedia.com.
Transcript
SPEAKERS
Hoja Lopez, V Spehar, Mohanad Elshieky, Kiki Monique
Kiki Monique  00:00
Hi, I'm Kiki Monique. And this is I'M SORRY, your weekly dose of pop culture, celebrity missteps, and public apologies. And this week I ate a handful of Doritos for breakfast twice. And that's what it means to be a single childless adult.
Mohanad Elshieky 
And this is Mohanad Elshieky. And this week again, I'm complaining about the weather. It's bad. I feel hot, and I want to die. So that's great.
Hoja Lopez 
My name Hoja Lopez, it's Hoja Lopez every week. But this week, I am so excited because we have one of my favorite people joining us on the podcast. V spear. We're so happy to have you V, is the host of the brand new Le monada podcast V INTERESTING. It premiered last week. And it is so profoundly good. On the show v talks about stories you may have missed from the news cycle and goes deeper into complex issues that matter to all of us. V thank you so much for being here.
V Spehar
Thank you for having me back, Hoja. I actually like did my very first podcast truly ever on I'M SORRY, when we did Facebook all those months ago. You guys like made me. I was like discovered here on I'M SORRY.
Mohanad Elshieky
This is what we do here. If you come on I'M SORRY. You will be discovered by the industry.
V Spehar
It's like a star burst happened here.
Mohanad Elshieky 
Exactly.
Hoja Lopez
You didn't you had done nothing really leading up to being on the show at all. So this works out.
V Spehar
overnight success.
Hoja Lopez 
I was listening to the show, it's so good. You had Lamar Dawson and Jon Kung on and that was so fun and funny. And it was such an interesting, they're both I guess like specifically from TikTok, and had such interesting insight on the back end of how it works. Like did you know them before? Because you have so much experience with TikTok too. So how did you meet them? Like how did that all happen?
V Spehar 
So, like we both kind of came up at the same time. And I think it's because like all of the people that you may be recognized from tick tock right now. All started at the beginning of the pandemic. So we feel like we've been on this like journey together. But that's because the start point for the journey was the same for everyone.
Hoja Lopez  02:11
Like a deep depression and yeah, meaningless purpose. Yeah,
V Spehar 
I started following John. We were both in the culinary world at the time, and my very first TikTok's were me making like hamburgers and like really absurd and fail ways. And they did really well. And John is a chef, so we would sort of like make different videos at each other. And then I started following the mark as his original content was doing these like dance videos and music explainers and like how to consume music and how to dance. And I wanted to learn how to swing down so I started watching him because I mean, I was just home with my wife and I was like, well, I guess we're gonna be professional swing dancers at the end of this, spoiler, we are not but we did eat a lot of hamburgers. And then he switched over to get that radio show on Sirius XM and now he does TikTok radio and I just, they're just my boys like so I honestly for myself, I picked a ringer guests. I've picked guys that like I'm friends with in real life so that our conversation was just kind of like us goofing around
Hoja Lopez 
Alone and having a good time. Yeah, TikTok is truly a mystery to me. Like it's still like, I don't know if there's anything on the universe that makes me feel more old, then TikTok, these short bursts, but also more seen. Yeah, I find all sorts of people there that are talking about like, there's three tick tock. There's like, burger tick. There's just truly every flavor of the universe and TikTok.
Mohanad Elshieky 
You know what, I don't think what the algorithm thinks I am or who I am exactly. Because lately, this is all I've been getting on TikTok. It is literally people just holding the Bible, looking at the screen and being like, no, no, no, don't scroll. I want to pray for you. Does the algorithm thing I need to be saved that bad? Yeah. And what did they do? What have you heard me say at home? That it was like, you need Jesus? This is what exactly what you need.
V Spehar
Well, I don't know if you need Jesus, but I apparently need Joseph Smith because I get a ton of Mormon TikTok. And I am not Mormon. So I think the TikTok just wants to give you something to be curious. Yeah, just something to be curious about. They're like, here's the stuff you like and here's a couple of videos on how to become a professional horse farrier, or a Mormon or how to get saved. Yeah, there's a lot out.
Hoja Lopez  04:21
A little amuse boosh, and I'm in this view. If you get hooked, then you got to keep going back to figure out what this weird culture is. Because that's what it reminds me of was like a peek into culture like a completely different culture.
V Spehar 
Yes. I call it visiting. I like to visit with the different things that I didn't know about so maybe Mormon talk or maybe like, like course […], but you just get to visit there for a little while. It's safe, you're still in your home and then you get to leave if you don't like it.
Hoja Lopez
If you don't like it, which sometimes I don't sometimes, I stumbled upon a tick tock of how to hold up and respect to God with your make up and your hair. And I thought to myself, not for me not I don't need that one.
Mohanad Elshieky 
Exactly. That's clearly for me.
V Spehar
Yes, that's 100 the next video though, could be like a draft tutorial on makeup and the one after that could be like how to put makeup and nail polish on your puppy like TikTok is its own freaky little choose your own adventure. But if you do have unresolved childhood trauma, I could see where like you're afraid to go back because the perception is that Tik Tok is a bunch of like mean high school girls doing dances. And while there is some of that it shouldn't be showing up on your FYP as an adult, so don't worry about that, you'll be okay.
Hoja Lopez
You will, you'll be able to navigate it yourself. Because the algorithm is such an interesting like, because now it's taken its own sort of like, it's not just an algorithm that affects your life. It's almost like its own character and personality and identity. And we use it and we just throw it around, almost like a horoscope that the internet has for us. And it's like, if we read it, it'll say things about us that we don't even know. Yeah, so it is this very sort of like esoteric, magical. I guess kind of like, like a reading of you that a machine has done. And I love that because I love things that are about me and for me and just made tailored for me.
V Spehar  06:17
Called the for you page, it could not be more inviting.
Mohanad Elshieky 
It looks like Oh ha has been paid by big algorithm to say that because that was just like, so like, this sounds like Oh, I was replaced by a robot. And she's here like, actually, the algorithm is good. It's great. My life is everything. I love it. It's who I am. Now.
Kiki Monique 
The weirdest thing that happens is like when there's something that I've never seen on my FYP though, but then it goes so viral that it just becomes a story like this mom talk I had never seen not one of these women in my life. And then all of a sudden it consumed my life for like two weeks. And that's the phenomenon about TikTok that I absolutely love because people who don't even have TikTok want to know the story.
V Spehar 
Yeah, you want to be on that inside joke. And so by the time something makes its way to Instagram, it's already been viral on TikTok for two weeks, then you get like a half-life, right? Because then you have your Instagram moment to the sun. And then it'll filter down to like Facebook memes and then sometimes to Twitter if journalist Twitter is paying attention enough, but yeah, you get your pop, your half-life, and then you revisit. So it's a nice 15 minutes plus 10 plus 10 of fame.
Mohanad Elshieky 
So what is this mom talk thing? I would love to know.
Hoja Lopez 
Illuminate.
Kiki Monique 
I mean, it really started. I mean, the first time I heard about it was I just know that there's a woman named Taylor, Frankie Taylor Paul or Taylor Frankie Paul, I actually don't know what order. I know, Paul is at the end. And this group of women, you know, they're basically a bunch of hot moms. And I'm pretty sure the most of them are Mormon. It's like hot Utah moms that are mostly Mormon, that do these dancing videos of how hot they are. And, you know, a lot of people who were like, they were like, well, that doesn't feel very Mormon. I don't know about any of that. But I do know that Taylor, Frankie Taylor, she comes out on alive saying that she's getting a divorce, and that there's a blow up in the friend group, and basically alludes to the fact that this group is a bunch of soft swingers. And essentially, they, soft swinging is like they're allowed to sort of make out with each other in groups in this as long as they're in the same room. But they can't go all the way, which is the most Mormon part about it, right? There's no penetration allowed.
V Spehar  08:43
It's just touching, edging forever and ever and ever edging for the Lord
Hoja Lopez 
Sex that women love. Especially got it. Okay.
Kiki Monique
And yeah, and so, you know, obviously, everyone's been watching these dancing video. So then they start making assumptions about who was involved in the swinging. And then, you know, it's alluded to that that's another couple breaking up, you know, people are unfollowing each other than more lives happen if people denying that this is, that they're involved in this in any way, shape, or form, their husbands are in the background of these live saying, it wasn't me. And then it kind of just keeps going on.
Hoja Lopez 
Is it sort of like Basketball Wives, Real Housewives, but the Mormon version on tick tock like that's giving me very much like, if they could have taped all of this and released it, they would have, you know?
Kiki Monique 
absolutely. I mean, I think that this was very real housewives. And I think people started feeling that way and then started thinking, are they creating this drama in order to be a part of a reality show and I think that's sort of the road it started going down, and we've done a few different branches. It was like, first the branch was No, there wasn't a bunch of swingers. She just cheated on her husband got caught and then wanted to drag everyone down with her.
Mohanad Elshieky 
That is incredible, though, for someone to cheat and then be like, no, no, no, you don't get it. We're all into this. And you're like, oh, like imagine being a friend with this person. You just wake up one day. I'm like, no, no, no, no, no, no, no, I do not do this. This is not me. And it just already went viral. I love that for them. Probably that's the most drama that has ever happened in, I don't know what are they Salt Lake City or whatever?
Kiki Monique  10:21
Well, apparently the city they were in was like, because then when I ended up talking about it, you know, in my stories, people started and went down the swinger hole of like these certain cities that are apparently big swinger cities, and I can't remember the exact Utah city they were in. But apparently, they were allegedly all members of this Lifetime Fitness that is also known to be a swinger like gym. I mean, I went down a deep dark rabbit hole with this one.
V Spehar 
I broadcast sometimes from my parents' house down in Florida. They live in like this cute little Retirement Village, and we do the news from the Grotto and everybody loves that. And people were sort of suggesting, oh, do your parents live at the villages? And I was like, get something like that. And my mother came flying out onto the deck and was like, Don't let people think me and your father live in the villages? Do you know what kind of stuff they're doing down there? We don't do that kind of stuff. And I'm like, well, what kind of stuff do they do? Why do you know about it? Tell me about it. But yeah, swing your talk and just this behind the scenes lives of straight people. I'm like, just come out with it and just live your dreams,
Hoja Lopez 
Right? All the gay people are already on polyamory there. They've got terms like polycule. They've got their, like, shared bed scenarios. They're like, democratizing swinging and they've, let's say elevated to the idea of swinging, it's very, very bougie to have a third person in your relationship but this feels like a lot of shame.
Kiki Monique 
We are we just gonna walk over polycule, I need to understand, I need the definition. Like you're not like, we just know what that means.
Mohanad Elshieky 
I just heard it. And I was like, yeah, that's the word
Kiki Monique  12:02
Like we're the straights we know nothing.
V Spehar
I mean, I'm a gay but I'm also like the most prude wholesome gay ever like me and my wife really just like hold hands and watch movies. And you should think nothing further than ever, ever, ever. Everything's very on the up and up over here.
Hoja Lopez 
So, it's a mashing of the words polyamorous and molecule. Of course, these are extremely cerebral gays that we're putting this together. But there are essentially like, it's a connection between like romantic and intimate partners. So it's whatever connections there are is what you create a polycule with. So for example, a polycule can be you know, two primary partners and to and to other partners that are outside of that and all together that little connection or that little, their specific connections create a polycule.
V Spehar 
You know, reminds me of, do you remember like in elementary school, when you had to make constellations out of marshmallows and toothpicks? That's exactly like we should make those and then that would help, like, illustrate this for folks. That's what I'm thinking.
Hoja Lopez 
Yes. It's essentially like the connected network of people who could give each other STDs and how those STDs connect to each other in a very physical representation kind of way.
V Spehar 
Like the chart, it's like the word the chart, except marshmallows and toothpicks.
Hoja Lopez 
That's exactly right.
Kiki Monique 
Well, I think the most disappointing thing I learned like in my deep dive of swinging is like, I'm a single, so I really actually can't participate. Like I was walking around with pineapple bags, because you know, I understand upside down pineapples is like a sign everybody's like, but nobody's you're not with anybody. No one's gonna pick you up and I was like, oh, I feel very left out. Wait, what? Yeah,
Hoja Lopez 
A pineapple is a sign that you're open.
Kiki Monique 
Yeah, that's one of the signs there's the upside down pineapple, apparently pampas grass, planted in your front yard. Yeah, and all of these things I love pink flamingo. I love a pineapple these things are tattooed on my body.
Hoja Lopez  14:12
This is gay culture.
V Spehar
Oh, no, no, no, no, ma'am. This is not gay culture. This is straight swinging culture.
Hoja Lopez 
I don't understand. Oh my god, what?
V Spehar 
No, we don't need to have like signs and symbols and things were very direct. We'll just chat it up. You know, it's just it's different. You know, this is the straight we have to make it kind of like a secret society situation.
Hoja Lopez 
God, but how do lesbians do it? Because gay men.
V Spehar 
We get a haircut. Have you seen this haircut? If you want to know about that. Okay, I'm gonna spell it. This is the I'm sorry podcast. I'm going to steal some gay tea here, okay, and I'll probably have to apologize to the community after this one if you want to identify your lesbian obviously you get this haircut. That's what we all do. That's one thing. But in P town, there's flagging card culture. So we have a different thing. So like bandanas in different colors indicate differ. One things that you're into or looking for same thing with in in Provincetown, Massachusetts like the gay Mecca, you have, and fire Island as well. And you also have like business cards that you can hand somebody and say like, hey, this is what I'm looking for. It's very professional.
Hoja Lopez 
I truly have been living in Texas for the past 10 years because we know none of this.
V Spehar
I studied it. And we have an episode on V INTERESTING coming up after the game in the Gay Agenda episode, we're gonna do one in the summer on that kind of stuff, just like demystifying the stuff that you, a lot of people will tell you what gay culture is, and I'm gonna be like, no, no, no, we'll take you, we'll show you, it's a very fun time.
Hoja Lopez 
Well, we need to bring these Mormon moms on the journey. I don't know if they'll want to come but we can try.
V Spehar 
I'm sure that they will want to come. I'm sure they will.
Mohanad Elshieky  16:12
Let's talk about Britney Spears. I just want that woman to be left alone for once in her life. It's killing Britney
Hoja Lopez
Yeah, I remember her marriage, Jason Alexander. I always found him to be like, he's one of those guys that my memory of him is a man who doesn't need to wear eyeliner to look like he's got very lush lashes. That's just my interpretation of him. But I wonder about this particular thing, because it is like, clearly this is another person who's mentally ill, you know what I mean?
V Spehar
There's definitely something unusual about him to the fact that he broke into speaking of kinks breaking any, he broke into Britney's house to livestream himself but then he also was pictured at the January 6th attack on the Capitol. So it just odd to be known only as the man who was married to Brittany for 55 hours was at the Capitol and it was at her wedding. Like what kind of stuff is he doing on the in between.
Hoja Lopez 
Losing his goddamn mind.
Mohanad Elshieky 
He's there to take down. You know, American figures, whether it's January 6th, or Britney Spears, he is there to just you know, dismantle America as we know it.
V Spehar 
Is it weird that I picture him like walking from Washington DC to LA and that's why it took him so long to resurface. Like, it's been a year and a half. He walked across the country to make it in time for her wedding. Like I just don't picture him like you would never sit next to Jason Alexander on an airplane. He would never pick them up like as a Lyft driver like he's just this figure that appears places and then kind of like manifest back into the Internet somewhere. He doesn't exist as a real person for me.
Kiki Monique 
Yeah, it doesn't even sound like he'd be the type that would want to be on the grid with an ID in order to be able to board a plane.
Mohanad Elshieky 
Oh, yeah. Yeah. He's also apparently was also seen at the when the whole free Britney movement was happening. And there were people like, by the court and whatnot. He was like seeing there multiple times. And it just so funny, he was like, yes, free. Britney, I need her to text me back. But also like it didn't he said that he was like he broke in crashed to the wedding because he wanted to save her.
Kiki Monique  18:17
Yeah, I mean, it sounded like he was very much on like, yeah, save your mission in his mind.
Mohanad Elshieky 
I'm just honestly, just, like, I get it, the free Britney movement and all of that. And the whole thing when she was doing her, like, you know, the court thing was happening. But I feel like now people are still trying to find ways to be like, no, no, no, no, she still needs our help. And we need to be there. And I'm just like, the woman just wants to be left alone. At this point. I think like you've done your job. Thank you so much. Like, the whole thing recreating like, no, everyone that was at the wedding, including her husband. There's still like controlling her and just like, man, just go find something else to do.
Kiki Monique 
Yeah, I mean, I think it's like everyone wants Britney to be happy. But then at the same time, everyone was confused, because one, it seemed like all the people that were speaking up for Brittany during the Free Brittany Movement weren't at the wedding, right? Like, it was a bunch of celebrities that we never really attached to Brittany. And so that you still get, you know, like, the hair on the back of your neck stands up like there's something about this still feels off because even though she's free to do what she wants, it doesn't feel like she can now someone made an interesting comment to me about, you know, well, look, she has been in this conservatorship. She doesn't have any friends. She probably just wanted to invite the nicest celebrities in her mind to her wedding to have a good day, which is a very valid point. But I also think that if she was aware, if she's aware of the people that have been speaking up for her, she should be allowed to reach out to them.
V Spehar 
I felt like her wedding was really suspended in the last time we saw Brittany Free like if you think of what was popular in 2008, it's Donatella Versace. It's Madonna. It's Paris Hilton. And this sort of was like it was almost felt to me like she picked up now in 2022, where she left off in the early 2000s. And so, you know that there's a sadness to that. And there's a kind of like, I'll be really excited if Paris Hilton puts out another album.
Hoja Lopez  20:23
Both things. Yeah.
Mohanad Elshieky 
Is it also like maybe it's one of those things? Like I know, these like celebrities have been like, defending her and whatnot, and obviously, rightfully so. But maybe she was like, yeah, thank you so much. I just don't want you in my wedding. You're not a good hang.
Hoja Lopez 
Yeah, this reminds me of like, the thing that we see in all these, like movies, sometimes it's like, we see these movies. And they're, like, horrible things happen to these people in these action movies. And at the end, it's like this happy, sort of like situation when in real life. I'm like, That person has severe PTSD, trauma issues stemming from being like, essentially, like a hostage in their own lives by their family and kind of betrayed by everyone. And I don't think she's okay. Like, I think that in her videos, I can't watch, really, I can't watch any Britney videos, whether it's her just dancing innocently to the camera, or whether it's her, like posting about what's going on in her life. Like, I am really worried about her. And I don't think that I can save her. I don't think any of us can. But I think our attention makes it worse. And so I just maybe sometimes, like choose to look away from Brittany as a way to give her some privacy. Like, I feel like she needs her own space right now.
V Spehar 
I thought it was interesting that her children weren't there. But since their support, and I think there may be is something to that. The fact that Bernie was suspended essentially, in the life that she knew the last time that she was free. And now she was coming back into it. This idea that her children being present who love her, who see her, who know her, maybe don't want to get mixed up with anything about her coming back into the world and like being essentially a public figure people, Magazine was there to take the pictures like, Yeah, we don't know how she's gonna react. And so this isn't a family experience. This is Brittany having like, a little party with her friends who used to be her friends. I agree. I think it was difficult.
Kiki Monique  22:21
I also thought it was really interesting that her mom commented, you know, her mom wasn't invited to the wedding, her father wasn't invited, no one expected him to be. But you know, when her mom commented on the picture that, you know, she posted. I also found that interesting because I in my head, assume she had blocked you know, her sister, Jamie Lynn. And I guess I also assume she had blocked the rest of her family. So the fact that her mom isn't blocked, but wasn't invited. That also gives me pause too, because it means there is an opening there, right? Because it means you haven't completely cut them out of your life. You want them to see what's happening, yet they're not a part of it. And so that also just leaves lots of questions. And of course, we always know family dynamics. It's even if you can't stand your family. You still like love them? Right? This feels like different level though. So I guess I was just really surprised to see her commenting on the photo. And yeah, I was also very surprised to not see her son's there. We know we haven't heard anything from K-fed, really at all. And I'm actually surprised by that and actually kind of impressed by it.
Hoja Lopez
Okay, first of all, are you attracted to Kevin Federline, Kiki, because when I think of him, I think maybe this is Kiki's type. Is this true or not?
Kiki Monique 
I think that when they were at the height of like, the two of them, Brittany and K-fed absolutely like he was absolutely bankable. I haven't seen him in years. Like, I don't know if I've seen him since he's kids. And so I don't think he's the dancer we once knew. So I don't know. I don't know what he looks like.
V Spehar  24:01
Do you think he has like the Pete Davidson charm though, where it's like, there's something about him that's just very safe feeling and like he's just there to be on the crazy ride with you and like, let you be your own little weirdo and has no expectation that is attractive? I'm gonna tell you what, let me come on record right now to say I am in love with Pete Davidson. And here's why. When I was at the White House Correspondents Dinner, he walked in the room with Kim Kardashian and I really liked didn't care about either one of them. But this like hordes of like older, established journalists, descended upon them with their camera phones to take pictures of them was so just cringy and terrible. And he looked behind him he knew they couldn't get out and he looked forward and their table was down the front. And he just kind of looked at him and was like, and he took her little hand and he just kind of like was like thank you so much. And it was like watching your high school boyfriend make prom king or something he just like very gently guided her to the table and was like, okay, now we're gonna sit down. And I was in love with him after that, because I was like this dude has like, I don't know, he has like mama's boy energy that is very sweet and very safe and she for being involved with Kim Kardashian you would expect just sort of was like, okay, like, trusted him in this way. I don't know how to like see it, I guess. But I was like, I'm in love with Pete Davidson. I completely get it now why these women want to be with him. And it's because he doesn't have like an expectation or treat them like this pop princess or this like celebrity figure. They're just like, on a nice little ice cream date. In the summer in high school. It has like that energy, like very sweet.
Mohanad Elshieky 
That makes sense to me.
Hoja Lopez 
Oh, go ahead.
Mohanad Elshieky
No, I was I was just gonna jump into another subject. Since we're talking about Pete Davidson, and how he's a weird dude. But everyone wants to be with him. I was like, maybe we can talk about weird dudes that no one wants to be with. We're talking about January 6th.
Hoja Lopez  26:06
Got it. Nailed it.
Mohanad Elshieky
Yeah. I mean, Kiki, you've been observing that closely. So how was your brain doing, first of all.
Kiki Monique 
You know, it's so wild. Because I remember, like being in that day, just so scared and angry. And I think I have lost a lot of that emotion, right? Like, it's so far away. And this is why everyone just needs to watch it because I got angry all over again. But in a whole different way. Because now I was hearing things that I didn't even know. And I was angry for not the right reason, because I was angry for the right reasons at the time, but now it's very directed anger. And I knew who to point the anger directly towards. And I guess, I, you know, sort of recapping this and talking about this. The thing that I'm just so annoyed by is that if I'm telling facts about what happened that day, that doesn't mean I'm on one side or the other. It's just facts. And if those facts mean that Trump supporters and Trump's team did all the wrong things, that's not a biased view. That's just fact. And like, I think people just like need to get that through their head. Like, what happened that day was absolute treason, traitor, like those people did all the wrong things. And I just don't get why people can't see it. It's so frustrating. We have, you know, police officers, we have multiple Republicans, which you respected, you know, that are telling you this is what happened. And what are we going to do, say they're all liars? Just to like, say, you know, it's wild to me. So I don't really know what's going to come from this, because it seems like even on the committee, there's infighting about whether this is going to get referred to the DOJ to like for criminal charges. But it's like Rudy Giuliani, he needs to be in handcuffs. That Sidney chick, she needs to be in handcuffs. They all need to be, they're all traitors.
Hoja Lopez  28:13
That's such a wild like, do you have you been getting feedback from your stories in that if people like being upset about posting facts like, or do you just feel like in general, that's been sort of the blowback is people are looking at these facts and saying, like, oh, you're biased, which, I mean, essentially, that is what's been happening for the past? I don't know, decade at this point.
Kiki Monique 
Yeah. I mean, I think the majority of people, even the ones that are Republicans who respond to me say like, look,  you know, I do see that you aren't a Trump fan, but I agree with you. They get it, you know, they get like, that was not that's not something that's supposed to be happening. You know, and I posted this thing yesterday about how bias like just because, it may be biased in your mind, that doesn't mean it's not true.
V Spehar 
Also, the American public is not used to witnessing, and no one is something as traumatic and complicated as the events that unfolded on January 6th, then we have so much video footage from so many different perspectives, live streams from the proud boys from the Oath keepers themselves. But we also have video footage of it looks like the cops are letting them in. Well, this person opened the door. Well, if you were to zoom out just a teeny bit further, you would see there were 1000s of people rushing at this one person and we are self-prevent, self-preservationists at heart. Yeah, so I would, I can't say that I wouldn't have opened the door to you can't say how brave you would have been in this particular second, when all of this is coming at you and they're jumping in the windows. So, two things can be true. And I think what some folks have been trained to learn is there is only one truth. And if it's not exactly one truth coming from one source, then it's a lie or it's fake news or it's bias. There are multiple truths. It is true with that, at some doors, people appear to be leaden. It is true that there were some geriatric folks meandering around inside the Capitol not really knowing what was going on. It is true that your hairstylist and your football coach and your next door neighbor who mows your lawn when you're out of town, were in the Capitol. And those are good people. It is also true, that they're proud boys killed people. It is also true that there was violence. It is also true that they smeared feces on statues within the Capitol, that they were calling for Nancy Pelosi, that they made a gallows and we're calling to hang Mike Pence. All of those things are true. And all of those things need time to be looked at to decide who caused this at what point did they cause it? Whose name were they doing it in? And how do we hold those people accountable to ensure that this never happens again.
Kiki Monique  30:44
The thing is, like, what I want people to understand is that when I'm getting angry, I'm actually more getting angry for you. I feel bad for you. I feel bad that someone you trusted as your leader, screwed you over, stole $250 million from you, because you believed that it was going towards a cause that they convinced you was real. And I want you to be just as angry about it as I am for you. And so I think that's where you know, people think when I'm like, getting angry, it's like, because I hate Trumpers. No, it's because you know, this is probably a weird sort of only because I've been watching a lot of culty stuff lately. I just watched the Warren Jeffs Netflix series, you know about the FLDS right. And the one on Netflix, awful, terrible, disgusting human beings there were in that leadership. I then watched this older one that was about the aftermath of what happened after he went to jail. And there's literally people who were like born into this FLDs, mostly women, right, who have their families have their children, and they're now getting like evicted from their homes. They don't know what to do, right? Because they've been following this leader that they trusted they, some of them were just blind, they really didn't know and you can't help but feel sorry for them. Right? Even though they were part of this disgusting organization that did horrible things. You know, there are innocent people within that. And you just want them to see the light and be like, I want to help you. But you got to like want to help yourself.
V Spehar  32:16
And I think it's something that's only going to happen at a community level. And right now we're trying to see it, we're seeing it play out at the national level, where it looks like the Democrats are going to be the ones that you have to join, if you want to be against this wrong that was done to you. And it's like Screw all of that it's not red versus blue. It's like us, actually the people because the Democrats are politicizing a good amount of this as well. That's what politics is, yeah, it's gonna be us, the regular friends and neighbors who say like, Yo, what happened to you was wrong. And I as your neighbor, not as a Democrat, not as a Republican, I care about you and care about that this was bullshit. And I know that you spent the little disposable income that you had to support this thing that you thought was so important. And they were doubling your donations, they were putting you on auto monthly pay, you ended up getting in a ton of debt, because of the manipulations that they took advantage of you. And that's what pisses us all off. And you don't have to be a Democrat to hold people accountable. I don't know that they're even the right people to fight what's going on right now. But yeah, but we as people need to do it together, you know, because it is shitty. And even if you voted against, like gay marriage, or any of the things that I value, like, I don't care, I still think it sucks that they took your $5 donation and turned it into $1,500. By scamming you. That's bullshit.
Mohanad Elshieky 
Exactly. And you literally got nothing in exchange for it, you got nothing. You lost more than you got f for your donation. Right. You know, I mean, I don't know what to say vote for better people. I don't know. Like, it's just it just feels like it's very hard to even say that now because of how voting is being restricted and voting rights and all of that. So it's, it seems like kind of, I don't know, if you're kind of hopeless sometimes. But I guess there's still, you know, it does.
V Spehar 
can't give up on the idea of democracy and government though, because it really is like the largest purchaser of the things that we need in the world and it is going to be there for us in some ways, but when I get overwhelmed thinking about, like the national politics, or folks will be like, I just can't handle it anymore. I can't trust anyone. They all only answer to Nancy Pelosi or Mitch McConnell anyway, and I don't have any power. I'm like, let's look at your school board. Do you know how easy it is to be on the school board and how fun and important that job is? Let's look at who your lieutenant governor is. Let's look at your mayor. Let's look at the Board of Aldermen. There are things that we can do when we look around our neighborhood to help our immediate circumstance. That is what's worth investing to me right now because I agree it's really hard to be like, Okay, well who am I going to vote for President Well, they're going to kind of decide for me anyway, but I can decide what happens in my town and then we can start work from the bottom up as opposed to expecting that Reaganomics trickle down. It's not gonna happen.
Hoja Lopez  34:47
We're gonna expand the polycule.
Mohanad Elshieky 
Well, since we're definitely not getting any apologies from any politicians, we're just gonna start on a smaller scale here at the I'm sorry, podcast and move on to my favorite segment which is sorry, not sorry, where we either apologize to someone or ask for an apology. And like every week, I'm going to start with Hoja.
Hoja Lopez 
Yes, I would like to apologize for my sense of superiority that I've carried very close to my pocket for the past, I'll call it two and a half, three years of having not contracted the Covid-19 virus, I held it deep in my heart, it made me feel both morally and physically superior to a large group of you. And I'm sorry for that. I knew I had it in me to get COVID. But for a brief moment in time, I felt superior and better. And now I joined the masses, we are all together, slowly closer to each other than ever. And I hope I'll get more opportunities to feel superior.
Mohanad Elshieky  36:20
That is one guaranteed way to get Covid, literally says, I'm not gonna get Covid, a week later, is down via just like literally just listening to people and taking challenges now.
Hoja Lopez 
That was me, let's all be together. I can't wait to smooch all of you.
Mohanad Elshieky 
I haven't gotten it yet, hopefully. And I know I might get it. But I've been telling people that I've had Covid, because I want them to think I go out more than I do. I socialize a lot.
Kiki Monique 
Well, I'm somebody who goes out quite often because I'm pretty sure I had COVID twice. And I actually still go to the movies because I love the movies. And this week, I kind of want an apology from Tom Cruise because I saw Top Gun twice, once in a regular theater. And then once I did I experienced 4DX for the first time, I don't know if any of you have ever experienced 4DX. But it is an experience. And I just want an apology from Tom Cruise because there was you know, they did their sort of like iconic beach scene where you know, everyone has like their shirts off and they're playing in the sand and like, I just felt like it was cut a little short. And I feel like it's probably because Tom was maybe intimidated by you know, the relative the new the new bees in town. And you know, you know, because his genes were a little higher than the others. You know, he didn't have that maybe V shaped down there. And I just felt like we could have gotten more from the beach scene. And I don't know if Tom was to blame, but I'm gonna say he was to blame. So I want an apology. Yeah, but hopefully there'll be a part two, and we'll get more we'll get more Yeah, he's
Mohanad Elshieky  38:07
listening to this. He'll hear it. And speaking of you know, theater experiences, there's one more you pay. I don't know what it's called. But you get Tom Hanks in the theater while you watch the movie to hold a gun to your head. Oh, wow. Yeah. So if anyone wants to experience it that way, I can hook you up.
Kiki Monique
This is a whole other experience.
Mohanad Elshieky 
Okay, let me take it back. Okay. There is an experience in theater that you can pay more for. Or Tom Cruise will hold a gun to your head while you watch Top Gun. And you pay top dollar for that. Anyway, V, what about you?
V Spehar 
So I'm going to apologize because I've been TikToking for like two years now. And every so often, I will try to like open the news with like, a funny meme quote, or like a funny movie quote, or like a joke, or I'll try to do a TikTok trend. And every single time it flops. So I want to apologize for attempting to be a part of TikTok as opposed to a commenter on current events, because it is just terribly embarrassing and very cringy. So I apologize to everyone who has ever supported me for having to watch me attempt TikTok trends or be funny. It's never gonna happen.
Hoja Lopez
You gotta do a supercut of all of them together. Oh my god.
V Spehar 
I would not, no, people get very upset in the because they just take what I say literally, which is important. But they're like, That wasn't funny, or like, why is that happening? Or like why would you do that? And I'm like, I don't actually no, I wouldn't do it because I would make a non-comedic choice because I am not a comedian and so of course it flops and I'm deeply sorry for those hot takes.
Mohanad Elshieky 
I feel you; I understand that every time I tried to get on a TikTok trend and start like making videos, I don't make videos for tick tock or anything, but every time I did that, it didn't just flop it really just took my ego with it. And I do comedy professionally, so you shouldn't feel bad. It's just something that the algorithm gods do not believe in me. So, and that's okay. That's fine. Well, on my end, I'm gonna demand an apology from Hoja. I'm sorry about that. But you're gonna take it this week. For not letting me know when I told you that. I'm going to Houston how bad the weather was gonna be. That is disgusting weather. I should have been prepared for it. It is probably the worst weather I've ever been in. It's like being in a hair dryer. Yeah, my
Hoja Lopez  40:50
mom describes it as living inside of a mouth. And it's very, it's heavy. You walk in you feel like you're cutting through some kind of wall of material. It is so humid and so hot and Houston. And if anybody decides to go to Houston, just know that that, if you go in the summer, you're going to experience Amazon level discomfort just by existing even if you're in the shade.
Mohanad Elshieky 
It is that uncomfort and then also like every time taken like an Uber there and you start talking about like a subject and you're like, this has taken a bad turn. I can see where you're taking this. I see it, I can feel it. Don't say oh, you said it. You said the thing I didn't want you to say and now I do not know how to react because I just want to get back to my hotel.
Hoja Lopez 
Texas is truly a lottery of you really don't know what you're going to. I remember after Trump won I walked outside of my house and I was like, who did this, and I was just looking at everyone just like pointing at all these people because I know they did it. We did it. We did it down there
V Spehar  42:00
is one more reason to knock it out from underneath the desk. It's just not safe out there.
Hoja Lopez 
V, thank you so much for being on this was a blast. And everybody please remember to go check out V INTEREST. It is really a spectacularly researched and very, very funny show so go check it out.
V Spehar 
Thank you so much, guys.
CREDITS
I'M SORRY is a Lemonada Media Original. The show is produced by Alex McOwen, supervising producer is Kryssy Pease. Our executive producers are Stephanie Wittels Wachs and Jessica Cordova Kramer. Our mix is by Kat Yore and theme music was composed by Xander Singh. If you like this show, please rate and review. And please don't cancel us. You can find out more about our show at @LemonadaMedia on all social platforms, or follow us on Instagram at @imsorry_podcast. We'll be back next week and until then be nice, play fair and always say I'm sorry. Thanks for listening!