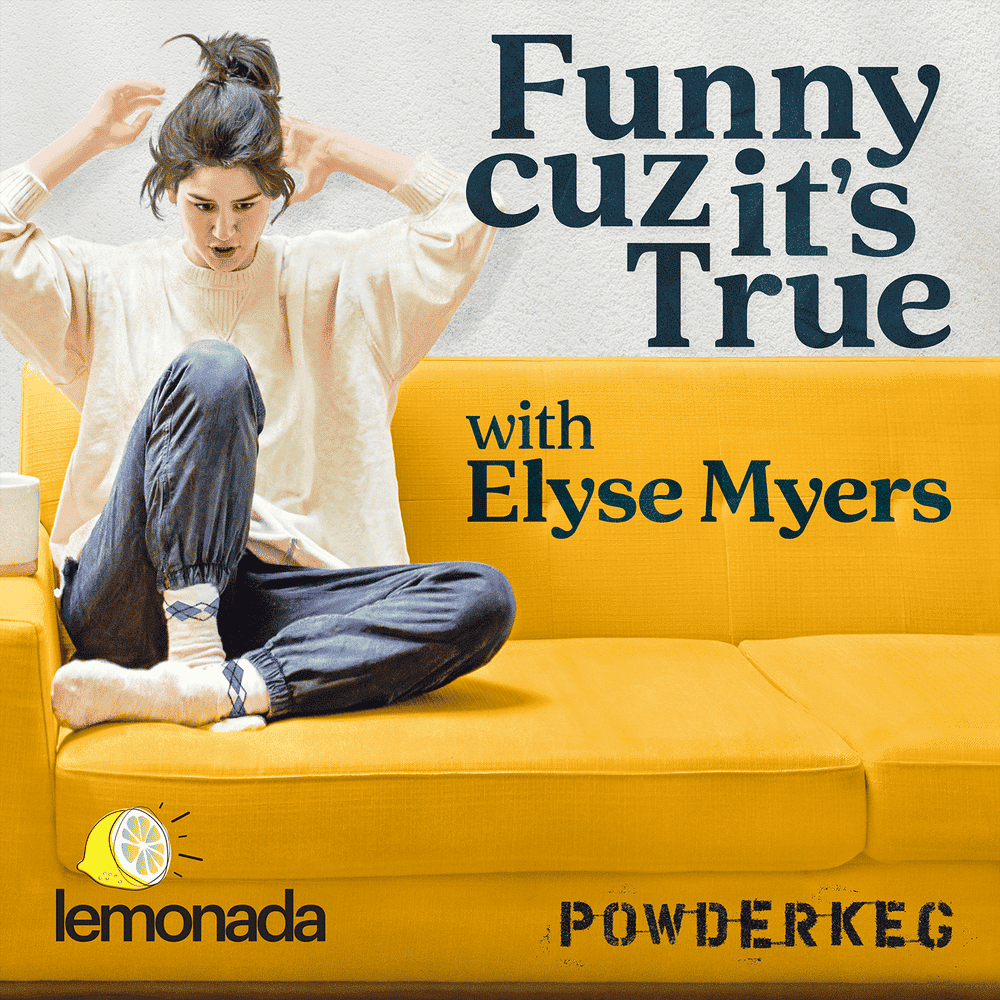 Lemonada Media and Powderkeg Media Partner with Writer & Comedian Elyse Myers To Launch New Comedy Podcast, 'Funny Cuz It's True'
Hosted by Elyse Myers, 'Funny Cuz It's True' welcomes celebrities and comedians to share their personal, hilarious and sometimes cringe-worthy stories paired with the comedian's inner monologue.
The trailer debuted at #1 in Comedy and #3 in Overall Podcasts on September 21st.
Listen to Episodes 1 & 2 HERE
LOS ANGELES, CA (October 5, 2022) – Today, Lemonada Media, the podcast network that makes life suck less, teams up with Paul Feig's Powderkeg Media to launch Funny Cuz It's True – the highly anticipated debut podcast from comedian Elyse Myers. In this new weekly series, Elyse interviews fellow comedians and pop culture icons to explore a personal story of theirs centered around the awkwardness of everyday life. These one-of-a-kind stories are accompanied by a voiceover from the host, giving the audience a direct glimpse into Elyse's brain – complete with her trademark humor and vulnerability.
The first two episodes of Funny Cuz It's True are out now. Episode one hears from actor, director and filmmaker Paul Feig (Freaks and Geeks, Bridesmaids, The School for Good and Evil) on the story behind his first kiss. Episode two welcomes singer and actor Lance Bass to discuss his experience being in a boy band and his journey with IVF.
"I had never been more excited or scared to conquer a new creative project like I was with Funny Cuz It's True," says Elyse. "This podcast feels like an extended play of the stories I love sharing online, just even more beautiful and put together. Every creative decision made along the way has been incredibly intentional, and I'm so excited to finally be able to share this show with the world!"
The world fell in love with Elyse Myers in late 2021 as she began sharing her hilarious and relatable tales of mental health and awkward encounters with the internet. Her perfect comedic timing and transparency from all angles allows her audience of more than 8M+ to feel understood and supported. Elyse has been deemed the "Internet's Best Friend" as she continues to focus on her mission to add value to people's lives. Funny Cuz It's True will bring Elyse's unique wit to new audiences and further Lemonada Media's commitment to present humanity unfiltered with content that connects listeners.
"We are pinching ourselves at how lucky we are to be able to create this series alongside Elyse and Powderkeg," shares Lemonada CEO Jessica Cordova Kramer. "When we first had the chance to meet Elyse and the team to talk about the show, we knew it was a perfect fit." Lemonada's Chief Creative Officer, Stephanie Wittels Wachs, has been working with the team to translate Elyse's unique and epically hilarious worldview into an audio format. "The magic that Elyse brings to her millions of viewers daily – that comforting mix of raw vulnerability and side-splitting humor – makes her an incredibly compelling podcast host. You feel like you are going on the journey of the interview with her and really getting inside her head. The show will be like nothing you've heard before."
"Laura, Kesila, and I are so thrilled to bring Elyse's unique voice and perspective to life in podcast form with the team at Lemonada," said Powderkeg Media co-founder Paul Feig. "She brings such entertaining and authentic insight to everything she does, Elyse is the perfect host to confront life's anxieties with laughter."
On September 21st, the chart-topping trailer for Funny Cuz It's True debuted at #1 in Comedy and #3 in Overall Podcasts on Apple Podcasts.
The first two episodes of Funny Cuz It's True are available on all major podcast platforms now, with new episodes released every Wednesday. Subscribe to listen HERE.
Hi-res images of Elyse and the Funny Cuz It's True podcast art can be found HERE.
ABOUT ELYSE MYERS:
Elyse Myers has achieved immense success in just a few short months due to her approachable way of diving deep using comedy. You may recognize the comedian as she described her "Worst Date Ever," iconically involving 100 tacos. Elyse has since grown her audience to more than 8M+ and has attracted the attention of many leaders in Hollywood. The "For You Page" regular is notorious for using her platform to share unfiltered content – which covers everything from life's awkward moments to how to deal with ADHD – making it no surprise that she's been deemed "The Internet's Best Friend." Elyse is continuing to make waves online with her unique delivery and 90's comedic lens, focusing on her mission to add value to people's lives and was recently named one of the Top 50 Creators by Forbes. Elyse is represented by Linnea Toney of Underscore Talent and Metro Public Relations.
ABOUT LEMONADA MEDIA:
Founded in 2019 by Jessica Cordova Kramer and Stephanie Wittels Wachs, Lemonada is an award-winning, independent, audio-first podcast network, with a mission to make life suck less. In 2022, both Cordova Kramer and Wittels Wachs were named among the 'Top 50 Most Powerful People in Podcasting' by Podcast News Daily and Inside Radio. The company is also the creator of the audio reality™ podcast genre, and launched BEING Studios, where reality TV meets podcasting. Lemonada has created hit series including Gracie award-winners Last Day and Believe Her, Raised by Ricki with Ricki Lake and Kalen Allen, as well as Webby award-winners In the Bubble with Andy Slavitt, Add to Cart with Kulap Vilaysack & SuChin Pak and The Untold Story with Jay Ellis. Lemonada also co-produced and distributed The Letter, which launched to #1 overall on the Apple Podcast charts. Lemonada's roster of guests has included an array of luminaries from across the entertainment, media, politics and science worlds.
For sponsorship opportunities, contact: dawn@lemonadamedia.com. For press inquiries, contact: Lemonada@metropublicrelations.com. For more information on Lemonada and its podcasts, please visit www.lemonadamedia.com.
ABOUT POWDERKEG MEDIA:
Launched in 2018 by DGA Award winning and Emmy Award nominated filmmaker Paul Feig and Emmy Award winning producer Laura Fischer, Powderkeg Media champions new voices with a special commitment to female, LGBTQ creators, disabled, and filmmakers of color by developing scripted and unscripted formats across emerging and traditional platforms. The company recently completed production on five short films that comprise Season 3 of Powderkeg: Fuse, an incubator for directors of minoritized genders. Fuse short films have played over twenty festivals including Sundance, SXSW and Slamdance with two of the shorts already landing TV series development at AMC and Netflix. In 2021 Powderkeg launched Everything's Fine on Snapchat, a coming of age comedy set in the pop punk music scene executive produced by Pete Wentz and the award winning podcast Close to Death in collaboration with USG Audio. In the summer of 2022 original comedy format Q Talks premiered on The Roku Channel. Powderkeg is in development on a scripted podcast starring Alison Pill for Echoverse and a feature at Viacom. In 2020, Powderkeg won Best Web Original for their series East of La Brea at UrbanWorld and was awarded an NAACP nomination for the short film Baldwin Beauty.