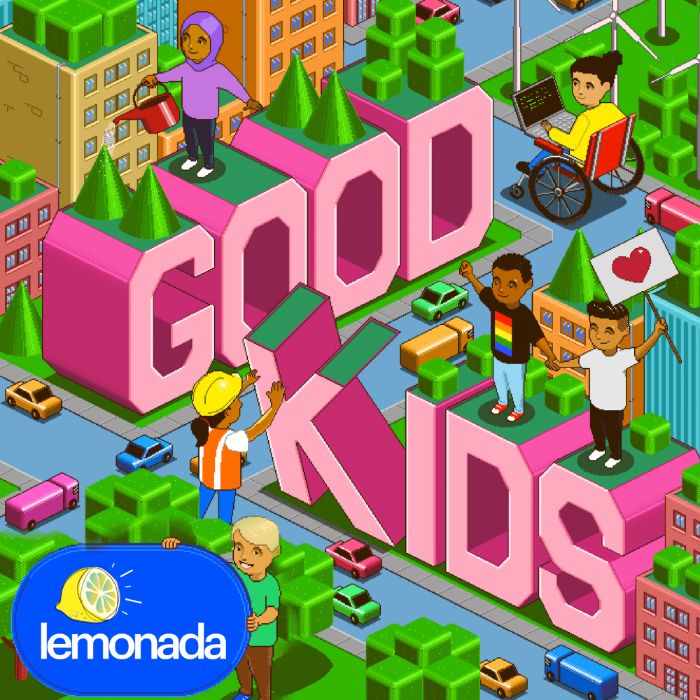 Add to Cart: Accepting Your Own Parenting Journey
Subscribe to Lemonada Premium for Bonus Content
Description
Kulap Vilaysack and SuChin Pak, hosts of the new Lemonada Media podcast Add to Cart, talk about what they're adding to their metaphorical shopping cart when it comes to raising good humans: hope, surrender, and forgiveness. Kulap reflects on her complicated relationship with her mother, and opens up about her struggle to become a mother herself. SuChin talks candidly about her experience with self-inflicted mom-guilt. "I spent most of my time as a parent feeling really guilty and ashamed because I didn't really like being a parent. And so I had to come to the hard realization – and the freeing realization – that I could love my kids but not really love being a parent."
You can follow Kulap Vilaysack on Twitter @Kulap and on Instagram @iamkulap.
Keep up with SuChin Pak on Twitter @suchinpak and on Instagram @suchinpak.
Support the show by checking out our sponsors!
Livinguard activity masks use materials with amazing properties that deactivate viruses and bacteria continuously, safely and in a sustainable way. They are super comfortable as well. Get 10% off your activity mask when you go to shop.livinguard.com and use code GOODKIDS10 at checkout.
Interested in learning more about SuChin and Kulap? Check out the links below:
To follow along with a transcript and/or take notes for friends and family, go to http://lemonadamedia.com/show/good-kids/ shortly after the air date.
Stay up to date with Good Kids and everything from Lemonada on Twitter, Facebook, and Instagram @LemonadaMedia. For additional resources, information, and a transcript of the episode, visit lemonadamedia.com.
If you want to submit a show idea, email us at goodkids@lemonadamedia.com.
Transcript
SPEAKERS
Kulap Vilaysack, SuChin Pak
Kulap Vilaysack  00:04
Hi, I'm Kulap Vilaysack.
SuChin Pak  
And I'm SuChin Pak.
Kulap Vilaysack  
And you're listening. 
SuChin Pak  
You're listening to GOOD KIDS.
Kulap Vilaysack 
GOOD KIDS. I am a writer, director and the co-host of the brand new Lemonada podcast ADD TO CART. And I'm going to talk about wanting to be parent, and forest fires, these two things want to be a parent and forest fires.
SuChin Pak  
And I'm going to be talking about my evolution as a mom about sort of overcoming a healthy dose of self-shaming when it comes to motherhood. And yes, I'll also be talking about forest fires and how important it is that we not have them.
SuChin Pak  
Kulap and I have a new show, it's called ADD TO CART. And ADD TO CART essentially is talking about all the stuff that we buy, the physical stuff that we buy, and all the ideas and philosophies and all that other stuff that's intangible that we buy into. And what those things say about who we are so what are we adding to cart so you know, we can add face serums to cart but we can also add, you know, toxic masculinity, you know to cart or.
Kulap Vilaysack  
Why don't we remove that from cart? 
SuChin Pak  
Or we can remove that from cart. So the cart is kind of a metaphor, I guess for you know, what's important in our lives and what we are passionate about and what we want to talk about.
Kulap Vilaysack  02:10
I have a very complicated relationship with my mom. It's better now but just historically, it was just epic fights that would be both physical and mental. So I would, you know, remove from cart, violence? It's not funny. That's not funny. That's not funny, but I want you guys to know that I'm okay. And that I've had lots of therapy. And so that laughter is how I deal with certain things. I you know, it's tough, it is so tough. I want to be a parent, that alone has been its own journey, which is about five years of trying to get pregnant, six miscarriages, doing IVF. And now looking into surrogacy, and through it all it's really trying to grapple with like what type of parent I want to be? And then accepting that I'm, I'm gonna hopefully make different mistakes from my mom and my dad. So I, you know, add to cart, hope. And, you know, add to cart just surrendering to the process, it's one of the things that I haven't been able to sort of force into happening. And that's so frustrating. But I think there's probably some poetry in there that you know, will show itself at some point.
SuChin Pak 
I have two kids, my daughter is six, my son is eight. And I spent most of my time as a parent, feeling really guilty and ashamed because I didn't really like being a parent. And so I had to come to the hard realization and the freeing realization that I could love my kids, but not really loved being a parent. Because I thought that because I didn't love parenting, that somehow something was damaged and that I didn't love my kids. And it took me years to understand that those two could coexist. And as my kids are getting older, I'm liking parenting more. So I think that this idea that you love your kids equally at every stage of their lives is just that it's such a simplified version of what parenting is. But as I'm learning more about parenting and reading more about parenting and there's a great book on attachment parenting, which gets a whole, you know, bad rap but Bethany Saltman had written this book on, on attachment parenting and the science of attachment parenting through the eyes of being a first-time mother herself.
SuChin Pak  05:18
And you know, one of the things that she says about parenting is that it's number one very forgiving. So like, you think that you just light up your children, every mistake you make, and every little thing that you didn't do for them that it's like permanent, but it actually is really forgiving. And that we are very interdependent, you know, that kids look to us, like my kids look to me to sort of like, understand and process how the world around them works. So parenting isn't really parenting a child, parenting is really parenting yourself. I think, for me, the big realization came with, if I focus less on being a really great mom, and focus more on like, why I'm so unhappy or frustrated, or all these other things, that parenting stuff, just fixes itself, you know what I mean? Like, that becomes a lot easier. 
SuChin Pak  06:15
So once I sort of shifted the focus on like, how to be a great mom 101. And I really understood that like, that is just a byproduct on how to be a much more like aware, self-aware and self-connected human being. For me, at least it took the pressure off, because I think a lot like what Kulap said, You know, I didn't have like a model of great parenting, or at least a type of parenting that I want to model. So I felt very lost. And I feel often very lost in trying to figure out what's the right thing to do. But when I think about what's the right thing to do, for me in the situation, that feels much more tangible and more clear. And thus, with that I've been able to, I think be a better parent, or a better, you know, friend or companion to my kids.
Kulap Vilaysack 
I Love that, SuChin. Thank you for sharing that.
SuChin Pak 
Remove from cart. Gender reveal parties.
Kulap Vilaysack  
We've had major consequences from gender reveal parties. 
SuChin Pak  
I know, but they're still doing it. My friends are still doing it.
Kulap Vilaysack  
Well. I mean. 
SuChin Pak  
I don't understand. 
Kulap Vilaysack  
People can do things. I normally am like, hey, do whatever you want. I don't care what kind of freak you are. You're a freak for your kids gender, okay. But in California, there have been major fires that are a result of gender reveal parties. 
SuChin Pak  
Major fires result from not very intelligent people having gender reveal parties. But yes, gender reveal parties in general are very confusing to me in 2020, don't you? I mean, I don't know. It's like an archaic. 
Kulap Vilaysack  08:14
Yes, I do think that, I've never attended one. I don't plan on it. If my friends and I'm sorry, SuChin,  you said your friends are still doing it. But if I got a you know, a Zoom invitation for a gender reveal party, I would think should I be friends with these people? And is this what I take stock in and I let that go, you know? That friendship go? I would think that like, genders, like fluid and it's all up to you to decide what your kid is. A kid will be what it is. And that is very archaic. But do you do you and I don't know your relationship to your friends. You did say they were friends.
SuChin Pak  
Yeah, and like deep. Like, like, very, very good friends. I don't know. And did I wear pink? Like it said on the invitation? I sure did. I wore pink. I did the whole thing. You know, I participated because the thing about it is like think that like parenting itself is such a personal journey. And like I just bring zero judgment to the table. And unless it's like really rubbing against something that like I think that it's harming my own ecosystem of my family. 
Kulap Vilaysack  
So the fires.
SuChin Pak 
You're right. You're right. It was a very benign, very, you know, pandemic friendly. Just wear pink to the gender reveal.
Kulap Vilaysack  
Yes, yes. Not the fire.
Kulap Vilaysack  
SuChin is making good point like I my friend June Diane Raphael who was on this very podcast mere weeks ago. I remember when she had her. Like, when her son turned one, it really was this like, we made it. Like we made it. And it was this like, it was for her and Paul, and they had reached it. The child was so alive. And in that spirit, I say anything a parent wants to do, they can do. 
SuChin Pak  10:25
Like you're right, you're absolutely right about the judgment. 
Kulap Vilaysack  
I'm gonna just personally draw a line at creating fires. Like that's the easy thing to do. We don't need fire to be involved. What happens just like this cake, we would cut it, there's frosting covered and they cut the cake. And there you go.
SuChin Pak 
Let's draw that line. 
Kulap Vilaysack
Yeah. 
SuChin Pak  
No fires related to gender reveal parties. That's the line that we take. And the pulpit that we stand on.
Kulap Vilaysack  
Fire conversation should be if there was for some reason, you know, like a, like a stripper who was dressed as a firefighter at the gender reveal. And then that makes sense. And I accept that. 
Kulap Vilaysack  
Listen to ADD TO CART every Tuesday and you can hear it on any app that you get your podcasts. Apple, Stitcher, whatever do you.
SuChin Pak 
Thank you for listening to GOOD KIDS.
CREDITS
GOOD KIDS is a Lemonada Media Original. Supervising producer is Kryssy Pease. Associate producer is Alex McOwen and Kegan Zema is our engineer. The show is executive produced by Stephanie Wittels Wachs and Jessica Cordova Kramer. The music is by Dan Molad with additional music courtesy of APM music. Check us out on social at @lemonadamedia recommend us to a friend and rate and review us wherever you listen to podcasts. If you want to submit a show idea, email us at HEY@lemonada media.com. Until next week, stay good