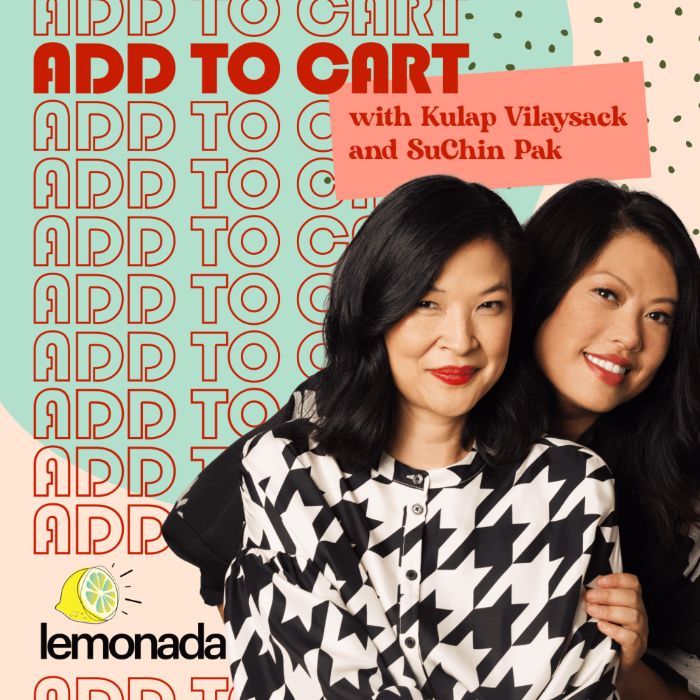 Happy 100 Episodes! Have a Chaos-Flavored Cake
Subscribe to Lemonada Premium for Bonus Content

Can you believe we've made it to our one hundredth episode? And to celebrate, the Aunties are keeping it 100 with the items they 100% guarantee. Ku raids her closet to find the brands she swears by like Reformation and Farm Rio, while Su gives a greatest hits rundown of the skincare items that stay in her routine. The chaotic energy on display over the last 99 eps is in full force today! Plus, we announce the winners of our giveaway!
Please note, Add To Cart contains mature themes and may not be appropriate for all listeners.
To see all products mentioned in this episode, head to @addtocartpod on Instagram. To purchase any of the products, see below.
Stay up to date with us on Twitter, Facebook, and Instagram at @LemonadaMedia.
Joining Lemonada Premium is a great way to support our show and get bonus content. Subscribe today at bit.ly/lemonadapremium.
Click this link for a list of current sponsors and discount codes for this show and all Lemonada shows: lemonadamedia.com/sponsors
Transcript
SPEAKERS
Kulap Vilaysack, SuChin Pak
SuChin Pak  00:10
Friends, welcome to ADD TO CART. This is a show about the things we buy and buy into and what it says about who we are. I'm SuChin Pak.
Kulap Vilaysack  00:20
Yes you are, and I'm Kulap Vilaysack. So today's not just any day, today is drumroll please a little bit more drum about some more it's our 100 episodes.
SuChin Pak  00:37
Wowy! 100 episodes. 100 hours? What's the Malcolm Gladwell thing, you know?
Kulap Vilaysack  00:57
10,000 hours. Now we have put 10,000 hours into adding things to cart.
SuChin Pak  01:02
Correct. Kulap, I'm so glad you brought that up. Because that according to Malcolm Gladwell, and listen, if you want to refute him, good luck.
Kulap Vilaysack  01:13
We are profesh.
SuChin Pak  01:16
We are professional Add To Carters, 10,000 plus hours, 100 episodes of a podcast about adding to cart. When we started this episode, I asked Claire, our producer to put a link in to our chat about just like all the things we've added to cart, I'm not gonna get into all of it, because I just wanted to look back, I mean, and what stands out to me many things stand out. But what stands out to me is there is not a category, you know, that we zone in on, you know? From TV shows. To cookbooks. The harem pants. I don't know. You know, harem sweatpants specifically. You know what's also crazy. I keep thinking because I have you know, my memory is not so great these days, Sam and I look back and I'm like, surely there'll be something on this list where I don't remember it. You know what? Every single thing on this list, I remember.
Kulap Vilaysack  02:33
Of course, they're all lover. Not ex-lover.
SuChin Pak  02:37
Crazy. Everything on this list. I'm looking at it and there's not one thing I hear I'm like wait, what were the crocs jibbitz? Who added that to cart? What was the story? I know what story that is. The crocs jibbitz. You know what I mean? And that's on episode 58. You know, so anyway, it just looking back, also I look back to some I mean, the guests that we've had.
Kulap Vilaysack  03:12
Some real warriors. You're right some shopping hooligans.
SuChin Pak  03:19
Some shopping hooligans. And I think also back to Majandra MD, not an MD, by the way have to have to have her before the end of the year. And just so I don't know I just look at our growing village of whackadudies. And I think I think we've really hit a nerve you know; we've hit something. Let's not get into revealing too much of the cake batter but every week at some point someone comes up with, can we have a plan?
Kulap Vilaysack  04:10
Who cares with the cake looks like we slather it with frosting. We […] it. Like we do our faces with our serums.
SuChin Pak  04:24
Kellies and serums, Claire says our cake flavor is chaos and a tray is right it's 100 episodes as I love to use you know Ku-isms, legs akimbo. We dive into each episode with..
Kulap Vilaysack  04:45
That's an interesting image is like we're legs akimbo and then we dive so it's like not like a sleek Olympic dive.
SuChin Pak  04:55
We fall in a vulgar graphic manner.
Kulap Vilaysack  04:59
Our pockets, fill hair products. And we sink to the bottom.
SuChin Pak  05:08
And we get up when we do it again 100 times. So here it is. Here we are, we've arrived.
Kulap Vilaysack  05:14
This milestone makes today's carts extra extra special. For our 100th episode we are talking about items that we 100% certify, we stamp, we stamp Oh, speaking of, when was last time used your, two large Add to Cart stamp.
SuChin Pak  05:35
I had thought for a moment, I was going to cover your baby shower gift with Add to Cart and I just some little part of my brain was like tacky. And I just held that.
Kulap Vilaysack  05:49
You never have to worry about that with me, SuChin Pak.
SuChin Pak  05:52
Not you, but all of the other guests who were like, oh, that's a little gauche. And so we are amongst friends. We are amongst friends. You guys listening? I mean if you've been with us for our 100 episodes, I hope you're in therapy. Okay, also thank you. Thank you and also, you know, urine therapy, right?
Kulap Vilaysack  06:20
We are going to be talking about the things that we back things that we stand, things that we support with all of our hearts. So let's get the confetti ready and legs akimbo dive in. You know, I love to live my best life Su, if there is a brand that I could stamp upon my bottom it would be that, right? And so let us begin with the TA three suits. I certify these wonderful bathing suits. I own three I've talked about them, it's a mega sculpting super sexy bathing suit.
SuChin Pak  07:07
Did someone, did a guest bring this to our cart first or no you brought it first, okay.
Kulap Vilaysack  07:12
I brought it, but I was getting Instagram and Facebook ads about it but it took for our dear friend Julie Yvonne to post about it. Wearing it. I was like you know what […]. I'm going to find that, add to cart. Hit, you know, purchase. And I have in black, two styles. I have the lacy and the punchy and both are fantastic. But you know me, […] on that this short neck and big titties. Bam. Bam, bam. Bam. What did I say that's incorrect?
SuChin Pak  08:04
Where are you taking your SNBT's short neck..
Kulap Vilaysack  08:13
Lately, I'm gonna be honest with you. Mainly I'm around the house, but I take it wherever I may wander.
SuChin Pak  08:19
Because are you wearing this as like a body suit? Or you wearing it as a swimsuit?
Kulap Vilaysack  08:24
I thought you meant you just my body in general. This is a bathing suit. This is a bathing suit. For me, I could probably wear the lacy which is kind of like a camisole top neckline. I could probably wear that out. But I don't, I mainly wear it as a bathing suit. And I get so much compliments. It's got hidden shaping panels and a curve enhancing lacing. So you get your perfect size. You cinch it, it laces in the back and you cinch it say your body looks snatched and you're comfortable and you feel held in. It's the best. I look so hot. I get so many compliments. I look shapely. I look, it's truly is a game changer. And I've said this over and over again. I talk about the suit but like, again like I own three of them.
SuChin Pak  09:28
Yeah, this is the 100%, 100th episode. And I have to imagine that everything on our list. Whether it was gifted to us at some point, it doesn't matter because we keep buying them 100% with our own money.
Kulap Vilaysack  09:49
Putting it it's another way of really understanding.
SuChin Pak  09:54
100% charging our card is also the subtext of this episode.
Kulap Vilaysack  09:59
Yes, and I also Like it's for all sizes. It's not you know, like I think the models are all different sizes. It's a woman created brands. And it's so high quality, it takes a beatin and it keeps on stinchin.
SuChin Pak  10:20
My cart, and I just want to say before I get into my cart, these aren't like, my all-time favorite. They're not in any order. These are the ones I just stand by 100% that I have thrown money at. And in small and big quantities, and I will, I can't ever foresee a time when I will not be purchasing these things I've talked about Neterium, the skin brand, blah, blah, blah. Let me just shout out two products. Number one, the cleansing balm. Kulap, have you tried their cleansing balm? You are a two-step cleanser, right? Double cleanser, of course. I was like wait, hold on. For a moment there. I didn't know who you were because I thought maybe you were a single step cleanser. I love a cleansing balm. I have tried every cleansing while I'm out there, we have gotten gifts of cleansing balms. This cleansing balm is the best cleansing balm I have ever tried. Number one, so let's put that in the cart. The second one that I haven't talked about is this, is the azelaic acid emotion 10%. I'm on my second bottle. And what is azelaic acid, it basically helps treat hyperpigmentation, which for mature ladies of the welcome to your 40s and 50s. This is what's going to happen to your skin. And it's also, you can kind of use it, it's for acne prone skin, but it's not as harsh as salicylic acid. The thing that happens to my skin, and I use this maybe once a week, instead of my retinol at night is it just gives me that even texture, filtered skin look. Where everything is brighter, true, but more even. And I'm always looking for that, my skin is dry. I have hyperpigmentation. But this I have to tell you, is such a great formula. It's an ingredient I don't see a lot. And I just love it. So those are my two, 100% add to carts from this very fine skincare line that is affordable and available at Target.
Kulap Vilaysack  12:49
And AAPI created. Now Su, listening to you. And you said, you use it once a week. And I know you and I know your habits. How are you able to show that much restraint?
SuChin Pak  13:02
Now, I started out using this as acid I'm sorry, along with another topical acid together when I first got it because I was so excited. And immediately my skin singed off. I went back in. I tried it in different ways. I tried it every other day. I tried it maybe one, I did the gel in front. I mean all the different ways. So what I'm saying is I will sing, okay? Because I can't help myself. And then I figure out the calm rhythm. And that's just my way. Whether I'm using solo wave. Or a motion acid. We're all thinking about that. I will always go in too hard. And then I find my way. And that's why I'm telling you, I'm telling you this, I'm bringing it to you on my second bottle, because the first bottle I have to say did create a little bit of havoc. Okay, this is what I like, you've been in the lab.
Kulap Vilaysack  14:25
It is such a service that you provide. I thank you.
SuChin Pak  14:29
I truly do feel like it. Like when I'm trying out all this stuff. Like I do feel like would I recommend this to you or to our listeners? Like I have to stand behind it. And then if I recommend it, how would I recommend you use it because I've burned part of my face off using it the way I'm using it. And so is there a way that I could recommend using it to someone where they won't burn their face off. So a 100%.
Kulap Vilaysack  14:58
A lesser person would blame the product, what I respect on you is that you know thyself. You know that this, you go that. this is my fault.
SuChin Pak  15:09
It's always my fault, for sure. I just I've lived too long in this skin, in these undies to start anywhere else other than let's just first assume it's my fault. Where do we go from here? Sometimes I'm wrong, sometimes it's somebody else's fault. The vast sprawling majority of the time. I was right in that first assumption.
Kulap Vilaysack  15:36
That you were wrong. Cannot be set enough and yet we say it. We don't know what the other will bring. But there's a theme to each of our carts. Your cart is very much skin based. And my cart is very much about things to put on the body clothes.
SuChin Pak  16:11
I'm so glad because yeah, I'm so glad because I was trying to think of other things but these were just the things that I 100% standby so I'm so glad you brought clothes.
Kulap Vilaysack  16:22
And I want to talk about two brands. One is for like minimalist Kulap and maximalist Kulap, that I really certify I find that fits my body. That brings me joy. And so I let's start with the minimalist. Okay, this I'm not really thinking formal wear but I'm usually like dresses and casual dresses and dresses for like, cocktail. Maybe a wedding I go to reformation. So, the things that I have tried from reformation specifically I'm speaking of the dresses, I can't speak for, you know, jeans I can't speak for, you know, the sweater shoes. I want to talk about these dresses, Su, okay, what I love about reformation is they have a whole range of sizes. Sometimes I'll do an XL or like they have extended sizes I'll wear like a 0x depending, they have Su, you'll love free shipping on everything. Fantastic return policy. Oh, so you're at my baby shower that dresses reformation. It sapphire linen wrap dress.
Kulap Vilaysack  16:28
Is this the brand that's like sustainable?
Kulap Vilaysack  17:43
Yes, that's what they count. Of course, we know any new clothes is not the best for the environment. But if we are buying new clothes. This is a good option and you should definitely check it out and read it up about their like practices and their commitments. I'm not even talking about that. I'm talking about looking good.
SuChin Pak  18:02
I mean, let's be 100% honest on our 100% episode.
Kulap Vilaysack  18:10
We're not having there's not gonna be a lot of wild prints they're gonna have like..
SuChin Pak  18:14
This is like your basic build a wardrobe minimalist. This is like, right?
Kulap Vilaysack  18:20
But I wouldn't, I would be, it'd be like heightened basic because they're their clothing is very tailored and very sexy.
SuChin Pak  18:28
That's you know, and maybe that's also why I of course, I've heard of reformation but anytime I've seen reformation I feel like oh, that's a little too. It's a little too tight. A little too low cut, for my tastes. They are very sexy.
Kulap Vilaysack  18:43
It's very sexy. A high slit you're probably going to see a deep fee or sweetheart neckline. It's not like sexy like you're gonna get from revolve.
SuChin Pak  18:59
These are very classy. Very streamlined.
Kulap Vilaysack  19:02
Yes, like I love to see, I love to you know, I love to see you in one of these dresses. I love to see Claire in a dress like this.
SuChin Pak  19:07
Now, what is the undergarment that you're wearing under this, just out of curiosity? Like what's holding everything in?
Kulap Vilaysack  19:20
For me, I'm not unfortunately one of the big titty ladies that wear strapless. I wear I have to find something that I can wear a bra and underwear. The only time I'm wearing shapewear is if like it's some sort of like industry thing or like a wedding maybe and like it's helping the dress do something maybe, I'm just on the other side of something. Like can't be as bothered as I once was, you know? So, I fucking look good. That's how I feel. I'm not walking out not looking good.
SuChin Pak  20:00
I just assume everybody wears shapewear underneath these types of dresses. I am at that point in my life where I like I couldn't go out without shapewear. It's just the security of it. You know, just like I don't have to think about it. It gives me peace of mind.
Kulap Vilaysack  20:18
Also your shrimp who's afraid of drafts so I think it does help with your warmth. One time I was a reoccurring under five role, meaning I had under five lines in a drama network drama called Brothers and Sisters. And I was sitting next to Ally McBeal, Calista Flockhart, sorry, as we were doing makeup, and she shared with everybody in the room that she wears Spanx for warmth.
SuChin Pak  20:50
I mean, that is that is amazing. What a nice piece of gassy gas.
Kulap Vilaysack  20:57
That was so many years ago. 15 plus but that Yeah, yep. And I was like, wow, I don't know that like and that was like, that was like 30 pounds ago for me.
SuChin Pak  21:17
No, I get it. I mean, obviously I wear a lot of things. For warmth, warmth, being my number one category of determining factor.
Kulap Vilaysack  21:26
Absolutely. But, Su, I'd love to put you in one of these dresses. I mean, we I can look for some that aren't so like low cut. Can we show your back? Are we allowed to show your back?
SuChin Pak  21:41
Don't go too low. Cuz like, I got a lot of underwear. You know? I gotta massage the other day from my regular gal. And she just asked to roll it down. You know? She just says to tuck in that sheet like well, one tuck, two tuck, three tuck.
Kulap Vilaysack  22:00
You look like a little skinny sumo wrestler.
SuChin Pak  22:04
And she's just has to roll down the top of my underwear a few times to get to my last vertebrae, you know, which has been aching. And I wonder what she thinks? I don't know. I don't care.
Kulap Vilaysack  22:18
Yeah, I was gonna say you could ask.
SuChin Pak  22:22
No, I'm a tall underwear gal and I shall die a tall underwear gal.
Kulap Vilaysack  22:31
So I was talking about the minimalist, Ku. Here's a more maximalist Ku, which is farm Rio. I like your dresses and sweaters. Not necessarily together. I also have not tried any other things. So that's what I'm not certifying their other items. I'm sure they're fine. Listeners, please Sound off in the comments on Instagram. But what I like are the dresses and their sweaters. And farm Rio is very, I would say loud Prince. They tend to have their maxi dresses for the most part, but they I think, I think quite a bit if you hit the dresses. They're like, you know, full skirts. Full volumous sleeving sleeves. How would you put it to.
SuChin Pak  23:23
Yeah, I mean, just like prints on prints. And lots of volume. Lots of color. It's very just it's gorgeous. It's lots of floral prints, lots of tropical prints. This is someone who says I love life. This is someone who says I'll take another, please.
Kulap Vilaysack  23:50
Su, you unfortunately we're unable to come to our dear friend. Naomi Scott's birthday, milestone birthday. But I wore this dress to her event I want to show it to you. The banana print.
SuChin Pak  24:05
You wouldn't know it was a banana print unless you look really close because it's the color scheme is a gorgeous blue and purple and red.
Kulap Vilaysack  24:16
It's bold Su, there we go. Bold Prints. Those are the word I was trying to grab, gold prints, beautiful. And in terms of as we are transitioning into fall. I really like their sweaters are so similar. It's there's a quality to them. They're made really well, made sustainably. But there's a boldness and a sense of whimsy. I have one that just have two large two cans on it. There's one that I try was sold out that I wanted to get last season which just have like, just a repeat pattern of very bright strawberries. Like these are like, they're not wallflower items.
SuChin Pak  24:58
No, but you're not a wallflower. You are a hothouse orchid. Just pumping out that musky scent. I love it. I love a minimalist and a maximalist up because as you say, we hold multitudes. So true. So true.
Kulap Vilaysack  25:24
Su what's your next 100% certified?
SuChin Pak  25:27
100% certified, I'm going to do two of them at the same time, because I did cheat and I put more than I should have. Again, in the category of beauty I talked about this before, I'm not going to get too much into it. Good light. Which congrats David, by the way is now at Ultra Beauty.
Kulap Vilaysack  25:47
I didn't know that. That's fantastic.
SuChin Pak  25:48
Oh, my goodness. What a feat. And I talked about this order of the eclipse hyaluronic cream. Claire, have you bought this yet? When winter comes, you're going to buy this and you are not going to, you're going to regret it. This is the best rich nighttime moisturizer I have ever used. It is the consistency of whipped marshmallows. That's all I have to say. So as we come into fall and would transition into cold, drier climates. I recommend 100%, you add this to cart and then my last one I just added this morning because I was looking around being like what is the thing that I like if it's in my bag at all times? And this BYO color Changing blush oil from euphoria.
Kulap Vilaysack  26:45
Yes. I have it right here, I don't know what to say about it.
SuChin Pak  26:49
It's science but like I don't even want to say the science because it makes it sound so trendy. Oh Claire has it. Don't you love it Claire? It goes on like a lip gloss. That's what it looks like and you put it on your cheeks, you can use it as lip gloss I do. And immediately it starts to change on your skin tone and it turns into the most beautiful dewy blush that stays on. That's all I have to say about it. It's amazing. I carry this around. If I only have one makeup product in my bag, it's this, because I can use it on my lips. I can use it on my cheeks. It's glowy look at, gorgeous. I quickly did it. And I've had when I'm traveling or I'm out and friends see me with it. Then I go I want to try that and then they buy it. So it's just one of those things. full price, half price, quarter price, I'll buy them.
Kulap Vilaysack  27:44
AAPI created. Okay, so my last thing is something that Miss SuChin pop brought to me and now is it's become a lifestyle. I preach about it. Like I'm the street team. Yeah, like I'm the street team for this brand.
SuChin Pak  28:14
I like the term street team. Takes me back to the MTV days.
Kulap Vilaysack  28:19
You want this flyer. You want the sample. I've purchased this as gifts. So what I'm talking about the shoe brand Hoka, the orthopedic shoe brand Hoka. Never has there been a shoe with such a wide range of customer from a Gen Z. Hip cat girl who's wearing a neutral matching sports bra and biker shorts. Yeah, walking around with an iced coffee. Two, a geriatric millennial, which is me, then to everybody in the health profession and retirees.
SuChin Pak  29:17
I think that's the world.
Kulap Vilaysack  29:19
It's the world. because SuChin Pak was not lying when she said that it feels like you're walking on clouds. I wear a pair of the Cliftons that are all one color. They're all toe. I wear that, that is like it's part of my like, weekly uniform, like multiple times a week. And I have myself two pairs. Scott got one for Christmas. I'm talking you know to like my friend tall John, he's 6'9 use like I bought a pair, but I don't think they look right. I'm like, you just gotta get used to how they look, John, treat yourself to this shin support. Do this for your knees. And now he wears them on the rags. I love these shoes.
SuChin Pak  30:18
Listen, we're not gonna lie. It'll take a moment. Yeah, if you have never worn a platform of sneaker, yes, it may take a moment. Because it's spot on like a platform sketcher I'm just putting it out there.
Kulap Vilaysack  30:37
Let me throw you the other direction. Those Balenciaga type.
SuChin Pak  30:44
So, it'll take a while at first, you'll kind of be just looking at your feet, like you're walking like a toddler, you know, and you can't believe that these things are moving. And then before you know it, the world is a giant dubay. And you're just landing softly everywhere you go. And who doesn't want to live in a world where everywhere you turn, it's just a dubay hugging you in all the right places?
Kulap Vilaysack  31:17
I'm a Taurus. That's like, that's what I want. And look for a shoe like this. I prefer more of a minimalist look. I think Hoka overall is maximalist in terms of color. And I like, and that's why I love these taupe, like, ones that I have. And those are hard to get. Because like, there's like a brand new color away. That's like cream that I sat on and didn't purchase, gone.
SuChin Pak  31:48
Yeah, you can check Kulap's Instagram for what they look like. Because you're not getting them. My last add to cart for a 100. I wanted to bring something that wasn't a product. Oh, and for all those folks out there who are feeling we're creeping towards the end of the year. Yeah. And for some, it's an army crawl. You know what I mean, from here on out, it's just trying to get to that final place. For some, it's a time of rejuvenation, colder weather. It's a changing of the seasons, whatever it is, anyone that's looking to be inspired. Anyone that feels like they're in a creative rut. And I'm not talking about people that are just working as artists, you know, I'm talking about as human beings, we are creators. And as human beings, we are creative, you know, animals. I would number one add to cart. It's an old book, Julia Cameron's The Artist's Way. Well, by the way, Majandra, MD when she was my neighbor gifted this to me many, many years ago. So do that. It's a time commitment. It's a great thing to get into. But the thing I'm bringing to cart today, in the artists way, there are a few things that you do on a regular basis. And this is the program of what the artists way is. And the artists date is once a week. It's exactly that you take yourself on a date. And the date has to be something that will spark some sort of creativity. And it could be yes, a museum, it could be a bookstore, it could be a walk that you've never been on. It could be maybe you know, a bakery that just opened up and you're just curious about what that looks like. But you put it on your calendar every single week. It's an hour a week, and you take yourself on a date. And she says that the artists date is the tool of attention and it has two different emphases. Artist and date. Put simply an artist date is a once weekly solo expedition to do something that in chance or interests you. And I have done the artists way. I spent a year kind of committing to that and doing it and I the thing that I got the most out of that time was this artists date. And I'm going into 2023, ending 2022 with just putting this back on the calendar. One hour a week. Take myself on a date. You guys, it's a game changer. And you don't think like you know we're doing these types of things you're not supposed to know how it changes you. That's the whole point of the exercise, is to do something that you haven't done before. And the results are life changing. And it's just a small little thing. And I just thought that that I was thinking about something. I've kind of been in a rut. We talked about my birthday. I this is like my right time. I transition from my birthday to the kids back in school, so I have a little bit more time. You know, and then I started to think like, you know, I start to get cranky, crankier than usual. And I just thought, Oh, this is really fun. And the trick is to do this, you guys, you have to put it on the calendar. Like a meeting. You have to block it out. Anyway, so I bring that to cart.
Kulap Vilaysack  35:45
I love that, Su. That's really wonderful. Thank you for editing it that way.
SuChin Pak  35:49
Yeah. And that's it, you guys. 100% certified, 100% things that we've added to cart over 100 episodes that we stand by.
Kulap Vilaysack  36:07
For the last couple of weeks, we've been asking you to leave us voicemails with your 100% certified Add to Cart items. We are excited to announce our winners and their prizes.
SuChin Pak  36:17
That's right. We got so many fantastic one hundreds but I'm going to play just a few of our favorites.
Kulap Vilaysack  36:24
Thanks to everyone who called in with their favorite products. Let's get to it.
SuChin Pak  36:32
I'm so excited to announce the winners of our 100th Episode giveaway. You all called in. You know we asked you to leave a voicemail with one item that you 100% Standby. And here were some of our favorites. This one is from Laney; this is a classic add to cart but presented with a very new compelling angle for why you should buy it now. All right Laney.
Speaker 3  37:01
Hi, my name is Laney, my pronouns are she/her. I'm calling in to congratulate you on 100 episodes of add to cart. I've loved following along and extra congratulations to Kulap on the arrival of her baby. I do have one item that I always add to cart thrive Cosmetics liquid lash extension mascara. I just went to a wedding. And I was so overcome I was weeping silently so much so that people at the reception told me wow you're really crying a lot I hope the photographer got a picture of that and I was horrified and I hope they didn't but if they did, they would see that I didn't have any clumps, they didn't have any streaks I would didn't have any flakes this held up through a really embarrassing crying session of a beautiful wedding.
SuChin Pak  38:04
Laney, I am of the same persuasion, I am of the get me to a wedding. It doesn't even matter if I know the person. I am such a Sauber at weddings. It just, they just get me every time. And I just went to a wedding also wearing my thrive, cosmetics mascara, and also had the same experience which is why it has been a classic Add to Cart from the get go. This thing is magic. I love that you brought it up in this new context of sometimes you're just gonna sob and you want your mascara to have your back. So Laney, thank you so much for that. We love your take on a 100% certified add to cart. The next caller is Jennifer and this person is upping her grocery game with this 100% certified Add to Cart.
Speaker 4  39:03
Hello, my name is Jennifer. My pronouns are she/her. I'm calling to first off say Happy 100 episodes. And also to let you know what my add to cart is. I wanted to add this bag to my cart. It's called a hulking bag. I for the longest didn't want to get myself a granny cart. I felt really embarrassed at the idea of having a granny cart. I was seeing these ads for this bag and that felt like the answer to my dream. It's a foldable rolling bag. It's very heavy duty. I use it for anytime I really need to. Cargo around anything is kind of made out of that material. If you've ever used an Ikea bag anyways, thanks. Love you both. You're the best aunties anybody could ask for.-
SuChin Pak  40:20
Oh, it's the hulken bag, hulken. I've seen this on the Instagram. It's $69.99 it's been in my cart. This is an open cart for me. It's so chic too, by the way. I love that. Thank you so much for calling in. And thank you once again for verifying my Add to Cart. And so I will be purchasing that. The next winner is looking out for the dry feet game. So let's see what this is about, June has left us a 100% certified voicemail.
Speaker 5  40:58
Hi, SuChin and Kulap, this is June. My pronouns are she and her big fan for a long time. So excited to share my little tip with you. The one add to cart item I have to tell you about that super exciting to me, but might seem super dull to other people is the Carell hydrotherapy, wet skin moisturizer. I have this, like eczema situations. So, I also hate socks and lotion, and all those kinds of things that make my feet hot and wet, because then I will have eczema issues. So, all that said, this is a moisturizer you use when your skin is still wet coming out of the shower, and it will completely change the skin on your feet. My husband actually said that it felt like they were someone else's feet. We'll give it a shot. It works, unbelievably, it is the one guaranteed skincare item that absolutely works for me. And it's one of those things where you just don't think about it. But once you have those silky smooth feets, you can't imagine not using this every single day and it's so easy to use. It's not crazy. You're not walking around slipping around everywhere. I hate socks, like I said so you don't have to keep those socks on while you're sleeping. It just works.
SuChin Pak  42:17
Woah, June, this could be a game changer. It is number $10.99 to $13.99, depending on how big of a bottle you want. And we're taught we talk a lot about our feet on this podcast and I cannot believe that no one has mentioned this. I am immediately adding this to cart. Wait, when did these voicemails turn into just me buying more shit. But here we are adding to cart. June. I love it. And I'm so excited. So thank you so much for calling in. Our last person has an ingenious solution to a problem that I've never even thought of before. Friend Celli left us a voicemail.
Speaker 6  43:03
Hello, my name is […]. My pronouns are she/he/hers. And hi Ku and Su, my 100% Add to cart is I don't know many people know this. And I don't know if many people have this issue. But I have two different types of feet. So my whole life my mom had to spend money on buying me two different size shoes just to kind of toss the other. But Nordstrom has a program that is called the intentional mismatch program where you can get two different size shoes for the price of one. So I just discovered this at 33 years old. So for 3332 years, I have been buying two different types shoes, announcing myself quite a bit of money to spend more money, bye.
SuChin Pak  43:55
[…], I hope I hope every single human on the planet that has different size feet, listens to your voicemail. I mean, this is a public service announcement. And I really appreciate you bringing this to our attention.
SuChin Pak  44:14
That's it that is the end of our 100th episode extravaganza. Thank you to everyone who called in, thank you all by the way for just hanging in there with us. You know, I mean, just buy the dip of your nails sometimes. I mean slogging through it, crying through it, laughing through it.
Kulap Vilaysack  44:38
All those things at once with us. I feel right now like I am hanging by my nails. I am out of my mind. Deranged, chaotic. This is just me checking in.
SuChin Pak  44:58
I checked in for you at the top of this episode because I was like is we got energy, we got energy today.
Kulap Vilaysack  45:11
And if you want to leave us more voicemails about your favorite items or just anything on your mind you can call us at 833-453-6662 Here's to another 100 episodes. Claire, I didn't record I just realized I wasn't recording.
CREDITS  45:38
ADD TO CART is a production of Lemonada Media. Our producer is Claire Jones and our mix is by Ivan Kuraev and Veronica Rodriguez. The music is by Wasahhbii and produced by La Made It and Oh So Familiar with additional music by APM music. Executive producers are Kulap Vilaysack, SuChin Pak, Jessica Cordova Kramer and Stephanie Wittels Wachs. Be sure to check out all the items we mentioned today on our Instagram at @AddToCartPod. Also, please take a moment to rate, review, and subscribe to the show wherever you get your podcast.