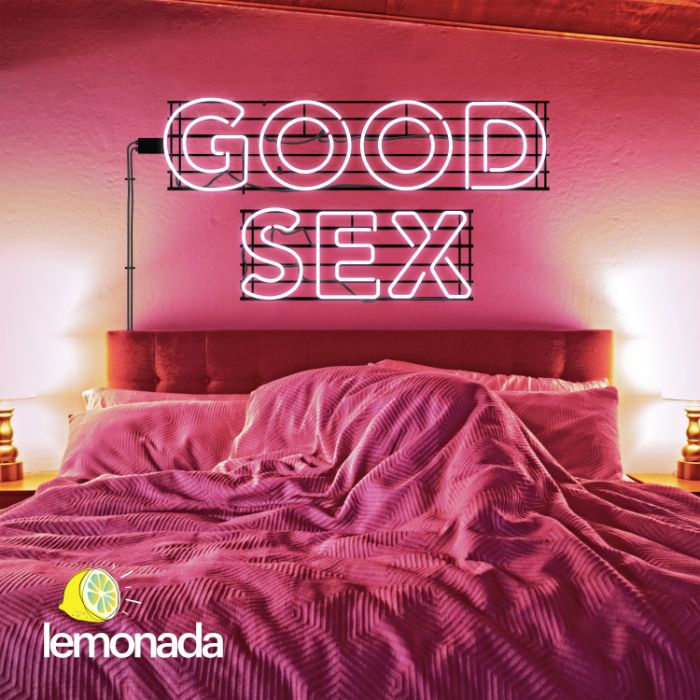 Lynne & Ruth: When You Get Dame Products
Subscribe to Lemonada Premium for Bonus Content
Description
Season 2 favorites Lynne and Ruth are back and recounting their experiences with brand new sex toys courtesy of Good Sex sponsor Dame Products.
"I've been having orgasms for a long time, and I have never felt that sensation." – Ruth
Check out Dame Products at this link for 10% off: https://bit.ly/dameforgoodsex
Lynne and Ruth received:
If you're interested in being a part of Good Sex Season 3, please fill out this form: bit.ly/goodsexform
As expected, Good Sex contains mature themes and may not be appropriate for all listeners.
Stay up to date with us on Twitter, Facebook, and Instagram at @LemonadaMedia.
Click this link for a list of current sponsors and discount codes for this show and all Lemonada shows go to lemonadamedia.com/sponsors.Joining Lemonada Premium is a great way to support our show and get bonus content. Subscribe today at bit.ly/lemonadapremium.
Transcript
SPEAKERS
Ruth & Lynne
Lynne  00:02
Hello, I'm Lynne.
Ruth 
And I'm Ruth.
Lynne
And this is GOOD SEX. You might remember as from season two.
Ruth 
It's a really hot day. I've been working all day and then I noticed that someone is watching me. And I bring a glass of lemonade. And then she asked to use a bathroom and I follow her in every time. We're back again for a special episode sponsored by Dame products.
Lynne
A.k.a we got free sex toys from Dane, a women own company that is trying to close the pleasure gap and change the conversation around sex.
Ruth 
We're here to tell you about how these toys change things in the bedroom for us.
Lynne 
We purchased the I'm not sure how you pronounce this the Aer because it makes sense it's the little pulsating sucky sucky vibrator toy that's very beautiful. And in this very luscious lavender color feels really great. So we got that guy and then we got what's the name of the we won, honey?
Ruth
I don't know what the little cute character it's so adorable animation.
Lynne 
The green one.
Ruth
But spoiler, Lynne, did you use it?
Lynne 
I did.
Ruth
Oh, great. Lynne did her homework.
Lynne 
I, in good faith could not come on here without you know, product testing this. So when I got home even though I was like frazzled with the drive, I thought what better way to unfrazzled. Then, you know, see what Little Eva here has going on? And, she's pretty good. I think she's well we can talk more about it but I think she's more of a in company, in concert with somebody else can a piece of gadget trade but got the job done.
Ruth  02:02
I respect your follow through there.
Lynne
Thank you, thank you, you know me, not gonna leave a task undone, unchecked.
Ruth 
I just always did use sex toys.
Lynne
I primarily used toys with myself. It was a private, it was me and myself and I with the toys. It wasn't till I met Ruth that I realized that this could be like a fun thing to do together. When we were apart when we're doing a long-distance thing. I feel like every time you visited like you brought in a toy and then you left it and then I would it was sort of like a surrogate for you while you're away for me to like fuck myself with and like sort of feel like it was an extension of you. So I mean, everything about our sexual relationship has just been it's the most open nonjudgmental and shame free sexual relationship and experience I've ever had. And so I think that leads to easier conversations about hey, you know what, like, what if we use this and what if we did this and how do you feel about that?
Ruth
Let's see, what do you make of it I got a new […] married and that nice wedding cook. Are you ready, Lynne. Here's a question is what conversations did choosing these specific toys spark like what were we talking about when we're trying to order it.
Lynne
When we were ordering it? Well, I think that'd be mostly said since we weren't having to, since we were going to get them like money. You know, a little bit of a freebie little bit of a deal. We should go for something that we might not buy ordinarily that we don't have in our current cupboard so this is why we went out on a limb and got this we don't have a sucky sucky I don't know what the technical term is. I've just decided to call that a sucky sucky vibrator, and then you fell in love with the animation for this.
Ruth  04:08
I love the animation. I thought it was so cute. And then the other thing that I was super excited about is that you can just order another plug that they had that right on the website because we have like a graveyard of sad unpluggable vibrators that like we can't ever make go.
Lynne
Married sex conversation like Yeah, so we're talking yes, we're into this, we also wanted them to be waterproof that was practical, durable. Can you replace a charger you know that they would add an element that we didn't already have in our toys. So that was the thing that we mostly talked about, right? So anything else am I forgetting anything?
Ruth 
No and I liked it a lot animation I thought it was cute.
Lynne 
All right, well since we both got to use our lashes lavender sucky sucky Aer and you haven't use this cute little guy yet. So where's the first place you want me to put this?
Ruth 
Okay, well, there's one I'm thinking about it. And I don't know, because like, we said, only you tried it. But I feel like is that something that I could like slip inside of myself? And then like, keep my clothes on? And then you know, sometimes I like to like grind into you. What do you think?
Lynne 
In fact, when I was using it, that's what I was imagining was happening, that you were, you know, with your jeans on and you're doing that sort of hard grained, […]
Ruth 
Yeah, that's what I was thinking when we were looking at I was thinking, what about that?
Lynne
Definitely, you could definitely do that. I also think that this would work either tucked into my labia and you know, on my clit, if you had your cog on, and I think you would feel, I think you would, but I also think that you could put this wherever this for some out of the box thinking, I think that you could tuck this inside yourself, slip on strap on your cog. And then every time that you like.
Ruth  06:23
That might be really hot.
Lynne 
I think that would be really hot. I'd be into that. I thought the color was gonna be disturbing because it's so green. And it's not flashy in any way. But actually, it's like this super lovely green, which I commented contrasts really well with my pubic hair. So you know that's a value plus.
Ruth
Wow, remember, we're shy the first time we did this Okay, my turn. When we use the toys are they the main event or supporting player?
Lynne
Their supporting player.
Ruth 
Yes, this is what I'm excited about with the..
Lynne 
I've called it luscious lavender sucky sucky, but it's actually called Aer.
Ruth 
Yeah, usually it's like after kind of after, if we just need to wrap things up sometimes we'll break out a vibrator. This one, the Aer one. I feel like it seems really good because it's not so much pressure. Like a lot of times of vibrators gonna like fry me out. And then I'm like, nobody talked to me. But I feel like this. The fact that's not really touching me could actually sort of like tip me back over into like, okay, yeah, now, maybe I was on the fence about having sex, but now definitely. Because you can come but it doesn't.
Lynne
You were rearing to go like, I got your engine's going right now. CT to do it. For me, our toys. I mean, when we were apart, the toys were like a standard for, touching us, but using them together. Definitely a supporting role. And maybe what I actually I can speak to this because I've had sex with straight men. If you have an issue finding the clitoris, or you're in a relationship where you don't feel confident, or trusting enough or bold enough to kind of be like, actually, it's over here. This looks like this could be this is this could be very useful in helping you direct your partner to where things are. And for them getting a better understanding of.
Ruth  08:50
The laser pointer. Direct your attention here.
Lynne 
Like for queer lesbians. I don't know. It's not that hard to find out. How has our sex changed since introducing sex toys into the bedroom?
Ruth 
Oh, well, I feel like we always have sex toys. But I think it's really fun. Like, just as people been married for a long time and, you know, coming out of this pandemic, where it's like, we're just always together a little it's, I think it's really well time to have a little sprinkle of something new. Just keep things kind of interesting. Try something new. I'm excited about it. I felt positive.
Lynne
It's been a long, two years. Nobody's okay. I feel like I've aged and we're both, are you okay with me saying this, but we're both in like perimenopause. And so that's a shocker. Your libido really changes with that. So it's great to have another tool for a shortcut to get going. This is very handy. Do you wish we'd gotten another thing on the we were very we were sweating about the different things and you're happy with our purchases?
Ruth  10:15
Yeah, I'm into that thing. I've been having orgasms for a long time and I have never felt that sensation. That is a new feeling. So yeah, it's really new. Quite novel.
Lynne 
This is a trusty friend. This is gonna get the job done. Alone with a partner. This is a trusty friend. So my sex pills and 2022 are more sex, more sex, more sex, more sex. I want more sex, like the pandemic and being in this house and having a teenage kid and going through starting perimenopause has really taken a dent to my libido graduate school. Gotcha graduate school. Yeah, like I've just been so busy that taxi crashes because not sexy, it's moderating. I am really looking forward when that'd be great if we celebrated being graduating from graduate school with like a staycation and just like a marathon using all of our toys like that should be our, that should be okay, that's my goal. That's my goal. I want to use; I want to revisit all of our toys like a little trip down memory lane. And like finally take him out of the box and be like, oh, remember this. You remember the time that this happens and you know I came all over the computer and I had to take it to the Apple Store and lie that I spilled a soda on it like remember this. That was wild. that's what I want to do. I want to take a trip down memory lane with all the toys I staycation that's what I want for graduation baby. All our toys 12-hour trip down memory lane. You better hydrate.
Ruth  12:09
That was kind of mine too because I feel like we keep trying to do that staycation and get out of the house and get somewhere else we could just not think about our life instead just have great sex. So yeah, that will be happening. Thanks for the sex toys.
Lynne
Yeah, thanks for your toys. Little Hanukkah miracle that came in a post right and so that was good.
Ruth 
Thank you for listening to GOOD SEX.
Lynne
And from us to you. We hope you have tons of GOOD SEX in 2022.
CREDITS
GOOD SEX is a Lemonada Media original. This show is produced by Claire Jones and Matthew Simonsson. Our supervising producer is Xorje Olivares, with Jackie Danziger as our story editor. Executive producers are Stephanie Wittels Wachs and Jessica Cordova Kramer. Music is by Dan Molad with additional music from APM music. Sound design is by Matthew Simonsson and Elle Rinaldi. If you like GOOD SEX, the show not, you know? Why don't you rate and review us listen and follow for new episodes each week, wherever you're listening right now. And if you want more GOOD SEX, subscribe to Lemonada Premium only on Apple podcasts.