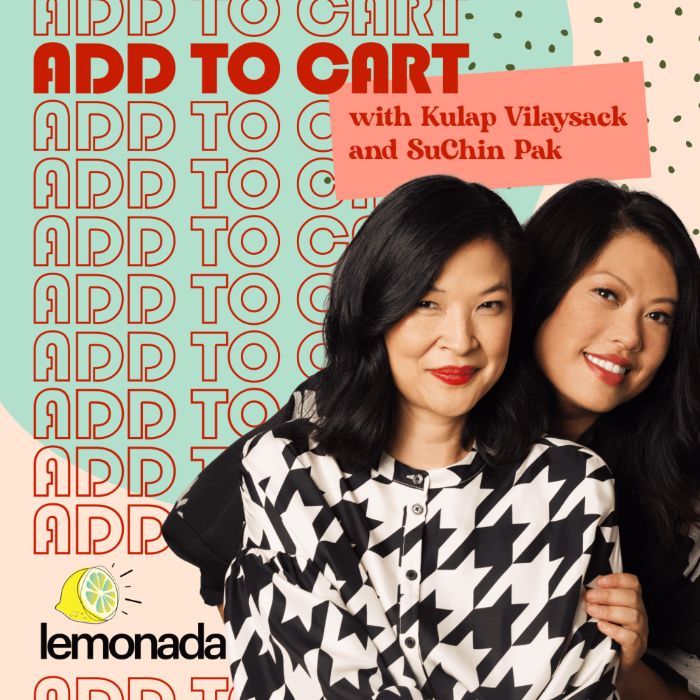 Sexy Christmas Vibes (with Scott Aukerman)
Subscribe to Lemonada Premium for Bonus Content
Description
This episode's cart is jam-packed with the best of the Christmas season –– gifts, ornaments, expected and unexpected family members. We start off with Su's fantasy Christmas gifts and the small luxury items that popped for Ku. Then Ku's little sister Alyssa drops by before the guest we were all waiting for –– her husband, Scott Aukerman joins. Plus, a Sidebar with CEO of Dame Products, a sex toy company all about closing the pleasure gap.
Please note, Add To Cart contains mature themes and may not be appropriate for all listeners.
To see all products mentioned in this episode, head to @addtocartpod on Instagram. To purchase any of the products, see below.
Stay up to date with us on Twitter, Facebook, and Instagram at @LemonadaMedia.
Joining Lemonada Premium is a great way to support our show and get bonus content. Subscribe today at bit.ly/lemonadapremium.
Click this link for a list of current sponsors and discount codes for this show and all Lemonada shows: lemonadamedia.com/sponsors
Transcript
SPEAKERS
Scott Aukerman, Alex Fine, Kulap Vilaysack, SuChin Pak, Alyssa
Kulap Vilaysack  00:11
Hello Add To Carters, welcome to another episode where we talk about the things we buy and buy into and what it says about who we are. Who are we? I'm Kulap Vilaysack.
SuChin Pak 
And I'm Su Pak, Ku and I are channeling luxury. Okay, Ku doesn't have to go very far to channel that matte black luxury, sometimes dipped in a matte gold, but, you know, depends on her mood. So this week, we're thinking about the gifts that we would ask for, you know, in a perfect world, where money is no object where the rivers aren't running dry, where we ask and we shall receive, right? Plus, speaking of luxurious, we also have a fantastic guest coming up. None other than Mr. Scott Vilaysack who will be joining us later on, for his sort of list of things that he's been adding to cart.
Kulap Vilaysack
And don't stop there. Su is talking to founder and CEO of Dame, a sex toy company that we love. Sex tonight, Scott and. So let's start with our dream gift, shall we?
SuChin Pak 
Yes. Now, before we get to this gift section, I did ask Claire. There have been a few moments in the last few recordings that you have said things. And I don't exactly know what they mean. Cheugy, I think I heard this word once on another podcast. And so I wanted you to tell me what that word actually meant. And before that, Cheugy, there's no like callback for me on that. What is that word?
Kulap Vilaysack  02:06
You have the experience of when I first heard about cheugy, I'm just gathering context clues, right? Now, it's so cheugy to even mention chewy, like are so chewy that we're talking about cheugy what and that means we it's almost like a version of saying a thing, okay, Boomer, we're lame. We're unfashionable. We're you know, my sister Alyssa, let it be known. When we were in my closet that Gucci belts are cheugy.
SuChin Pak 
Oh, oh, your sister and I are going to have to have words. Hopefully she'll make it out. is it based on a real word or no, it's just a made-up word someone I'm sure on the internet a young person called someone this?
Kulap Vilaysack 
You know, look, I think we need to bring a segment back. We did it with our dear little sister Madonna. Madonna, she let us know about clubhouse which nobody uses anymore. We're gonna have to have young people explain this to us because Su I don't have all the answers. I just know that I'm cheugy. My range is cheugish to cheugy. And I have to accept that.
SuChin Pak 
I mean, I haven't even charted so, you know, I'm looking at you with bright eyes and, and hopeful hearts. So we are obviously well into the holiday season and just high and tired from it all. But, so we were trying to think of like, what are some of the things that we wanted to talk about? And these are dream items, right? These are items that we were both like, man, I wish Harry Styles would show up at my door with a Vitamix. A Vitamix food cycler you and I've talked about this.
Kulap Vilaysack  04:00
Before you get into that, like I kind of took my version of this idea. Slightly different. Which was more like just looking at like ridiculous guides and like, things that like stood out for me that I sort of want but like in my mind won't get. But let's talk about Oh, so you're not talking about Vitamix blender?
SuChin Pak 
No, I'm talking about Harry Styles showing up shirtless in some corduroy bell bottoms. His fingers painted, bejeweled with a Vitamix food cycler. Now, Kulap, you are not a stranger to this because we have been texting for months about this Vitamix food cycler and other maybe you know competitors. Now what is a food cycler? I don't know but I'll tell you what I think it is. This is the thing where if you're ever interested in composting but you don't want the worms and the compost juice, I have experienced both. And as much as I would like to participate in the saving of our planet, I could not do the worms and the compost juice. So they have these things now where you basically put your food scraps in, and they dehydrate what's in there and it becomes like a new tree, like a nutrient soil, almost like you would in a compost, and then you can put it in your garden or whatever, and it doesn't go to the landfills, now, this thing is how much is this thing? It's 399.95, it's not crazy, but it's still couple hundreds of dollars. It's not sexy. Okay, because that's not my fantasy. My fantasy is a way to lessen the guilt that I have when I'm throwing away food that should be composted. So anyway.
Kulap Vilaysack 
Well, the sexy part was Harry Styles.
SuChin Pak  06:00
That's right shirtless. Bell bottoms. Nail polish. Bejeweled. That doesn't get me dehydrated, that's for sure.
Kulap Vilaysack 
Compost juice right there. Such a romantic episode.
SuChin Pak 
Okay, your turn
Kulap Vilaysack
From Goop's ridiculous but awesome holiday gift guide. So I'm interested in the Omakase Berry. Are you familiar?
SuChin Pak 
I saw this, I'm not, I wasn't familiar until I saw this list, which I of course, look through every year as well. What is this?
Kulap Vilaysack 
It's a designer berry from Japan. I don't know how else to put it. I think there's actually a farm in California, but the science, the horticulture of a vertical sort of strawberry patch. That is of course going to be a perfectly plump and juicy comes from a Japanese founder's behind it, right? So this is not something that I would purchase but I sure as heck will receive two packages for $50, please.
SuChin Pak
And now this is if you're familiar with Japan, specifically. Obsession with expensive fruit. You know, they've got the $20,000 melon, you know the square watermelon like you go to places in Asia and giving ridiculously delicious every morsel of it is an orgasm in your mouth kind of fruit. And they put a price on it. And there's a market for this. I can't believe you picked out of all the things on that list. You picked expensive strawberries. I love it. I love it. You didn't pick the Chanel sled.
SuChin Pak 
I did look at the Chanel sled and then I'm just like also it is still 80 degrees in Southern California right now. It's matte black guys. I love it. I love it. But what am I gonna do with that sled?
SuChin Pak  08:14
I mean, you're gonna hang it on your wall is what you're gonna do. I mean, this thing is gorgeous. I love it. Okay, I'm gonna have you click on the studio shed configurator, now, what I would like if anybody is listening, paging, Michael G Bender. I would like a she shed. For those of you that don't know what a she shed is, go away. Go Far, far away from here because this is not your place.
Kulap Vilaysack
I can't believe we haven't talked about this before. This is what you need.
SuChin Pak 
I have configured so many farging she sheds, in so many different sites. This one's a little bit more of an elevated it's a company called Studio Shed. And you can get eight feet 10 feet 12 feet sheds with modern exteriors. You can see the one how I built it. I did like a gray horizontal siding. I did a red door. It's very nice mid-century, I dream of a shed of my own that has an electronic lock on it that nobody else has the password to. Maybe it has some sort of a siren sound that if you even get within five feet of it. It blasts you with an ear-piercing sound to get away from it.
Kulap Vilaysack 
Perhaps there's some I don't know like an electrical fence.
SuChin Pak 
A moat, alligators shipped in from Mississippi, all of those things. Those are add-ons. Those are add-ons.
Kulap Vilaysack  10:02
Yeah, that's give me additional. It's good because now they started about 18 grand.
SuChin Pak 
Yes. My she shed the one that I want. That's got the natural stain. It's got the volcanic gray siding is $18,450 this thing is 10 by 12. It's just enough for a reading lamp, a shez lounge. And that's it and maybe a yoga mat.
Kulap Vilaysack 
It's a Sushed that she wants. The one that I'm going to share with you. I don't know why it makes me laugh. So this is from the cuts. Splurge worthy Gift Guide. It's a balloon bag, necklace and calfskin and brass. But now why does it make me laugh because it's on the line? Right? You could you could go oh the Chanel sled that you brought up like it's just pure that is just like it's brand like Luxe. It's excessive. Now this is $750 for a miniature bag which I know Claire is losing your mind for because our producer loves anything small. But it truly is just a tiny leather bag.
SuChin Pak 
And you put it around your neck and you want this, I know you want this.
Kulap Vilaysack 
I don't want it; it makes me laugh because it's on the line because like what do you why do you is this for your MDMA? Who is this for? Because in a way it almost seems sensible but it's not, it's a tiny neck bag. You guys go to @AddToCartPod to see everything that we're talking about. Just tell me your thoughts on this bag.
SuChin Pak 
[…] and calfskin and brass you can you click on that bottom there?
Kulap Vilaysack 
Alright, let me look.
SuChin Pak  12:06
[…] You know brand on something and people just go cheugy for it.
Kulap Vilaysack 
Okay, Su. I'm also guys going to be posting this bean pendant and calfskin and brass 5.90 It is a brass bean.
SuChin Pak 
I love it. I mean, I love ridiculous over the top luxury brands just not giving a fuck.
Kulap Vilaysack 
SuChin, I have a special guest. A little drop in from my sister Alyssa who is visiting from Minnesota. And I wanted her to share with you a firsthand experience of going to a Christmas shop with myself and Casey Wilson this past Saturday.
SuChin Pak 
Oh, I'm so sorry. No, just kidding. I cannot wait to hear this.
Kulap Vilaysack 
So what was your experience? Like what was your take? Now, we drove maybe an hour to go there on a Saturday afternoon.
Alyssa 
Yeah, it took like 45 to an hour to get there and we had to drive through an alley which already felt kind of suspect. But then once we entered into the building, it was just a vomit of Christmas decoration.
Kulap Vilaysack 
This is accurate, how was my mood would you say?
Alyssa 
She is high off of Christmas decorations, she was just like..
SuChin Pak 
Just in case people weren't noticing.
Kulap Vilaysack 
Well I'm always so worried that I'm too subtle, Su, you know I bring this up a lot like I want to be so understood.
SuChin Pak
Yeah, that's right. You take the guess work out of guessing you know; you want to make it easy for everyone to know exactly what the temperature of the room is. And the temperature of the room is Christmas cinnamon high.
Kulap Vilaysack  14:13
At the store traditions in Canoga Park, has multiple trees that you can pick ornaments from and so Casey and I get to our work. Were on our tippy toes grabbing this ornament, Casey's on the ground looking at the ornaments that are stacked. And what were you doing?
Alyssa 
I'm just taking laps around the store waiting to see when they would be done.
Kulap Vilaysack
And it took a while. Right?
Alyssa 
A very long time.
SuChin Pak 
Would you say it was the longest time you've ever spent in a Christmas ornament store?
Alyssa 
Oh yeah, I think we took we were there for like a couple hours. I thought it was going to be like a you know, 20–30-minute trip.
Kulap Vilaysack 
I hear you everything that you're saying is true. But at the end of the day did you not purchase some ornaments?
Alyssa 
Well, so while I was making my rounds around the store I saw really cute matcha green tea ornament.
SuChin Pak 
You guys, it's an ice Matcha Green Tea ornament.
Kulap Vilaysack 
you could have quit there and yet.
SuChin Pak 
And yet the three hours waiting for you to deranged Christmas lunatics. And a little soy sauce ornament, you guys.
Kulap Vilaysack 
It's a soy sauce ornament the red top is glitter.
SuChin Pak 
I want to go.
Kulap Vilaysack 
See, SuChin? What are you looking at right now?
SuChin Pak 
I'm looking at a sushi hand roll of it looks like tuna with a little bit of tuna spicy sauce.
Kulap Vilaysack 
The nori seaweed guys green emerald glitter. No, no, just drop a little number for the folks just to keep it real.
Alyssa  16:02
I ended up spending $50 on ornaments.
Kulap Vilaysack 
Thank you, Alyssa.
SuChin Pak 
Thank you for that personal journey. Hold on a second. My mother has walked in here. Yes, mom. Can I help you? Oh, you want the iPad? Is it in the closet? Welcome. Didn't know you were dropping by. You got it? Okay, have fun.
Kulap Vilaysack 
I really do feel like we need to put the family drop-ins.
SuChin Pak
Some family drop-ins happens every day.
Kulap Vilaysack 
Oh, wow. Oh my god. What a show we have today. Our guest is the host of a little podcast called Comedy Bang, Bang. Maybe one of the OG podcast I think that's fair to say. He also was the star and the host of the television version on IFC, which was on for five seasons, 110 episodes. He's a director, a producer, he directed Netflix Between Two Ferns. That's based on a web series that he created. He is my lover and husband. Please welcome to Add To Cart, Scott Aukerman.
SuChin Pak 
Scott, you got off so easy Scott.
Scott Aukerman 
I got off easy? Has your husband been on and got a roasting?
SuChin Pak 
No, no. I said it was a gentle.
Scott Aukerman 
It was a gentle back rub of an intro, getting half of the information wrong but that's all right. That's all right, but halfway through I was like why did I bother typing this out?
SuChin Pak  18:08
Well, this is full circle though. Because Ku and I went on your, that was the first podcast we ever did. That was the first really recording Ku you and I because it was before we ever did a show.
Scott Aukerman 
It was before you started, really?
SuChin Pak
I think so.
Scott Aukerman 
Wow.
Kulap Vilaysack 
It's possible. What a time but you know, grains of sand. slipping through our fingers. That's
Scott Aukerman 
That's what an honor to me. I know this is more of a lady show. Can I say break your podcast cherry?
Kulap Vilaysack 
I mean, I think you should not say it anywhere else honey. That's just a minute some wifely advice.
Scott Aukerman 
By the way Kulap and I are yes we are in bed right now. And were post-coital we just had sex as I am in every episode of Comedy Bang Bang. Right? A lot of people don't know that Kulap is there right next to me whenever I do an episode of Comedy Bang Bang.
Kulap Vilaysack 
Scott, we like to start by asking our guests what type of consumer they are. How do you shop? I have thoughts and I want to see if what you think matches with mine.
Scott Aukerman 
You have thoughts about me?
Kulap Vilaysack 
Absolutely. All the time.
Scott Aukerman 
Got it. Okay, well, what did we call it? I used to do my errands. What was it on Wednesdays when I would go to the DVD store and the comic book store back-to-back. Now I just the only store I traveled to and practically the only place I ever go is the comic book store which is about two miles away I think on Wednesdays so I travel a total of four miles per week. Going to the comic store don't go inside Since COVID started, he comes to me that's not a brag. That is just a nice thing he does.
Kulap Vilaysack 
He put it in your trunk, right babe?
Scott Aukerman 
It's sometimes it's the trunk sometimes the back seat.
Kulap Vilaysack  20:01
And then do you have? Do you make any meaningful eye contact?
Scott Aukerman 
Oh, yeah, we always have a nice conversation, as a matter of fact, when COVID first struck, I had to put the hammer down and say like, we got to wear masks if we're going to talk. So, we did that, which is great. And, yeah, so we have a little bit of conversation about, you know, what's going on in our lives. No, not really. It's just about what, whatever didn't come in that week, or actually did come in that week. But yeah, and then other than that, it's pretty much just like Amazon.
Kulap Vilaysack 
Now we've been together for how long, honey, do you recall?
Scott Aukerman 
Yes, our first date was in 1999 in May. So that would be 22 years. And Su and I have had a side thing going on for like, what, like 15 months?
SuChin Pak 
I would say so. 15 months and a quarter.
Scott Aukerman 
Just like a little side piece.
SuChin Pak 
Yeah, and by side piece, we sort of just side glance of each other through parked cars with the windows rolled up.
Scott Aukerman 
Yeah, she makes the trip on Wednesdays to the comic store just so she can see me.
SuChin Pak 
I go do my errands. My errands. I gotta go do my errands.
Kulap Vilaysack 
You know, I'm glad that you found loving.
Scott Aukerman 
In a lonely place. Yeah.
Kulap Vilaysack 
Scott, I am so excited to see what you've added to cart. Let's start with putting it together. How Stephen Sondheim and I created Sunday in the Park with George by James Lapine.
Scott Aukerman 
This is a book ever heard of it? No, this is a book. It's you know that I'm a fancy little theater boy.
Kulap Vilaysack 
Oh, I know. But Su, did you know that?
SuChin Pak 
No, I mean, maybe I think you have mentioned before in passing, but I want to really sit with this. Go ahead.
Kulap Vilaysack  22:07
He used to do professional musical theater. He went to PCPA up north. Oh, he's got a beautiful singing voice. Do you want to show the people your voice, honey, do you want to do?
Scott Aukerman 
A little bit of that. I mean, obviously it's not a professional setting. I'd sound better with a little..
Kulap Vilaysack 
Yeah, yeah. Really tied to the […]
Scott Aukerman
No, I started. I started liking musical theater. Well, the first musical I was ever in was carousel, which we called carousal. Back in 1994 in the previous millennia, and I started getting into musicals, I start singing and you know, I've done a lot of musicals over the years. But Stephen Sondheim who has written so many musicals became my favorite back in probably 1985. I think I saw the Broadway production of Sweeney Todd, which they put on PBS great performances. So I became very fascinated with Stephen Sondheim. And this was the second show that I ever saw Sunday in the Park with George with Mandy Patinkin, which started a big Mandy Patinkin fascination, which culminated in the two of us starring in a movie together.
Kulap Vilaysack 
I think starring me I had pretty generous.
Scott Aukerman 
I had two lines and he had several but we were in a picture together which is on my wall.
Kulap Vilaysack 
Yes, but you are not in full frame. It is just if it's half of your body. Mandy is full in the middle.
Scott Aukerman
He's in full in the middle. But I'm a little in the middle but I got much back but, but I yeah, so I really, you know, love Sondheim, Mandy Patinkin and this is kind of an oral history of how they put the show Sunday in the Park with George together and written and edited by the director and co-writer James Lapine. The show Sunday in the Park with George was inspired simply by a painting that both James Lapine and Stephen Sondheim saw, and said, why don't we write a musical about the guy who painted this painting? So it's a really famous painting by George Serrat. It's in the Chicago Museum of Modern Art maybe you can see it in the movie Ferris Bueller's Day Off, but um, yeah, it's a really interesting, interesting book. But really, I brought it up on this show because I think Casey Wilson, who's been a previous guest on and co-host on this show is a listener and I loaned it to her and I kind of like it back so she's listening.
Kulap Vilaysack  24:50
I mean, you could just text her, Scott.
SuChin Pak 
This way is so much more fun.
Kulap Vilaysack 
Let's get it to Scott's next add to cart, which is music? Dan Mangan. Oh fortune, the 10th anniversary edition. Yes. Dan Mangan, friend of Comedy Bang Bang podcast has been a guest many times.
Scott Aukerman 
I would say personal friends, too. I think so. So Dan Mangan is a musician from Canada from Vancouver. And this is the 10th anniversary of his album, which was the first album I'd ever heard from him. Basically, 10 years ago, for the Comedy Bang Bang podcast, I would very rarely get people send me booking requests, especially from musicians that it would happen very rarely. For whatever reason, Dan's representative reached out to me and said, Would you be interested in having Dan on the show and sent me this record. And it's an incredible record. And just beautiful, beautiful record. I'm like listening to it going, how? First of all, how have I never not ever heard of this guy. But secondly, why are they sending him to me? This guy's you know, incredible. And so he agreed to do the show. And he showed up to it kind of going like, what is this? It's a podcast that I've never heard of this guy. I've never heard of this show. He walks in and Sarah Silverman is there. She was one of the guests on the show. And he's like, what is going on right now? Because she's famous. And I'm not obviously, but he had such an incredible time on the show. And he played songs. And he's been on the show so many times since then. And in fact, he was on our Vancouver live from Vancouver episode, doing just beautiful songs. And he struck up we all went to dinner beforehand. And that's where he met Lauren Lapkus. And Lauren's husband, Mike, and they became super close. And he played at their wedding. And so it's just like, this album brings back a lot of great memories and was the spark of a wonderful friendship. And so the fact that it's been 10 years is crazy. But the 10-year anniversary of it is now and he put out a deluxe edition with a lot of extra stuff on it.
SuChin Pak  27:06
It's beautiful. It's so gorgeous. The illustration on the even just the whole presentation of it.
Scott Aukerman
I mean, you haven't heard any of the songs I'm taking.
SuChin Pak 
No, no, I've never heard of it.
Scott Aukerman 
You can play those shiny things that are like…
Kulap Vilaysack 
SuChin of MTV.
SuChin Pak 
On what?
Kulap Vilaysack 
Scott, what are some piano tracks so that we can play them legally?
Scott Aukerman 
I mean. Obviously, they're such great songs on it. I mean, Oh fortune is the first one that I heard because I think that was the single leaves trees, forests. Amazing. Yeah, people should get into him. I wish more people in the States knew who he was because he's really exceptional.
Kulap Vilaysack  28:15
Scotty, you really brought your three interest today. And I really appreciate it. And the last thing we're going to talk about is a graphic novel. It's Hawkeye by Matt Fraction. And David Aja, how do I say it baby? […]
Scott Aukerman 
I'm not sure. Jason and Kulap and I over the pandemic meet every week for the first year or so it was on Zoom. But now we're in the backyard. And we pick something to read every week. And this is what we picked, this last week because it is the inspiration for the new Disney plus Hawkeye television show. So this is Matt Fraction who I've met a few times he's come to a few Comedy Bang, Bang live shows up in Portland where he lives with his wife, who's also a great comic writer. But yeah, this is a really good comic book. It's all about Hawkeye, who is sort of a street level archery superhero. And he's an Avenger. But this isn't about him being in the Avengers. This is about him and his neighbors where he lives in an apartment building, basically fighting off mobsters who are trying to take over the apartment building. And it's got beautiful, beautiful art and a really mad fraction is a really unique writer and a very innovative writer. He's written a lot.
Kulap Vilaysack 
With time, zooming in and out of certain moments.
Scott Aukerman 
A lot of the TV show is based on this book. So we decided we would read it this week and it's really fantastic.
Kulap Vilaysack 
Scott, I mentioned as a collector, he is a gorgeous, gorgeous collection. We have an essentially a room that is a library. And he, before I met Scott I read things like Betty and Veronica, Archie, comic strips. But dating Scott I delve really deep. I've read so much. And Scott if I hadn't taken to comic books, do you think we'd still be together today?
Scott Aukerman  30:13
Yes. Because I don't think that I'm that type of person who needs you to like everything that I like. I mean, if you do, it's a bonus. But I think those  relationships, like I remember, reading Kevin Kline, who married Phoebe Cates, of course, talk about, like, because he's so much older than her. He was like, of course, we had to, when we first started dating, I had to, you know, give her a sort of an education of all the movies that are important to me, and all this kind of stuff. And it sounded just kind of like obnoxious. So it's like, I think a relationship where the other person has interests of their own is always a better relationship. So yeah, I think we would still be together and it would be great. Maybe better.
Kulap Vilaysack 
Interesting. Now, Scott, I think our listeners want to know, what are your thoughts of my Christmas decorating? The timing, the amount, the contents, quality?
Scott Aukerman 
Well, last year, it was a shock. It was an adjustment. It was definitely a mental place I had to get into when it came to you. I mean, the bedroom tree was definitely a shock to the system that I have to say, though, this year when everything went up, it was just kind of like, oh, okay, sure it's back. You know, it wasn't as shocking to me this year. So, and the bedroom tree smells really good. So I don't know if it has a different smell than the other tree the main tree or the hero tree as you call it.
Kulap Vilaysack  32:02
I have a game changer since thing that's happening that you know.
Scott Aukerman 
Definitely. Now when I walk into the last year, I felt like it was just like shocking to walk into the bedroom. And suddenly there's just like a giant tree growing out of the floor. In a room, you know, that is mainly taken up by a bed. It's just a lot of space, you know, but this year, I think the scent is really making me feel better about it.
Kulap Vilaysack 
This is exciting. I've never asked you these questions. And I'm happy that we've done it on our podcast. Scott, where can we find you on the internet's?
Scott Aukerman  32:47
Well, hey, look, I gotta give a shout out to the website Twitter, obviously, these days, you know, I know it's, you know, I know a certain segment of our society thinks that big tech is you know, getting too involved in our lives. But Twitter has been so great for society so you can find me there. But, no cbbworld.com is where I would like people to go to especially if you're a Comedy Bang Bang fan. We've started a new subscription site where you can all of the archives of Comedy Bang Bang are all of the new episodes ad free. Plus all of the archives and new ad free episodes of Threedom which is the show that I do with Lauren Lapkus and Paul F Tompkins and then we also have shows coming out all the time of like Andy Day has a weekly show, CBB presents which is characters who are on my show doing their own shows. I do a show on Fridays where Shaun Diston and I watch movies that I've never seen before because I there are a bunch of like really popular movies I've never seen like Pretty Woman and dirty dancing and stuff like that and Top Gun that I've never seen before so every Friday we watch one of those and talk about it so it's cbbworld.com, that's where people can find me these days. Having a lot of fun podcasting just like you, just like you ladies
Kulap Vilaysack  34:14
Yes, Scott, is at @ScottAukerman everywhere. He's a blue check guys, don't get it twisted.
Scott Aukerman 
Total blue check energy coming out of here. I'm out in the streets as well. Wednesday afternoons. Yeah, if you can find me in that 20-minute period.
SuChin Pak 
Don't blink.
Kulap Vilaysack 
Alright, baby. So if you could roll out of the bed, you know, I'll see you later.
Scott Aukerman 
Okay, yeah, guys, thank you so much for having me on. It's always a pleasure to add things to any cart, be it in life, in shopping and or in podcasts and I as an ambassador of podcasting, I want to welcome you to this fun little club that we're having here. It's really wonderful. Welcome to podcasting. You're gonna like it here.
SuChin Pak 
That's that blue check.
Kulap Vilaysack
Thank you so much.
Scott Aukerman 
You keep saying thank you so much like you want me to get off but I'm gonna keep talking until you force me off the show.
Kulap Vilaysack 
I prefer to see you go.
Scott Aukerman 
Alright, I'm going to turn around and walk away swinging my sweet little ass, bye everyone.
SuChin Pak 
The sidebar today is with a credential sexologist, and the co-founder and CEO of Dame products. Now, Dame has been supporting our podcast from the very beginning. But I really wanted to sit down with the woman responsible for Dame to talk about why this stuff really works. Ku and I both love Dame, we've talked about them before. It's a woman own sex toy company. But what you don't know is that our guest today has a master's in clinical psychology with a concentration on sex therapy from Columbia University. She's brought all of her expertise to creating a company that will start necessary conversations around sex while doing a little more listening and a little less assuming. Please welcome everyone, Alex Fine.
SuChin Pak  36:28
Hi, Alex.
Alex Fine 
Hi.
SuChin Pak 
It's so nice to talk to you.
Alex Fine 
It's nice talking to you, too. Thank you so much for having me.
SuChin Pak 
So, I want to talk about Dame there are other companies that do similar things, but there's something really unique about the way you guys approach sex conversations around sex health. And it's a very holistic approach. What was missing out there when you were thinking about creating these products in this company.
Alex Fine
I felt that what was really lacking was like a female perspective or perspective of somebody with a vulva. What using these types of products really meant and felt like, I mean, it was less about you know, taking off stiletto heels and your silk gown, but a little bit more about like rolling over in your bed in the morning in your pajamas and like taking out a vibrator from your nightstand and kind of a maybe actually maybe a sillier approach, but also certainly one that was a little bit more focused on like, my internal experience and less about the experience that somebody else might see of me. I think that really like that reframe of what was missing, also lent itself to the products as well. Most of the products are still internal vibrators that are designed for internal stimulation and not clitoral stimulation, or external stimulation, which from all the research I was aware of, and more research that's come out since it's very clear that that external stimulation is arguably more important than internal, definitely more important when it comes to sexual pleasure. For most people with vulvas or vaginas. Wasn't enough control vibes. There wasn't anyone talking about sex is a vital part of our mental health.
SuChin Pak  38:23
Let's talk about some of the most popular items that you guys sell out. And because I think it's kind of, I don't know, I mean, everybody's sex life. It's so private, you know, at least most people's sex lives are really private. So it's yeah, I find it to be refreshing and very freeing to hear about other women's and men's experiences, you know, what I mean, dealing with sex and this kind of thing.
Alex Fine 
Yeah, definitely. And I think that the privacy and the intimacy is something that is really beautiful and worth loving and savoring. And removing the taboo doesn't mean we remove intimacy and privacy. I mean, one of our most popular products is Eva. It's a product we're most known for. It is a hands-free vibrator that can be worn during coitus. Meaning like while vagina is being penetrated, Eva can sit in place on top of the clitoris and provide stimulation, which as we were talking about before, is often what's missing in heteronormative sex is control stimulation. So this vibrator provides that hands free. And once I realized that there was this category where they weren't speaking to us it means it also it became abundantly clear that they were leaving so much innovation off the table by not speaking to us. So we also speak to our users and the partners of our users to get feedback and learn and create the best products we can based off of their testing and their experiences with our prototypes and also with the products that they purchase.
SuChin Pak  40:02
I was going through the site because you guys also have these really great conversations with experts and people sort of contributing to the overall conversation of, of sex and what does it mean right now? And there was a great one. I can't remember the title of it, but it was talking about like, orgasm myths. I just had never thought of the myths around orgasms and how very on from you know, the first time that we're sort of sexually exploring our world, these kinds of images that we get three two, one, orgasm, and then three, two, one orgasm again, and you know, and it's easy, and it's perfect. And then when you trek into this world on your own, you're like, what's wrong with me? You know, it's supposed to be the easiest. There's something wrong with me.
Alex Fine 
Yeah. I think that's exactly right. That's exactly how people feel, more recent study that I think is such a cool stat is only 4% of people with vulva as reported in penetration being their most reliable route to orgasm, meaning 96% of people with vulvas find that they need something else besides just a penis and a vagina in order to have ultimate sexual pleasure. And when I tell people that I can't tell you how often somebody will look at me and be like, oh, my God, it's not just me. And you can see this feeling of aloneness of something, something's wrong with me. Washing away, not only is there something wrong with you, but it's like 96% of people feel that way.
SuChin Pak 
Virtually everyone.
Alex Fine 
Virtually everyone, that's an overwhelming majority of people find it. Like, you know, having an orgasm during sex during the way that you see it in almost every movie is not the easiest and most accessible experience. On the one hand, I think that sexual experiences are so unique, and that we have such an amazing, beautiful diversity within them both in our physiology, and are what we like, what we don't like. But then also, there's some really powerful commonalities that like are just not being discussed, like things like limerence, or length of time in for arousal, like, you know, people with penises can usually become aroused quite quickly, within a few minutes, seconds even, while women, or people with vaginas involve us can take 20 minutes on average. And that is, you know, an overwhelming consistency between these two genitalia. And it's not known. And that's important to know, our partners don't know that.
SuChin Pak  42:50
Yeah, I mean, there's a similarity and all of the stories you shared, which is, I think that when you're, you know, approaching sex, you know, in a way that not only feels good, but feels safe is the wrong word. But do you know what I mean, when you feel like, okay, like, either you're in control, or you have a say in what's happening.
Alex Fine 
Why is safe the wrong word? I think safe might be the right word.
SuChin Pak 
Okay, great. You're right. There's so many subtle ways that we kind of put that aside because we think that we're trying to create a version, right? Of an intimate moment that that somebody else wants. My entire 20s was a fantastic Oscar winning performance in the bedroom.
Alex Fine
I went through this whole thing to where I realized like, Oh, am I being performative? And then I stopped being entirely performative and didn't want to have any, like, wouldn't known unless I was 100% Sure, the mode was really there. And then I really wanted to happen. And like I was almost hurting my sexual experience. Yeah, it is, like some silly extreme version that I kind of went through. And then I realized, like, oh, no, like, I have to let things happen too and it's okay to feel a little performative. And for me, actually, something I discovered is I really like performing. So I don't want to just follow a script that I was taught, I want to make sure it's my own performance, but it's okay for me as a feminist to also like, performing for my male partner, you know, like, that's okay.
SuChin Pak  44:26
What do you most looking forward to? Like, what do you hope you know, by doing this, because obviously spending this time with you, this isn't just about a bunch of tech products, you know, this is like this is something, something way deeper.
Alex Fine 
The change that I hope that I'm making in the world, which does go beyond just these products and tools is really changing the consumer behavior, and our thought patterns around sexuality, something that can bring us so much joy, and fun and pleasure, it can also bring us so much harm and pain. It is vital, not to us as individuals, because we don't need it to live. This is vital to us as a society. And it is something we do to feel alive. And we've done so much harm by being silent or around the topic. So I really hope that by claiming these pleasure tools, these pleasure products, we're also making space to just have agency over sex and our pleasure in our bodies. I want more orgasms for everybody, And like the last sexual assault.
SuChin Pak
Those are good goals to have. Can we all just like agree on that? You're changing something. You're changing the conversation in that, but it's more than just stuff. That's not what this show is about. Like, I know, we like love to buy stuff. But it's more than just stuff.
Alex Fine  46:06
Thank you. It's truly been a pleasure.
Kulap Vilaysack 
We have some very exciting news to share. Before we go. Add to Cart will be live at the San Francisco SketchFest, January 21st.
SuChin Pak 
I mean, I am excited. I am excited. But I'm also vomiting in a […]. I mean, both things. Both things. This is gonna be awesome. You can catch us at 10:30PM, you guys, I haven't been up 10:30PM in probably seven and a half years. This is like a comet in the sky. You know, just an astral plane..
Kulap Vilaysack 
I mean, that's why it's so special. So it's not only is this going to be, I mean this is basically going to be Add to Cart after dark. And we will be so punchy. It's going to be an experience.
SuChin Pak 
Yeah, it is. And we hope that you'll be there. It's the Gateway theater. Tickets are on sale right now. I love that people are already screenshotting but they bought their tickets. It just it's so exciting. You can get your tickets at sfsketchfest.com Or you can go to @AddToCartPod on our Instagram all the links are there on our link tree.
Kulap Vilaysack 
Okay, that's all the romance we got for you. I mean our cup overflow but what is your dream gift this season call us and leave a voicemail 833-453-6662.
SuChin Pak 
Follow us on @AddToCartPod for all of the good stuff that we talked about today. Of course and the romance between Ku and Scott continues there as well.
CREDITS
ADD TO CART is a production of Lemonada Media. Our producer is Claire Jones and our mix is by Ivan Kuraev and Veronica Rodriguez. The music is by Wasahhbii and produced by La Made It and Oh So Familiar with additional music by APM music. Executive producers are Kulap Vilaysack, SuChin Pak, Jessica Cordova Kramer and Stephanie Wittels Wachs. Be sure to check out all the items we mentioned today on our Instagram at @AddToCartPod. Also, please take a moment to rate, review, and subscribe to the show wherever you get your podcast.