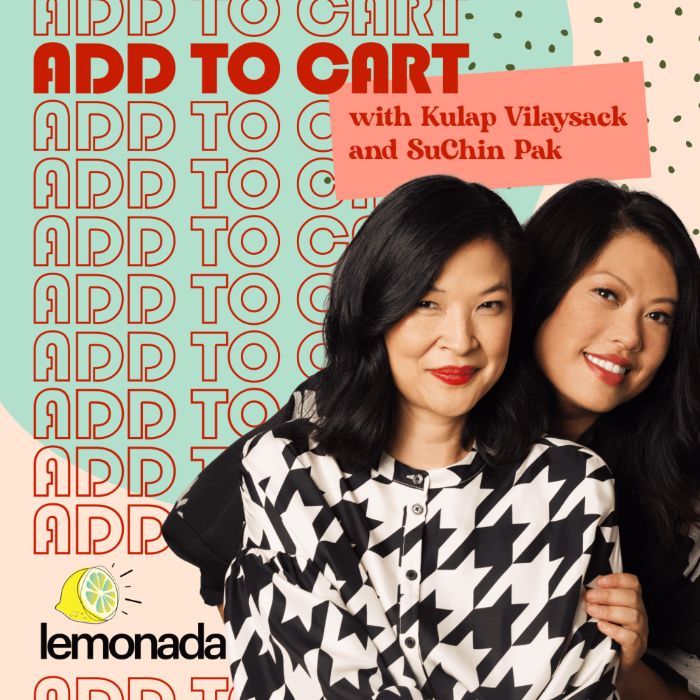 Sh*t Went Down This Week (with Andrea Lavinthal and Jason Sheeler)
Subscribe to Lemonada Premium for Bonus Content
Description
This episode talks about metaphorical sh*t –– both Ku and Su had a lot of personal things happen –– but also, some real sh*t. We won't go into the details here, but rest assured your bums are covered. Plus PEOPLE Magazine's style and beauty director Andrea Lavinthal and deputy West coast editor Jason Sheeler come on to share their add to carts. The two host the podcast PEOPLE in the 90's, so we got hot tips about shopping and GOSSIP. The episode is very well-rounded.
Please note, Add To Cart contains mature themes and may not be appropriate for all listeners.
To see all products mentioned in this episode, head to @addtocartpod on Instagram. To purchase any of the products, see below.
Stay up to date with us on Twitter, Facebook, and Instagram at @LemonadaMedia.
Joining Lemonada Premium is a great way to support our show and get bonus content. Subscribe today at bit.ly/lemonadapremium.
Click this link for a list of current sponsors and discount codes for this show and all Lemonada shows: lemonadamedia.com/sponsors
Transcript
SPEAKERS
Andrea Lavinthal, Jason Sheeler, Kulap Vilaysack, SuChin Pak, Andy Beshear
SuChin Pak  00:11
All right, everyone. Welcome to another fun filled episode of Add To Cart. So this is a show about the things we buy, all the stuff we also buy into. They all say something about who we are. I'm SuChin Pak.
Kulap Vilaysack 
And I'm Kulap Vilaysack. This week, we have quite a bit for you, some might say, a lot. First, a very important addition to our ego episode from a couple of weeks ago.
SuChin Pak 
Then we're gonna tell you about all the shit that went down this last two weeks because oh boy, both Ku and I have been through some stuff, some stuff has happened, and we'll share them with you.
Kulap Vilaysack 
Then we have two amazing guests, Andrea Lavinthal and Jason Sheeler, host of the podcast PEOPLE IN THE 90s.
SuChin Pak 
There it is, sit back, maybe relax, we're not sure what we'll find out and prepare yourself for the ride. That is today's Add To Cart episode.
Kulap Vilaysack 
Gird yourself, friends.
SuChin Pak 
Let's before we get started, we need your help. Obviously, you guys know we have ads on this show. But we want to find the best sponsors for things that you actually want to buy. Right? So go to LemonadaMedia.com/survey, you take this very quick, anonymous survey for a chance to win $100 Visa gift card. We promise it's very short and sweet. And then it'll help us find the best advertisers for you guys and keep bringing you the great content.
Kulap Vilaysack 
Okay, onto the show.
SuChin Pak 
Alright, so a few weeks ago, we did an eco-conscious episode, right where you and I shared products that will give Mother Earth you know, a break. You know what I mean? She needs a break. Right about now. And I'm going to talk about a product that we got this product a while ago. So I've been testing it out for months. I want to first say, Kulap, have you dealt with hemorrhoids yet?
Kulap Vilaysack  02:13
Oh, wow. We're getting right to it. No, no, I haven't yet.
SuChin Pak 
So in doing some research about hemorrhoids, I found out that 75% of Americans will experience Hemorrhoids at some point in their lives. The vast majority.
Kulap Vilaysack
Wow. Okay. All right. So it's coming for me.
SuChin Pak 
It's probably coming for you. Let's just say it's probable.
Kulap Vilaysack 
I guess it makes sense. Because I mean, like our, our butt tissue is really sensitive. I mean, some people might say it's the underride skin of our butts.
SuChin Pak 
Who says the hole is the undried tissue of your butt? I just am curious. Is that Scott is Casey
Kulap Vilaysack 
I don't think that's something I just made up. I think it came from somewhere. That was an original thought.
SuChin Pak 
You know, it's interesting. You bring up that point, like you're under eye skin. It is very sensitive. And you should doctor say that you should dab instead of wipe.
Kulap Vilaysack 
I don't know if I've ever dabbed before. I don't think I've dab
SuChin Pak 
I mean, it's too scary to dab gotta you gotta wipe but that can cause a lot of irritation. Right? Okay, so, now we're getting to the product that I've been road testing, if you will, for the past few months. It's called fresh peaches toilet paper gel. So let me give you an overview what this is so, some people to get that feeling of it being clean, and you know, well wiped, they use flushable wipes, that's not good for the environment. No, it's terrible for the environment. And it's terrible for your plumbing because, you know, you go down that hole and there are hundreds of stories of pipes exploding or bathrooms flooding every time you flush.
Kulap Vilaysack  04:17
Well, not to mention like you are releasing like synthetic microfibers into the ocean. So even if like the wipes do dissolve those particles probably are going to linger in the water.
SuChin Pak 
So fresh peaches works with your toilet paper, right? It eliminates friction so that you can wipe more painlessly and with peace of mind. There's also a witch hazel in the gel. So that also helps with inflammation. It helps with hemorrhoids. It encourages healing. It has a ton of other stuff too, has green tea extract, vitamin B. So all of that stuff really helps to make sure that you're as gentle in your wiping as you can be but also really effective. What I also like about this is that first one I used it; you know it's surprising. It's like, oh, the first thing I thought was like, ooh, boy, this is probably filled with some chemicals, because it just felt a little too good, if you know what I mean. But trust that every ingredient is a one on the ingredient safety scale, I looked it up. So it means that it has really, really safe and gentle ingredients. It's fragrance free, it doesn't contain any parabens. And I have gotten used to this now a night and I carry a little one in my bag for those occasions where I'm on the go. And I need to feel fresh,
Kulap Vilaysack 
and you need to go teach and I think something we're not bringing up we're mainly focusing on the butthole. But the front hole also, right?
SuChin Pak 
I think it's more of a it is a back door. Okay, cool product. I think there are other types of gels, leave out your front door. This isn't that. But I'm interested that you brought that up, because it does seem to, again, this may just be a an add on that even maybe the fresh peaches, people will be interested to hear from someone that's been testing this and has left the area generally better off post-use than pre use and I just mean in the general all of the area. Let me just leave that there. Tell the people where they can find this product. You can get it online. Of course at freshpeaches.co it'll ship right to your door. It's very discreet. By the way, it's has cute little graphics, it'll tell you how to use it.
Kulap Vilaysack  06:43
So fresh peaches plus your toilet paper equals a fresh peach.
Kulap Vilaysack 
So my dear listeners, it's time to talk about some unfresh peaches. Rotten peaches some rotten fruit because a lot of shit has gone down for both SuChin and I in the last couple of weeks. And we are going to share it. I'll go first. For me, it's a bit of a mixed bag. I had kind of did it sort of a last-minute semi emergency trip home to Minnesota. Because my mom, there has been kind of a decline in her health. She's only 60 years old. So keep that in mind when I tell you that. There's just been substantial cognitive decline. And I felt like I had to go home because the week prior, she was walking, she lives with my sister, and she was walking my sister's dog and got lost for an hour and a half on a walk that you know, usually like 20 minutes. Luckily, she flagged someone down and this person drove my mom and chubs the Old English bulldog home.
Kulap Vilaysack  08:17
My mom started living with my sister during the pandemic, my sister bought a home. And I'm so grateful that that my sister moved my mom in with her. And so because of that, I think she's really seen my mom up close and kind of I don't want to say monitors but notices like her behavior and her health. And, you know, I think from my mom's point of view, she feels like she made the choice to go further than she was familiar with. Took a wrong turn. That said there has been a substantial change in personality, I would say within the last four or five years, really. Scott and I went to Thailand, because my mom was hospitalized and was induced into a coma. I knew there was a decline. Huge personality change. I've described it on the podcast. This isn't make me look good at all, SuChin but you know, she had a change in personality. The change in personality was one that was less aggressive and cutting towards myself and my sisters.
Kulap Vilaysack 
And so we kind of let it go. But there's things that have accumulated and things that we're noticing and my sister has seen firsthand and has made me and my other sister become really concerned that I felt it was important to not only support my mom but also to support my sister. I decided to go to Minnesota. And all in all, it was a good trip. I went to a primary care appointment because of COVID. I couldn't go inside, but I was facetimed in from the car. The doctor did find some moderate and concerning decline. So we were gonna, we're setting up a neurology appointment so that I can face I will be able to FaceTime from LA going forward, but yeah, it's I think, I don't think any of us that we would be dealing with this as soon as now, but it is what it is.
SuChin Pak  10:38
I think age, it's like, it's totally okay. And then it turns a corner and it's just like a banana slide down, you know, a slippery slope kind of thing, where it's like, your parents are fine. And then something happens. And then suddenly, there's like, you know, five things that weren't there before that now are an alarming picture.
Kulap Vilaysack 
I know you can relate to because it's like, the doctor was not aware of like, certain issues. And I know why. Because if you ask my mom, hey, are they, how are you? Good. Are there any problems, some things that you're concerned of? No. So it's like, of course, the doctor without any communication would know certain things were happening. And then, you know, the last day I was there, my mom was like, did the only reason you came was because of my health. I was like, yeah, she's like, oh, well, I need a Nina's just worried. I was like, well, the doctor didn't know about a, b, and c. So I think, yeah, it was good. That, you know, we just are handling this now. And we're taking steps to help you and make sure that you are able to run around with Kai.
SuChin Pak  12:02
Did she seem relieved by it or burdened by that?
Kulap Vilaysack
She actually I think she liked it. I think she again, doesn't feel as concerned as we are. But the doctor asked, do you understand why your daughters are concerned? And she said, yes. So, you know, it was totally pleasant. It wasn't like pulling teeth to get her to do anything. By and large it was actually a very pleasant trip. I did it totally. On the DL. I was only there to see and be with my family. I got to spend time with Kai. I stayed at a hotel that was connected to the Mall of America. So he came and stayed with me one night, we got up I got a coffee. And then we went straight to the amusement park, and was on a roller coaster. Like that was fun. And I went to my brother-in-law Paul's like softball game. You know, in I don't know where that was. Maybe it was Eagan or Farmington I have no idea, one of those suburbs? So it was very, I had dinner with my dad it was all very like contained the family and that I was back home.
SuChin Pak
well you know in the last year and a half the fact that you could even be there in person is that in and of itself feels a lot more comforting.
Kulap Vilaysack
Which kind of leads me to my remove from cart which is I am removing from cart our route 66 road trip?
SuChin Pak
Oh no. That was my rom com of the summer that I was looking forward to all the postcard pics, you know the graphics, the postcard pics of you and Scott.
Kulap Vilaysack 
Yeah, us next to, you know, the Museum of Barbed Wire, the devil's rope. But a last chance be for the villain is the Delta variant of COVID. And it's just not a good time to do it. Like a lot of places we were planning on going to a lot of the restaurants we were planning on going to are close. So Alas, as fun as it was to plan. We're just going to put it on pause.
SuChin Pak  14:16
I mean, you want to enjoy that trip when you can actually enjoy that trip. Instead of you know worrying about you know, the Delta, the Delta which gets me to my, my adds and removes, I mean, I had to cancel a few recordings. So let me be clear, Kulap, cancelled a few recordings for me because when your dear friend and co-host says I'm going down, I got it. Delta coming in strong coming in hot and I'm like no, but I'm sure I can record and then your dear friend says Sweetie, cheers. Just put yourself back to bed. The podcast shall survive. And so you did this for me a few times. And let me tell you, I'm kind of lesson learned there. I really appreciated that, by the way, but yes, the boogeyman came. You know, we all know this, we all know who the boogeyman is, and showed up and I went down. Let me also say that I have the vaccine. I had two other friends in different households, in different cities that had had it at the same time. But you also know what I'm like when I'm sick.
Kulap Vilaysack 
What did you leave me? I'm just curious.
SuChin Pak 
I mean, it got to the point where I skipped past my belongings, and I just wanted to say my farewells, you know, and I said something like, it's bad. And it's dark. And I just I didn't hit send and thank God because I knew in the back of my mind had I hit send to friends and family, there would be you know, firemen at my door knocking it down. So yeah, yeah, you know, I got the fever. I got all of it. I got the whole the works. I got the fever. I had the strep throat feeling, I had zero strength. And then on day three, just to add insult to injury, I got the raging Ds. I called the nurse and I said I think I on top of it got food poisoning. And she said, Oh, no, that's the day three Ds. That's when I said I should survive this. You know, it just is like, I can get through the fever. I can get through that strep throat I can get when you and I did this, shit your pants.
Kulap Vilaysack  16:48
What? What happened?
SuChin Pak 
No, I didn't make it.
Kulap Vilaysack 
You shit your pants.
SuChin Pak 
I mean, it's the kind of it is it's like it's like having food poisoning. Let's not get into it too deep. But you know, but there's no dignity when you're that sick. You're like, oh, good thing I was wearing a pad, fresh peaches to the rescue.
Kulap Vilaysack 
Guys, I'm not even apologizing to you about the contents of this episode. This is the shits real this shit is real.
SuChin Pak 
But where the silver lining to all of it was that Mike never got it. He tested negative.
Kulap Vilaysack 
Mike basically has no immune system, right?
SuChin Pak 
Immunocompromised, yes. Thank you very immunocompromised, and he can't get the vaccine. So now I'm in this place of like, of course relieved that Mike didn't get it. Kids are starting school. Everyone's getting this. Yeah, I don't know how anyone's gonna escape this, especially if you have kids. But it doesn't even matter if you don't have kids. Because guess what, you have friends and family who have kids. Like, just even that alone. It's interesting. Like, once I got the vaccine, you know, I kind of had a sense and I think a lot of people can relate of like, huh, like, that was a major bump. And like, I feel like we're on the road, if you will to route 66 on the road to freedom.
Kulap Vilaysack  18:18
June was a wonderful time. June, we didn't know, we didn't know.
SuChin Pak
Running into the prairie. Arms wide open. And now I'm here in a place that is very familiar, which was, you know, in 2020 where the gates are, are locked in We're shutting down. I'm not taking my kids out of school. I did consider that but the ramifications of that and the responsibility of that was is a risk that what both Mike and I are willing to take.
SuChin Pak 
And I really want to speak to this too is that I too am pulling back. I, this is probably gonna get cut but I am that hemorrhoid getting pushed back in the shower. That's a great question. Why cut?
SuChin Pak 
75% of Americans are pushing hemorrhoids. I am trying to get back to the equilibrium. And you and I have talked about this off the pot of like, okay, I know there's a middle path. That is the right path. I just don't know what that middle path is. But in the meantime, I got an Add To Cart out of this, which is really excited to share. Okay, so I was talking to my friend about this and she recommended this product and I've just started using it. I will report back on how effective it is. But more importantly, it has given me a type of peace of mind. That's what I'm looking for right now. Even more so than the physical is just the mental aspect of it. It's a product called Fend, okay. It's almost like a portable steamer. Okay, and so what it does, it's a mist that comes out of this little almost like glass bottle and you inhale it, you do two deep breaths, and it lasts for six hours.
SuChin Pak  20:19
And what it does is that it coats the airways on all of your mucous surfaces that are critical to the body's immune defense against contaminants, including viruses, right? And then people have found that this has been reportedly quite helpful, in fending off COVID. Now the thing that it does, and this is the layman's explanation, and when my friend described this, to me, shout out to Kimberly, what it does is you inhale it, and it coats your lining. And it actually helps your lining be stronger to fight off, let's say bacterial or viral infections. And your mucous lining is the greatest defense against this kind of stuff. And it becomes weakened because your immune system because the environment that you're in because of pollutants, whatever it is, and so it really helps strengthen your own mucous lining so that it can fend off these air pollutants, including ones that cause influenza and COVID,  allergens.
SuChin Pak 
All of this it's called Airway Hygiene is what they kind of dub it as. So the effectiveness of this is has been studied. Now again, you guys do your own research, I did a deep dive into this because it sounded a little too good to be true. All the research is pretty convincing and incredible. How I'm using it is that I'm having my kids, myself and anyone that comes into my house take two deep breaths if they will. And it will coat their lining to keep them safe and to keep us safe because it's not only about inhaling but it's about also exhaling and what they're exhaling is a lot less contaminated than without this.
Kulap Vilaysack  22:06
How much is this? What are we talking about here? The Fend starter kit is $59.95 that includes a reusable Fend mister. One bottle of the advanced Fend solution which lasts up to 30 days we got to triple A batteries.
SuChin Pak 
Whatever I can do to bolster the immune system of myself and my kids is only going to help Mike kind of weather the storm of what is coming because it's coming if it's not already here and I don't mean to sound like an asshole but it's here.
SuChin Pak 
So Add to Carter's We are so excited to introduce you to pop culture experts, icons I may say and hosts of the show PEOPLE IN THE 90s coming straight from people's deputy West Coast editor and the beauty director themselves. This podcast deep dives into cultural touchstones and long overdue revisits to pop culture gold please welcome here.
Kulap Vilaysack 
here they are getting ready. Hold on to your boots and your panties. Jason Sheeler. And Andrea Lavinthal.
Andrea Lavinthal 
Wow, that felt good.
Jason Sheeler 
I mean, how incredible was that?
Andrea Lavinthal 
Thank you for having us. Thank
Jason Sheeler 
Thank you. Seriously. Wow.
Kulap Vilaysack 
Tell us more about your podcast. What else can people expect? Tell us about your relationship dynamic.
Andrea Lavinthal 
Jason got me to fly from New York to LA to interview Fabio in person. I think that's really all you need to know. Like that happened.
Jason Sheeler 
I mean, there's like I had to sell her on Fabio first we just like our podcast is but for 11 to 12 episodes, we tried to find Fabio for real. And it took 12 episodes, countless texts, phone calls pleading to get Fabio but then really for me to convince Andrea that Fabio was a worthy guest. I mean, that's fair, right, Andrea?
Andrea Lavinthal  24:17
Yeah. And then when we were posing for a photo, he just unprompted, picked me up and I was like, okay, so it was worth it. Fabio just swept me off my feet literally. And while he's not exactly my type, it was a moment like I did feel like a tingle like, yeah, like a bachelor contestant at the very least I was swept. Mo one picks me up. Like I'm a full-grown woman.
Jason Sheeler 
I mean, you should be noted. I mean, this entire experience comes with a huge asteroid. Like I mean, I am still seething about it, he would not pick me up. Like I'm the person responsible for bringing Fabio back into the pop culture conscious. I mean like I deserved to be held like a baby like Andrea was, it did not happen.
Andrea Lavinthal 
Yeah, Jason's feet stayed on the ground. So unfortunately.
Kulap Vilaysack 
What I'm hearing is Andrea was on the cover of like a romance novel. And Jason, you were not even in the cover.
Jason Sheeler 
The interest, like when you take a picture and like I literally I almost threw through her own phone at her. Like, I mean, like Russell Crowe, or Naomi Campbell. Like I literally like almost through the phone. Like I was so seething with rage, but like, but I took the most beautiful picture of Andrea Lavinthal, just in pure ecstasy being held.
Andrea Lavinthal 
one of my most liked Instagram photos to date. And I have two children.
Kulap Vilaysack 
You are in it. You were the child there.
Jason Sheeler 
We did go back and revisit 12 seminal issues of People Magazine from the 1990s. And, and it was, I didn't know Andrea before this experience, and they're like, who would you want to have as your co-host? And I was like, well, I once had a phone call with that Andrea girl, and she's really funny.
Andrea Lavinthal  26:03
I immediately, like, like, apropos of nothing. I was like, do you want me to tell you who's awful? Just so it's one people on your team just get your teammates before they can even meet anyone else.
Kulap Vilaysack 
So I'm gonna make a really smooth transition right now. And here it is. What type of shoppers are buyers are you guys?
Jason Sheeler 
Compulsive?
Kulap Vilaysack 
Your compulsive Jason's compulsive.
Andrea Lavinthal
Consistent.
Kulap Vilaysack 
Consistent, steady.
Andrea Lavinthal 
Always be shopping, abs always be recording and always be shopping. I think those are.
Jason Sheeler
It is she like she is the style and beauty director at people. I'm a former like I'm recovering fashion director. But also I mean, like full disclosure, like I'm sober. Right? And so shopping just like eating can take a different meaning. And some honestly sentences How about check out? I gotta be honest with you.
Kulap Vilaysack 
I am the same.
SuChin Pak 
Yeah, cuz when you say when you say compulsive, you mean because compulsive is different than impulsive.
Andy Beshear 
I'll be a little hyperbolic. But I will binge I mean, I don't know you and just between us know I can, I can really go you can go a little, it can go a little deep and go a little. It can get a little much like honestly, and so catch me wearing a hooded sweatshirt that has like, like, you know, Dog Show. What the hell is that?
Andrea Lavinthal 
No one noticed your sweatshirt. That's so funny.
SuChin Pak 
Alright, let's get into it.
Kulap Vilaysack 
Andrea, let's start with you. I want to know more about this Jones Road Miracle Balm.
Andrea Lavinthal 
I really, really deliberated on this because as a longtime beauty editor recommending product, it's a power and like, you have to use it responsibly. So I'm going to caveat this recommendation with it probably won't work for 80% of the people listening. Sorry. I'm just gonna say it. So Bobby Brown. She has her new line called Jones Road. It's all clean beauty. So her like, MVP is this Miracle Balm and we interviewed her and she was telling us about it. And she kept saying you have to break the seal. You have to break the seal. And we're like what? So basically, it's like a giant lip balm all over your face. Yeah, I knew half it's the most satisfied. You could spend the $38 just for this feeling.
Andrea Lavinthal  28:28
You take your finger and you push and you get past the wax kind of top and then you get into the balm. And you really have to like kind of play around with it. It comes in a few shades. I prefer the what's this one? The Magic Hour because who doesn't look great in a magic hour but you're and then you I just do a little tap on my cheekbones. On my eyes. Maybe a little my lips,  now it feels like your face is covered in expensive Vaseline. It does smell nice. You have a glow undeniable. Your hair will get caught in your face like lip gloss. But you feel rich. You smell rich. You have a glow that's not glittery. You are radiating. People don't know what it is. It's not sweaty. You don't look sweaty. You look glowing.
Jason Sheeler 
Isn't as thick as Vaseline. Sorry to interject?
Andrea Lavinthal 
No, not as goopy but it does have like almost a waxy texture and then when I use the shimmery one because that was just the plane for demonstration purposes. You can really build it up. I mix it sometimes with my tinted moisturizer before at night on the town. I like to intimidate the other moms that drop off with my glowy eyelids.
Kulap Vilaysack 
I like this because what you're describing is you're fooling people that it's coming from within when it's totally without.
Andrea Lavinthal
But there's no light inside There's something about it where you put it on and you're like I look prettier. I look glowier. I feel like I could have an dress in a farm.
Kulap Vilaysack  30:07
Oh, wow. Yeah, fantasy.
SuChin Pak 
I mean any of that. I'll take any one of those.
Andrea Lavinthal
Yeah, and it comes in a bunch of different shades for you know, there's a bronzier one that adds a little more color. There's a very sheer pink for lighter skin tones and then she just released a bunch of goldeny things like Magic Hour, so I love it. I love the line. But this product, she sold me on it and I still don't know what the hell it does, or why I'm using it but something about it makes me feel better.
Kulap Vilaysack 
Okay, that's enough for me.
SuChin Pak 
Especially coming from you, Andrea like you said, you wield that power with caution and with you know.
Andrea Lavinthal 
Yeah, I don't like to recommend products because if somebody doesn't like it, they're like, well, you told me.
Jason Sheeler 
It looks like a tub of Crisco.
Andrea Lavinthal
It's a little more elegant than that.
Kulap Vilaysack 
Speaking of elegance, since you're new to LA you've bought a lot of designer sweatshirts.
Jason Sheeler 
I kind of want to look up I work for Scooter Braun, you know, and so that's kind of like that's my that's my goal. That's my mood board and getting like I've never met him. I kind of thought we'd go to church together praise G's, you know, but no, I really can't stop spending too much money. It's like it's expensive. It's like and I talked about that moment in the 90s when jeans suddenly became $200. Yes, right. It's like at some point at some point I was sold I was like at Diesel spending $200 on a pair jeans in the end. Like we never went back. And so that's happened with sweatshirts. I'm like, wait, when did sweaters become $500? Like it's, cuckoo. And so like, I have a Celine one like Balenciaga. This is like some new brand called Aries, which is really cool. And like just like a bunch of like, you know, kind of nearly vulgar graphic prints about once..
Andrea Lavinthal
Told them about your […] one?
Jason Sheeler  32:10
I did a cover story on Jojo. And it was out in Tarzana at her house who by the way lives around the corner from Fabio weird coincidence. I'm at her house and I just I couldn't leave there without something like I just I wanted a souvenir. And I was like, does that sweatshirt come I can you know men's sizes? And so the mom went and got me like a girl's like triple XL. And like gave it to me and I wedged my body into it and like I loved this.
SuChin Pak 
Describe, what it is, is it pink with?
Jason Sheeler 
No, it's I've got a white one where like it's like an iridescent Jojo and then I've got a black one, which is the same and it just says like, you know team Jojo here. You know, the other day someone spilled something on my sweat shirt says like, be careful. This is like my 41k you know; these sweatshirts are because it is an LA lifestyle and at some point sweatshirts became like hoodies became status. They became really status. I've got like a Celine one that like the word Celine. It's only on the hood. And so you only see saline when you put up the hood.
Kulap Vilaysack 
Do you have this Celine one that you shared this animal print one?
Jason Sheeler 
I just bought that. I thought I had to buy something. So I just bought it. Isn't it crazy?
SuChin Pak 
You had to do it for work?
Jason Sheeler 
It looks like you're in a cat suit. Right? Like it looks like a knot. I mean, like, like a cat woman cat. So it looks like you're literally in a fur cat suit. It's almost like maybe this guy's in the early aughts that were like ugly hot. That's what kind of hoodies like that some of these hoodies are like, ugly, expensive. They're so ugly that you can't believe how much they cost. So that's kind of where I'm at in my compulsivity now, do you believe me?
Kulap Vilaysack 
I mean, I believe you're I believe it and I'm also loving that this JW Anderson.
Jason Sheeler 
Oh, that is I have that one and it's so incredible. They did this JW Anderson did this collab with the Tom of Finland foundation. If you don't know what Tom of Finland is it's like this is made up name but he was very to say homoerotic is like an understatement the leather guys and the drawings and like the blackout they're so hot it's like these super Uber masculine like leather guys this gay erotic artists you know in Finland, and really really cool in mid-century and they've you know, over the years you know these illustrations have like, you know, adorn the walls of establishment such as the eagle you know that like leather bars across the world and so I thought it's really cool that this you know very high fashion designer JW Anderson for and then the way they did this collab with this kind of, I don't know skank artist I mean, I don't want to be disrespectful. I think they're really beautiful but my mom would look at my mom these illustrations of gay Leatherman doing God knows what and she would find. Well, she would probably be repulsed and we've been talking about it and ashamed. It's kind of badass, right? Like it's a little uncomfortable.
Kulap Vilaysack 
I love it. Andrea so you didn't just bring out the cards for just you. You brought one for your husband as well. It's the Rafi Loafer, Driving Loafer even.
Jason Sheeler 
Oh, she's getting environmental y'all.
Andrea Lavinthal 
Yes, I thought it would be nice to share something for the guys so not that Jason I didn't think would but his sweatshirts are actually we didn't. I told him not to tell me what he was going to share, so I could be surprised. So I think that it's every woman and man's duty to leave your significant other looking better than you found that this is our duty to each other. If you cannot make it work together, at least leave them in a place that's better for the next person. So every boyfriend I've had, I have immediately bought them new jeans because my god the jeans, you know, I have reworked them slowly from top to bottom. So of course my life partner, baby daddy is going to get the works. And 10 years in the making. So right he said to me the other day like I feel like you know, my jeans have gotten so skinny because you know, you just keep shrinking them. I'm wearing like leggings with a button to work and it's like and I say no honey, you look great.
Andrea Lavinthal  36:14
Meanwhile, he's totally wearing […] so shoes, shoes have really been a problem for him. We can never really figure out footwear and even though I'm a style at our dressing guys is a whole different thing like Jason would be better at this. But my significant he's very kind of straight and narrow guys style, so you can't go too crazy. No cool sneakers, all birds are as funky as he gets. And when Rafi is started making men's shoes very recently, I thought this is a shoe that he could wear with his dish fast. Because that's what you know the fleece douche.
Jason Sheeler 
Like the ones that were on billions.
Andrea Lavinthal 
Yes. And he says it's because really you get colds in the very air-conditioned offices. It's not just women I say it makes it's like their armor they put it on and they're like…
Jason Sheeler 
It's so tech bro of him in San Francisco they call it pad of Gucci like all those things.
Andrea Lavinthal 
I caught it too fast. So what goes with a douche fast, driving loafers and at least the Rafi ones are sustainable made out of plastic water bottles. You can throw them in the washing machine. He put them on and has not taken these shoes off. Yes, I got it for him. I know Jason I know they're hurting you. This is not your style.
Jason Sheeler
It's a cool company. Megan Markel endorsed.
Andrea Lavinthal
it's not cheap right their shoes are not cheap. There are $185 Oh but it's amazing to find a shoe that someone who's picky but basic you know it's a weird on the Venn diagram it's a weird intersection. And I found it for him and I feel like other men should try them because all birds.
Jason Sheeler 
Is it like an upgraded vans all I hate all birds. I think that's the worst last like the shape of that shoe is so hideous. And the wear jeans meet all birds is just it's a terrible place.
Andrea Lavinthal  38:11
They want to sponsor us Jason.
Kulap Vilaysack 
Jason. I got, SuChin's birthday was just this past month and I got her Allbirds
Jason Sheeler 
Sorry for that gay gasp okay. Like with all due respect, I'll see y'all later. I just I really I just I really..
SuChin Pak 
I'll have to send you pictures.
Andrea Lavinthal 
Did you get the classics?
Kulap Vilaysack 
I think I got her the classics.
Andrea Lavinthal 
I wanted to wear the Allbirds but I'm between sizes.
Jason Sheeler 
Tell me what you what do you like about the Allbirds?
SuChin Pak 
Number one they are? And I know that comfort may not be high on the list, you know, and that's fine, because you're a fashion person. Truly the most comfortable pair of shoes. I don't even know how to describe it. It's like someone is holding your foot and then helping you up with each step. Like there's a lightness to them.
Jason Sheeler 
Have you heard of a company called Nike?
SuChin Pak 
thing is, is I also don't own a pair of sneakers.
Jason Sheeler 
Wait, what? This is the podcast. Like you can also get come to Garson chucks if you want to really upgrade. Okay, so that's cool. I recommend a Nike if you're seriously into it, like a Nike, it is like a sweater for your feet. Okay, I'm just I feel like your eyes are glazing over. I support your choices. And I respect your Allbirds purchase or gift.
Kulap Vilaysack 
I love it. I love it. I love it. I love strong pin.
Jason Sheeler 
I'll see myself out.
Kulap Vilaysack 
You are an honored guest.
Jason Sheeler 
You can slam the door virtually on this zoom conversation.
Kulap Vilaysack  40:05
We will allow you to leave soon but one last thing Jason from you. I want to know more about what you've been removing from cart.
Jason Sheeler
I have I have over subscribed to sparkling water like I have an extensive subscription list to like this this sparkling water that keeps arriving at my condo in LA and so it's just like, I've got Perrier, I've got Rambler water. Who's ever heard of that from Austin? I've got topo Chico, I've got San Pellegrino I've got like Lacroix, I just I keep ordering sparkling water. I don't drink Andrea. Okay?
SuChin Pak
Compulsive, remember?
Jason Sheeler 
It's all I have. It's all I have.
Kulap Vilaysack
I want variety of slight flavor and bubbles.
SuChin Pak 
Jason, I'm with you. It depends on what your mood is. And what the bubble.
Jason Sheeler
I mean, it's also I mean between like, am I like, what do we call that basic? Do we still say the word basic? Are the kids still saying basic? Okay. Anyway, it's just I keep subscribing and then to get out of a subscription for Amazon. It's an extensive, like, you know, like triple verification process. I feel like, you've got to like then log in from your phone and then do a code. I mean to unsubscribe. It's really like, it's like that time I excellence describes someone's only fan account Anyway, it was just trying to get out of something like I'm in like a tiered pyramid scheme with topo Chico right now and I can't I literally get I get five cases of sparkling water from five different providers a month. And I am a single guy living with a dog. It's so insane. And so it This may tell you what kind of drinker I was, but it's just a lot. And so anyway, like Meanwhile, interest like I'll have my Sauvignon Blanc now.
Kulap Vilaysack  42:05
We all just met but I do feel like I know you. Where can our listeners find you on social media?
Jason Sheeler 
I'm at @JasonSheeler. Just my first and last name. I'll keep it simple.
Andrea Lavinthal 
I'm at @AndyLavs.
Jason Sheeler 
Andrews the real influencer of the two of us but she's telling she's hysterical on social media and it's where I first fell in love with her. I have to say
Andrea Lavinthal 
Thank you. It's caused a lot of trauma for my family.
Jason Sheeler 
I've knew that we were close when she posted she didn't ask for permission. She posted a screengrab of our text exchange and I was like who do you think I am? You're like you're your man? Because she does that all the time for Justin.
Andrea Lavinthal
Yeah he hates I always tech star quote for play which is you know basically him asking me if you should pick up dinner. I put chicken in it's riveting stuff. He hates it he hates me but he has no choice.
Jason Sheeler 
Come to me for the plan.
Kulap Vilaysack 
So add to cart Andrea Add To Cart Jason and please add to cart their podcast.
Andrea Lavinthal 
Oh, I forgot about that.
Kulap Vilaysack
PEOPLE IN THE 90s. Thank you guys.
Jason Sheeler
Oh my god. So much fun.
SuChin Pak
Thank you.
SuChin Pak 
So there it is. I know sometimes you know we have roses and sometimes we have shit. We had a little bit of both on this episode. So thank you for listening to this episode of Add To Cart. Find out everything we talked about today on at @AddToCartPod. All the links to purchase are in the show notes.
Kulap Vilaysack 
Also leave us a message and tell us why you're most excited about butt gel 833-453-6662.  See you next week. All right.
SuChin Pak
See you next week. Bye.
CREDITS
ADD TO CART is a production of Lemonada Media. Our producer is Claire Jones and our editor is Ivan Kuraev. The music is by Wasahhbii and produced by La Made It and Oh So Familiar with additional music by APM music. Executive producers are Kulap Vilaysack, SuChin Pak, Jessica Cordova Kramer and Stephanie Wittels Wachs. Be sure to check out all the items we mentioned today on our Instagram at @AddToCartPod. Also, please take a moment to rate, review, and subscribe to the show wherever you get your podcast.